10 queer Christmas movies you can watch this year
The festive season is inherently queer, so make sure your watch list matches that spirit.
|
15 December 2020, 12:23pm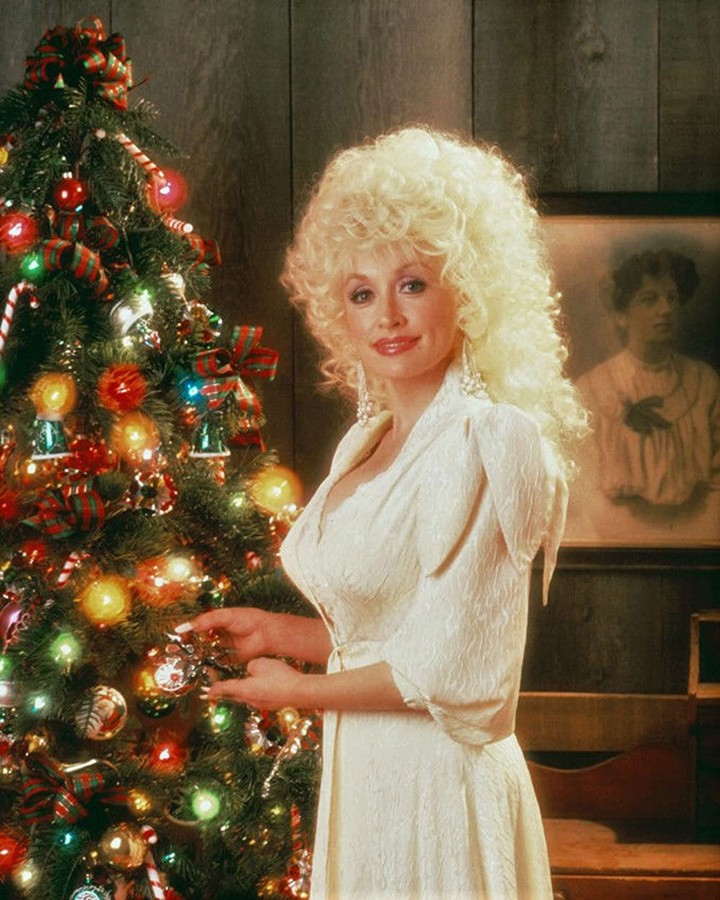 Dolly Parton's A Smoky Mountain Christmas
It is, once again, the most wonderful time of the year. When families come together, snow falls, and the repressed memories of closeted childhoods come to the fore! For LGBTQ+ folk, Christmas is a strange experience. On one hand, it's the queerest thing on earth: rainbow coloured decorations, Mariah Carey on a loop, the exhilarating experience of finding out which of your friends has hot parents as they head home to celebrate and post about it all on social media. But for some, it's an ostracising one, through which the traits of cis-heteronormativity are stacked against them: de-facto family acceptance, swarmed by annoying cousins with more children than you could ever imagine.
But it doesn't have to be that way. In fact, delving a little deeper into the tapestry of festive movies shows that there are a bunch of queer and queer-friendly titles you can indulge in as an escape from the violent cishetty behaviour of the holidays. Wrap a string of tinsel around your neck, pour yourself a drink, and let's go!
Tangerine
It goes without saying that Sean Baker's iPhone-shot Christmas caper comedy about a trans sex worker and her best friend pretty much upended every expectation you had of festive movies when it arrived in 2015. Set in Los Angeles one Christmas eve, it follows Sin-Dee, who's just been released from prison, and her best friend Alexandra as they set out to find Sin-Dee's pimp boyfriend, who she thinks may have been cheating on her. Mayhem ensues, as the weird scorching California heat offsets a nighttime glittering with Christmas lights. Not one for the family, but a riot nonetheless.
A Smoky Mountain Christmas
Okay so on the surface this 1980s holiday movie about a country singer and a "mountain man" doesn't seem so queer — but if you unpack its many elements it'll all make more sense. A Smoky Mountain Christmas follows Lorna Davis, a country music crooner played by Dolly Parton (check) who has big hair (check) and rescues seven runaway orphans (adoption is queer) with whom she celebrates the festive season (Christmas, we've established, is gay). It's also so old that it's only available on VHS tape. Enjoy! If you can find it!
Carol
Canon: that's the one word we can use to describe Todd Haynes' 2015 classic, based on the book The Price of Salt by Patricia Highsmith. This 1950s story of a curious department store worker and the wealthy divorced woman she meets one afternoon in New York is the epitome of excellent queer storytelling: nuanced and romantic, an air of old-fashion forbiddenness that stars gay fave, Cate Blanchett. There will never be anything more festive than the sight of Carol Aird buying her Christmas tree in the snow, viewed through the lens of a besotted Therese Belivet as Carter Burwell's perfect score plays. Some real masterpiece shit.

Happiest Season
Kristen Stewart reaches peak gay energy in this Hulu movie. Clea DuVall's romantic comedy tells the story of a woman preparing to propose to her long-term girlfriend at her family's annual Christmas party. But a spanner is thrown in the works when she realises that her gf's conservative parents are unaware of her sexuality. This is one of the first big movies with a lesbian love story at its centre to be funded by a major studio, making it good fun and game-changing too.

A Christmas Tale
Okay so this is not queer in the homo sense, but more so in spirit. A 2008 French comedy-drama directed by Arnaud Desplechin that thrives on the idea of a messy homecoming. Catherine Deneuve (all French women are gay icons) plays Junon, the matriarch of a family who, when her extended family gather at her house for a Christmas celebration, promptly reveals that she's been diagnosed with Leukemia and needs an urgent bone marrow transplant to save her life. But her children, now all in their 30s, have drama of their own and secrets to conceal. Cue a two-and-a-half hour game of he-said-she-said and endless finger pointing that the queers who loathe perfect Christmases will be obsessed with.

Home for the Holidays
Another example of the queer festive cinema bingo card being full, this is a dysfunctional (check!) story of a single mother (the most powerful women of all) and her daughter heading back to her family home for the Thanksgiving holidays after losing her job. There, she's reunited with her family, including her gay (check!) brother played by Robert Downey Jr. There's a lot of fraught activity going on within this 1995 comedy-drama, directed by none other than the queer legend herself, Jodie Foster (check!).

Holiday Heart
Earning Golden Globe nominations upon its release back in 2000, this sorely under-seen, super dark TV movie captures the sadder side of the holiday season. In it, Ving Rhames plays the titular character, a gay man who moonlights as a drag queen. One night, lonely after the death of his boyfriend, he befriends a homeless drug addict and her daughter, and decides to take the pair under his wing. What follows is a tumultuous journey through drug dependency, the empathy of queerness and found families that's certainly not a laugh a minute, but will provide some sobering perspective on what we should be grateful for.

Christmas at Pee Wee's Playhouse
The name of this 1988 holiday special alone might just be the queerest thing imaginable. This brief 50 minute TV escapade into the world of the famed American character sees him ice skate, gather Christmas cards and sing with celebrities against terrible computer animated backdrops and hyper-tacky set design. But if that wasn't enough to get your queer festive spirits glowing, get this: Cher, Grace Jones, K.D. Lang and Joan Rivers also appear singing carols and being silly. Sign us the fuck up.

Let It Snow
Based on a novel by John Green, Let It Snow isn't inherently queer, but this story of a group of high school seniors brought together after a snowstorm hits their town on Christmas Eve is one of the few festive ensemble movies (think Love Actually) that doesn't completely write out the existence of queer characters. They might be a minor part of the film's bigger silly fabric, but Dorrie and Kerry's relationship heightens the reality of this modern high school movie. What's more, the two stars that play them – Liv Hewson and Anna Akana -- are both queer IRL.


Meet Me in St Louis
Judy Garland is so famously queer-friendly that "Friend of Judy" still remains a euphemism for a gay man nowadays, and this hyper-camp romantic movie musical is perhaps proof of why they love her. Released in 1944, this story follows the lives of four sisters as they grow up over the course of a year in the early 20th century. Not only is the Christmas sequence one of the richest and most warming ever put to screen, but the melancholy follow-up scene is soundtracked by "Have Yourself a Merry Little Christmas" — and, get this, the song was actually written for this movie. Another fun fact: this film is where Judy met her future husband, director Vincente Minnelli. Together, they brought Liza Minelli into the world. It doesn't get more gay than that.