Sorry but this week's new music really does slap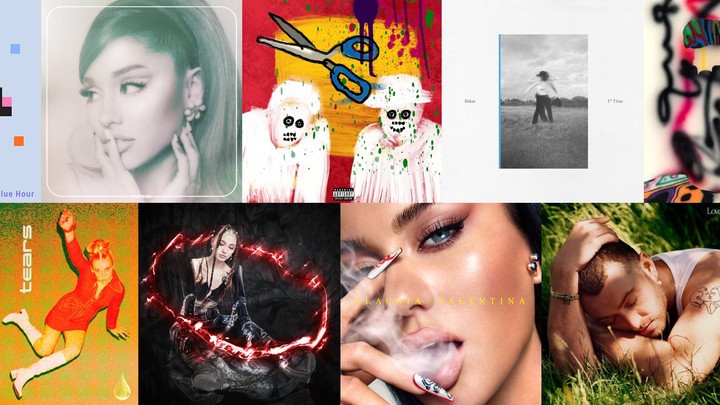 What the fuck happened this week? What the fuck happened that caused a cascade of popstars, both established and brand new, to say: "You know what, the world needs these bangers, and they need them right now."? Was there some sort of industry pact that caused Dua Lipa, Ariana Grande and Sam Smith to press the 'Upload' button on their computers like XTina style, and unleash havoc upon the pop world? Either way, we do not deserve.
Alas, here we are. 30 October: an iconique day in pop history. Ariana got horny and dropped Positions, which features the excellent 69-ing bop "34 + 35". Sam Smith got all in their feelings and released new album Love Goes, which features a very graceful and floaty electronic ballad called "Another One" about past lovers and putting on a brave face when they move on. Then Dua was like 'You know what guys? Fuck it. Future Nostalgia slaps but here's something else just to stir the pot' and dropped a collaboration with Belgium-born Angèle called "Fever". In the middle of a pandemic? Dangerous and yet we stan.
But there's also a string of new alternative faces who really didn't come to play either. Our queen Clairo has formed a fresh musical outfit with her friends called Shelly, and they've arrived with a sweet two-track single. Those missing the scuzzy despondency of Lil Peep will find solace in Daine's new one, titled "Ascension".
Meanwhile Rose Gray, who we reckon could single handedly revive Britpop for a new generation with her Primal Scream-sampling "Save Your Tears", makes a big mark this week. The video, shot with her best friends at parties and on maskless tubes pre-Rona, is a glorious reminder of what we have to look forward to when the Tory government actually develops a solid Track and Trace system. Then there's Claudia Valentina, who saw the Big American Pop Girls doing things and was like 'Let me try!' with "4:15" and made an absolute smash in the process. Expect huge things from her.
In amongst all of this, our boy Bakar marked his comeback, Tierra Whack made magic with new track "Dora", Manchester punk outfit Jungle Boys have made the scuzzy and growling "Forest", TikTok superstar BENEE dropped a track with Lily Allen (!). There's also some sprightly beachy pop from Dameer and a newly released track from Troye Sivan's In A Dream EP called "10/10".
K-Pop fan? You're catered for too: new stuff from TOMORROW X TOGETHER and TWICE is also here. All that and more waits for you below.