Photo courtesy of Everett Collection.
7 of Anjelica Huston's most iconic outfits
Known for her roles as Morticia Addams and the Grand High Witch, the spooky star is also an icon of 70s style.
Photo courtesy of Everett Collection.
Actress, model, director, fashion icon, Anjelica Huston has a mystique like no other. Whether she's being photographed by Richard Avedon, himself, walking the runway for Halston, winning myriad film awards or terrifying young children with her turn in The Witches, Anjelica's cool poise and elegance abound. And her sartorial style — perennially inspired by the 70s, the decade in which she came up — are equally refined. Here, we chart Anjelica's career — from Vogue to Morticia Addams — by looking back on some of the actresses' most iconic looks.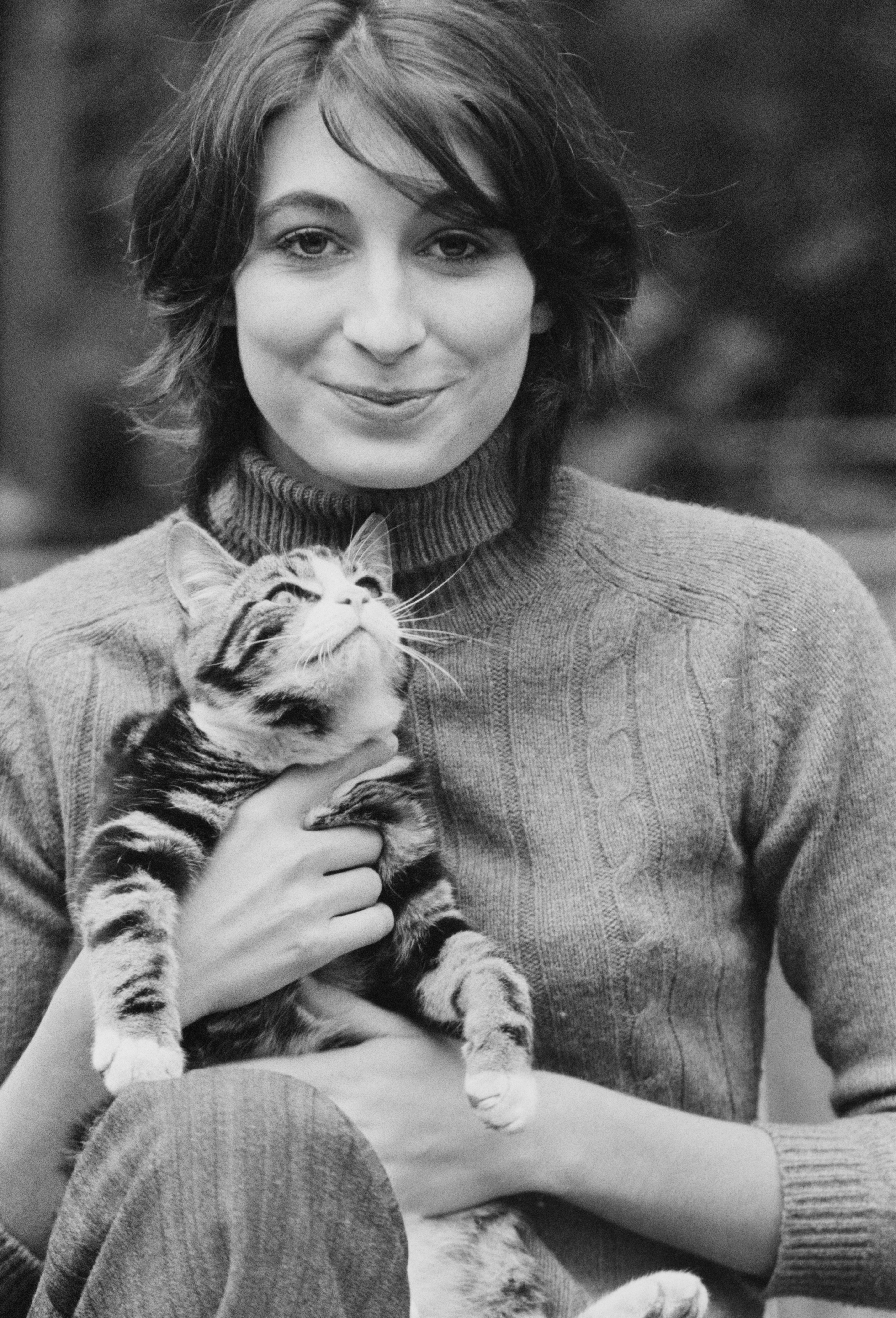 In London, 1968
The daughter of actor-director John Huston and model-ballerina Enrica Soma, Anjelica grew up between California, Ireland and London, where she settled in the late 60s to spend her high school years. Speaking with Allure many decades later, the actress describes her sixties style as beatnik-leaning. "Heavy black eyeliner, Wellington boots, a dark pea jacket. Later on, we got more adventurous, but in my school years, it was downbeat, coffeehouse," she recalls. This look from 1968 fits the bill: a grey turtleneck and woolen pinstripe pants.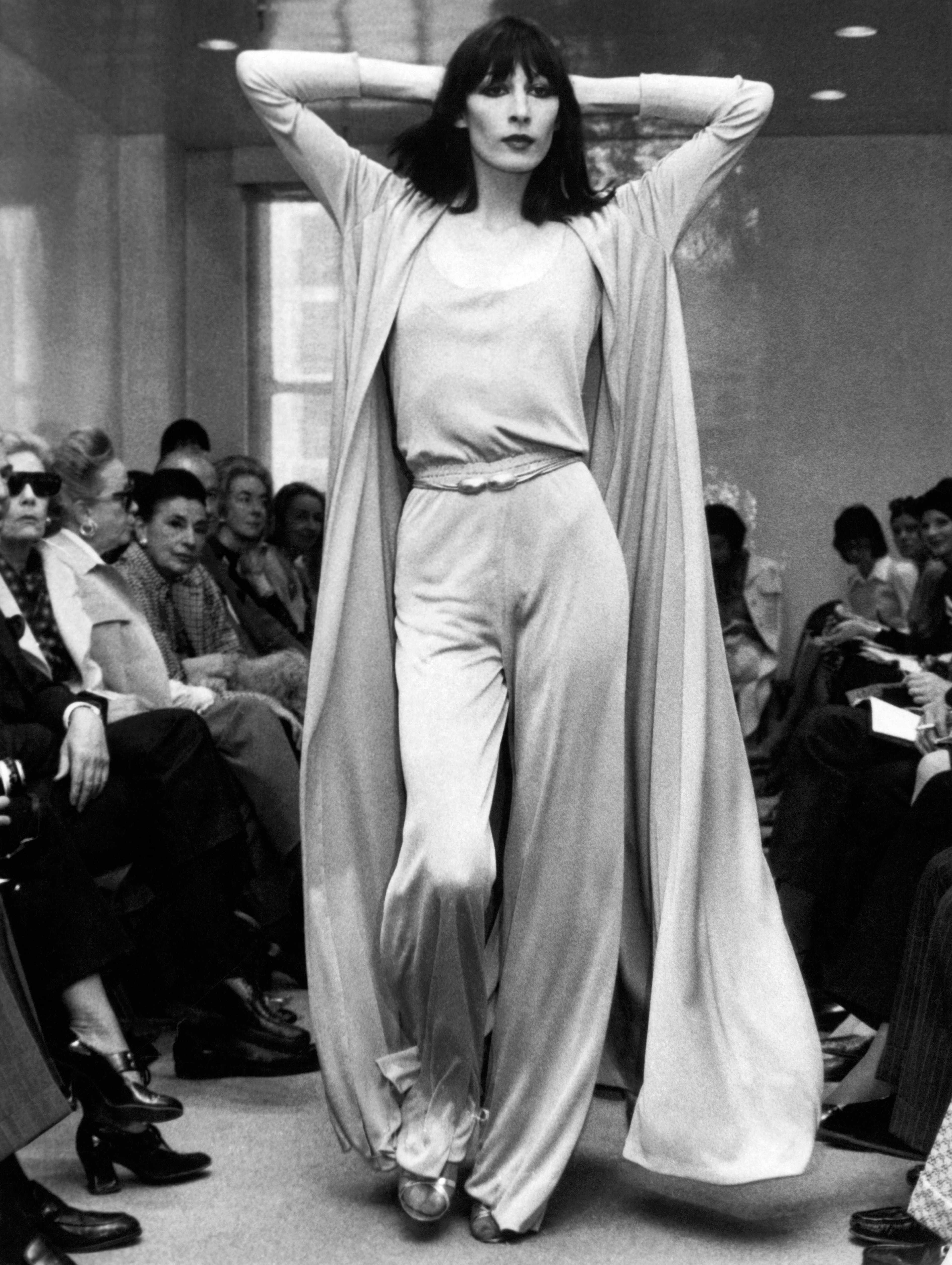 Walking for Halston, 1972
After taking on a few small film roles, Anjelica relocated to New York in 1969 to pursue a career in modelling, where her unique look and elegant aura quickly garnered her photoshoots in the pages of Vogue. Throughout the early 70s, Anjelica was photographed by industry heavyweights like Richard Avedon — you know the shot — and Bob Richardson. She also became a muse to 70s it-designer Halston, famous for his ultra-glam evening gowns. Here, Anjelica models one of the designer's less formal (but no less luxe) looks: a slinky jersey set.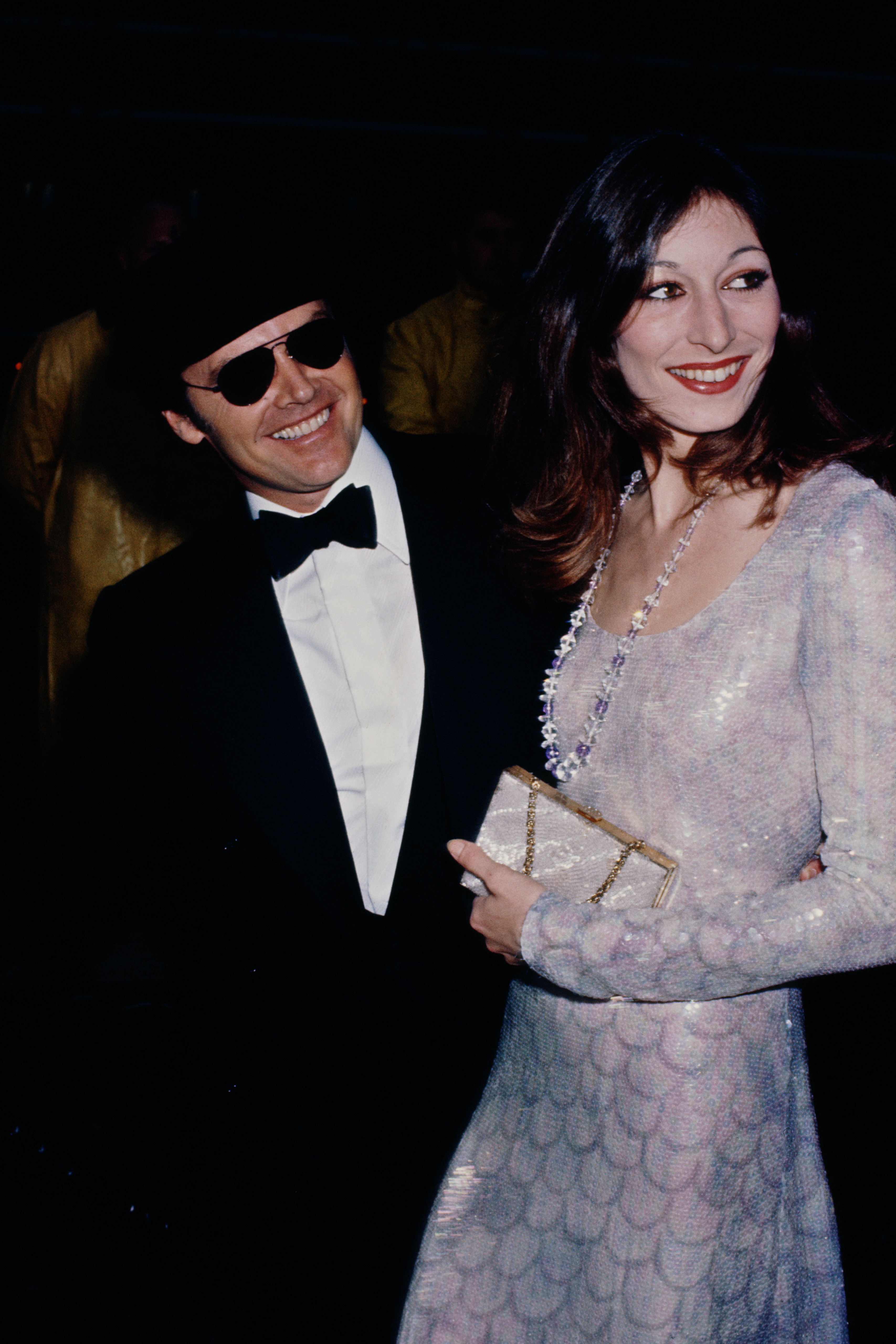 At the 47th Academy Awards, 1975
Attending the Academy Awards as your boyfriend's date before going on to win your very own Oscar a decade later is kind of a power move, right? Well, that's how Anjelica did it. In 1975, she attended the film award ceremony on the arm of then-beau, actor Jack Nicholson, looking like a chic mermaid in sequinned gown and mother-of-pearl minaudière. Ten years later, Anjelica would attend the ceremony once again to clutch the award for Best Supporting Actress for her performance in Prizzi's Honor. Fun fact: Anjelica is the third generation of her family to win an Academy Award, including her father and grandfather before her.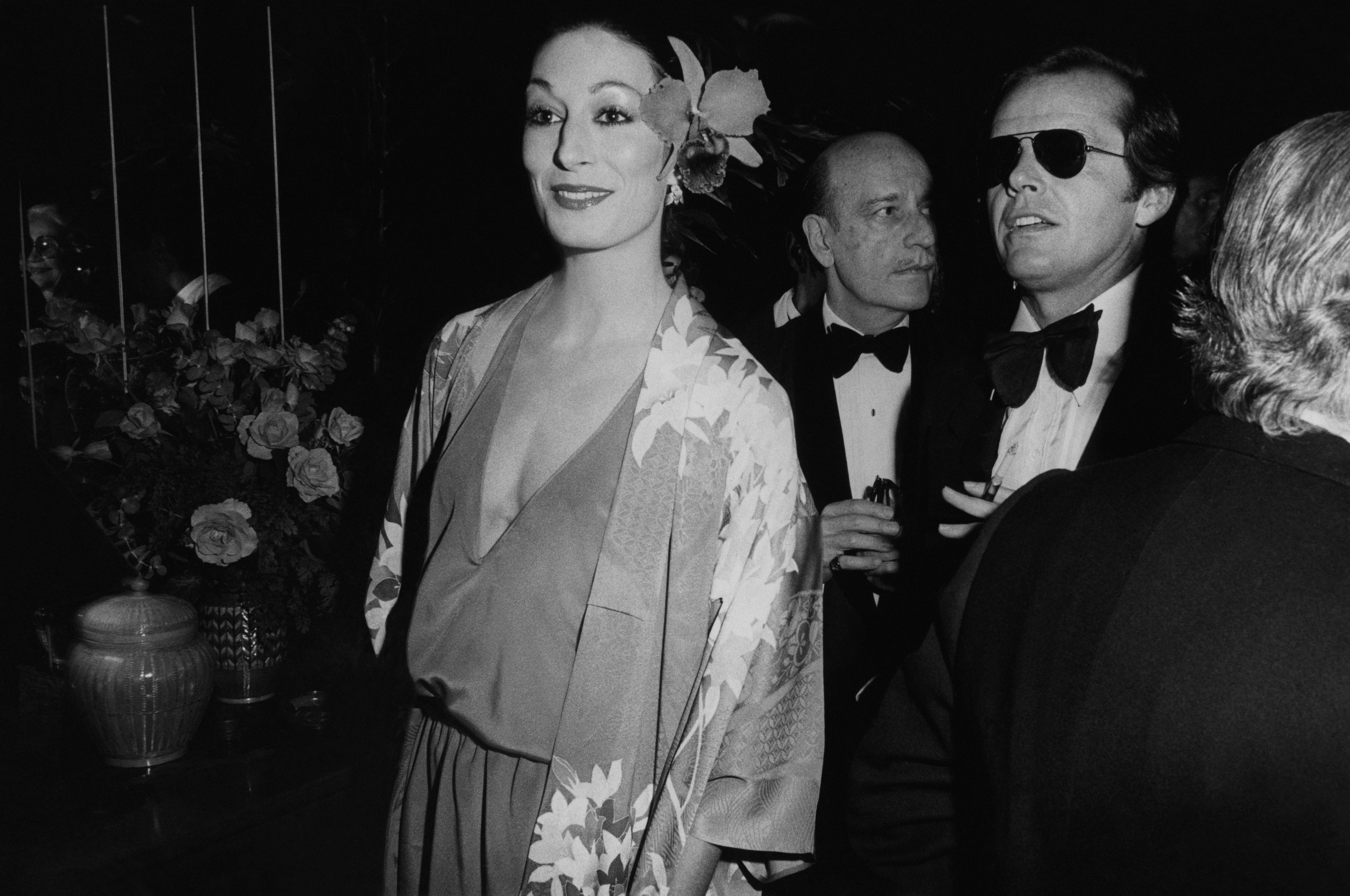 At Marisa Berenson's wedding, 1977
Sartorially speaking, Anjelica had a thing for flowers. And not just floral prints (pictured here), but real, live blooms. On more than one occasion, the actress was known to tuck a fresh-cut flower behind her ear. At other times, she looped a stem through the buttonhole of a blazer or pinned one to the strap of an evening gown.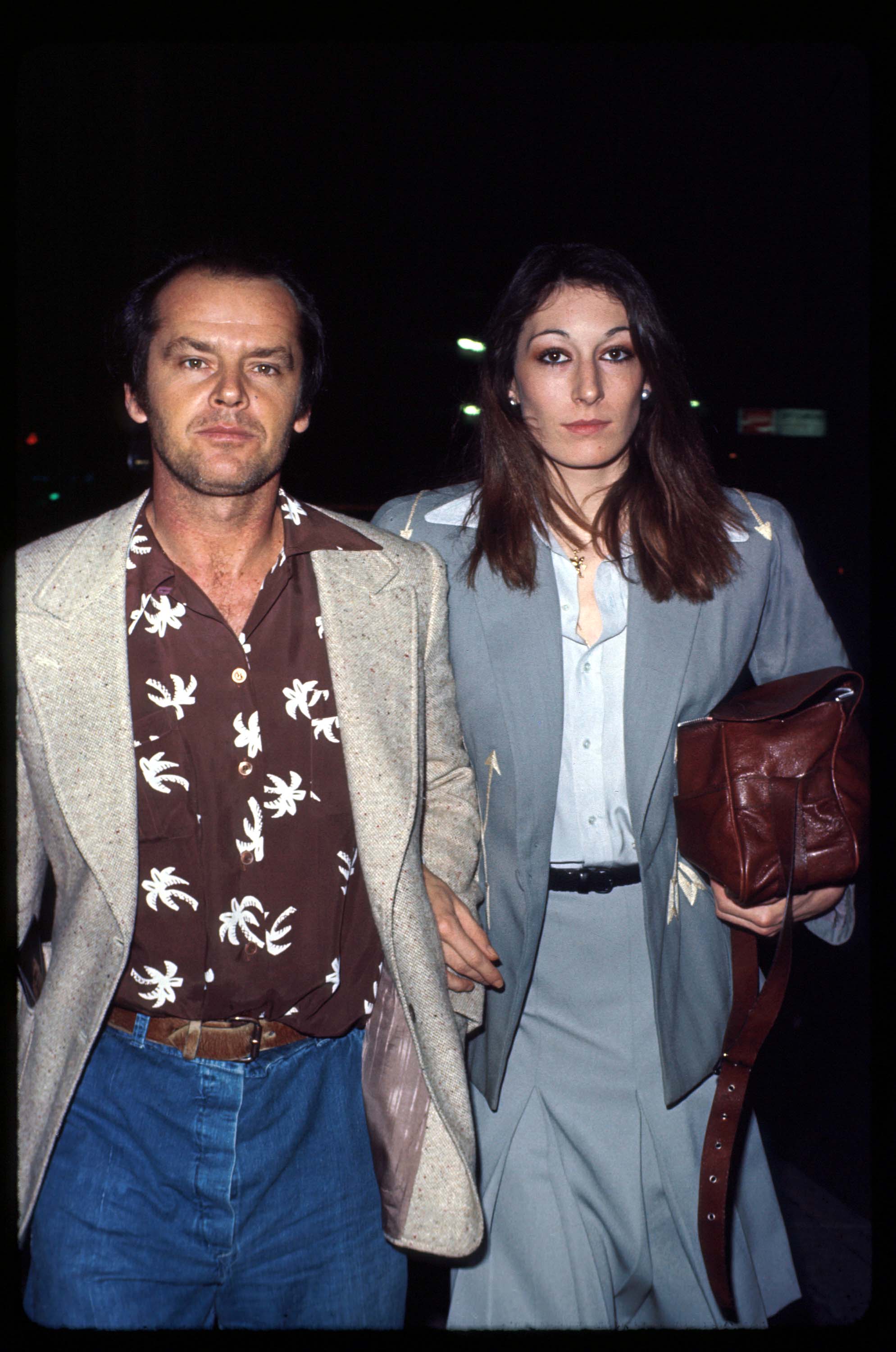 At a film premiere, 1983
Even into the 80s, Anjelica maintained her preference for 70s style. She was a "Halstonette," after all! On the red carpet, the actresses' style reflected the era's disco-glam look, in sequins, slinky Halston gowns, and fur coats. Here, we see a different (though no less 70s-leaning) side of her look: exaggerated pointed collar shirt, fitted blazer and box-pleated skirt, all in tones of the decade's preferred neutral, grey.
Lensed by Annie Leibovitz for Vanity Fair, 1985
An outfit for the ages. This iconic Anjelica image was shot by Hollywood portraitist Annie Leibovitz during the press tour for her Academy Award-winning role in 1985's Prizzi's Honor. In it, the actress wears an outfit that embodies the decade's equestrian-drab aesthetic (think Out of Africa, which was released the same year): a ribbed singlet, khaki jodhpurs and sturdy riding boots. A glimmer of effortless minimalism in an era of excess, this particular look has become a moodboard staple for the ages.
For Elle France, 1991
Does this withering glare look familiar? Through the early 90s, Anjelica gained notoriety with cinema audiences both young and old for back-to-back turns as the spooky matriarchs of two of the decade's most iconic horror-family films. Maybe Anjelica haunted your childhood nightmares as the Grand High Witch of Roald Dahl's The Witches. Or perhaps she served as a formative fashion icon as The Addams Family's gothic glam Morticia Addams. Here, in a photoshoot for Elle France, promoting the latter film, the actress wears a plunging, spangled bodysuit that marries both her predilection for witchy characters and her everlasting love for 70s style.
Tagged: