GmbH AW21 is a dreamy wardrobe for when we can hit the club again
Instead of casual, pragmatic clothes for the current moment, the Berlin label brings you full fashion fantasy ready for chicer times ahead.
Courtesy of GmbH
If 'Welt am Draht', the title of GmbH's AW21 collection, sounds eerily familiar to the movie buffs among you, that's because it's lovingly borrowed from Rainer Werner Fassbinder's 1973 TV film. In it, it's proposed that our world exists entirely inside another as a computer simulation, a metaphor that feels "very apt considering how we are living our lives through computers and screens right now," muses Benjamin Alexander Huseby -- over Zoom, naturally, with label partner Serhat Isik at his side.
But you don't need to be a 70s German film savant to really feel what lies at the heart of their latest body of work. Best translated as 'World on a Wire', tenuousness and precarity is something that has marred all of our lives of late.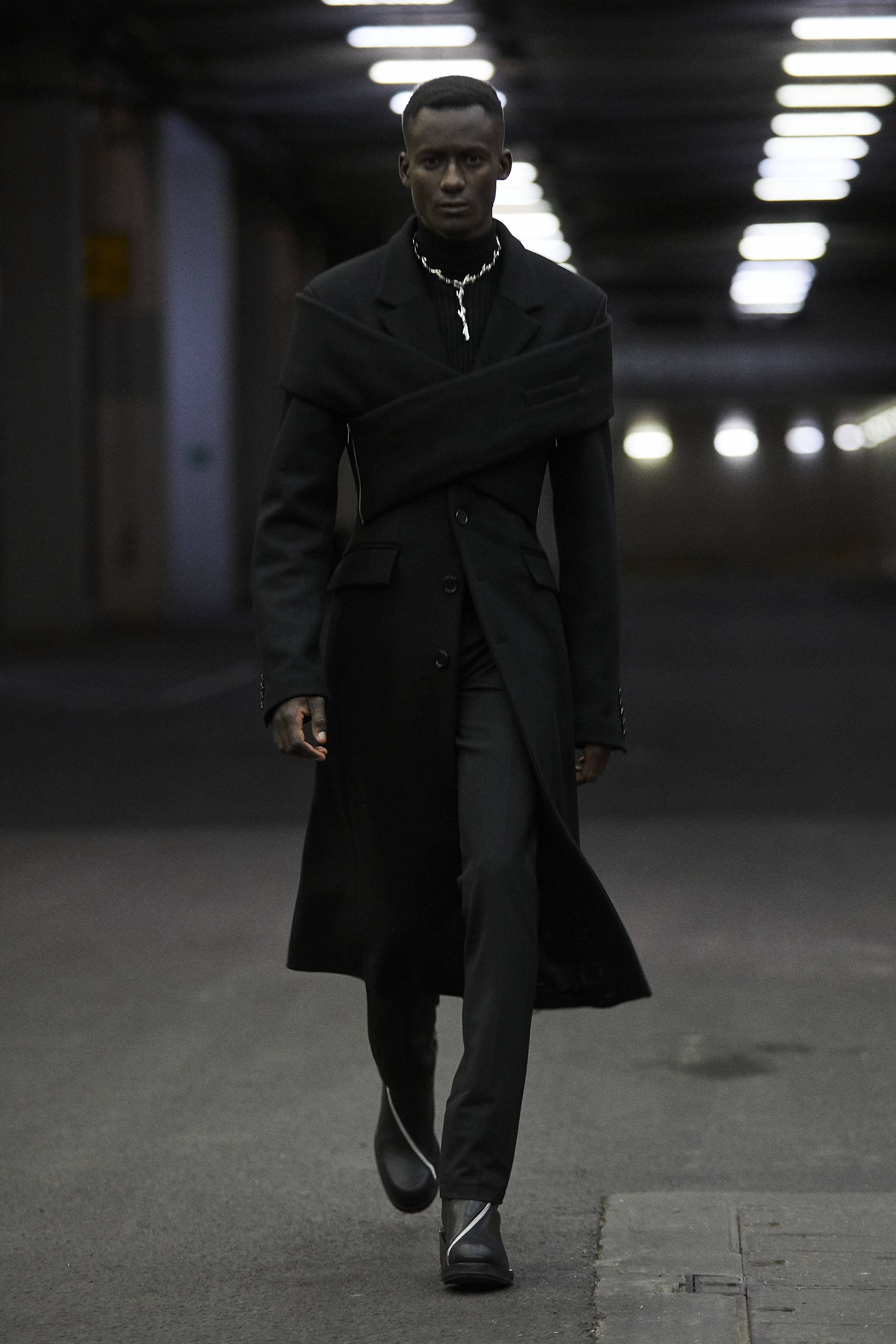 Rather than lean into the current climate of turbulence and uncertainty to create the sort of comforting, pragmatic clothes we've already seen much of this season, the Berlin-based duo have created what they call "clothes of dreams", clothes that offer respite from a reality that at times feels all too dull to bear. They haven't, however, journeyed to a land far far away -- their dreams, it seems, are coloured by feelings of nostalgia for times and places as they once were. A lime green lycra top with GmbH's signature overlapping, shoulder-wrapping sashes and buttery, black vegan leather versions of their trademark double-zipped trousers suggest the raunch and hedonism of the Berlin dancefloors the label was born on.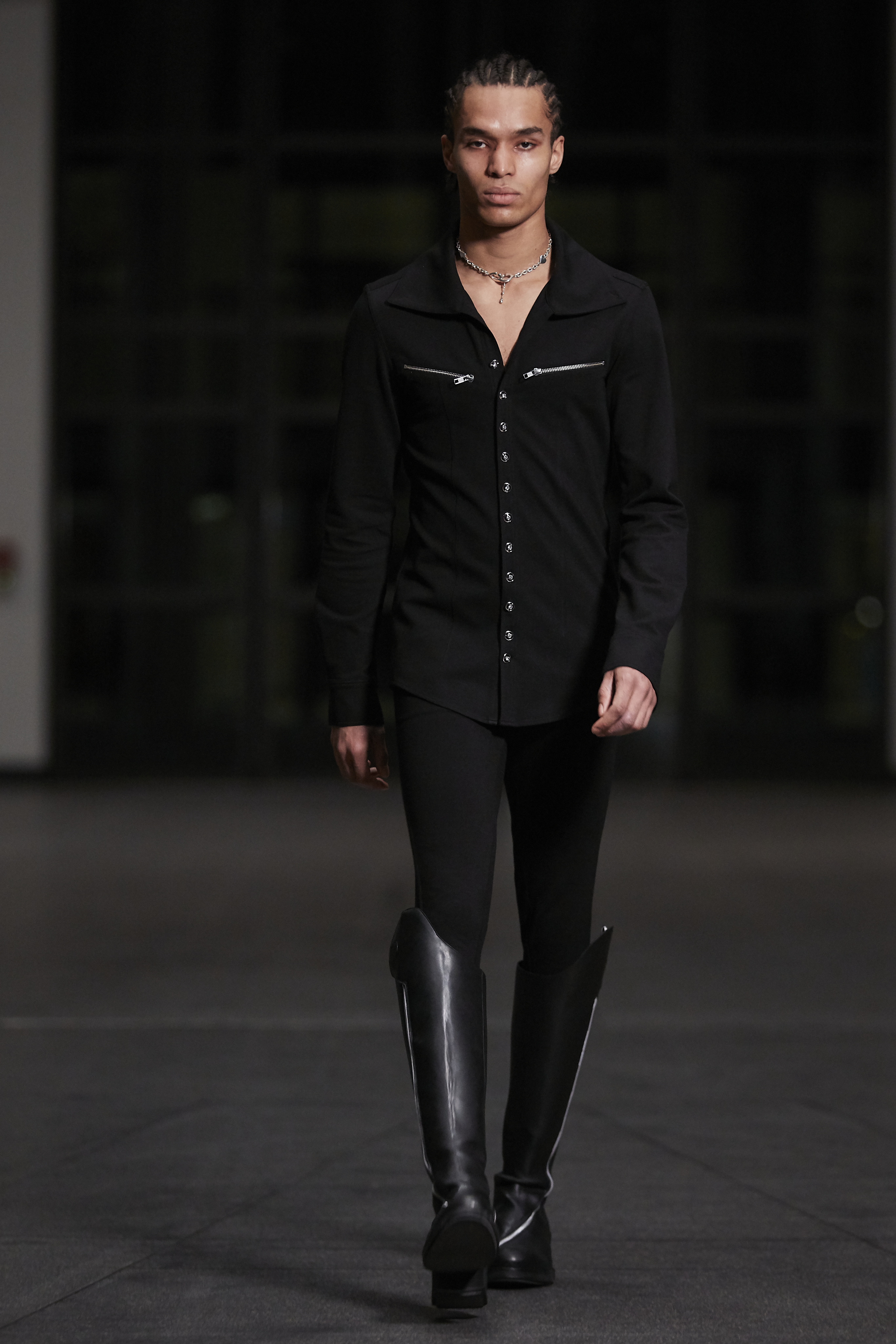 Sculpturally tailored wool coats, some cut to sit gracefully off the shoulder, seem more appropriate for a gala than for a gambol around the block. "It's a very hopeful collection, in a way," Serhat says. "We're gonna go clubbing again, we're gonna go to the theatre again, we're gonna go to the opera again, to our family's weddings, and these looks are ready for you when those days come."
Those contexts may sound quite concrete -- which makes sense given that "in the past, GmbH has been very much about reality," Benjamin says. Indeed, that same sense of grounding and tangibility can be felt here, "but I think we've now had a bit of an overload of reality; it's important to find ways of dreaming as well."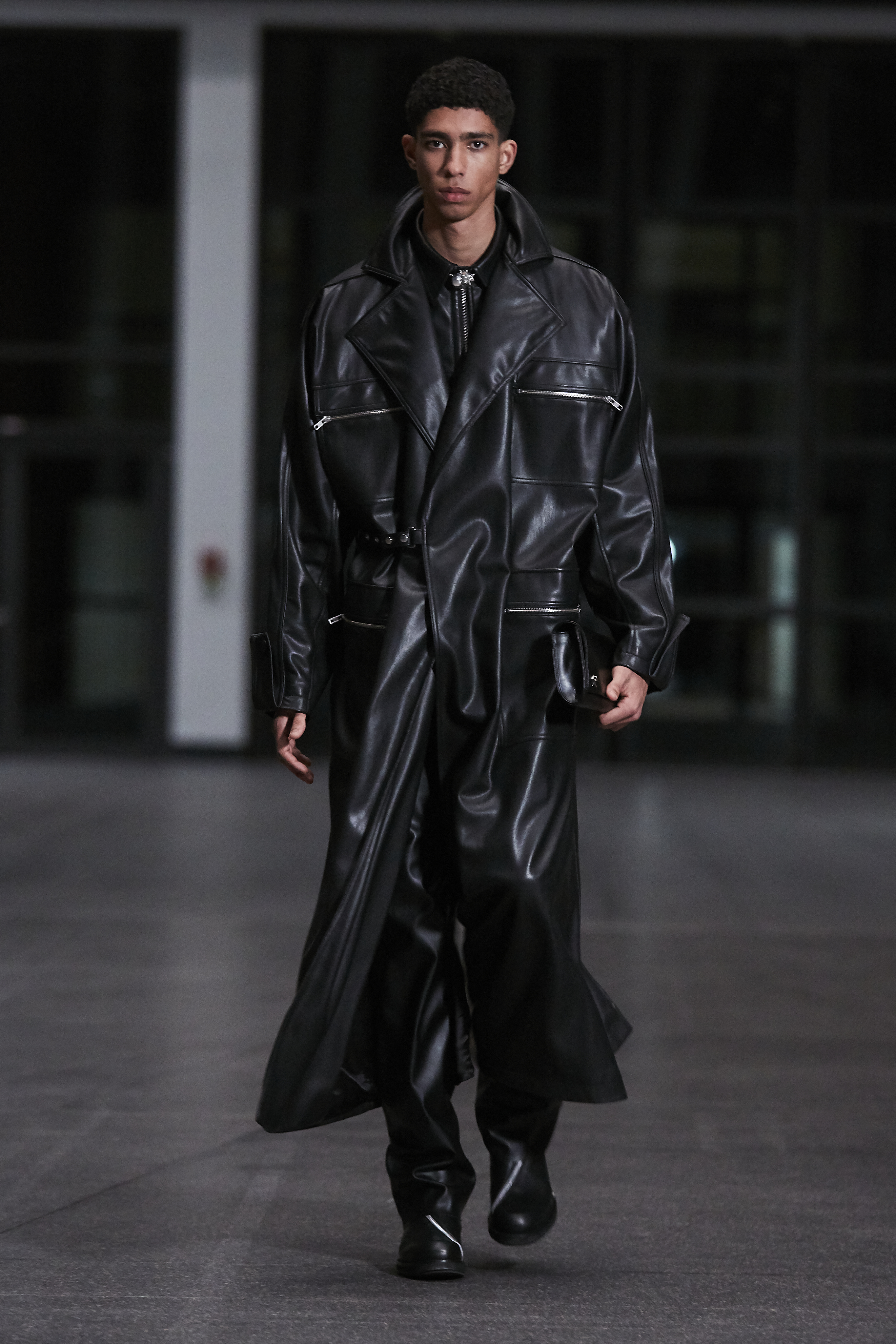 Where that makes itself best felt is in the details -- subtly curvilinear forms that nod to svelte, mid-century couture silhouettes, and the reclamation of motifs often affiliated with "activities that have normally been seen as the preserve of wealthy white people," says Serhat, listing horseriding and skiing among them. Look to the knee-high boots and jodhpurs for the former, and the Nordic-style knit jumpers reimagined with Islamic tile geometries for the latter.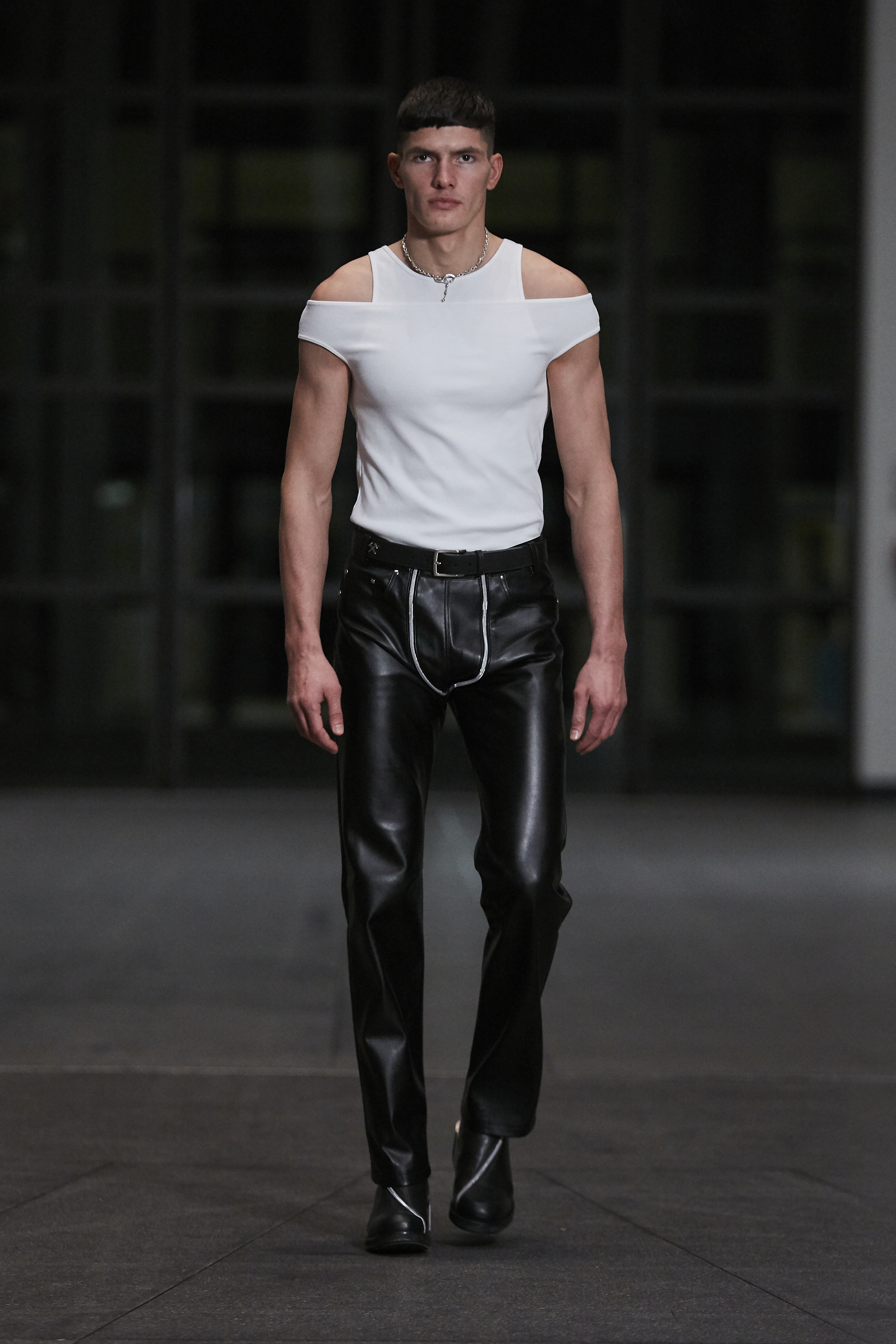 Discussions around diasporic identity may not feature as explicitly here as they have in previous work, but they're no less present. "Our work has always been about seeing Brown men in particular clothes," says Serhat, clothes that our unconscious biases typically preclude them from wearing. As much as we may like to argue that fashion has moved past its harmful stereotyping practices, the unfortunate matter of fact remains that, for many, a Brown or Black man is not the first person they see wearing an impeccably tailored coat in their mind's eye.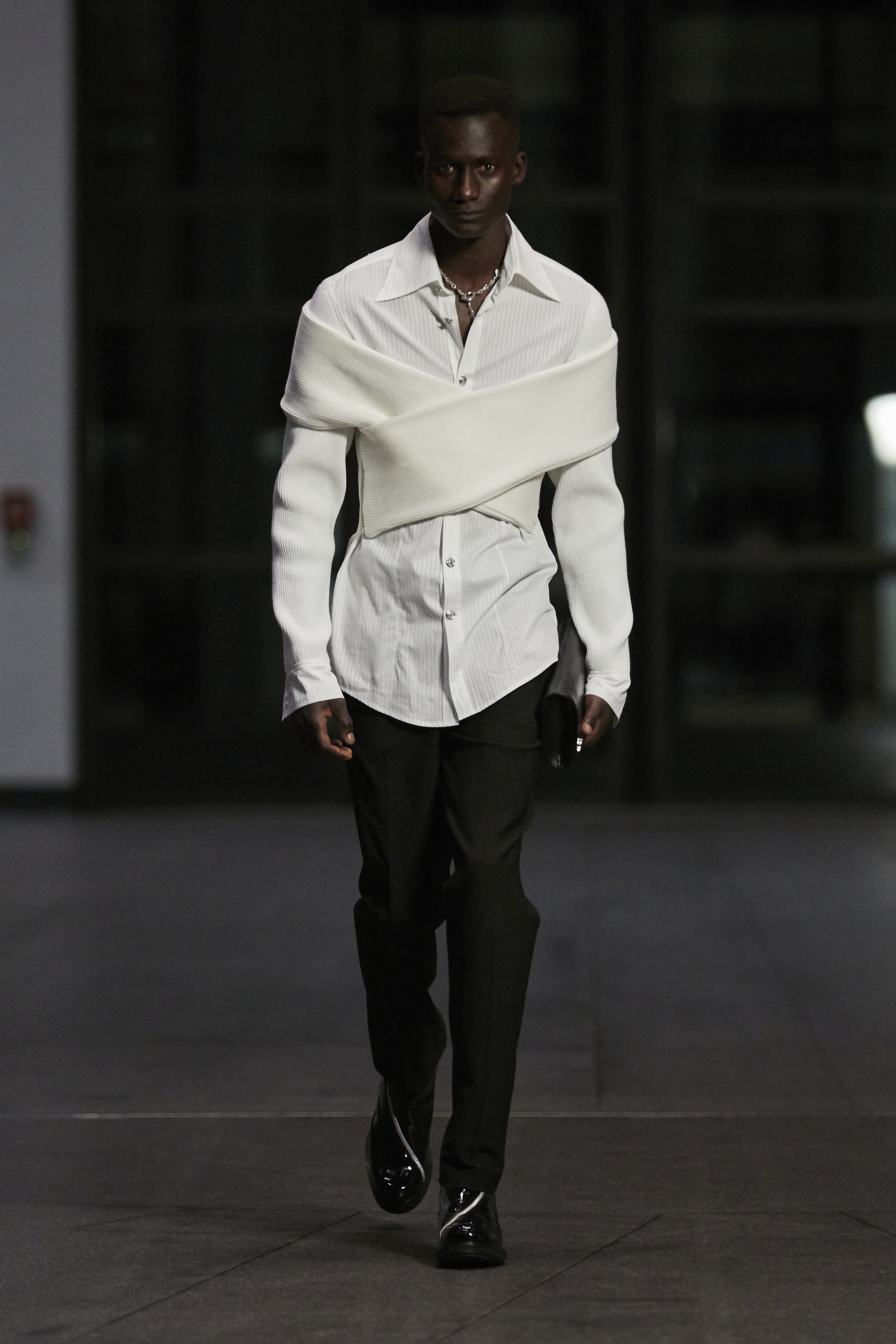 That QPOC-owned brands like GmbH are challenging these perceptions is, of course, important -- but these aren't the only conversations that they should be expected to engage in. Worn throughout is jewellery created in collaboration with Berlin-based artisanal jeweller Nhat-Vu Dang: cast from Barbie's hands and heads; it's a subtle nod to the 90s raver trend of wearing plastic doll parts to the club, and an intuitive bridging of subculture and couture-level craft.
And closing out the collection, you'll find a series of looks that give a good dose of the campy fun we all need about now, the highlights of the precession being a python print suit and an off-shoulder, dyed faux fur. "We just needed it!" Serhat exclaims. "And we wanted to have a little bit of fun with it," Benjamin adds. "We've had this year of so much thinking and responding to everything that's going on. This was just for us: a full fashion fantasy."