E. Charbonneau/WireImage for Sony Pictures-Los Angeles, Jamie McCarthy/Getty Images for MTV, Taylor Hill/FilmMagic, Michael Tran/AFP via Getty Images
A guide to Selena Gomez' style evolution
As she celebrates her 30th birthday, we look back at the many fashion eras of the ex-Disney icon, popstar and beauty guru.
E. Charbonneau/WireImage for Sony Pictures-Los Angeles, Jamie McCarthy/Getty Images for MTV, Taylor Hill/FilmMagic, Michael Tran/AFP via Getty Images
There's a reason Selena Gomez has such a large and loyal fanbase. Since her days as the coolest, most relatable 2010s Disney Channel graduate, the Texas-born star has radiated authenticity in whatever she does: from her addictive pop music, headline-grabbing fashion moments and the launch of Rare Beauty, to her varied screen work — everything from Wizards of Waverly Place to A24's Spring Breakers. Selena also dedicates so much of her focus to mental health support, disability awareness and challenging stigmas that it's impossible to watch and not stan.
As the 90s baby and one of America's most beloved faces enters her 30s, we look back at her ever-evolving style. From the excessive layering as a teen child star, to her iconic popstar moments in music videos, becoming a Coach girlie and finding her own take on a more grown up aesthetic.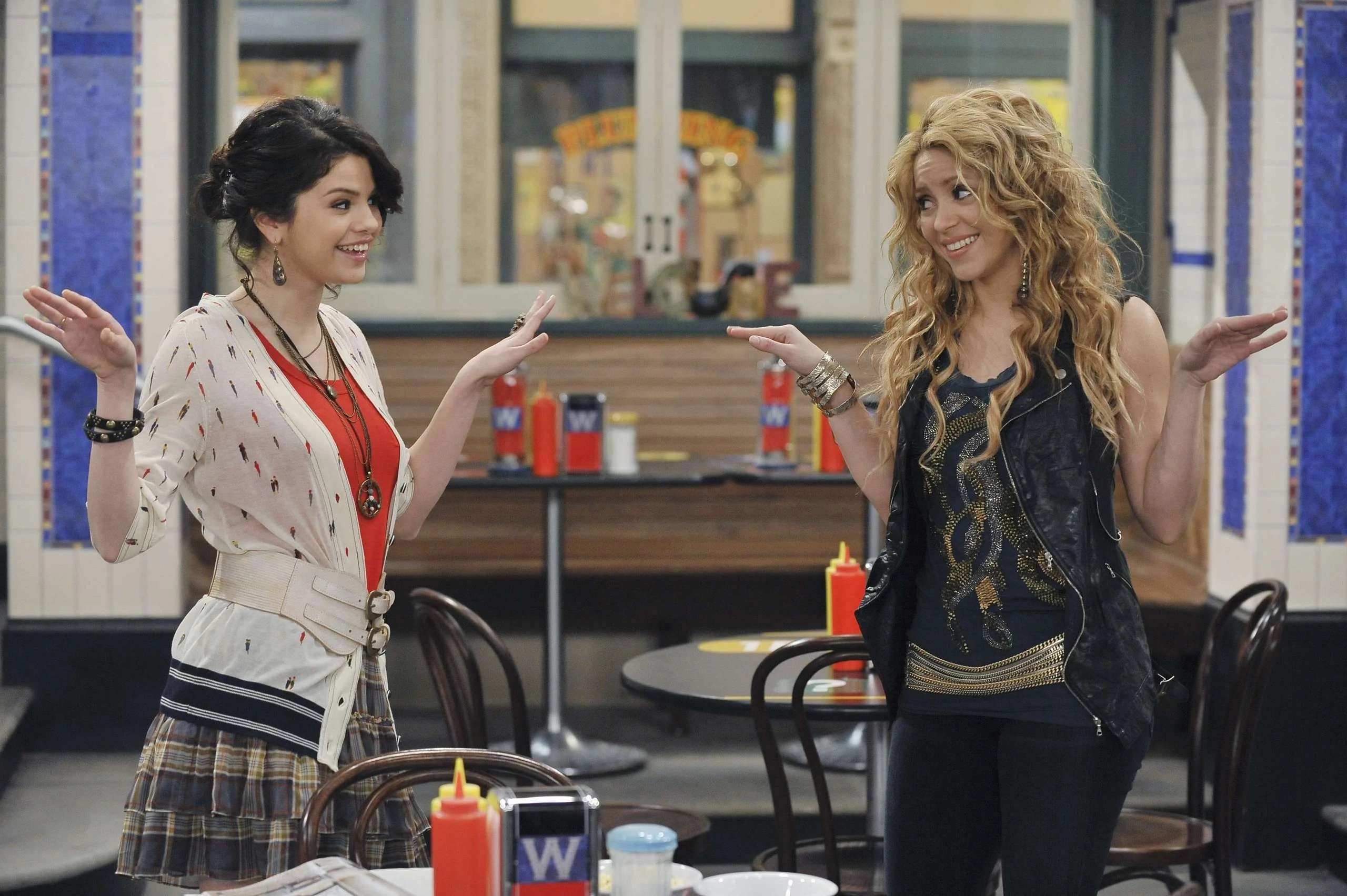 In Wizards of Waverly Place, 2010
One thing we don't talk about nearly enough is the chaos of Disney Channel fashion in the late 00s and early 2010s. A desire to follow the indie sleaze trends of the moment and turn their stars into trend setters (while also keeping it PG for children's TV) meant we saw Selena Gomez, Miley Cyrus, Demi Lovato and Vanessa Hudgens dressed in skimpy mini dresses paired with cropped leggings and cowboy boots. Other looks included stringy vest tops with scarves pooled around their necks, and pinstripe waistcoats accessorised with long sleeved tees and piles of tangled chain necklaces. Occasionally, though, Selena and her rebellious wizard character, Alex, would turn up in something stunning. Take this look from when Shakira guest-starred on the show, for example. If you chopped up that skirt and added a few patches, safety pins and a leather belt, you'd almost have yourself a Chopova Lowena knock off. At least if you squint.
In "Love You Like A Love Song", 2011
As Selena's music credentials continued to grow in her late teens, she began to embrace a sexier aesthetic. For the "Love You Like a Love Song" music video, a Marie Antoinette look was paired with stripper heels, while a beachy sarong was given a warrior aesthetic with metal arm bands and a corset top. The video's climax, though, brought us one of Selena's most iconic looks of her early career: a jewel-encrusted pink corset paired with a short black frilly skirt and thigh-skimming velvet boots. Selena recently shared that while her step-dad thought the look was too racy for the then 19-year-old, it was the first time she felt truly like the pop star she was quickly becoming.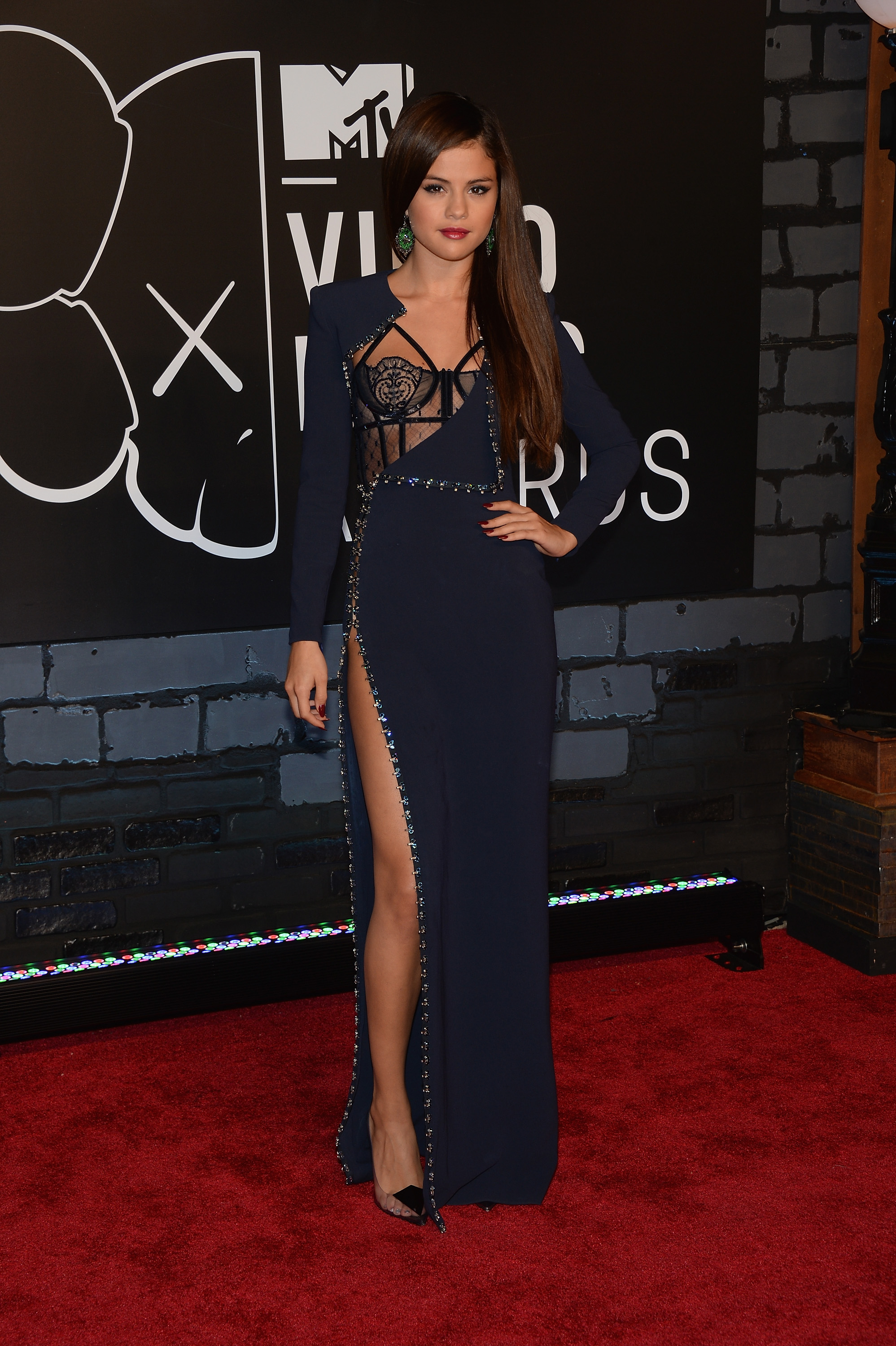 At the MTV Video Music Awards, 2013
Freshly emancipated from Disney Channel's grasp after the finale of Wizards of Waverley Place, Selena ditched her band "The Scene'' to go solo and explore a more mature side. In her acting work, that meant the debauched A24 crime movie Spring Breakers and the action thriller, Getaway. Musically, it involved releasing songs like "Come and Get It", originally written for Rihanna. Her fashion evolved accordingly, peaking with this stunning fitted navy Versace gown at the MTV VMAs. Fastened by partly-undone clips along the front, the dress revealed glimpses of a sheer, lingerie-style bustier — very much a statement that Selena was ready to embrace herself and her sexuality, on her own terms.
At the Z100 Jingle Ball, 2015
In October 2015, Selena released her seminal sophomore solo album, Revival, a much more personal record than her previous offerings, that spoke candidly about her experiences with love, heartbreak, sex, social media, criticism, social anxiety, faith and confidence. Her wardrobe for the album changed too, adopting an array of sheer panelled bodysuits (many of which were designed by NY label Montse) accessorised with combat boots and grungy flannel shirts.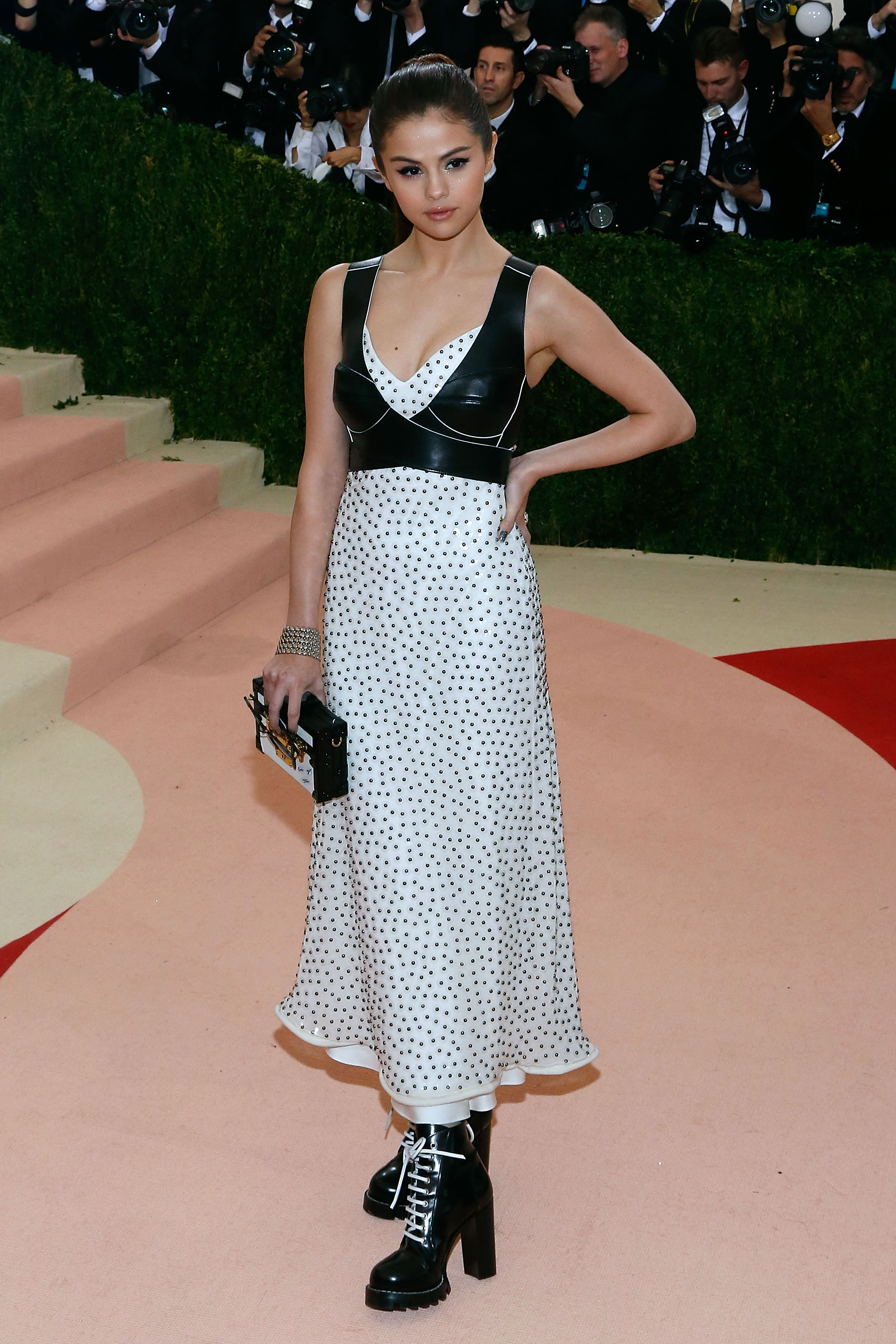 At the Met Gala, 2016
Attending the Manus X Machina Met Gala, hosted by bestie Taylor Swift, Selena ran with her punk moment in a polka dot Louis Vuitton gown, cinched by a leather bralette and paired with chunky boots, minimal jewellery and fresh, dewy makeup. It may not be the extravagant OTT look we've come to expect from the Met Gala, but it was certainly a serve nonetheless.
At the Coach SS18 Show, 2017
In the season prior, Selena joined the Coach family, launching her own handbag with the NY leather goods specialists called the Selena Grace, named after the energy she gives off. America's sweetheart — at the time the most followed person on Instagram — was the perfect fit for the all-American brand and it showed when she sat alongside Anna Wintour at the Coach SS18 show. Wearing denim bootcut jeans with cute stars-and-stripes pocket detailing, a black high-necked crop top and a rustic mahogany-toned, cowboy-style leather jacket, it's giving yee-haw.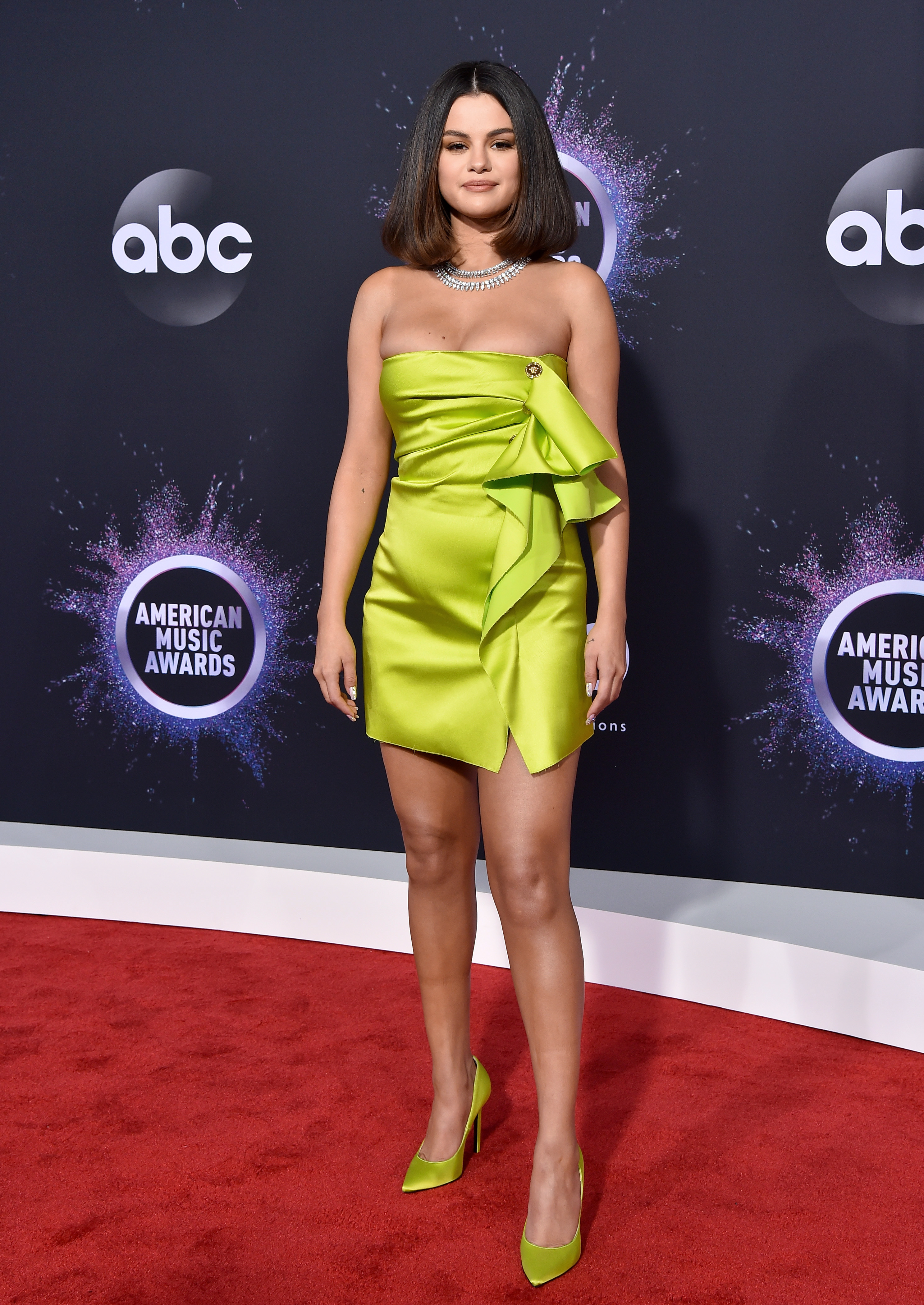 At the American Music Awards, 2019
Nearly four years since her last album, in 2019 the stans were more than ready for some new pop goodness from Selena. She delivered exactly that in the form of two very different tracks: the soft and emotional "Lose You To Love Me" and the middle-finger break up anthem "Look At Her Now". Both singles from her third studio album Rare, she performed them at the American Music Awards — the first in a black gown, the other in a spacey bodysuit. Prior to this though, she took to the AMA red carpet in a sexy Versace SS20 mini dress — cropped even higher by the star — in a bold lime green shade.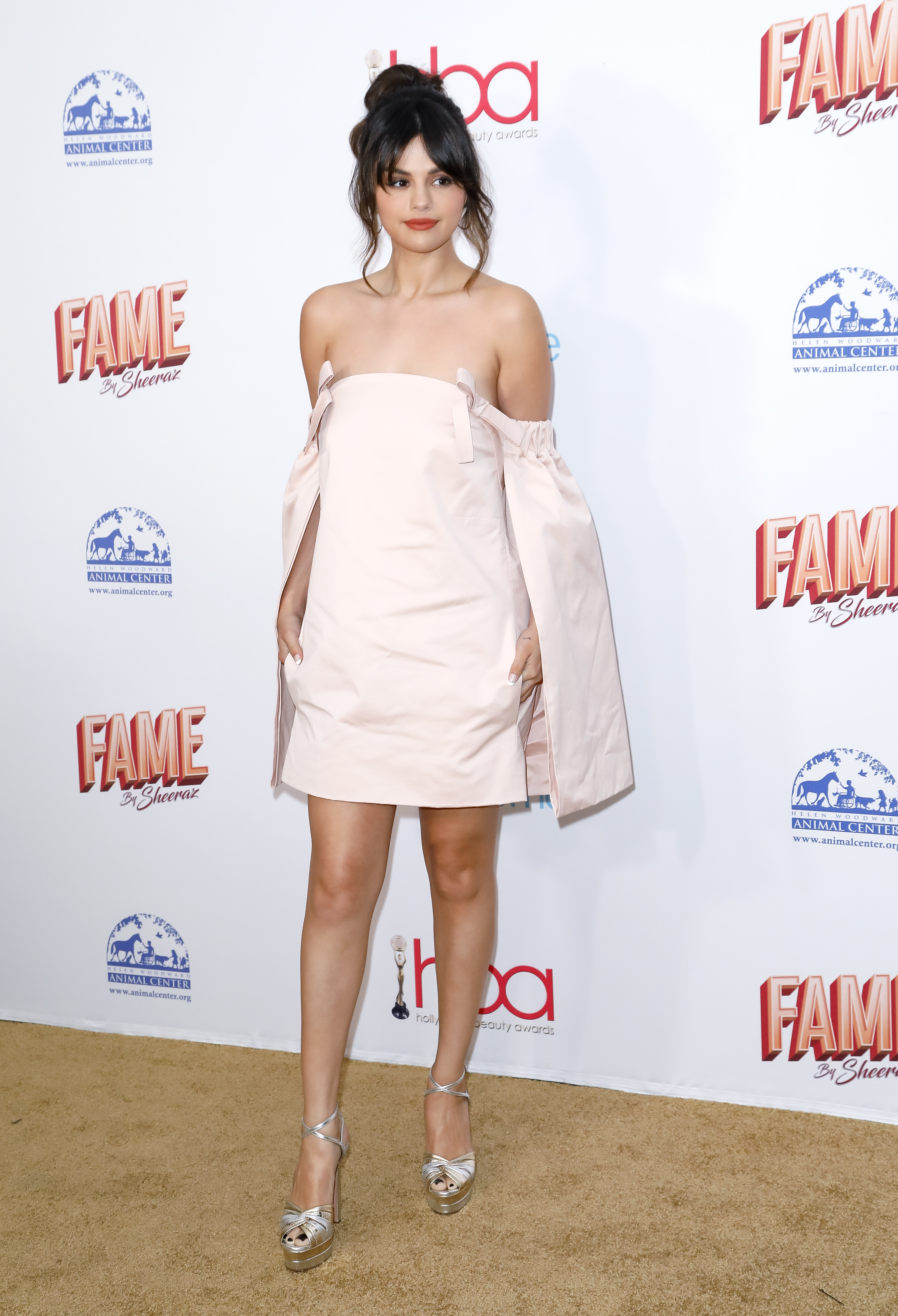 At the Hollywood Beauty Awards, 2020
We didn't see much of Selena in 2020, mainly because, well, we didn't see much of anyone that year. But she kept busy and added another skill to her LinkedIn profile: founder of Rare Beauty. The accessible collection — designed to be disability friendly and sensitive to skin — has since become a major contender in the cosmetics space with its fresh and minimal-look products. Better still, Rare Beauty aims to evolve the industry by focusing on creating a supportive, empowering community and actively funding mental health programs. As she prepared to launch the brand and rumours swirled of what it might bring, Selena attended the Hollywood Beauty Awards in a cutesy blush Patou mini dress partnered with a coral lip.
In "De Una Vez" music video, 2021
Selena first dabbled with singing in Spanish back in her Disney days, with translated versions of her empowerment song "Naturally", and the electropop "A Year Without Rain", before announcing, in 2011, that she was working on a full Spanish-language project. Well boy did she edge us, because it was a full decade later when it finally came to fruition. Titled Revelación, the project was acclaimed by critics and sold as well as the juggernauts of the Latin pop scene like Shakira. The album also came with some stunning fashion moments, from puffy Valentino couture on the cover, to a signature excessively-brimmed Harris Reed hat in the promos. For the lead single "De Una Vez", she immersed herself in Latin culture, with nods to Mexican folklore and native magical realism in a botanical Rodarte dress, floral headpiece and jewellery that resembled the style of Frida Kahlo.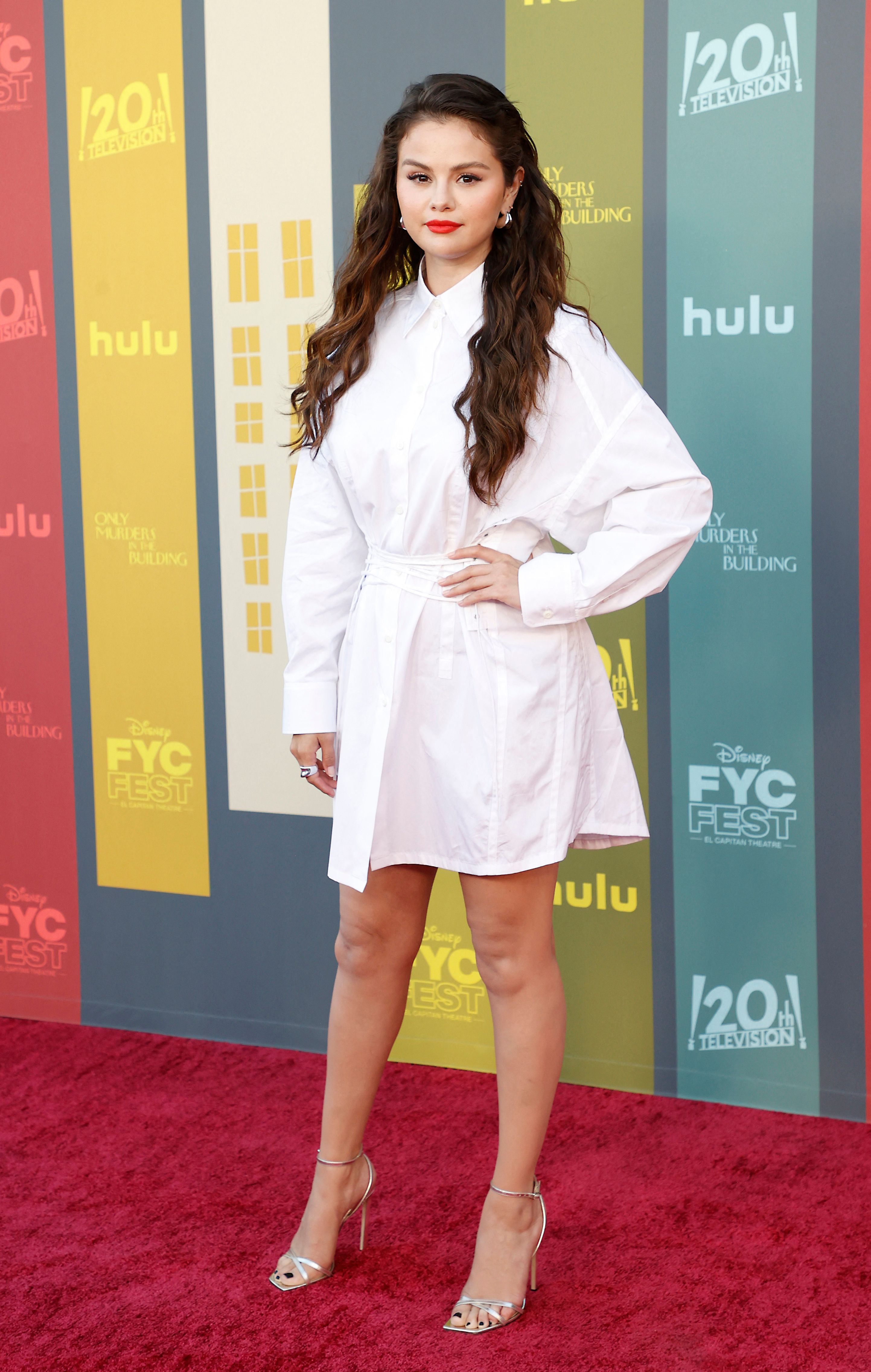 At the Only Murders in the Building LA party, 2022
It was rather fitting when Selena stepped out at an event celebrating the second season of her hugely successful new Disney+ series, Only Murders in the Building, in a crisp white shirt dress from Prada's SS22 collection, with corset detailing cinching it in at the waist. The Italian house's summer offering embodied the plurality of womanhood, with Miuccia exploring the spaces between the binaries so often placed upon the female body of either too sexual or too bookish. Selena, with her long-standing unique and candid openness about her relationship with her body and her health (both physical and mental), is the epitome of that woman.
Follow i-D on Instagram and TikTok for more on fashion and Selena Gomez.
Tagged: