Images courtesy of gorunway.com
Rei Kawakubo frames medieval jesters as the original punks for SS23
For her return to the Paris catwalk with Comme des Garçons Homme Plus, offered a subtly sinister exploration of court jokers' dress.
Images courtesy of gorunway.com
Rei Kawakubo is back in Paris, following two years of showing her Comme des Garçons collections in Tokyo. And it couldn't be more timely to have her return to menswear at a time when masculinity is in crisis. In the typically traditional menswear landscape, Comme des Garçons Homme Plus is a rare bird of provocation. With her menswear, Rei often seeks to dismantle the canon of men's clothes, cryptically imbuing her collections with messages that feel like coded wisdom for making sense of what's going on in the wider world. So, it was perhaps given that we're living in terrifying times — governed by men, it should be noted — that she decided to shutter the windows in a derelict Paris warehouse and send out guys in killer-clown masks, harlequin prints and layered frock coasts with slasher zig-zag hems. The soundtrack of eerie slasher-flick scores, from Suspiria to Halloween, set the tone for a brooding darkness and a creepy assertion of forced smiles, bright colours and a deranged sense of fun amid the suspenseful fear lingering in the air.
But Rei doesn't go for the jugular — her collections are far more coded and difficult-to-decipher than the obvious explanations that we so often try to glean from them. In fact, she arrived at the canon of Hollywood tropes via court jesters from centuries past, titling her collection "Another kind of punk". After discovering a book about medieval jesters at Dover Street Market Library, and realising that they were the original whistle-blowers — the only people at court able to criticise or mock powerful figures through the veil of humour and parody — she decided they were original punks, the subculture that has fascinated her throughout her decades-long career. As she explained in a written statement: "Often they would be close advisors of the king. Coming from a different world with original ways of thinking, they would have the right to speak freely and give honest insights and advice. I imagined these jesters probably had punk spirit."
The collection itself was rooted in Victoriana tailoring, with layered frock coats given cartoonish proportions by hooked hems and a rigid material infrastructure that allowed jackets to sit away from the body, almost like bustles, scrunched up and crinkled as found in an old dressing-up box. Child-like geometric prints, many of which were borrowed from clown costumes (which are, in turn, borrowed from medieval jester costumes) made the mass of black tailoring all the more sinister. Oversized brogues left white marks on the raised black catwalk, leaving behind a ghostly trail of footsteps. Never one to give too much away, it left a lasting mark on a week otherwise defined by commerciality and outdoorsy optimism. Which is why, after so long, it couldn't serve more as a reminder of how vital Rei Kawakubo and her brilliantly off-piste Comme des Garçons universe is to the fashion landscape. The scariest thing about the show was not the clown masks — but the thought of fashion without it.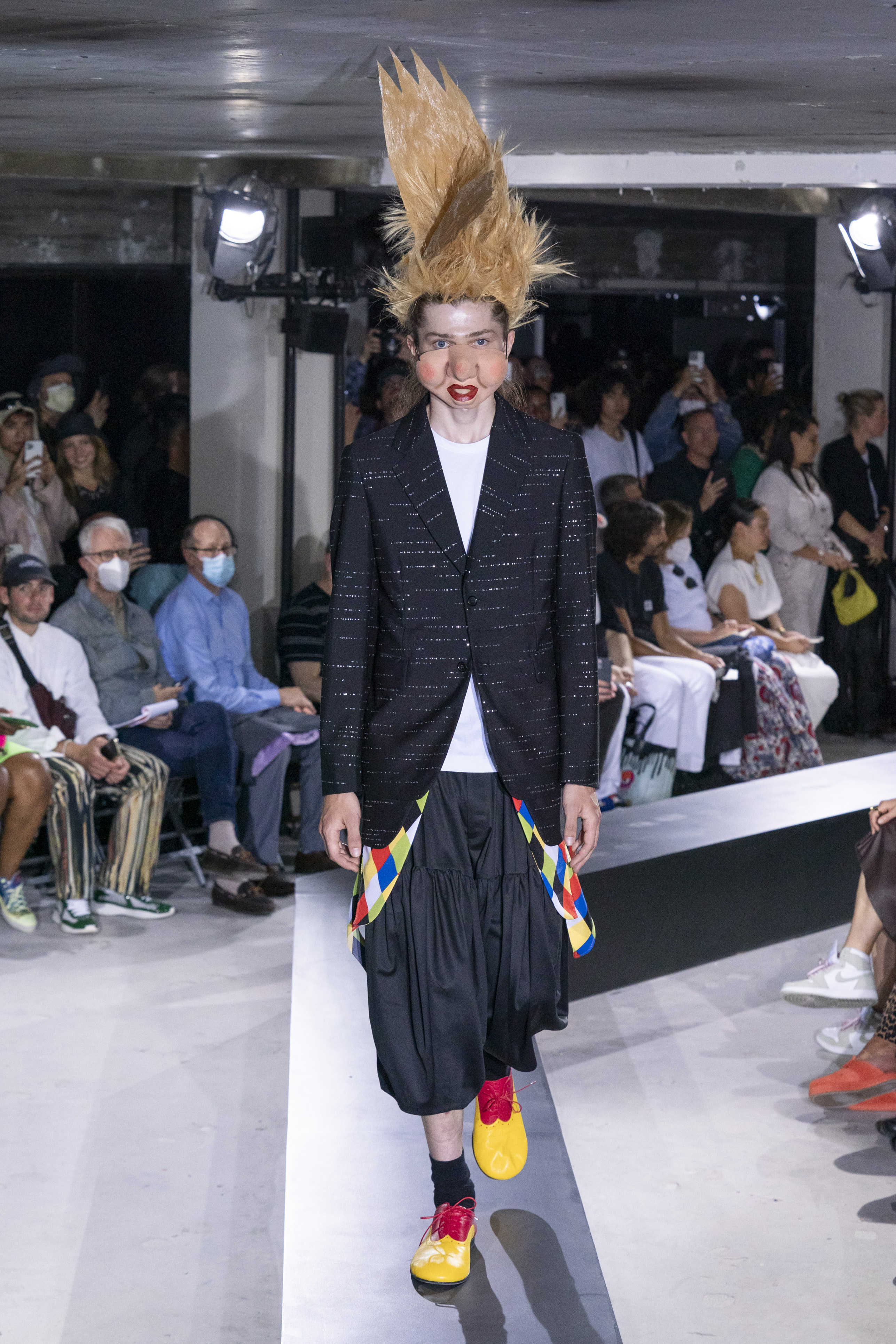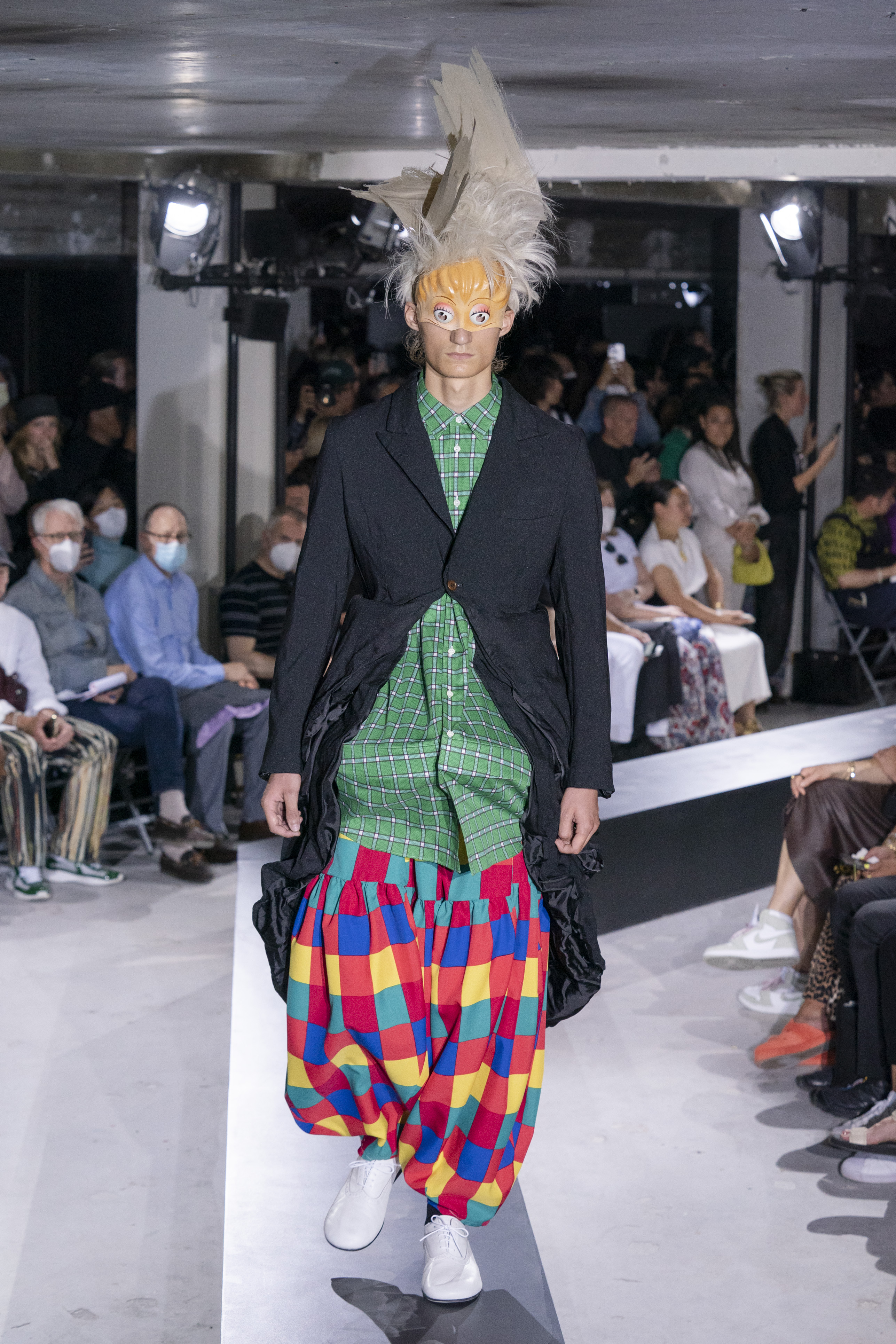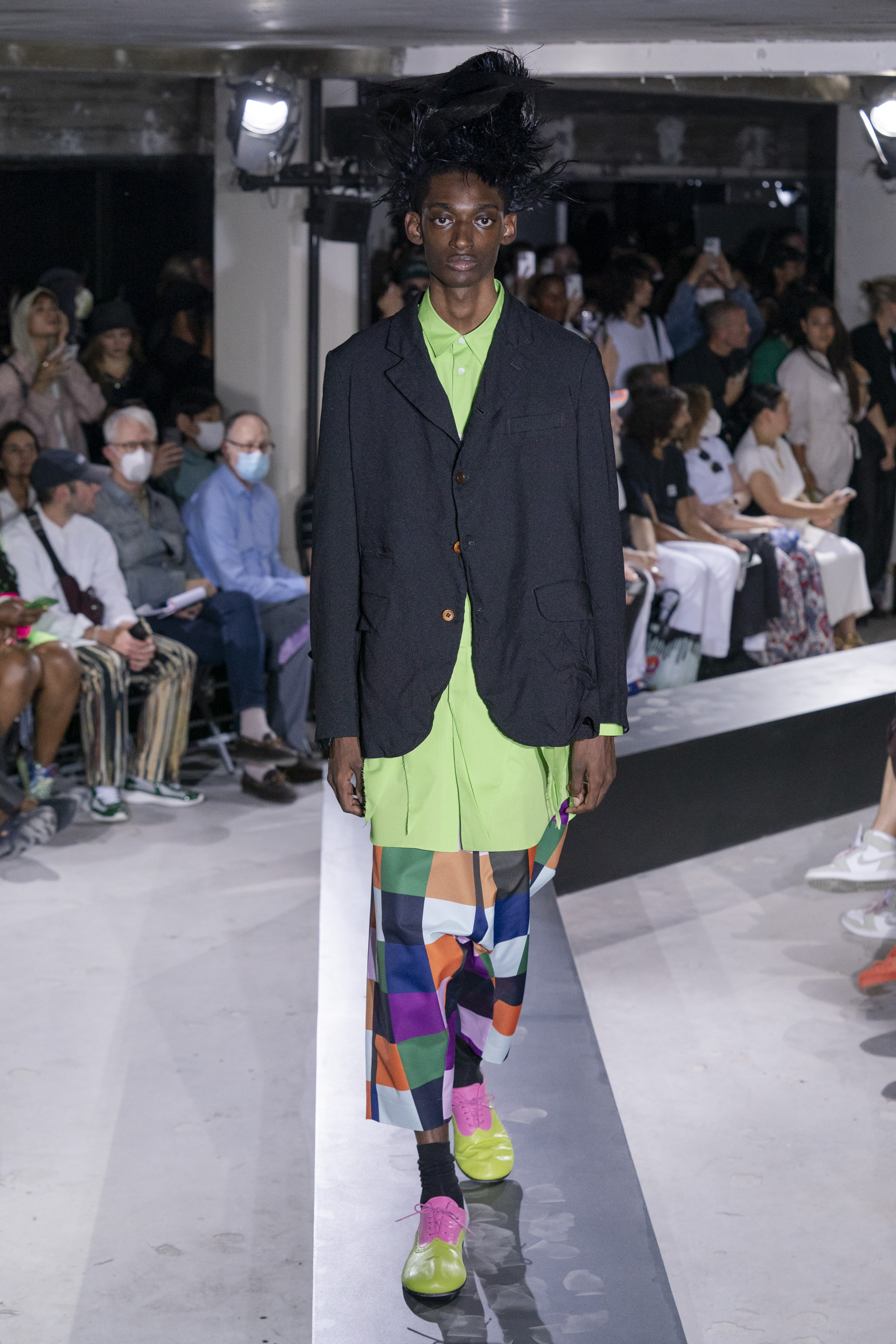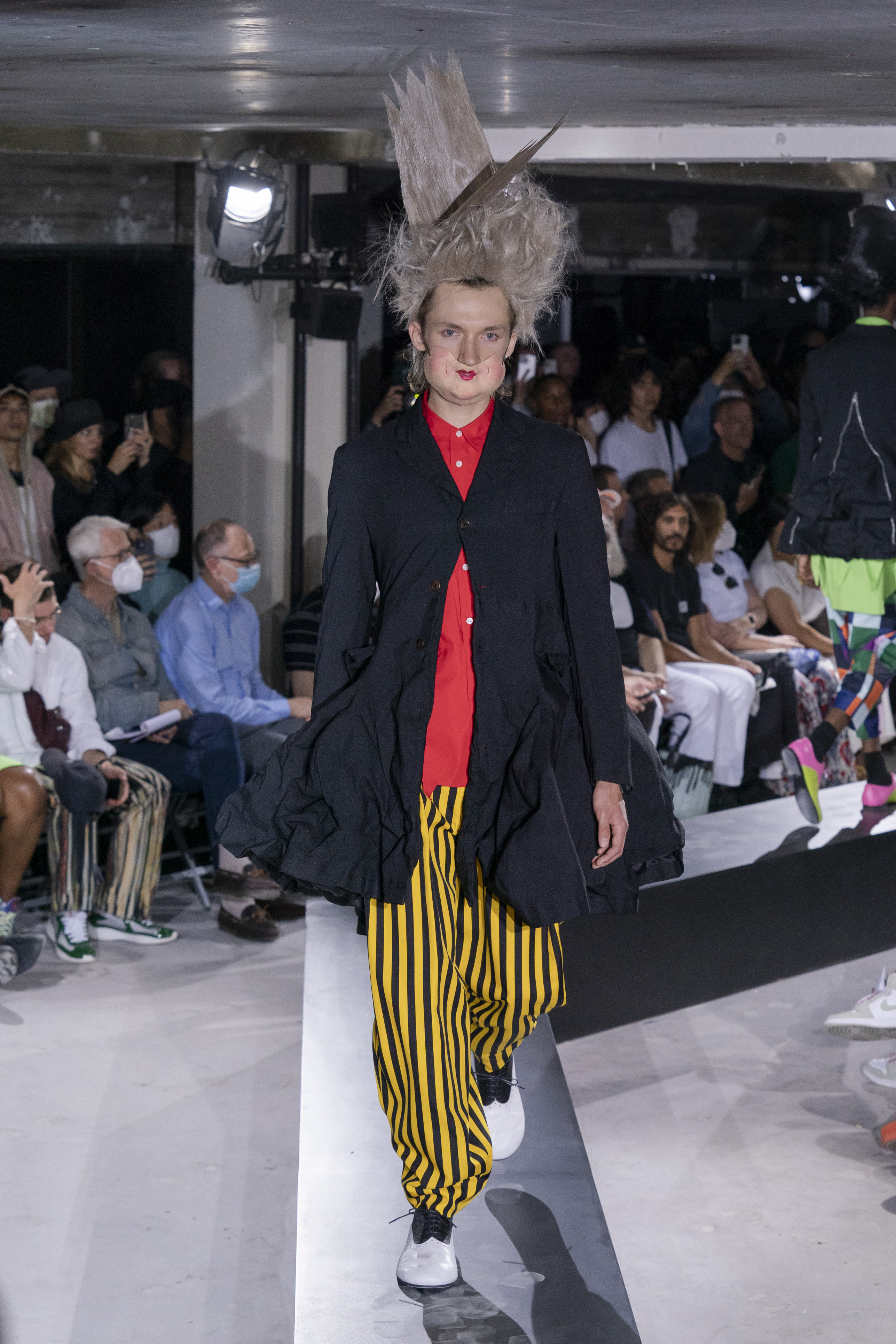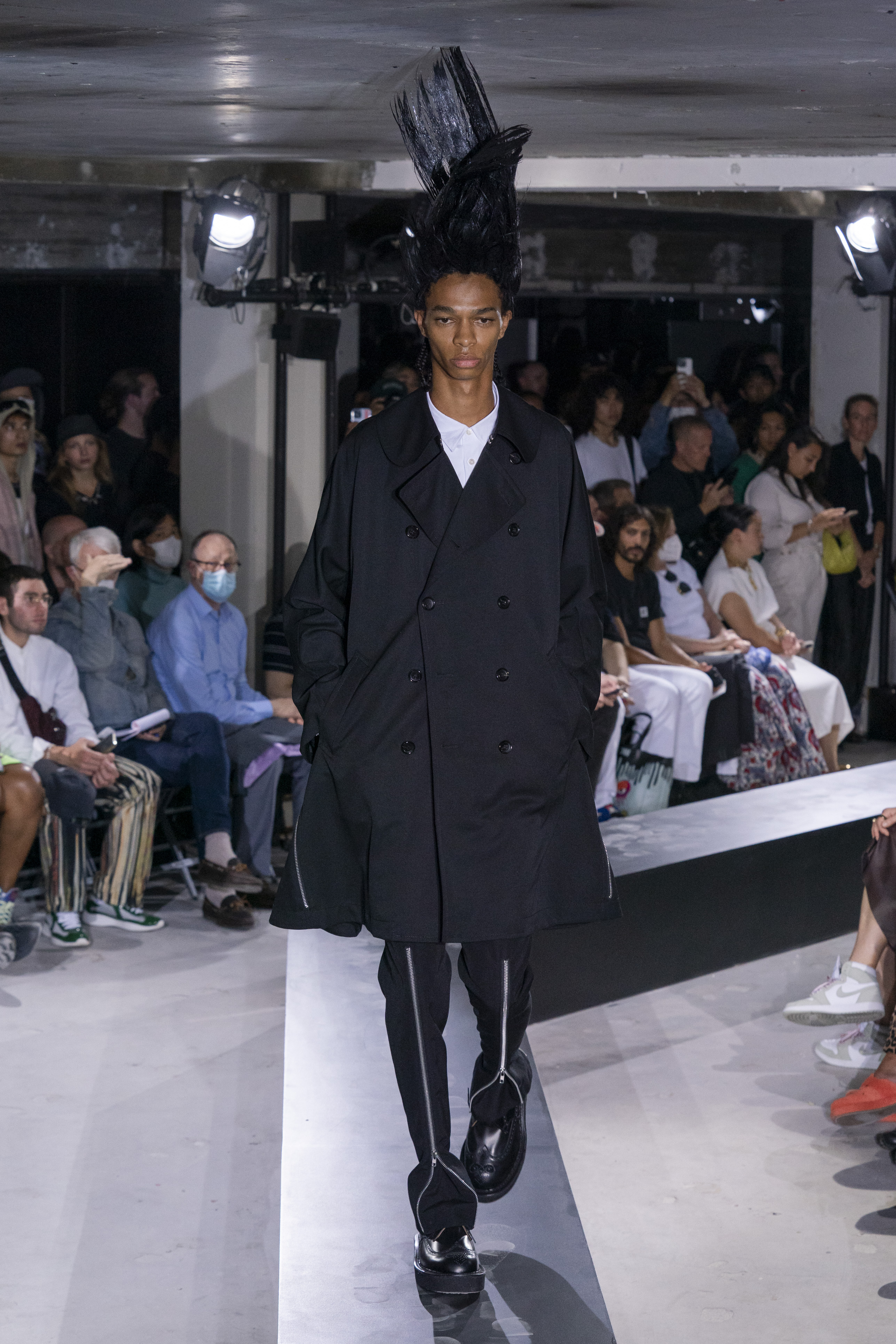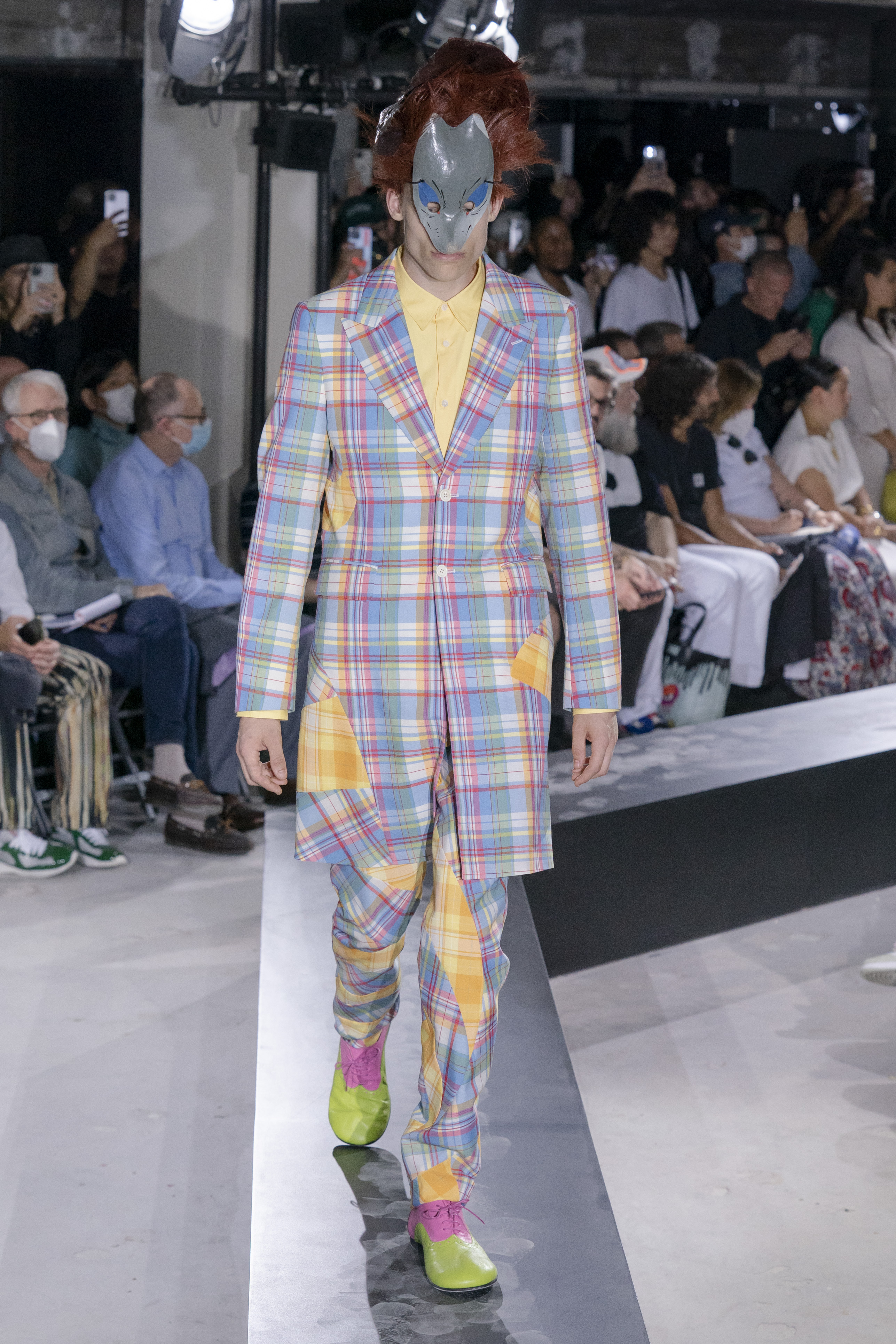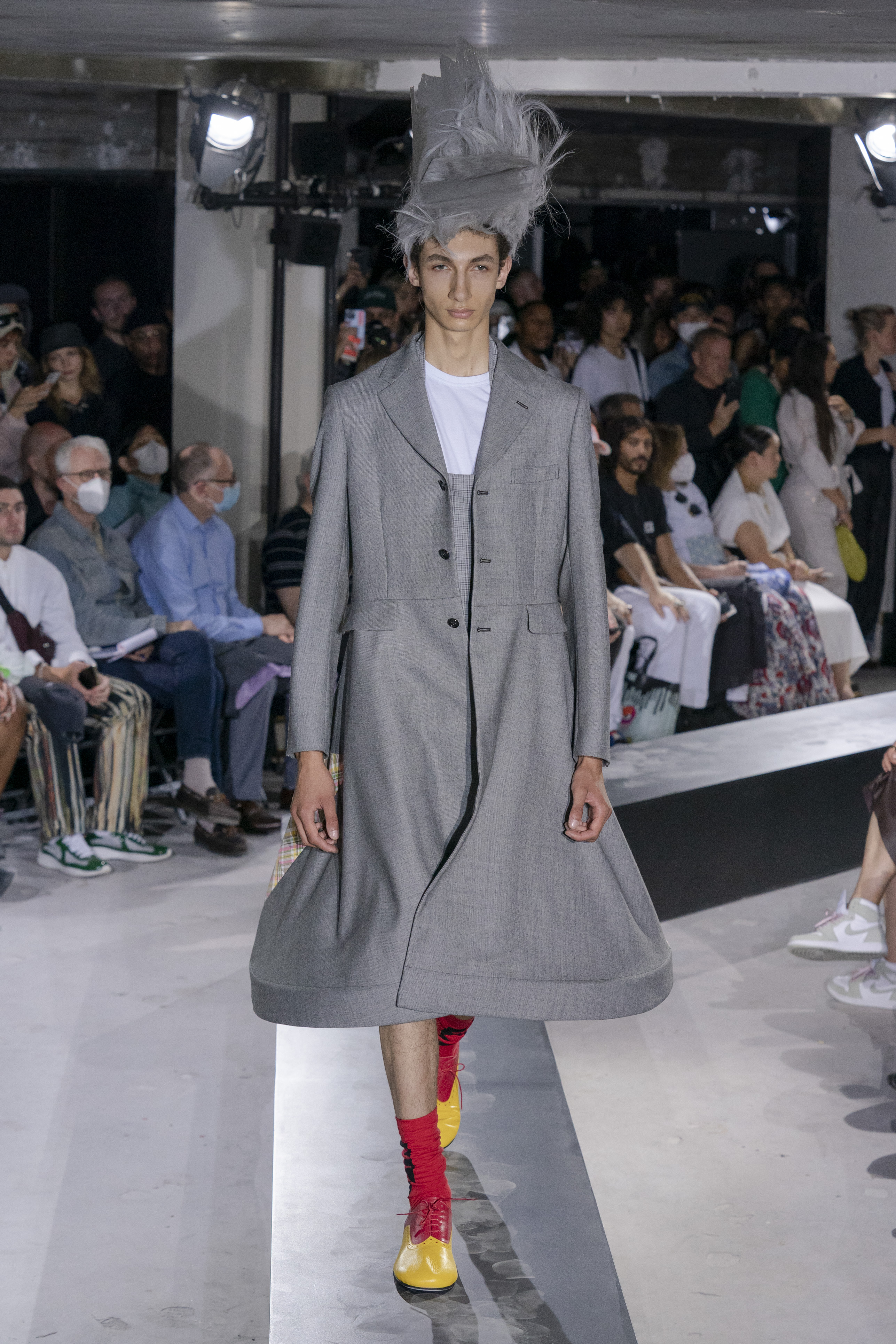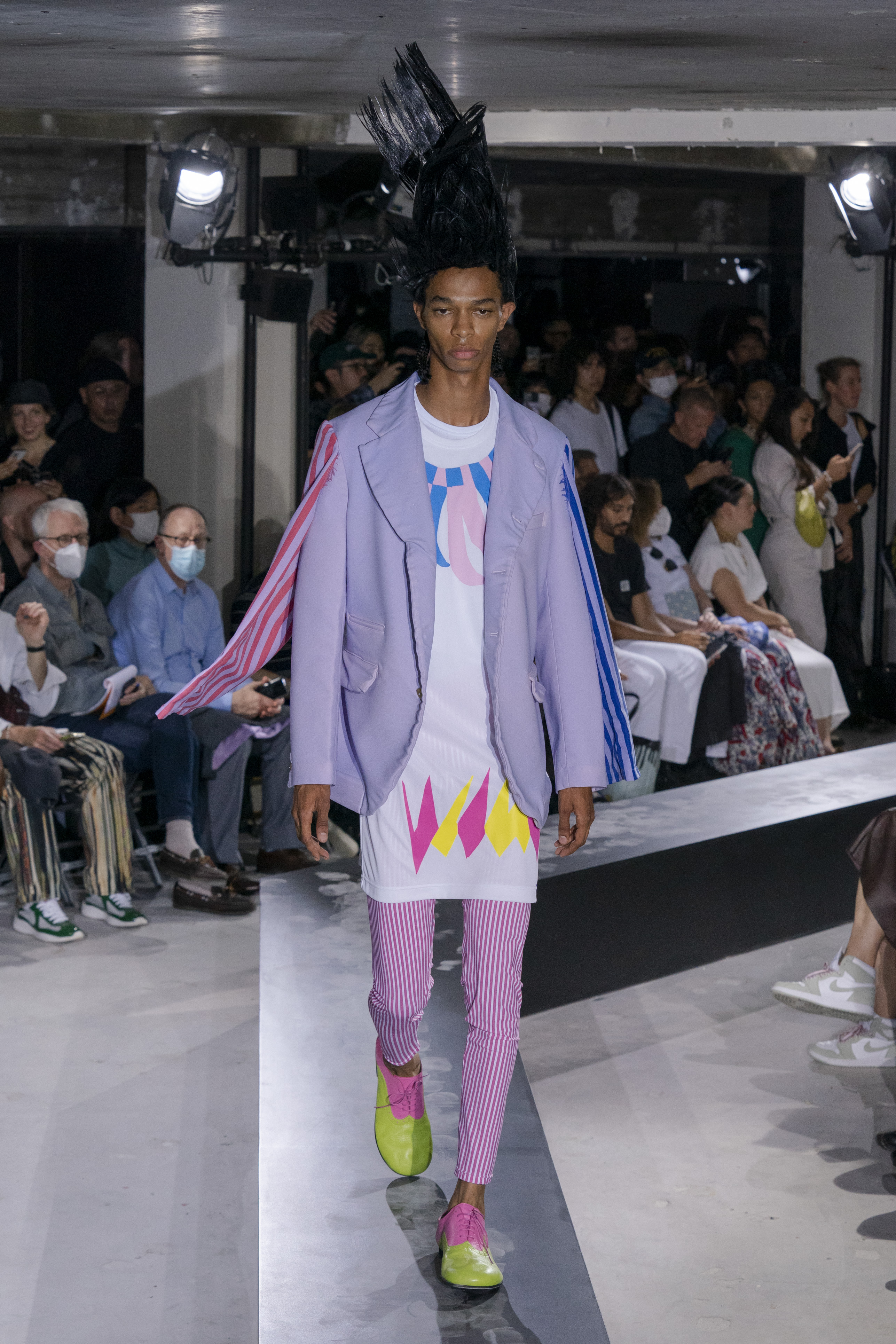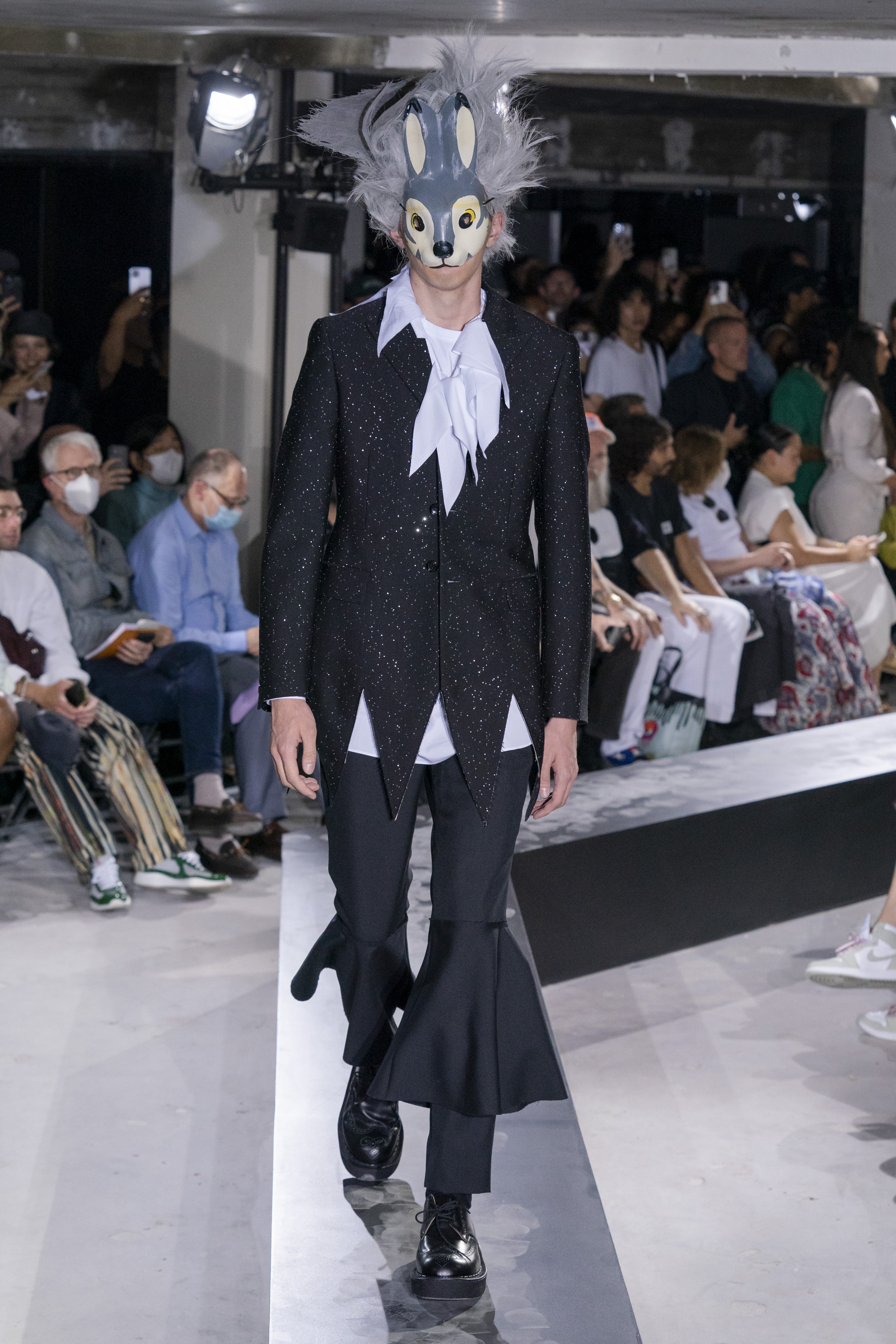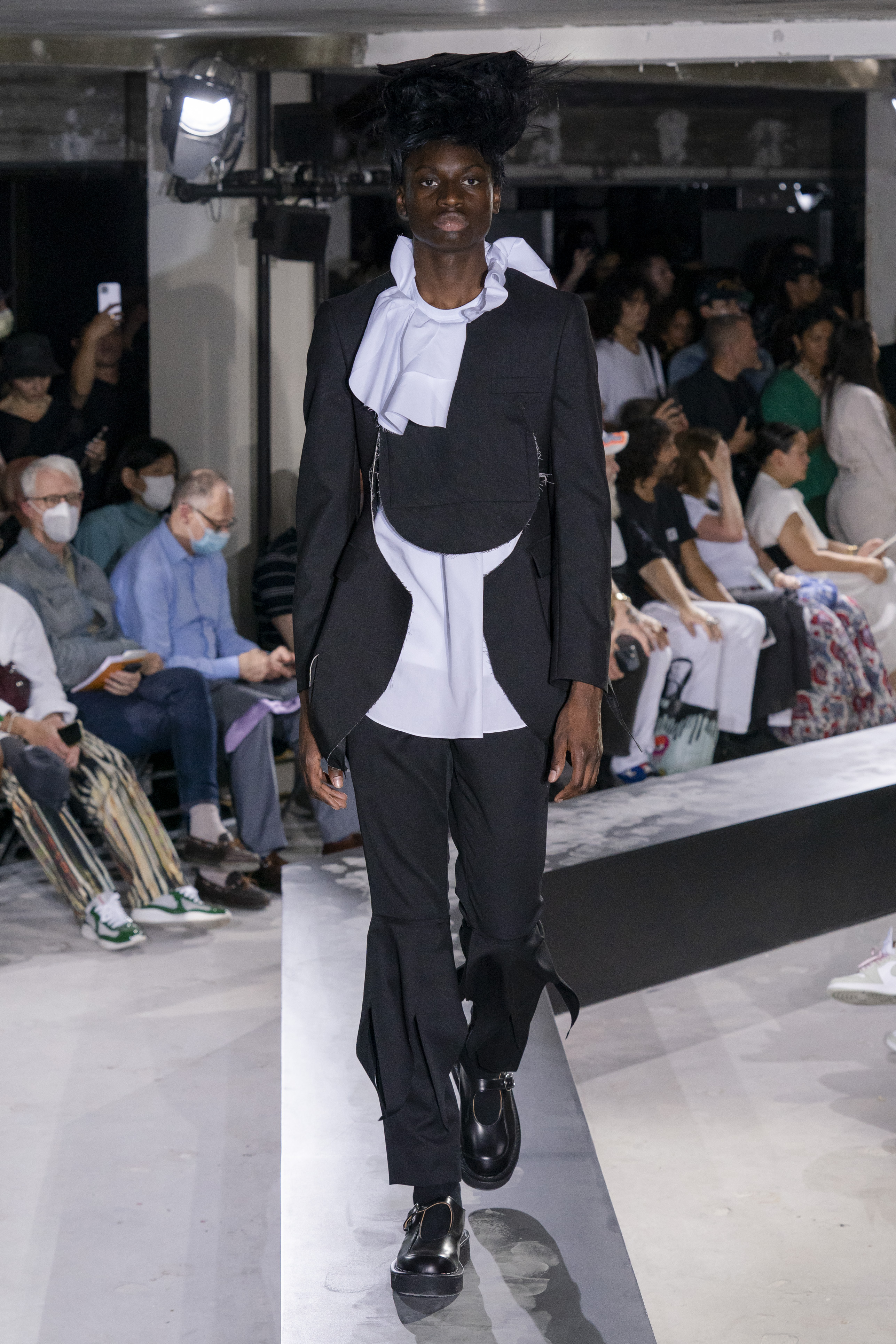 Follow i-D on Instagram and TikTok for more from the SS23 Menswear shows.
Credits
---
All images courtesy of gorunway.com