we got @radioshead to pick her top five collages
If you've ever wondered what Brigitte Bardot looked like in the 18th century or what happens to the Virgin Mary on a bender then look no further.
|
29 November 2017, 3:37pm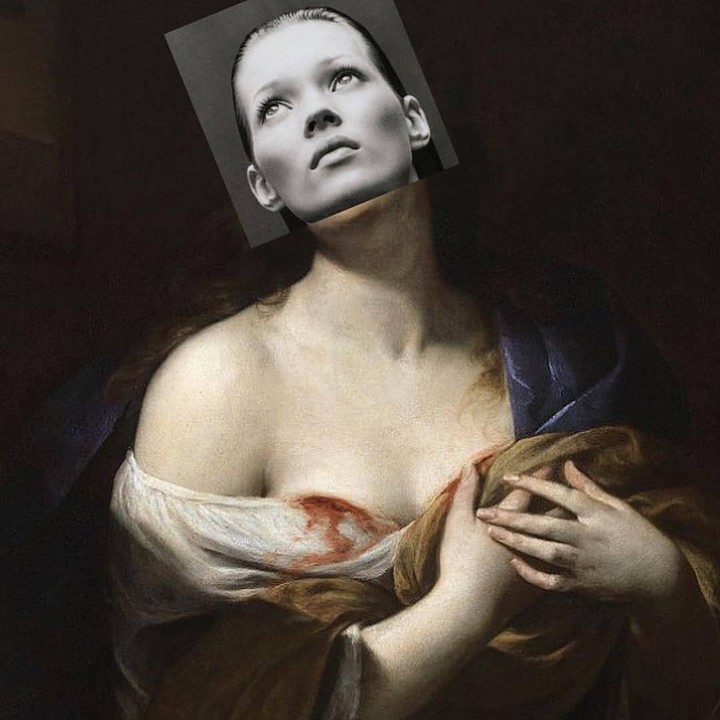 Image via Instagram
In a new weekly column, we profile the profiles you weren't lolz enough to come up with, as they pick their top five posts and share with us some of their Insta know-how.
For most of us, Instagram basically means scrolling through endless feeds of #aboutlastnight selfies and heavily filtered holiday pics in a bid to feed our FOMO, but for a cultured few the platform is a place to create and share art. This is the case for 17-year-old Kurdish student Nirvana, otherwise known as @radioshead.
Inspired by the collages she'd seen online, and fuelled by a love of old masters, Nirvana decided to make some collages of her own, combining Baroque and Renaissance paintings with images from contemporary culture. Think: a cherry-sucking Mona Lisa or a 17th century pious Bella Hadid.
"When I first started making them it was out of pure joy," Nirvana tells i-D. "I didn't really put a lot of thought into the concepts. I have always had so much interest in the history of art and I think contemporary art, films and photography are beautiful. I love to see the contrast and progress of art done then and art made now, it's about bringing different times and types of art together."
When it comes to sourcing her images, Nirvana spends hours consulting her rich knowledge of art history and surfing the world wide web. Her fave sites are Instagram (obvs) and Tumblr. "I look for film stills, classic/neoclassic art, Renaissance paintings, images of actresses, models and random posts from different Instagram profiles." As for the captions, Nirvana takes her cue from song lyrics or from whatever mood she's feeling that day. She's a big fan of emojis, and so, it seems, are all 16K of her followers.
"I think the viewers get a look at something unique," she says of her Insta success. "These [images in my] collages aren't so easy to find, I hope it inspires some creativity in them, I love seeing people make collages and tagging me saying it inspired them, it's wonderful. Art is for everyone and I hope by seeing these collages people realise there are lots of different art forms, and freedom in art. I just enjoy being creative in this way and I'm happy people enjoy it, I hope I can keep doing it for a long time."
"I love this one because it's a girl with a lollipop, sort of a phallic shape, mixed with Mona Lisa, a very reserved and mysterious woman."
"This Venus was painted in the 18th century, and she still has a body type similar to Bardot, I love this one because it makes me think of how beauty and body image has been celebrated differently over time."
"This one makes me think of human suffering. The pain of Mia during that overdose and that of the innocent Virgin Mary."
"I was going for something a bit more funny with these."
"I love Courbet, and the female body is one of the most beautiful and strong things in my opinion. This one is just so beautiful and feminine to me."