lou dallas makes 'shrek'-inspired clothes for the downtown art crowd
Rafaella Hanley's seventh collection as Lou Dallas was a wonderful woodland fantasy in deadstock fabrics.
|
14 February 2018, 7:07pm
It's fitting that Rafaella Hanley likes to stage fashion shows in art galleries. Her whimsy-packed collections as Lou Dallas — and we mean this in the very best way — appeal to downtown cool kids who sip wine out of plastic cups and have a penchant for bloomers. Romanticism is hot right now, and Rafaella was ahead of the trend when she launched Lou Dallas in 2013. The designer's fall/winter 18 show was held at Arsenal Contemporary on Bowery, just a few doors down from last season's show space. Many of the guests were probably already familiar with Arsenal's current show Eye to Eye. The group exhibition benefits Sanctuary for Families, NYC's leading service provider for survivors of gender-based violence.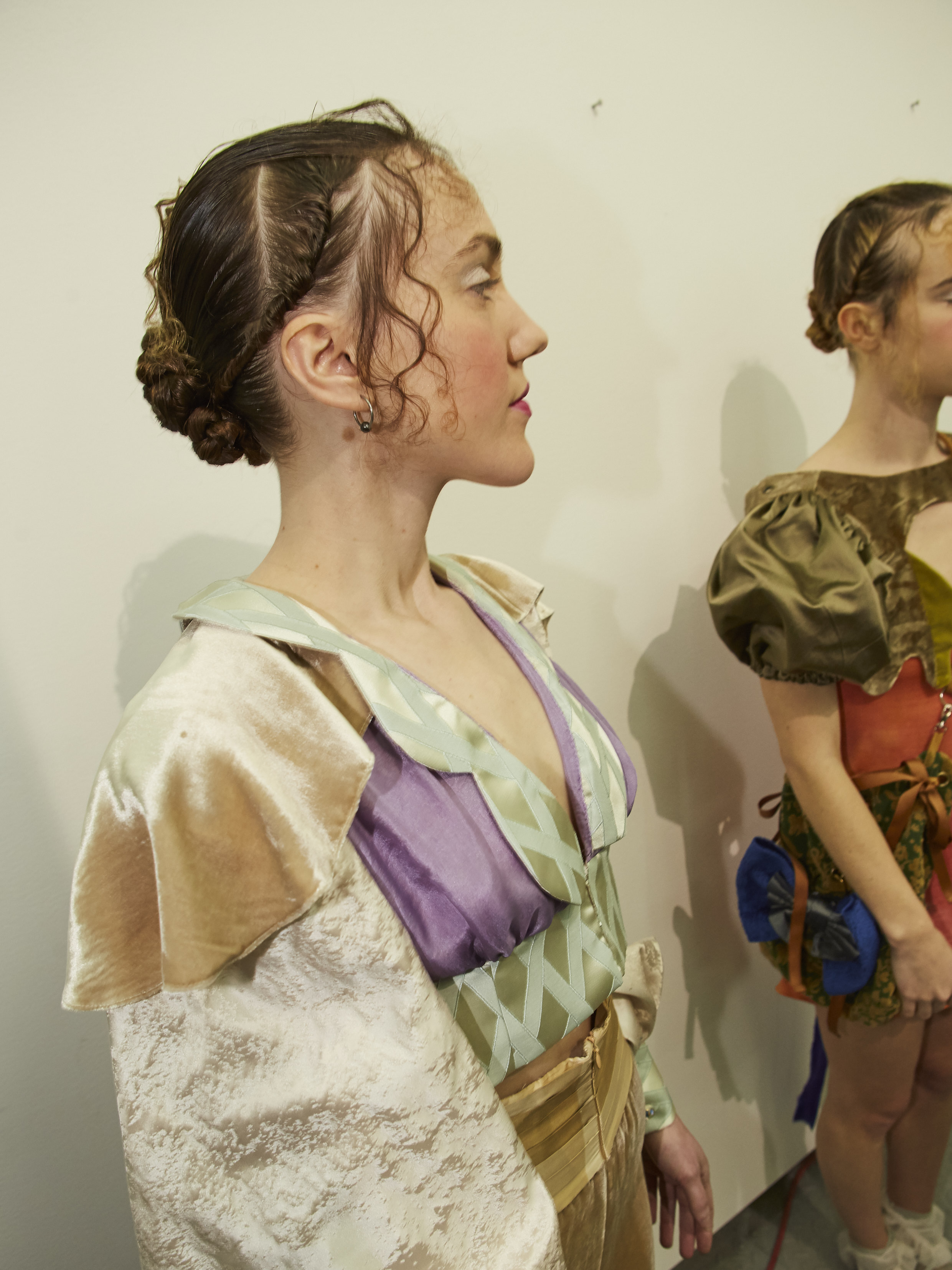 There's an artist's sensibility in Rafaella's measured approach to construction. She uses recycled and deadstock materials to make all of her garments in New York City. Looming is done in-house, and dying by hand. That homespun craftwork appeared yesterday on babydoll dresses and Jester-esque striped trousers. Ren Faire realness was amped up on Rafaella's signature pixie dresses, one featuring puffy velvet sleeves in woodsy moss green. One model walked to the warped electronic soundtrack — which was controlled by a very DIY DJ with her laptop perched on her knees — in a gown with shimmering peach sleeves and palpable Shrek vibes. These aren't costumes, though. Rafaella's attention to handiwork resulted it some exquisite embroidery detailing that demanded to be seen close up. Don't be surprised if all the cool girls are wearing tie-dye ballet slippers once the winter slush clears.