from kanye to frank: why hip-hop loves anime
Kanye West's love of Akira. Frank Ocean's evident appreciation of Dragon Ball Z. We explore the long-standing and mutual relationship between Japanese animation and the music world.
|
19 February 2018, 3:55pm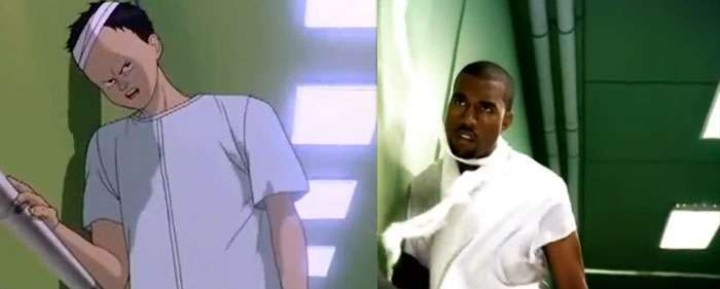 Anime fans may have a rep for being dweeby obsessives or cosplay oddballs, even pervy Manga addicts, but the Japanese art form has actually influenced some of the hardest rappers out there, and its impact on hip hop spans decades and sub-genres. Whether it's the fantastical themes and escapism of anime worlds, the unlikely heroes of its tales, or the sample-friendly soundtracks, there's something about these cartoons that seriously resonates with MCs and beat-makers.
Many of these artists -- mainly young men -- identify with the downtrodden heroes of anime, the "me against the world" spirit often found in its stories, as well as the aesthetic and escapism, despite often growing up in urban western environments and being from black or mixed-race backgrounds, which at first can seem far-removed from the Japanese culture that anime springs from.
However, the anime world gives people hope, basically, and that's something that plenty of hip-hop artists grow up searching for, no matter where they come from. "It solidifies the idea that there is strength beyond muscles, life beyond death, sight beyond what you can see, " says Che Lingo, a south London MC who cites anime as a major influence in his life and his music. "And if you are passionate and determined enough you can reach a higher, better, stronger version of yourself.
"It entertains the idea of limitless potential and hope in dark times. These are all things an artist deals with daily. Some of the best and most successful songs share these values, or were born this way. Anime's essence in character profiles and dialog is to dramatise and push the most simplistic emotions and interactions to their limits -- which, as a kid inspired me to feel my feelings a lot more than society might've typically 'allowed' as a young black boy in South London."
Many artists can specifically relate to the heroes of anime, even transforming themselves into tributes to the cartoon protagonists in their videos. Kanye West famously expressed his love for cult film Akira in the video for Stronger by directly referencing scenes from the movie: he places himself in the same machine as central character Tetsuo; features a homage to the famous opening motorbike scene; mirrors the riot and hospital scenes. In some shots Kanye is dressed exactly the same as the anime protagonist, moving the same way through the frame.
West has been open about this love for anime online too, when he took to Twitter to beef with those saying Spirited Away was a better film than Akira. "No way Spirited Away is better than Akira… NOOO WAAAY…sorry was just looking at a youtube of top 10 anime films," he said.
Lil Uzi Vert -- who is such a fan he's been spotted at anime conventions -- took this homage one step further and actually transformed himself into an anime-style cartoon character in his video for Ps & Qs.
Wu-Tang's RZA placed himself at the centre of a whole anime series, by creating its soundtrack. Afro Samurai OST is the musical backdrop to the series Afro Samurai, and features the likes of Big Daddy Kane, Q-Tip, and fellow Wu-member GZA. RZ even said in his philosophical book, The Tao of Wu, published in 2009, that anime "represents the journey of the black man in America".
It's not surprising that members of Wu would be involved in creating hip-hop for anime: the crew often referenced the art form, using elements of anime, sci-fi and comic books to create their all-encompassing other world. And this creating of alternative universes is something that hip-hop and anime very much have in common, especially creating worlds for people on the sidelines of mainstream society -- the outlaws. Take space Wild West show Cowboy Bebop, for example, set in the year 2071: it follows the lives of a bounty hunter crew on their spaceship called Bebop, and was shown on on Viceland in the UK and Adult Swim in US -- both also natural territory for hip-hop artists.
Wu-Tang aren't alone in referencing anime in their bars: it's another way the art form has had an impact on hip-hop over the years. Frank Ocean, for example, nods to the Dragon Ball Z (DBZ) series – produced by Toei Animation – on Channel Orange during track Pink Matter, when he uses the image of the show's baby pink-coloured protagonist: "This great grey matter / sensei replied, what is your woman / is she just a container for the child / that soft pink matter / cotton candy Majin Buu."
DBZ is a favourite among rappers, with Danny Brown talking about "smoking on some goku, buds like dragon balls" on Shooting Moves, and Childish Gambino spitting on My Shine: "Honestly, I'm rappin' 'bout everything i go through / everything I'm sayin', I'm super sayin' like goku." Gambino mentions anime in plenty of tracks, has talked about it in stand-up, and even got into online beef with Lupe Fiasco over it (though the two later claimed this was all in jest). Lil Yachty has spoken about the art form too: just last September he did an interview with 88rising -- a media company and record label focused on the intersections of Asian and hip-hop culture – and chatted Dragon Ball Z, underground anime, and Japanese culture.
It's not just the themes and message of anime though, the sounds of it are ubiquitous in hip-hop too, with many artists sampling parts of film or series soundtracks. Das Racist sampled the ending theme from Samurai Champloo on Rapping 2 U, Wiz Khalifa and Snoop Dogg sampled the main theme from horror anime franchise Higurashi no Naku Koro Ni on their track No Social Media, and Chance the Rapper featured a whole scene from Gundam Wing on his debut mixtape, 10 Day, while he spits about Gameboys and Christmas morning on another track, Nostalgia.
The relationship works the other way too, with anime and Japanese artists using hip-hop in their work, musically, thematically and culturally. There's footage online of Joey Bada$$ -- then aged just 15 -- spitting over Feather, a track by Nujabes -- a prolific contributor to Samurai Champloo's soundtrack and one of the biggest Japanese hip-hop producers around, who coincidentally shared a birthday with one of hip-hop's greatest producers -- J. Dilla. Hip-hop and America have, in turn, influenced many anime series and films -- Afro Samurai, Samurai Champloo, Tokyo Tribes, PaRappa the Rapper and Detroit Metal City -- in their settings and surroundings, featuring graffiti tagging, baseball, breakdancing and even beat boxing.
It's an enduring relationship and one that enriches both art forms: long may it continue.
This article originally appeared on i-D UK.