seek refuge is the streetwear label dedicated to empowering muslim women
Tired of having to defend her religious beliefs in a post-9/11 America, 25-year-old Shazia Ijaz set up a streetwear label to flip the script surrounding Muslim women.
Set up earlier this year, Seek Refuge is the new modest streetwear label dedicated to empowering women, representing Muslims, and bringing aid and awareness to the growing refugee crisis. "Each purchase is a step towards a society where minority groups are not discriminated against," says 25-year-old Shazia Ijaz. Sick of dealing with racial abuse on a day to day basis, and the many misconceptions surrounding Muslim women, Shazia founded her label to showcase Islamic culture in a bold, fashion-forward and unapologetic framework. So much more than just a fashion label, here Shazia shares her story.
"Being a Muslim woman in the United States comes with baggage. And it's not my baggage -- it's everyone else's. It's baggage full of misunderstanding and ignorance and fear and hate that others carry with them. Somehow, it has ended up on my shoulders more times than I can count. I remember one time being called "Taj Mahal" in my high school history class, because my peers didn't care enough to learn the difference between Pakistan and India. I don't think they were ever taught that calling any South Asian person "Taj Mahal" instead of their actual name is a form of racism. I also remember driving out of my mosque one day, still wearing a headscarf, and being yelled at to go back to where I came from out of the window of a passing car. And for a few years, every time I travelled I was "randomly selected" for a search at the airport. It's rare to go a week without personally feeling the effects of post-9/11 America.
Separately, these seem like minor issues. But adding up every instance, every glare, every unkind word, equates to a remarkable amount of intolerance. At some point, I just learned to expect that other Americans might have an issue with me, for no reason other than my religious beliefs. I accepted it, and learned to not engage, not make a scene, not stand up for myself or my religion.
But as I got older, I wanted more for myself and my community. Extremism had created impenetrable stereotypes that we were all battling every single day. I was tired of all the questions: "Are you forced to dress like that?" and, "Are Muslim women even allowed to go to college?"or, "Are you going to be forced into an arranged marriage?" It was, and is, out of control.
The Islam I know is a beautiful religion that I have been able to practice while living a 21st century life. It was hard to see an entire millennial Muslim population -- filled with empowered, badass women -- go unseen by the majority of our American peers. The misconceptions about Muslims somehow always overshadowed our accomplishments, and I was over it.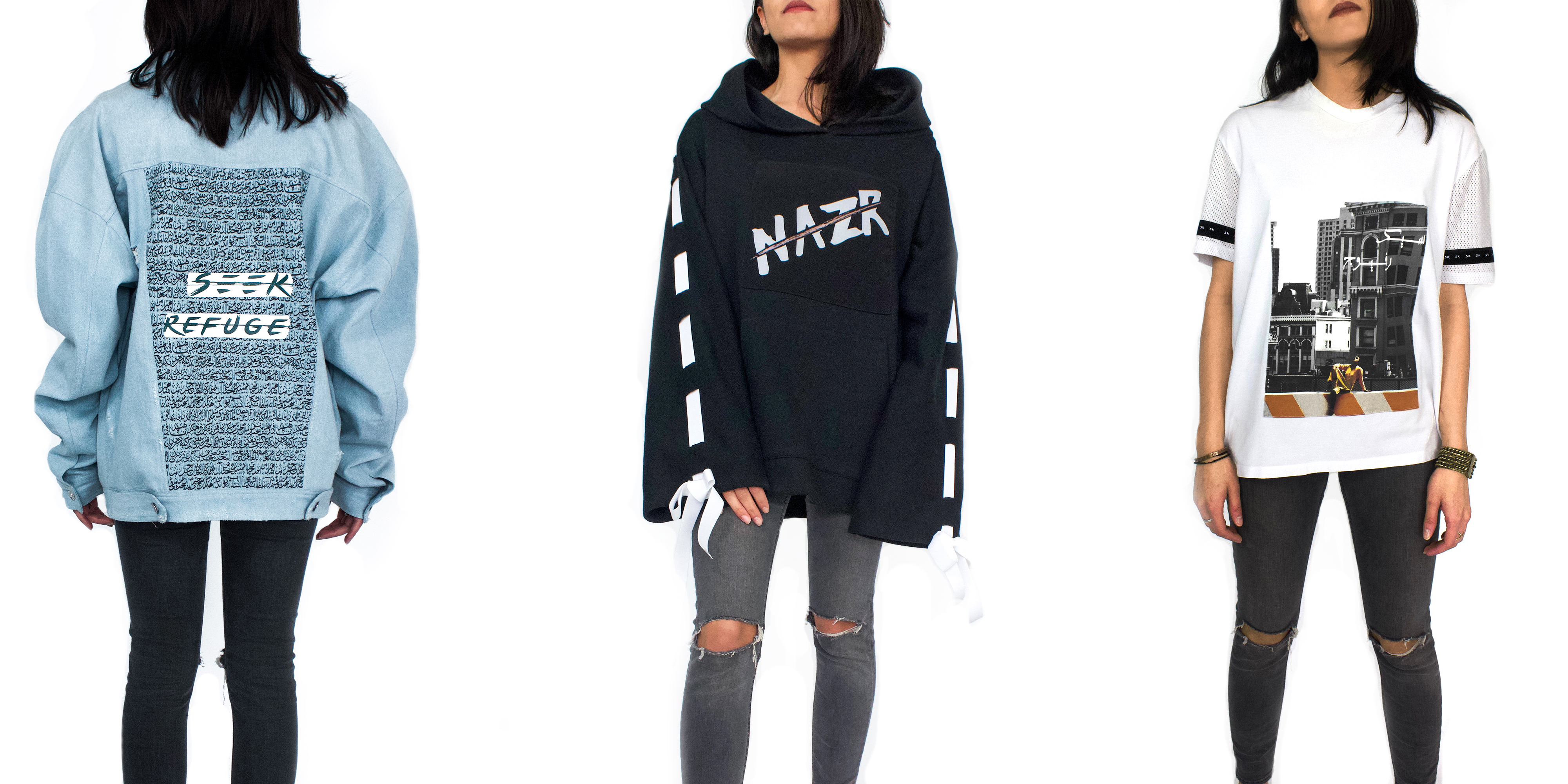 So, I started Seek Refuge, a fashion label aimed at representing and empowering Muslim women. Showing Islamic culture through the lens of modern streetwear -- a style associated with an unapologetic, powerful boldness -- Seek Refuge is for the woman who doesn't fall into the typical modest fashion mould, either because her aesthetic is much edgier or because she doesn't identify with highly conservative fashion. Each garment we make is designed to be oversized and loose-fitting, giving women the freedom to practice different levels of modesty.
But it's not just about fashion. An integral part of our mission is raising awareness around and giving aid to the growing refugee crisis. Every dollar spent on a Seek Refuge item contributes to refugee aid programmes. By ordering from our Indiegogo campaign, customers are supporting schools in Jordan which educate Syrian refugee children, while the Arabic script on the back of our signature Refuge Jacket is a poem written by a Syrian refugee.
Since the 2016 election, we've witnessed a decrease in the number of refugees allowed into the United States, despite the crisis growing. We've also seen a rise in sexist rhetoric used by the Trump administration, despite its claims of being on the side of equal pay. Meanwhile the Muslim travel ban has essentially labelled all Muslims threats to the United States, when the real problem on our soil has always been and continues to be gun control. Seek Refuge uses our products and our voice to speak out against the administration on these issues and rally support for refugees, women and Muslims. Each purchase is a step towards a society where minority groups are not discriminated against.
Ultimately, I created Seek Refuge to enable lasting change for marginalised people, as a way of empowering others and helping spread a positive message, so that one day I'll be able to go a week without feeling the effects of post-9/11 America."