Versace, Prada and Fendi autumn/winter 18. Photography Mitchell Sams.
why is nostalgia the creative driving force in milan fashion right now?
This sense of living with the past has borne incredible creative fruits this season.
Versace, Prada and Fendi autumn/winter 18. Photography Mitchell Sams.
Not that you'd know it from following the Instagram accounts of your favourite paid up fashion influencers at Milan Fashion Week, but right now Italy is riven by deep, violent political cracks. At the weekend the streets of Milan were witness to rival groups of fascist and anti-fascist protests, both clashing with riot police who charged them down with batons to stop them attacking each other. Even more worryingly, at the start of February, an Italian man shot at a group of African migrants on the street, injuring six. He was a member of Lega Nord, Italy's answer to the BNP, who campaign under the slogan of "Italy First." It was a Lega Nord rally in Milan that drew out the riot police and anti-fascists.
These are politically febrile and economically unstable times in Italy, but, superficially, the catwalks of Milan peddled in fashion's stock responses to the problems of the wider world; escapist glamour and stylised nostalgia. It's a natural response. When the present is too much to handle it's easier to find solace in the past, or dream of a better future. Sometimes fashion finds itself in a futurist mood in response, dreaming of better times to come. But right now, the feeling is arcing towards escapism via nostalgia. It allows us to covertly and subtly say things about the present, nowhere is this more prevalent than Milan.
It kicked off with Versace's spring/summer 18 tribute to Gianni Versace last year. It was a gleeful homage to the glamour and talent of the late designer, and his untimely death 20 years ago. Not least with the finale that launched a million breathless Insta stories: Naomi Campbell, Carla Bruni, Cindy Crawford, Claudia Schiffer and Helena Christensen all sashaying down the catwalk to George Michael's Freedom!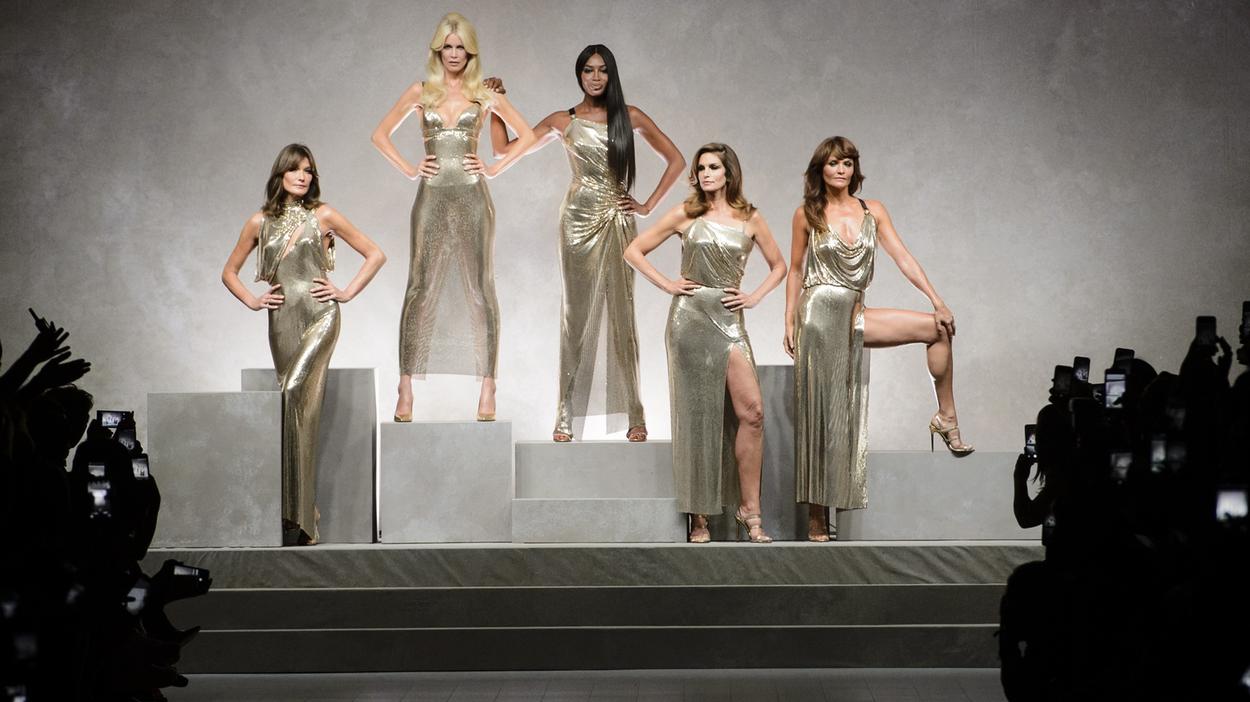 At Versace the past became a myth, something too big and too dazzling to have ever really existed. But something to celebrate anyway, a reminder that the past did happen, that Gianni's talent can't be forgotten. More than a socio-political statement, it said something existential about the house of Versace; it's continued relevance and perseverance and power.
Prada's approach to the past this season was a kind of polar opposite; something to be considered, mulled over, artfully recontextualised, conceptually explored. Miuccia has always been that most considered and astute of designers. Across its menswear and womenswear shows this season it revived the red tag iconography of Prada Sport, symbolically reintegrated nylon into its collections, and remixed some of the most emblematic prints from across Miuccia's career. It was greatest hits remixed; it sought to make the past relevant for the present. This is the nostalgic moment in fashion at its best, finding new power in the old codes of the house. Prada, it seems, is continually wracked like no other house, with questions of its economic strength. No matter how creatively exciting the collections, lazy fashion press seem to reduce it to strength of sales, or hark bark to past successes. Here Miuccia seemed, in part, to be highlighting her own impact, spotlighting her own creations, showing how timeless they are by seamlessly integrating them into the present. We want and need them, and what they say about the world, now, as much as we ever have.
To look wider than Milan for a second; we find this kind of looking-back everywhere at the moment. Maybe it's not surprising that all four fashion capitals find themselves, politically, in moments of instability. Brexit in London? Britpop-esque-boys and Spice Girls wannabees on the streets. Economic malaise in France and the looming spectre of Front National? Dior reference the upheavals of May 68. Trump in NYC? References to the queer underground communities of the late 80s abound. And more generally? 70s/80s glam and glitz is everywhere, from Halpern to YSL. Politics of the past, seen second hand through rose-tinted glasses, makes oblique jumps back and forth, to say things about both.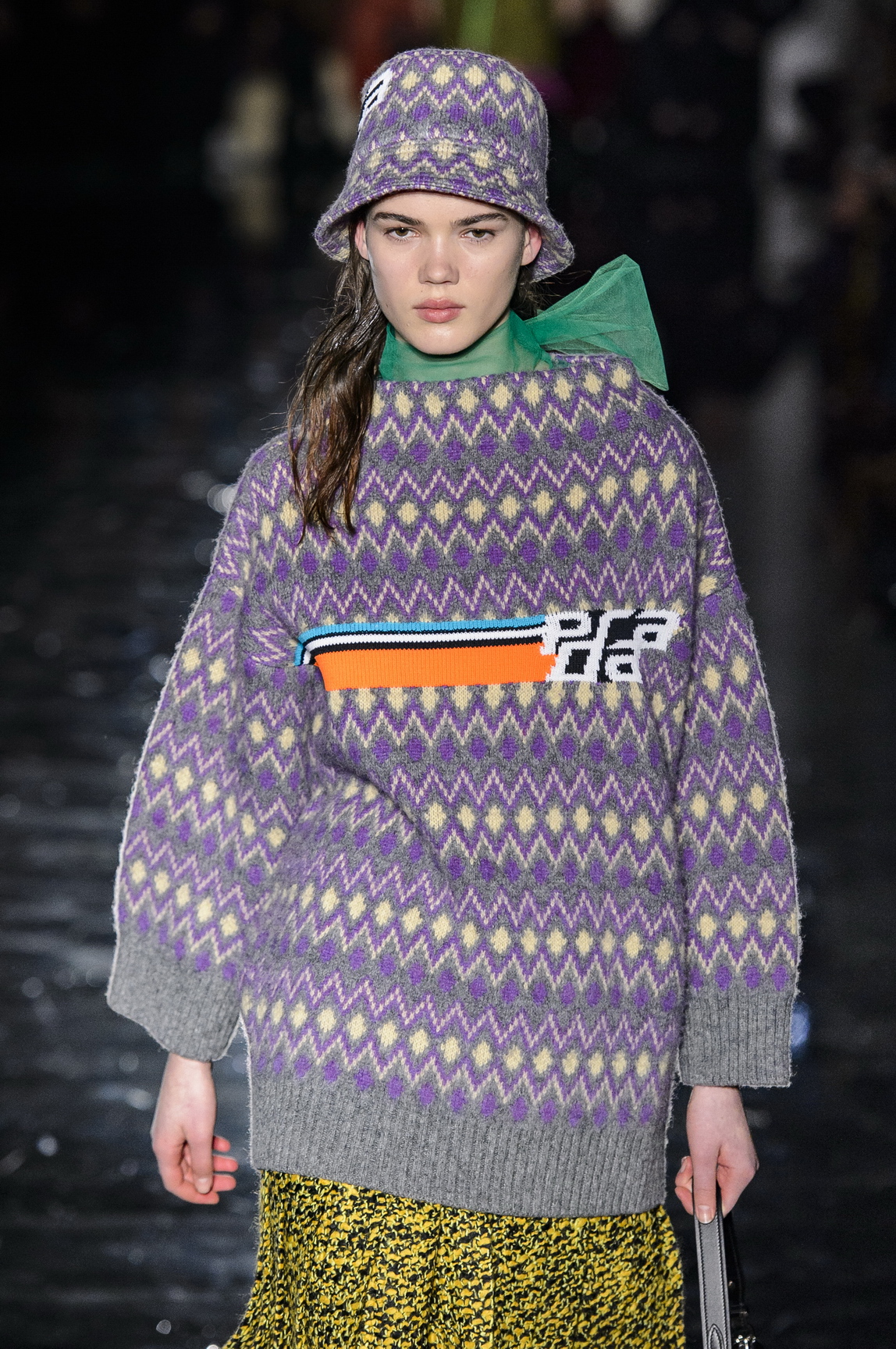 Milan explores these issues -- the comfort of the past in troubled times -- better than any other city because the Milanese mood has always been about celebrating a golden age and mourning a paradise lost. It's wrapped up in leather and fur, craft and trade, the luxury of the fabric, the endless possibility offered by fabrication. It's forever reminding you where it comes from. Milan fashion is built on the accumulated skill and history of craft, rather than the avant-garde innovation of a tyrannical design genius, as in Paris, or the cycle of newness of London.
Milan is a family affair; with the comfort, insularity and internecine feuding that entails. This close-knittedness seals off the outside world, offering protection. Equally though, this history, this sense of self, this belief in the beauty of what you're forebears put forward, proves ripe for exciting and formal innovation. This sense of living with the past has borne incredible creative fruits this season.
A notable example being Fendi, which delivered an incredible collection of quiet yet powerful classicism. Ignoring the fur -- because at i-D we cuddle, rather than wear, our animal friends -- the central focus of show was the durable luxury iconography of the Fendi logo placed next to the pop appropriation mash-up that combined it with Fila. It combined nostalgia for the logomania 90s with an 80s apparition of power dressing channelled through the chiaroscuro light-and-dark glamour-and-grit of Fellini's cinema. The way all these elements seamlessly interlocked was a delight.
Just like this jump back to Prada. Out of all the Milanese designers, Miuccia is the most interested in the context of fashion in the wider world, graduating university with a PhD in political science. Her designs always exploring the way women interact with the world, here offering, in flashes of neon, an image of protection and safety from the darkness. Materially though it evoked Prada's past; the loaded symbol of Nylon within the history of Miuccia's work for the house, her impact on fashion in general. At the menswear show she handed the material off to architects to reinterpret into bags, freeing herself from that element of her past, setting it free again. From the prints, to Prada Sport, to Nylon, Miuccia seemed to be signalling not just all the ways she's influenced fashion over her career, but the way we live with our past creations, the way they can influence the present, the way they suddenly become relevant again.
It is in this way that Prada exemplifies all that is most exciting about Milanese fashion right now. It's not empty reverence for the past, but investigating its impact. It doesn't ignore the politics of the present, but looks for subtle ways to explore it through fashion; conceptual responses rather than dumb slogan T-shirts. "We are living in a period which is interesting because we do not know where we are going," Miuccia said after the womenswear show. A natural response, if we don't know where we are going, might be to look at where we've been.
This article originally appeared on i-D UK.