watch nancy pelosi and rupaul talk politics on 'drag race'
She's checking these queens like a ballot.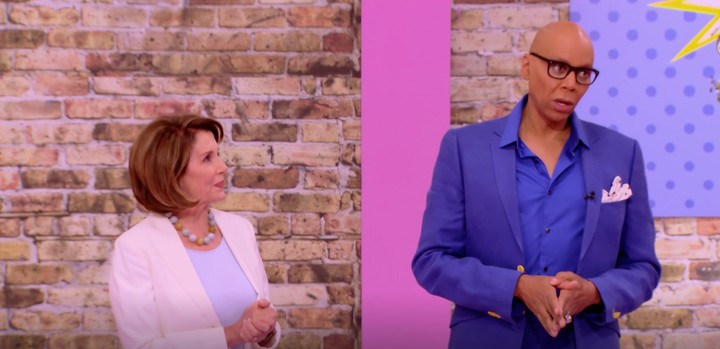 Screenshot via VH1
RuPaul is in hot water for his politically incorrect comments about refusing to cast trans drag queens right now, but one thing he has always been a MVP for is bridging the gap between queer and mainstream culture. This fact was highlighted in a preview clip of tonight's RuPaul's Drag Race episode. The girls receive a surprise visit from the political queen herself, Minority Leader Nancy Pelosi. The fierce advocate for LGBT rights had her queer pride on full display, rocking an Apple Watch with a rainbow flag wristband and delivering an empowering message.
"You're an inspiration, I hope you know," Pelosi told the contestants. "Because you really know your power. It's about taking pride, and you take pride in yourself when you know your power." Amen.
Then Pelosi and Ru took time out to remind the queens — and America — to get out and vote. "Voting is everything," Pelosi said. "If you don't vote, you don't count — and you count." It was a crucial and much-needed message. After all, the 2018 midterm elections in November could decide the political climate for the 2020 Presidential Election. Pelosi has been a fierce political foe of President Trump, pressuring Republicans to pull back on their efforts to repeal DACA and delivering a historic eight-hour filibuster speech last month. Now that's how you make the girls gag.
If you haven't registered to vote, you can do so here.