everything to see at frieze london this year
A handy guide to the biggest weekend in London's art world calendar.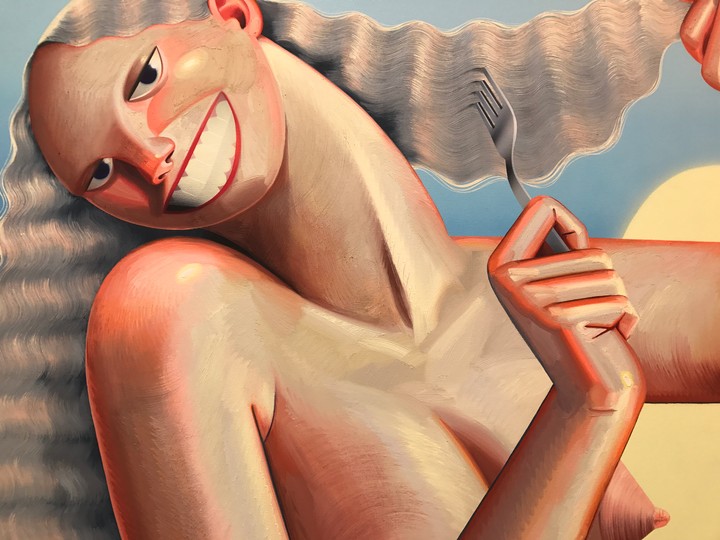 Robin F. Williams at Various Small Fires
Nothing quite summons the feeling of deja vu as strolling into that big Frieze London tent in Regent's Park each year. The same big galleries, the same big artists, more or less the same ancillary works commissioned to provide a cultural riposte to all the commerce that an art fair implies. And yet nothing quite matches it in London for condensing a whole world of art into one space each year. That mix of commerce and culture and deja vu brings a big dose of vicarious fun to the proceedings though, especially on the opening day of the fair, which is as great a space for people watching as it is browsing art.

Which big old rich artists will be wandering the stalls? Which art-adjacent celebs will be there, with whom, wearing what? Which obnoxious rich people are buying what rich obnoxious art? Within ten minutes of entering someone has asked me to take their photo next a big weird piece of expensive looking art. I overhear two people, remarking in admiration, at the size of another work. There's a visceral joy in this kind of art interaction – the baseness of it, size and money dominating and flexing.
The most exciting space for actual art, is of course, away from all that. The fair's Focus section, the place to go first, the space dedicated to younger galleries and younger artists, less of a parade ground and more communal. Three general highlights. London's The Sunday Painter gallery had a booth dedicated to the work of Leo Fitzmaurice; an assemblage of reception signs and a series of car bumpers stripped of their number plates. Both works dealt with the abstraction and meaningless and formal absence of language. Southard Reid had a series of new works by the young Polish artist Joanna Piotrowska. They were menacing and bleakly unromantic photographs of enclosures, primarily zoos. Joanna's works imply so much with a sparse and strange photographic language. Union Pacific's booth, a solo presentation of work by Zadie Xa, whose work intersects pop culture with traditional forms, was equally stunning.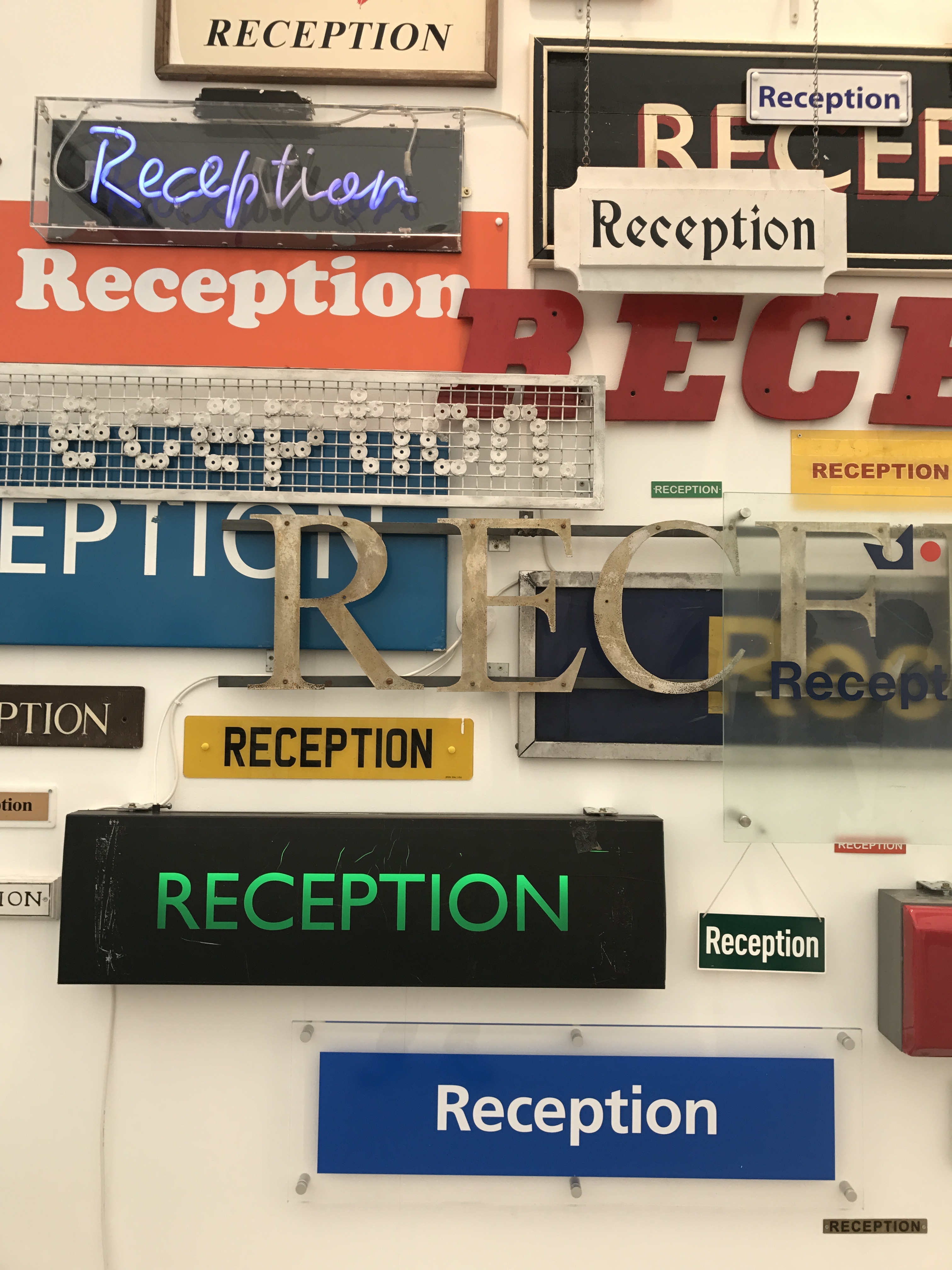 Much of the most interesting work in the Focus section though was painting. In the hands of a young generation of artists painting feels exciting and new and relevant again, partly thanks a continuing reaction to influence of the YBA generation, and the more recently dominant glibly technology orientated group of post-internet artists. Painting, in the face of both, puts intimacy and personality and humanity back into art. Something touching and human.
Flo Brooks at Project Native Informant had a series of three oddly shaped assemblage paintings of humdrum surreal scenes of pigeons and people, magazines and anthropomorphic bags, that were beautifully ordinary. And something similar was at play in Bendt Eyckermans paintings at Carlos/Ishikawa, which revel in the casual beauty of everyday reality.
Paris' Crevecoeur gallery displayed works by the excellent young French painter Louis Sartor, who creates postcard sized voyeuristic images; the series here focussed on landscapes, but her work plays on the looking and seeing and capturing of painting. They have a delicate and uncanny beauty to them. Paris' art scene was also represented by Sultana, who had photographs by the inimitable Walter Pfeiffer of abstracted bodies, and High Art, who has a series of funny and charming paintings of giant wasps by the British artist John Russell.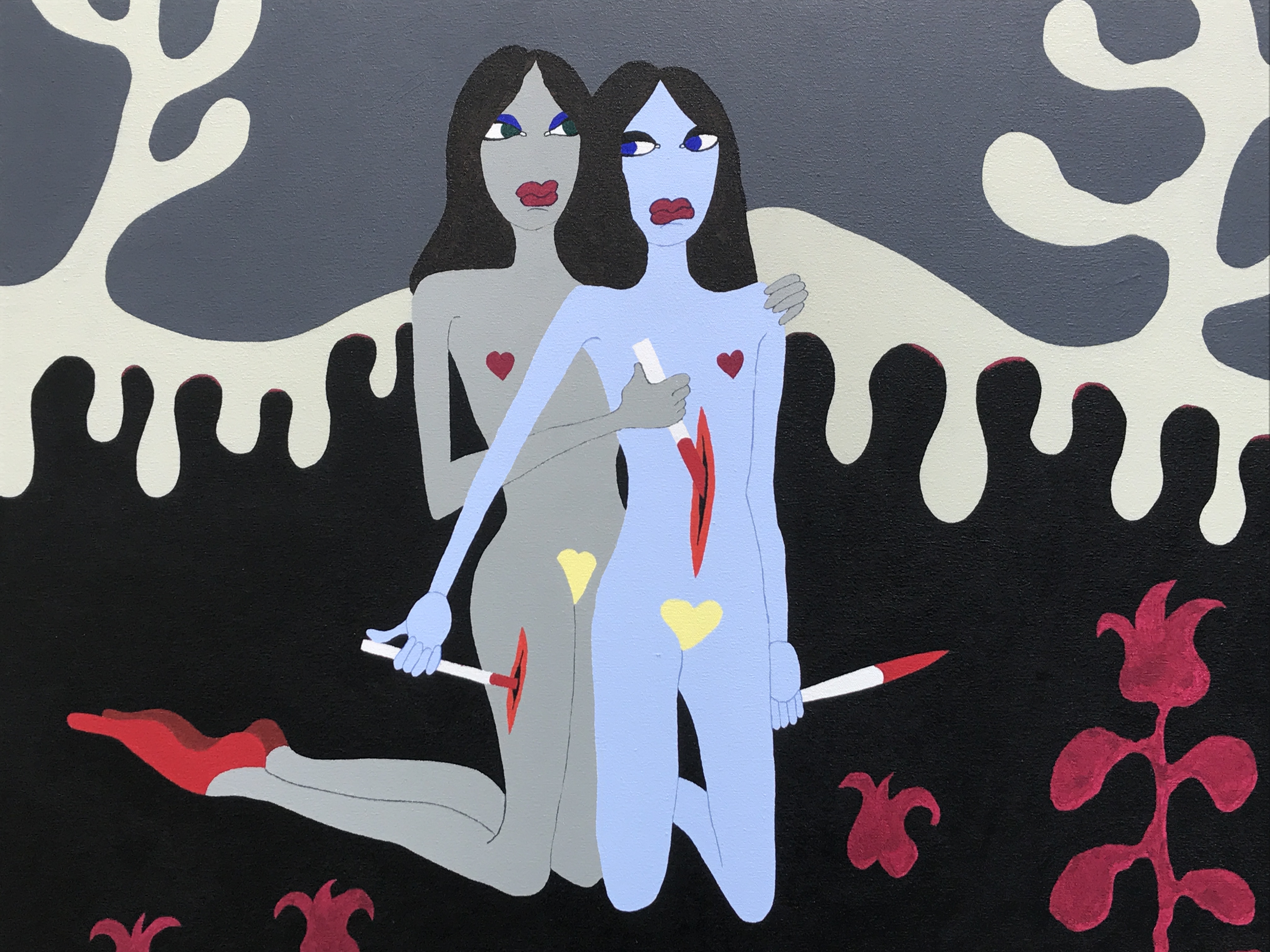 Robin F. Williams, represented by LA gallery Various Small Fires, had one of the best painting in the fair, a naked woman, broadly smiling, running a fork through her luscious grey hair. There was something uncanny in it, something funny too, a little off, that made the whole thing a joy to spend time with. As were the works at Arcadia Missa, who had a solo booth dedicated to Penny Goring. Penny's work is charming and almost cute, but run through with sadness and trauma, and deeply affecting as well as beautiful.
47 Canal had work on display by Janiva Ellis, whose paintings offer a sensory swirl of cartoonish imagery and violence. She's part of an exciting movement of young black artists -- Cheyenne Julien, Hamishi Farah, Jordan Casteel -- pushing figurative painting into progressive new directions.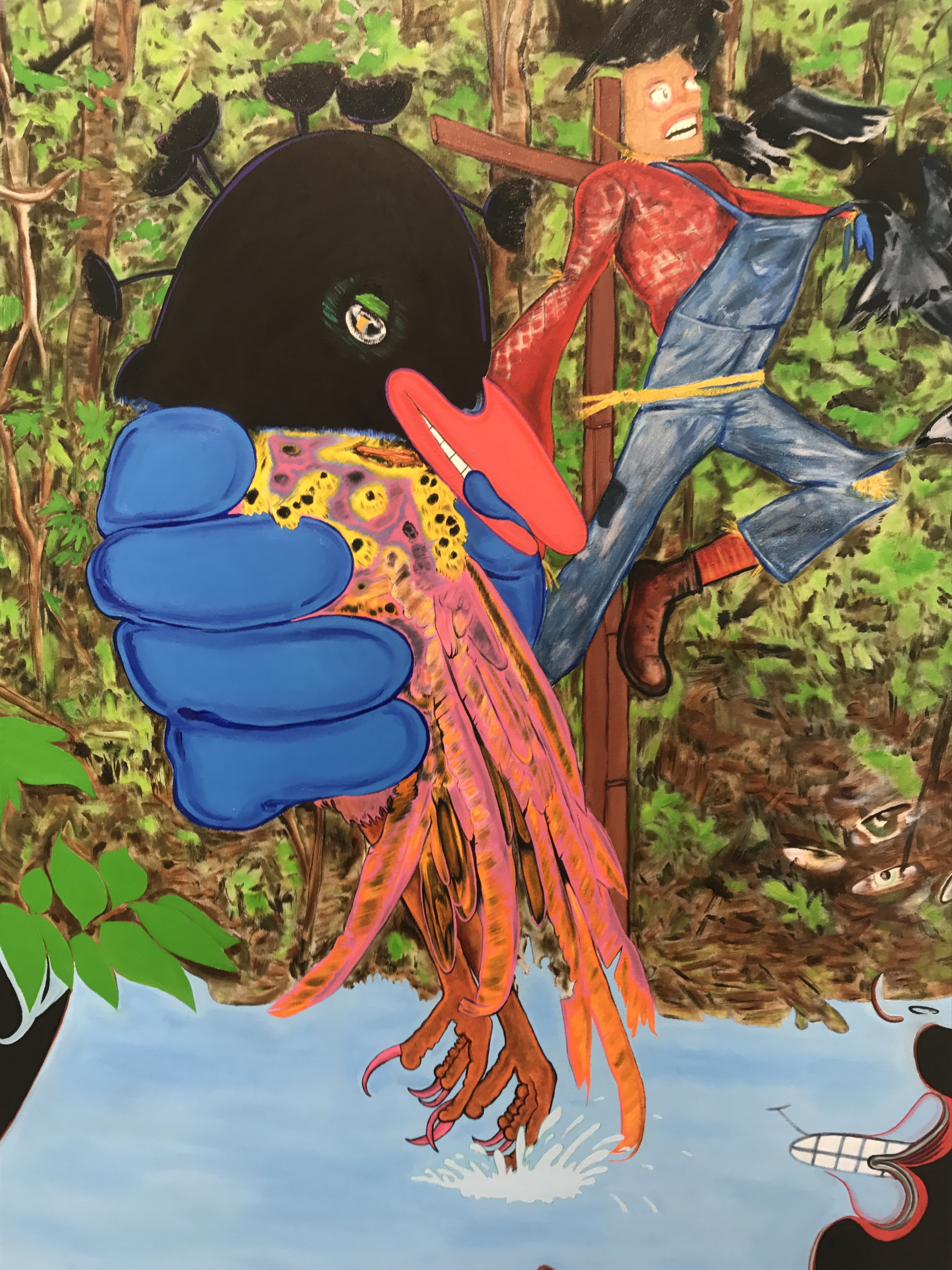 It feels like right now, painting has recovered from its very bad zombie formalism phase – bro painters making industrial scale abstract works of which the only exciting thing, was, for a moment, the price tag. So if painting stands out right now it feels like it's because the best of those painters make works that feel personal and intimate and approachable. Not £200k gimmicks for LA art collectors. In fact, in general, the best works and best booths felt shorn of gimmicks, booths that let the art just speak for itself.
In the main section, for example, Gallery Hyundai of Seoul provided a little retrospective booth of Korean art. It felt conceptually tight and interesting. Hollybush Gardens also presented a great booth of porcelain works by Lubaina Himid (who won the Turner Prize last year) and by Charlotte Prodger (who will hopefully win it this year). Marian Goodman had a great display of images by Nan Goldin, Max Hetzler had works by Rineke Djstrka, and both Maureen Paley and David Zwirner gave space over to Wolfgang Tillmans, providing a little Frieze holy trinity of the best photography work going. Sadie Coles had a booth filled with work by Paul Anthony Harford, who died in 2016, and never exhibited his work in lifetime. His drawings, delicately shaded intimate scenes, read biographically, full of unspoken narratives. They are a beautiful find. But maybe the best booth was probably Spruth Magers', dedicated to the work of Jenny Holzer. An artist whose work feels increasingly and increasingly prescient, and whose work is always worth seeing and spending time with. Her series of Truisms have been turned into marble benches, and there was a new series of works based on US government documents.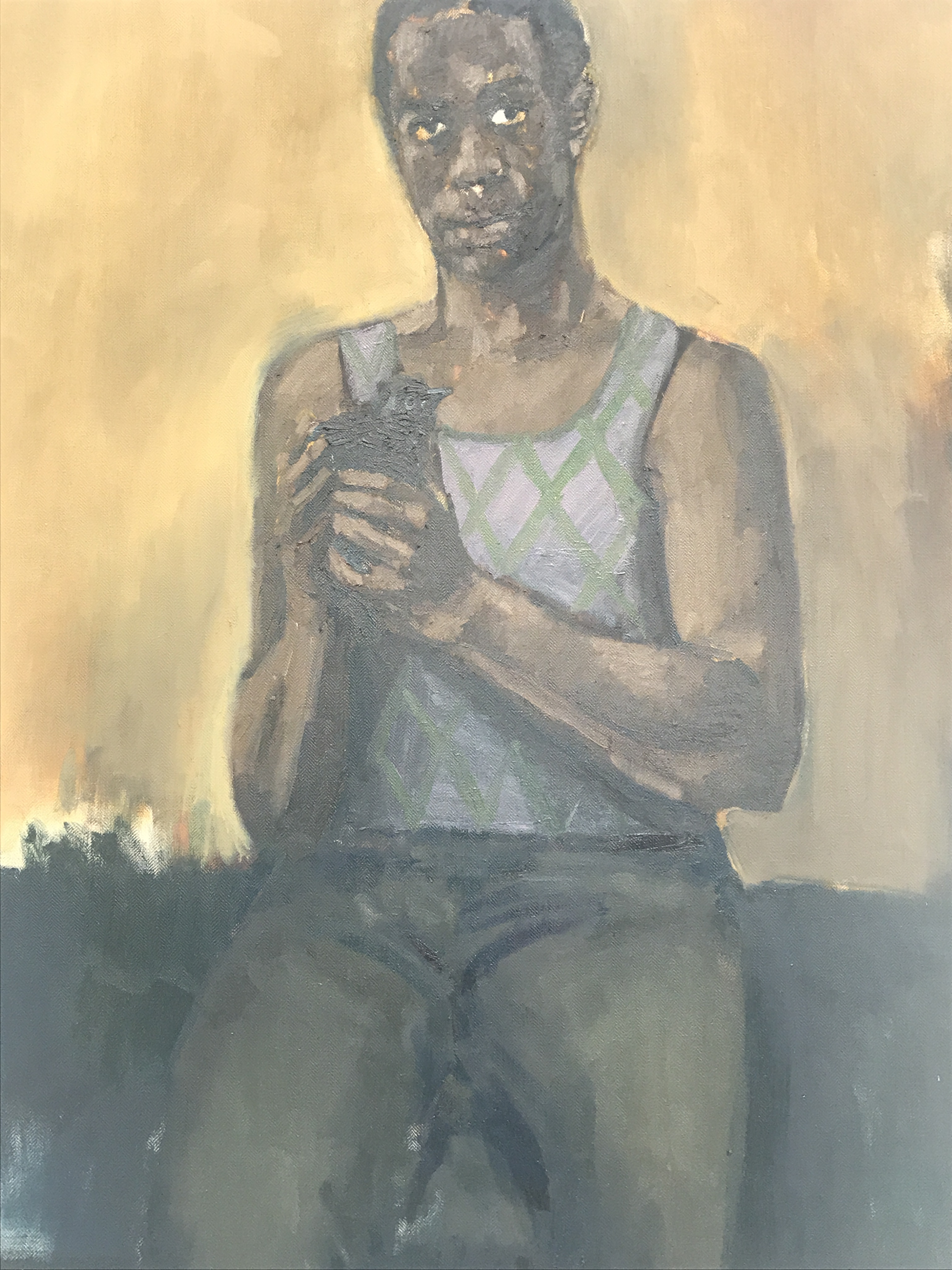 Anthony Gormley was standing in the middle of The White Cube's booth when I walked past, holding fort inside a giant cage by Liu Wei, which could pass for something by Gormley himself. In fact The White Cube's booth seemed to be full of a certain generation of art celebrity – Grayson Perry was there, and Martin Parr too, who was shooting the guests at the opening this year. His brand of observatory photographic satire is perfect for the comedy, tragedy and drama of the art fair, its own little bubble.