Mirror Study for Joe, (_2010980), 2017, © Paul Mpagi Sepuya
paul mpagi sepuya uses portraiture to explore homoerotic desire
'Mirror studies' is a beautiful, disorienting blend of nude bodies — in which the photographer and the viewer are both present.
Mirror Study for Joe, (_2010980), 2017, © Paul Mpagi Sepuya
Out magazine once described Los Angeles-based photographer Paul Mpagi Sepuya as "cruising his viewers" by "creating disorienting imagery that renders the male body infinitely complicated." Cruising or not, Sepuya's work is disorienting in a thoughtful way: he incites the viewer to try to deconstruct his mysterious blend of limbs and backgrounds. The photographer's work has recently featured in Being: New Photography 2018 at the Museum of Modern Art and Trigger: Gender as a Tool and a Weapon at the New Museum; it is currently on view in Amsterdam at FOAM in the monographic showcase Double Enclosure (through November 18). The work stems from a series developed over the past three years, Mirror Studies, which consciously mixes snippets of bodies, draped fabric, mirrors, and slivered images of pre-existing work. The artist himself appears in his photographs slightly masked behind the apparatus of the camera, while his subject's body is more often than not splintered within the visual planes. The piecemeal male form — elbows, nipples, ankles, wrists, shoulders — heightens homoeroticism and natural interpersonal intimacy: a micro queer space that gently explores and strips down male sensuality. We spoke with the photographer about his use of tracking numbers, recycling older images in current work, and why sexuality should not be segregated from other themes.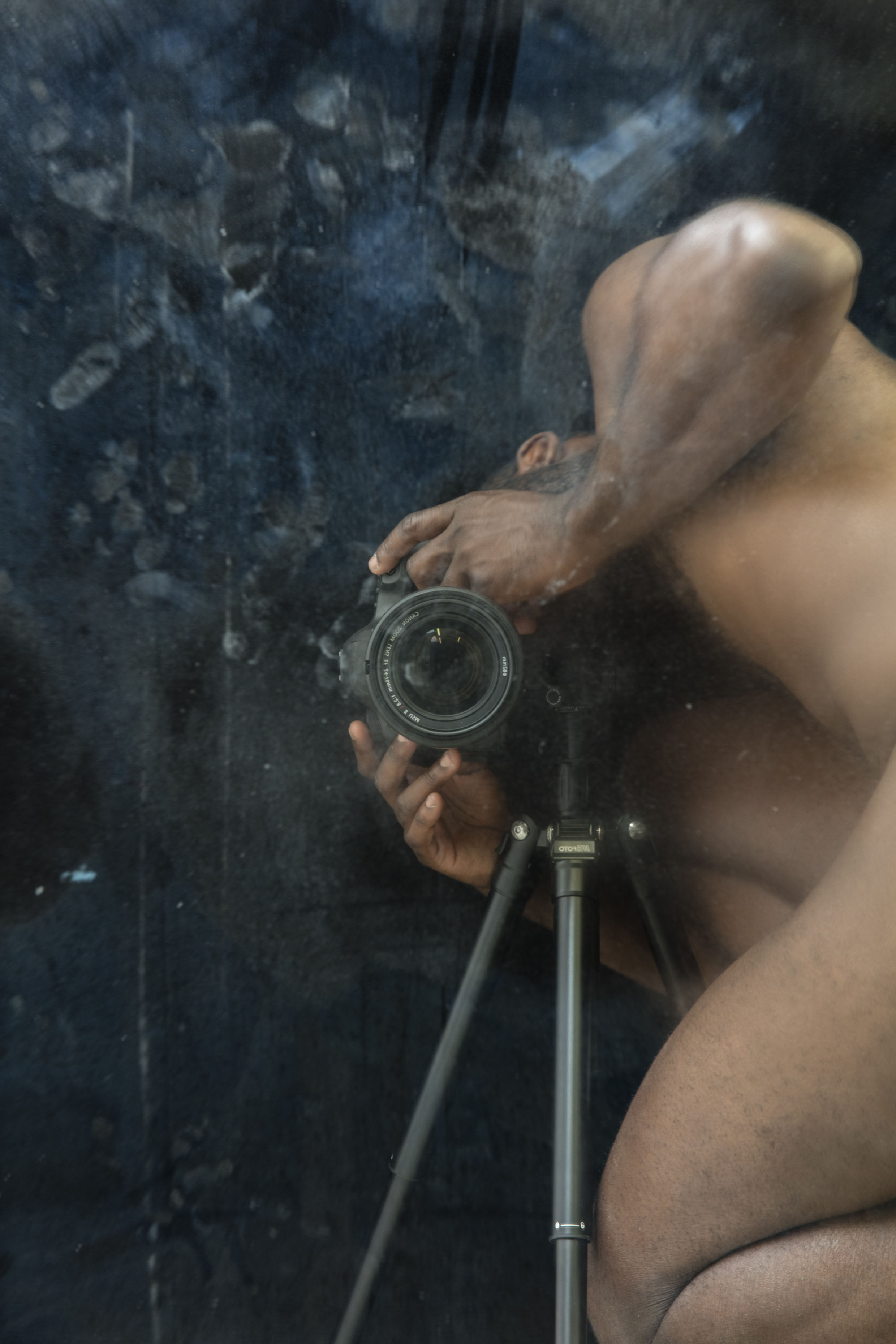 Could you discuss your approach to composition in Mirror Studies ? I read that you manipulate nothing in-frame after the shot is taken, which I imagine means a lot of set-up and careful construction beforehand. Is composition improvised during a shoot or orchestrated more meticulously?
I don't work from sketches or plans beforehand. I have an accumulation of material, of fragments, snapshots, images printed large-scale and small. Work prints get cut up, everything spends time together and that is the space where elements, bodies, fragments overlap and the final images begin. Play is necessary. Everything is improvised within a set of formal parameters, whether it's a portrait, a still life, a darkroom mirror, or a mirror study.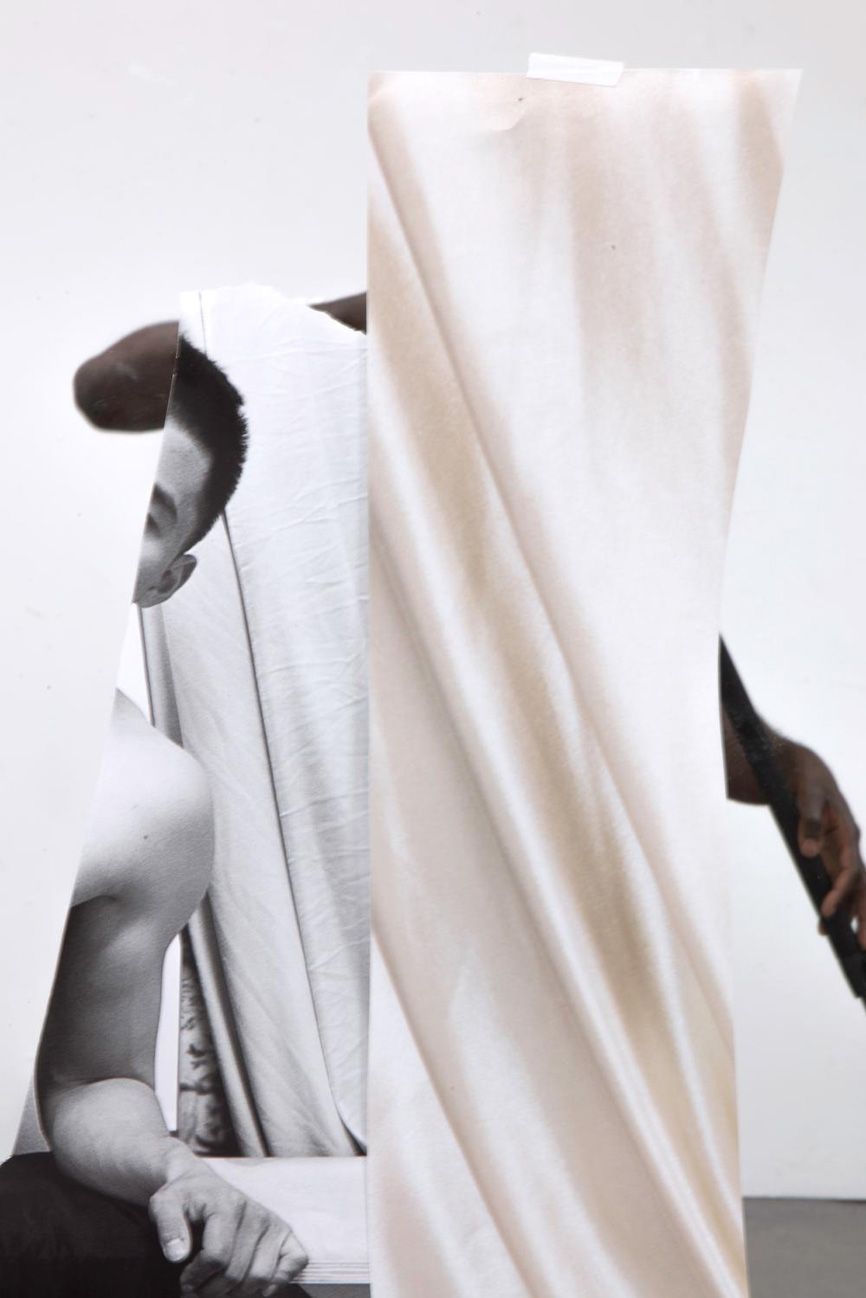 Do you see the studio as a necessity to your work, or is it particular to Mirror Studies? Could you imagine moving outside of it?
It is central. The outside world is essential to continue to bring in meaning and images. Any "abstract" elements you see in my pictures are pictures of real things, real experiences out in the world.
You weave in past work into your current images. What is your motivation behind this gesture? Do you think of your work as continuous collage? As palimpsest?
Perhaps palimpsest. I have occasionally made physical collages, but my photographs are not actually collages. That constructive desire is inherent in the process, apparatus, and medium of photography. It has always been my way of working. No source is finished, set aside and entombed.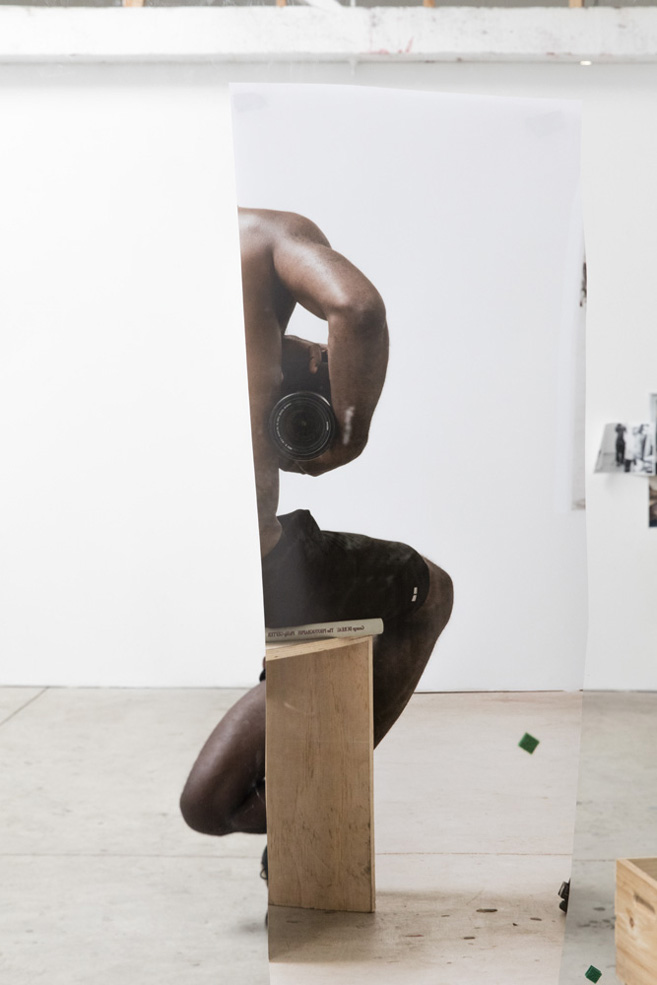 Can you discuss the editing process?
Every element of the photograph's construction is present in the final work, including the key to process and editing. Every image title includes in parenthesis the imprinted file name if digital capture, or roll and frame number if analogue film. Embedded in the digital capture is the key to the kind of camera used as well as the exposure number. Count the highest number you can find, think about how many images are present across my projects, and you'll see how much experimentation, failure, and editing is required.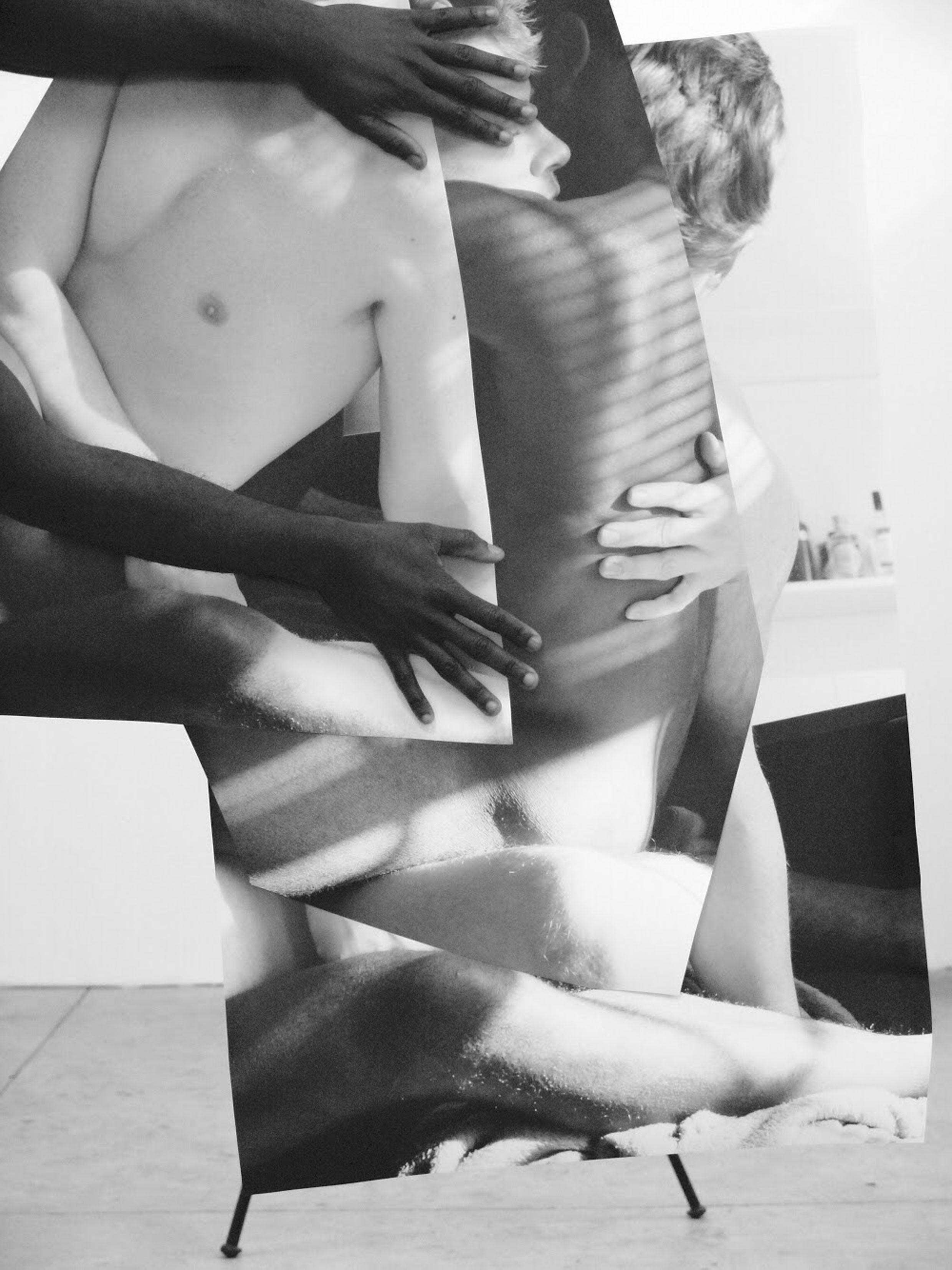 You create images with people you have existing relationships with. What is the collaboration like? Do you take into consideration how the subject wants to see himself, or does he agree to surrender some agency to you and your eye?
It's both of those things. An ongoing conversation, enacting through play and constructed situations in the type of photograph elements of our friendship and exiting connection. Sometimes we plan ahead what kind of setup to begin with, but you never know where things will end. Material like friendships are living, dynamic, handled and negotiated in the constant present. There's always an element of surprise at what might happen, but I don't think any picture is revealing of an essential aspect of someone. I gave up on that desire within photography years ago.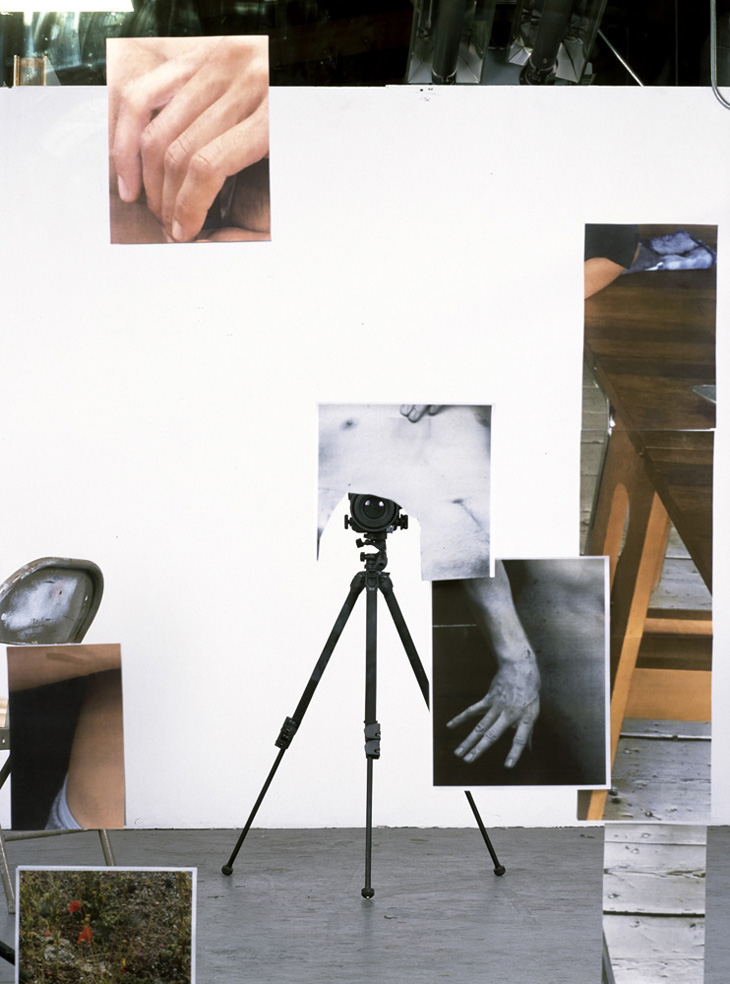 Which creative figures have influenced your practice in an important way?
Richard Bruce Nugent's "Smoke, Lillies and Jade" (1926), Virginia Woolf's "Orlando" (1927), the work of Truman Capote, Christopher Isherwood, and Alice Walker.
You'll be part of Paris Photo — specifically a group sector, Curiosa, which examines the body and sexuality through the gendered gaze. How do you hope viewers will absorb or appreciate your work in this context?
I'm conflicted about the Curiosa sector despite the great work I'm sure will be present. Any sectioning off of erotic work from photography as a whole is exactly what my current projects beginning in 2015 have been about undoing.
It's understandable that thematic "sectioning off" makes you uncomfortable. Inversely, is there an "ideal" context in which to show your work?
The only ideal is that formal, social, and erotic aspects of the work not be broken apart; that portraiture be centered. My shows at team in Los Angeles in 2017, and Document earlier this spring in Chicago, brought the key aspects together for me, just as the current show at FOAM has. The issue can arise on individual bases. Curiosa is just one of those interesting situations that makes me ask these questions.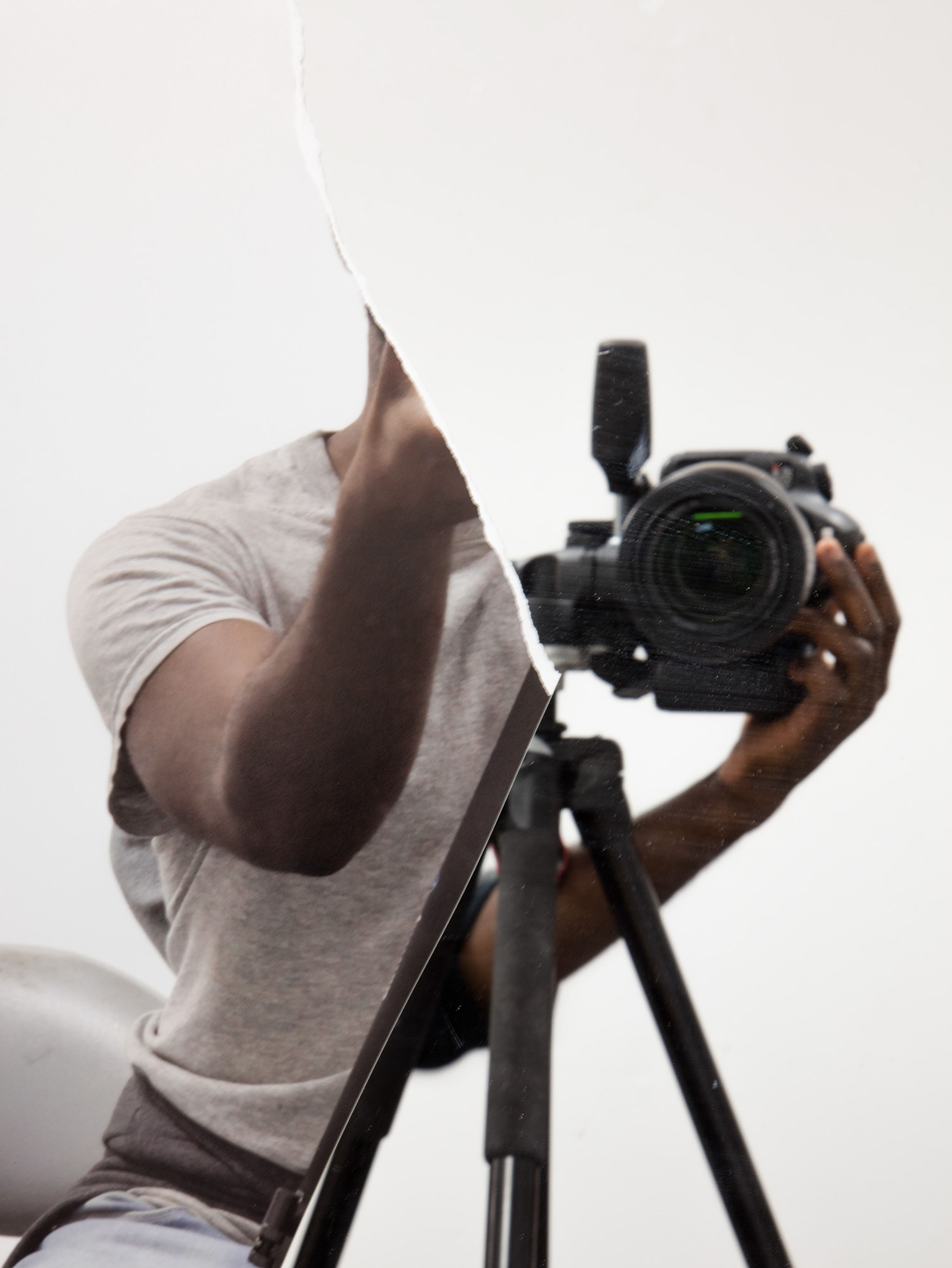 What do you feel is most misinterpreted about your work, or about your point of view?
People talk about my work in regards to concealing and hiding. But I am actually interested in recognition, because concealment to someone who is intimately familiar with a subject's body, or is the recipient of privileged knowledge, isn't possible. My work plays with the inside and outside of that privileged position. The body that's turned actually reveals the viewer's own place within the structure. It comes down to: are you comfortable, as a viewer, realizing that you are on the outside?
What are you working on next?
I will have a first solo show at team gallery's New York space in March of next year, along with a solo museum show of work from the past decade at CAM St. Louis opening in May, both of which I am really excited about. And many secret things I cannot yet divulge.