help! I'm obsessed with netflix's 'the curious creations of christine mcconnell'
A primer on the surreal and (not) scary baking show.
|
15 October 2018, 10:02pm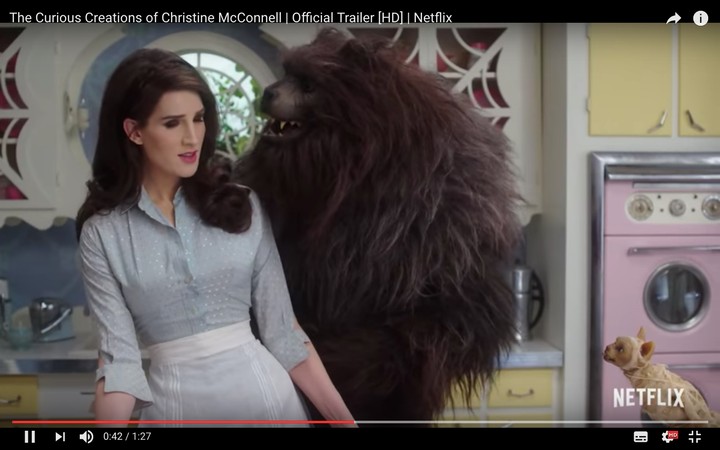 Image via Youtube.
As I'm sure you've noticed from the plethora of scary things happening in the world, Halloween is imminent (actually that's nothing to do with my favorite holiday). Netflix have definitely noticed and thus we have been gifted their latest culinary offering, for those who felt that Salt Fat Acid Heat simply wasn't goth enough. Yes, The Curious Creations of Christine McConnell is a goth baking show, featuring the creations of the eponymous baker — think enormous cake houses with fans, peanut butter bones, and edible beasts. McConnell first appeared in the public consciousness three years ago, when she outfitted her parents house with eyes and teeth just in time for Halloween. Normal. Since then, she's been busy baking for her loyal Instagram following — think Alien's facehuggers, Victorian gender reveal cakes, pictures of her close friend Dita Von Teese, that kind of thing.
McConnell's show is not just a creepy knock-off of Ina Garten, however. She's accompanied in her endeavors by a cast of animals, made by Henson Alternative — yes, that's the 'grown up' wing of The Jim Henson Company, who you know, made The Muppets, giving the whole thing the air of a culinary The Dark Crystal (another of their creations). One of Christine's friends is a mummified cat, and another's a raccoon dredged up from the dead. There's a plot and everything, involving a (furry) unexpected visitor, in the run up to Halloween. The Barefoot Contessa this is not. Watch the trailer below, and feel sad that you don't have zombie animal flatmates, or hair as good as McConnell.