how miss fame became the darling of couture week
The Drag Race star dazzled at Iris Van Herpen, Gaultier, Margiela, Mugler and Miu Miu. This is how she made the jump from drag to high fashion -- in her own words.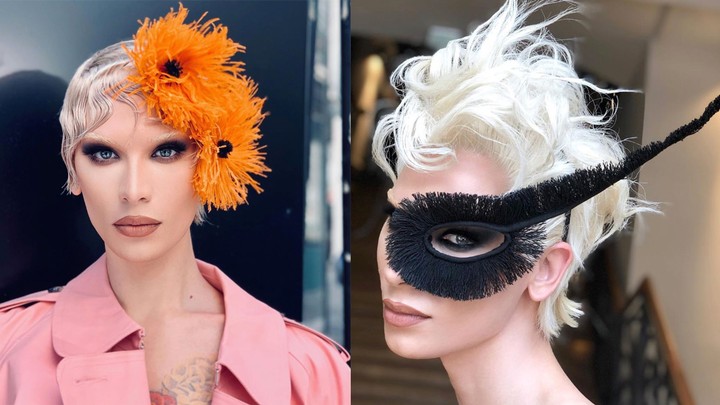 Images via Instagram
This article originally appeared on i-D UK.
From the moment Miss Fame picks up the phone in Paris, the tone is set for the rest of the conversation -- it's immediately obvious just how infatuated the drag artist and model is with the world of beauty and high fashion; "Can you hear me OK? I'm actually just putting a mask on my skin and taking some time," she says, adding that the mask is by Dr. Barbara Sturm. Because if there's ever a time when your skin needs to look flawless, it's during couture week, when camera flashes are ready and waiting to spotlight any imperfections. As the first drag queen to ever walk the red carpet at Cannes Film Festival and to be featured in prominent Vogue editorials, it's something Miss Fame knows a thing or two about.
This couture week, Miss Fame -- who was born Kurtis Dam-Mikkelsen before rising to prominence on season 7 of RuPaul's Drag Race -- emerged as the undisputed queen of looks, snatching a crown previously held by Celine Dion. After causing a star at Iris Van Herpen's visually hypnotic haute couture show, Miss Fame was a regular on the frow, in full drag and clad head to toe in whatever designer she was watching. From Miu Miu resort to Jean Paul Gaultier, from Maison Margiela to Mugler and Kenzo, the star emerged perfectly styled each day, with not a hair out of place.
Miss Fame's personal favourite though, she tells i-D, was her look at Kim Jones' Dior show, where she appeared with slicked back peroxide blonde hair and a heavy smoky eye. "At Dior, they had dressed me in the collection that was in the show -- customised to fit me so that I felt feminine in menswear," she explains. "Which is a very tricky balance when I'm already built masculine. I have strong shoulders and narrow hips, so it's a matter of creating a longer leg, draping with a coat and then pairing it with heels, plus beautiful makeup and hair. They asked me what I felt comfortable and beautiful in. It was really inclusive, and it feels very powerful to be able to have my opinion be respected."
After Dior, she nipped into the Mugler atelier (casual) to attend a preview and a fitting for the designer's upcoming show. "To be in the atelier and to watch the seamstresses sewing pieces of the garments together hours before the show was extraordinary," Miss Fame gushes. "Casey [Cadwallader] and I connected not that long ago at a dinner and we had a ball. When I told him that I was coming to Paris he was so excited to show me what he'd been working on with Resort and I got to try on a number of pieces," she reveals, before asking if we'd seen the six favourites she shared on social media. "Mugler fits my body because Mugler is all about drama. The house has traditionally always been about having a really strong shoulder and a dramatic waistline. It's about power and the woman owning the garment when she wears it -– it's severe and you feel commanded." When wrapping up about Mugler she notes that David Koma's successor at the legendary house is doing a great job with the silhouettes, "he's keeping that history but also making it modern."
Leaving Mugler, it was a hop, skip and a jump over to Maison Margiela -- where the boys walked in heels and without shirts -- Gaultier and finally Viktor & Rolf, where Miss Fame slipped into a super ironic 'No Photos Please' tulle dress, which the photographers lapped up.

Rather excitingly, Miss Fame didn't solely come to France because of the sudden influx of invites for fittings and shows in her DMs. Paris isn't just for couture week... it's her new home. "I moved to Paris two weeks ago, at the beginning of all this, after being a New York resident for eight years," she explains, acknowledging that the state is where her career took off. "I came to Paris because I've been embraced by the fashion industry here in a way that I could never have anticipated or imagined. At shows and fittings, I get to be an insider and it's extraordinary. It's a very special moment because I feel embraced as somebody that's non-conforming, that's femme, that's queer, that blurs the line on what gender expression can be. We live in a time where people are claiming their lane and they're saying, 'this is where I feel I sit and this is how I've always felt', when they might not have been brave enough to do so before." The warm welcome was clear for all to see as Miss Fame sat front row next to the likes of Christina Aguilera, Coco Rocha and Celine Dion.
Meeting Celine was a real highlight for Miss Fame. "As soon as the show was over I went backstage to talk to Iris [van Herpen]," the drag artist explains. "Celine called me over and we ended up holding hands -- she's just so present. For somebody who's such a momentous star, you really feel her humanity; she's right there with you in the moment." Coincidentally, six months ago Miss Fame and Miss Dion turned up to Alexandre Vauthier's show wearing the exact same dress. She describes what could have been a PR nightmare as a funny #twinning moment, and the feeling was clearly mutual.
Miss Fame reveals that she often catches herself thinking that she might be dreaming, citing the time when Iris van Herpen halted her model fittings to check that she was happy with her look. "I thought, '...how is this my life now?' I'm really grateful." Gratitude aside, the fact that a binary-blurring drag queen has been embraced so wholeheartedly by the haute couture set is a sure sign that things in the fashion world are changing.
"Paris has been so inclusive with my type of beauty and showing the world that you can be invited to this table," Miss Fame tells i-D. "That's nice for somebody like myself who identifies within a few spectrums. I mean, I grew up on a farm. You don't have to be born into this industry to be a part of it. If you want to be here, you can design your own life to be a part of the world you'd like to see."
This article originally appeared on i-D UK.