Photography David Jenewein
kiko kostadinov takes us to the races
Giddyup! Kiko kickstarts London Fashion Week Men's spring/summer 20 with a horse racing themed sartorial shake-up.
Photography David Jenewein
"This is the first season in a while that hasn't been inspired by film, art and artists," Kiko Kostadinov explains from a quiet enclave of the opulent ballroom show venue of the Plaisterer's Hall. From the Jean Renoir, Kafka and Martin Kippenberger influenced spring/summer 19 journey through India to the twisted horror infused autumn/winter 19 collection that referenced Midnight Lace and The Ring, we have come to expect Kiko placing a distorting lens over both cult cinema classics and obscure works alike.
For spring/summer 20, Kiko and his team stepped away from the library to break a four season strong reference cycle and instead opted to create their own world. "It felt as though we had more freedom to create our own narrative, we could make it sharper and move forward." The result was a fun-flowing cocktail of a collection that combined a heady mix of Russian constructivist graphics, jockey silks, 18th Century periwigs, Gothicism and so much more. Drink up!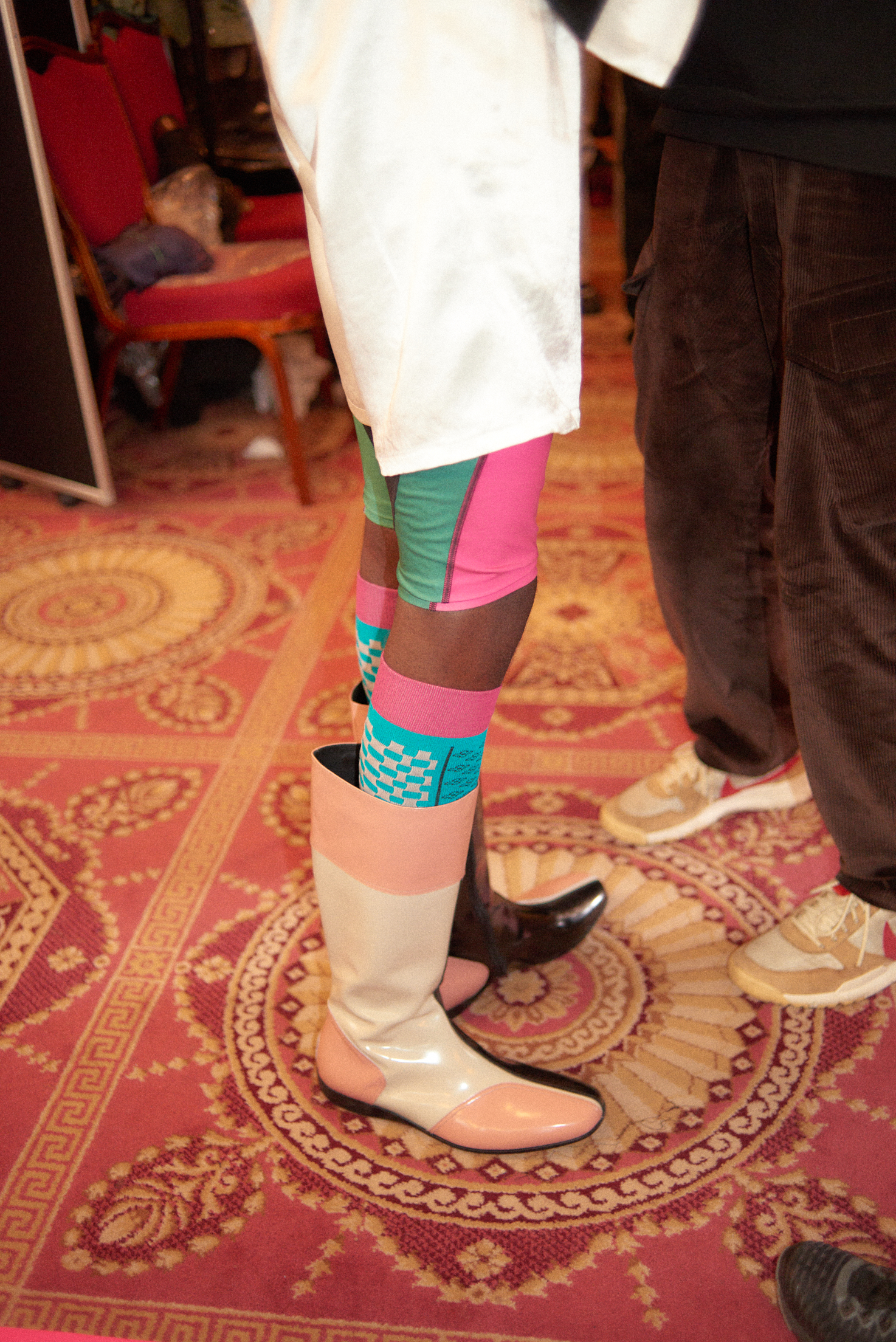 While Kiko and the accompanying show notes don't mention any film or artists, Kiko concedes that the collection's catalyst was sparked by a bored streaming session (Netflix and create?). "The jockey element came from watching the Kentucky Derby episode of the 7 Days Out documentary series," Kiko explains backstage. "I was drawn to the fact that these people work all year for something that lasts just two minutes." It was impossible to ignore the parallel with the ever accelerating pace of fashion but Kiko was left feeling fortunate. "As an industry, we always moan about time, but we have so many opportunities to create throughout the year," he adds. So, the opening section of the collection was a kaleidoscopic celebration of jockey attire, as silks, fluid jerseys, jackets and tunics were spliced with contrast panelling that reflected the curvilinear pattern work seen throughout.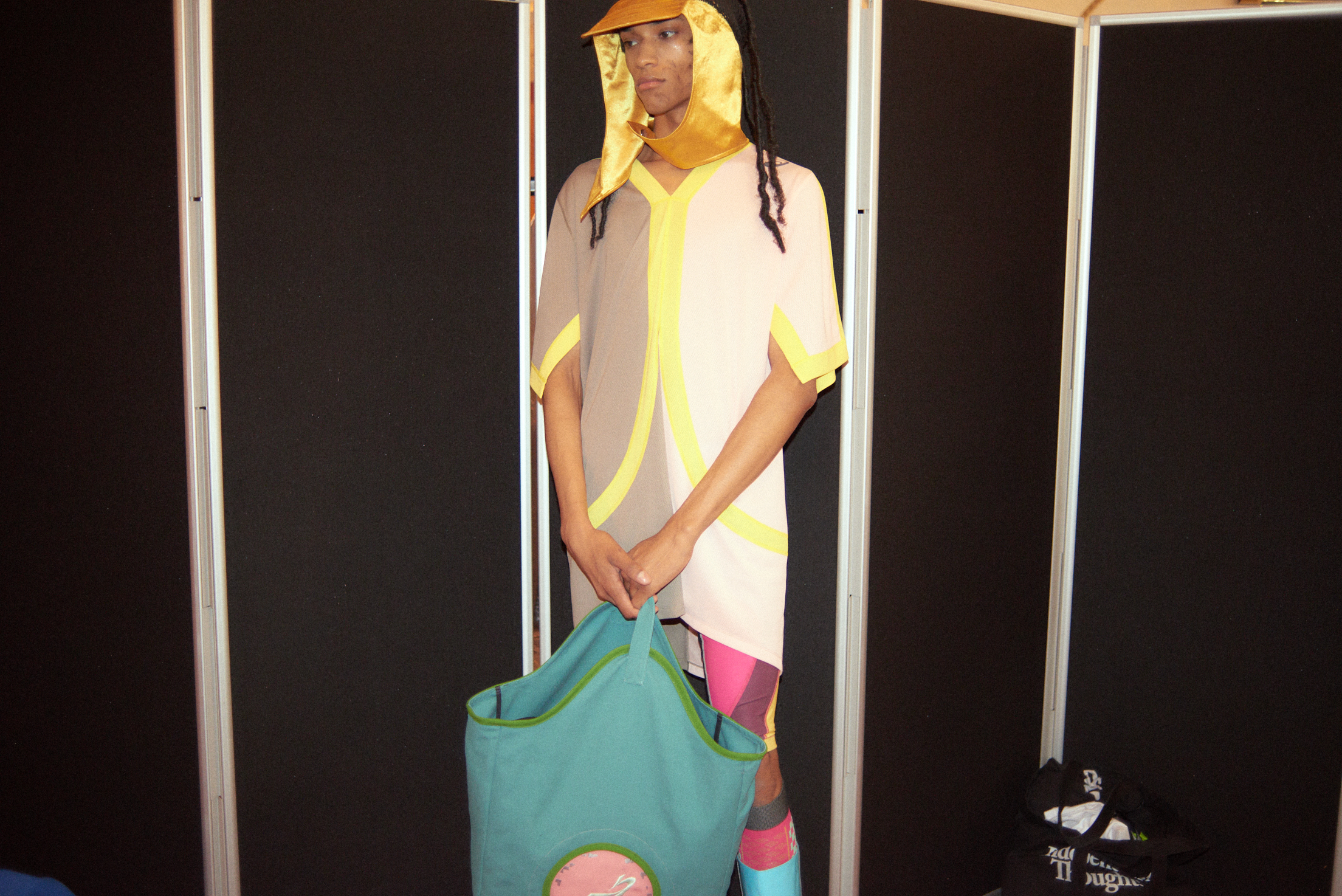 From the Kentucky Derby, Kiko looked to cavalry dress and was drawn to how some horses are trained by gypsies and drew comparisons with the powerful figures financing the sport too. "The suiting section is inspired by the racing organisers and horse owners." The Kyoko Odo-crafted periwigs added further fantasy to the whimsical buttoned-up tailoring as Kiko continually clashed the familiar with the otherwordly. From the blink-and-you'll-lose-it reality of the jockeys themselves to the pomp and ceremonious fanfare of the onlookers, historical archetypes were constantly reimagined and juxtaposed with Constructivist graphics. His strongest collections to date have delighted in sociopolitical mash-ups and culture collages, out of context everyday reality with far-flung fantasies. This collection had all of this and more.
"I hope spring/summer 20 will be the boldest season I have done so far," Kiko Kostadinov teased i-D back in March. He delivered. This felt like a coming-of-age collection that built on all of the well-established foundational codes he has laid over the last eight seasons.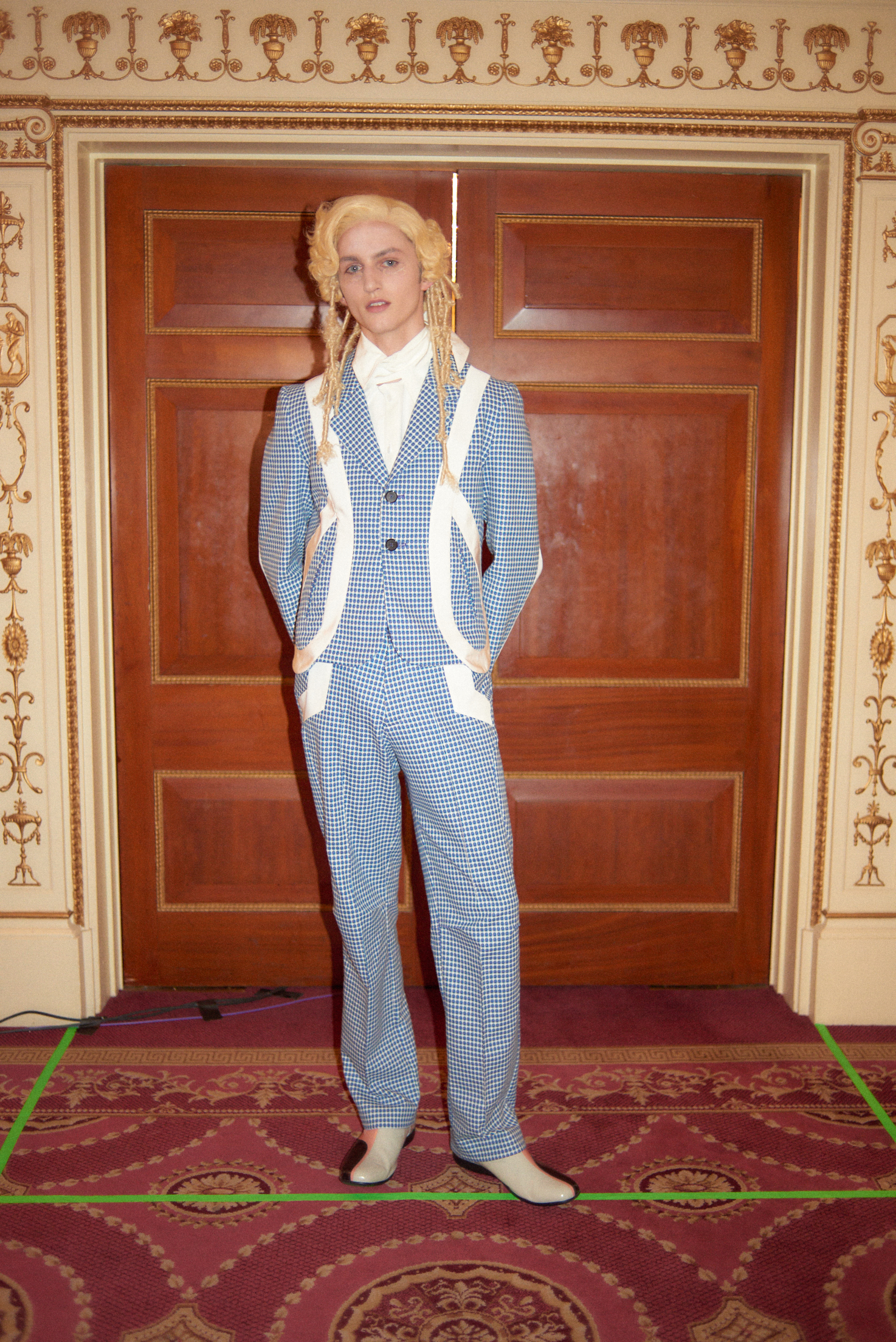 From his earliest work, the hyped 2013 and highly prized reseller collaboration with Stüssy that saw him manipulate streetwear pieces, through to the dystopian tribes introduced by his womenswear, this is a more confident Kiko Kostadinov. With good reason because 2019 is fast becoming Kiko's year.
From launching womenswear — enlisting just-graduated CSM-educated twins, Deanna and Laura Fanning to help create it — to being shortlisted for the LVMH Prize 2019, opening London Fashion Week Men's and widening his creative coming togethers with Asics and Camper -- the fifth Kiko Kostadinov x Asics collaboration features the first unique prototype: a FlyteFoam sole with floral tread, a curled toe and embossed checkerboard overlay --, the last nine months have been just as transformative as his tailoring trickery. For Kiko, the success is powered by behind-the-scenes studio magic "Everyone on the team loves clothes and we always challenge ourselves to propose something new, we spend hours on the darts, the panelling, the seams, and our deconstruction techniques," he says. Well, the studio overtime paid off.