a few of the most memorable celebrity fashion lines
With Rihanna reportedly launching a fashion line in partnership with LVMH, we looked back at some of the most iconic celebrity fashion lines to date.
|
22 January 2019, 10:05am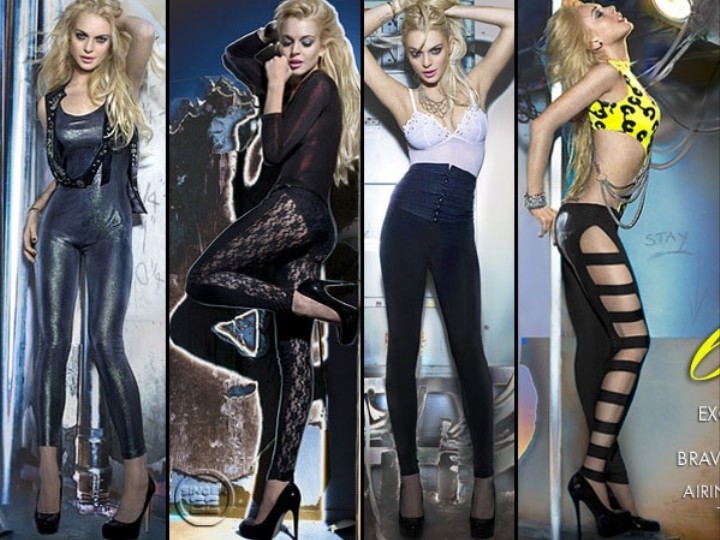 You know the news by now: Rihanna is allegedly teaming up with LVMH to launch a label. If it's true she'll become the first black woman at the helm of any of the conglomerate's brands! Riri joins an illustrious cast of celebrities that have swapped the red carpet for the studio, and the results have been... mixed, at best. But, with the rapturous success of her collaborative line with Puma under her belt, and a team poached from Celine and Louis Vuitton, things look brighter for Riri than they did for most of her A-List acquaintances. As the champagne corks continue to pop, here's a commemorative look back on some of the most memorable celebrity fashion lines
Kanye West, Pastelle
"Wait, isn't that, like, a Trinidadian Christmas treat?" I mean, you're not wrong, but to the kind of person that hopelessly wastes hours queuing outside Supreme to splash out on the latest in branded building materials, Pastelle means only one thing: intermittently flitting into public consciousness by way of music videos and leaked lookbooks between the summer of 2007 and late 2009.
With the aid of a team of collaborators hailed today as menswear's leading lights, Virgil Abloh and Kim Jones among them, and a splashy KAWS-designed logo in a garish font basically lifted from a poster for The Lion King, the line was primed for fever-pitch success. Alas, the brand was shelved before it ever hit stores, for reasons unclear.
Would Pastelle have been the greatest celebrity line yet seen? I mean, the design of the garments that were previewed was basic at best, but the benchmark for celebrity design has never been particularly high, now has it? And were it not for Pastelle, would Virgil have made it all the way to having spoilt teenagers gouge each other for the opportunity to spend the equivalent of my month's salary on a keyring? Who knows.
Lindsay Lohan, 6126
Lindsay Lohan is the original polymath: actress, nightlife doyenne, vigilante child trafficking cop... the list goes on. However, prone as we are to tout her honed partying skills -- who else, I ask, would you turn to for guidance were you to host your own Myconian soirée? -- we all too often gloss over the veritable gem of our dear Lindsay's glistening CV.
At a time when fashion was taken by whatever Alexander Wang was doing to jogging bottoms, Lindsay was proving her mettle as the design maven of the decade. The thoughts of most will no doubt turn to the deeply confusing just-over-a-year she spent "at the helm" of Paris mainstay Ungaro -- sending the brand flailing down the path to permanent irrelevance now being trod by Lanvin.
But I'm actually here to talk about 6126. Taking its name from Marilyn Monroe's date of birth, it was clear from the outset that Lindsay had similarly heady heights of iconicity in mind for the brand. Which, if I'm the one judging, were achieved. Offering "contemporary styling" at a "young contemporary price point", 6126 scandalised the leggings world with its £100-a-pop 'Lust', 'Star' and 'Fame' sub-lines, each oozing contemporaneity at its most concentrated. The calf-cladding leopard print 'ankle gloves'? Contemporary. The leather-pocketed 'Political' jeggings? SO contemporary. Lindsay made leggings so hot that, between 2008 and 2013, an entire micro-generation of teenage girls literally only ever wore leggings and sweaters on trips to regional shopping centres the nation over. If that's not the definitive mark of a brand's success, tell me, what is?
Gwen Stefani, L.A.M.B.
Gwen Stefani's rap for culturally appropriative practices isn't the greatest, from flippantly sporting a bindi as if it were an eyeshadow shade rather than a sacred cultural symbol, to the infamous Harajuku Girls. Seriously, go back and listen to Rich Girl, where she muses on actually purchasing four human girls from "the hoods of Japan" with the express purpose of "[dressing] them wicked" and having them "come to her rescue", while she floats around in Galliano. Pretty dark, right?
Though the Harajuku Girls may be no more (honestly, has anyone seen them? I've been in a perpetual state of concern for the last four years), their problematic legacy lives on through the brand they gave their names to. L.A.M.B., or Love, Angel, Music, Baby -- has been going strong since 2003 to generous critical acclaim, even holding a spot on the NYFW schedule for a hot second. But as hard as Gwen may try to convince us that the brand is an "appreciative" smorgasbord of "Guatamalan, Japanese, Indian and Jamaican styles", L.A.M.B. basically amounts to a ham-fisted compilation of smash-and-grabbed scraps of subaltern vestiary heritages, stitched together and sold to whatever the Uptown equivalent of a white person with dreadlocks is. C U T E.
Mary-Kate and Ashley Olsen, The Row
It's totally impossible to have this conversation without mentioning the Olsen twins, because, let's be honest, they're more or less the only ones to have actually made it. Sure, Kanye may have YEEZY, Victoria Beckham has her namesake, and Jessica Simpson's label apparently has a billion-dollar revenue (seriously?), but never has there been a celeb fronted line as impeccable on both the creative and commercial fronts as Mary-Kate and Ashley's The Row.
Their fashion kudos doesn't begin and end with £££-price tag sweaters. The twins first foray into fashion came in the guise of an exclusive collaboration with... Wal-Mart. And to be frank, it wasn't half bad: Real Fashion for Real Girls, as it touted itself, with demure, striped pyjama pants and straight cut skirts 'designed' by the child-star twins. A fitting harbinger of the restrained elegance in store for their futures.
Kardashians for Dorothy Perkins
I remember the day so clearly: the 6th of October 2012. I was weaving my way through a milling throng on Oxford Street, when all of sudden I stopped, stunned. Above me on a billboard loomed three statuesque gorgons, resplendent in bodycon lycra and leopard print: The Kardashian Kollection, announced the bold print across the bottom of the ad... for Dorothy Perkins. I know it's probably the total opposite of what Riri and Monsieur Arnault have in mind, but I still maintain perhaps the best celebrity-endorsed collection this godforsaken industry has ever seen, if only for the fact that it serves as a humbling reminder of the fact that Kim had to take up with Dorothy bloody Perkins to get her Louboutin-toting foot in the world of fashion. And then there are the clothes themselves.
Each piece looked like it could have been salvaged from a time capsule buried by a Big Brother contestant. And then, lest we forget, there was the promotion event at the eminently chic Shepherd's Bush Westfield! Like, seriously, the fact that, in 2012, Dorothy Perkins shuttled the three queens of Calabasas to a makeshift stage opposite a Spud-u-like is nothing short of inspirational.
Whenever I think of the Kardashian Kollection, I shed a quiet tear of nostalgia. But mark my words, the early teens are due for a comeback. And when that moment comes, ending this current gangly, adolescent fixation on uglywear, pieces from this golden episode of fashion history will prove holier grails that whatever rip-off Pyrex Vision shit you're currently tiffing over.

This article originally appeared on i-D UK.