lyle reimer, the make-up artist finding beauty in rubbish
He's used turkey bones to contour and broken tights as eyeshadow.
|
28 February 2019, 9:00am
Lyle Reimer
'One man's trash is another man's treasure' may be as old and tired as sayings get, but make-up artist Lyle Reimer is the living embodiment of its message. He's spent years collecting the items other people discard, or deem worthless, and turns them into experimental make-up looks. Hunting out rubbish wherever he goes (his house, the streets, his friends' junk drawers), his hauls have included everything from packaging materials to hairballs, jewellery to broken toys, medical ephemera to ceramic casts of teeth. He even receives boxes of 'crap' donated by fans all over the world.
Not your standard make-up artist, Lyle borrows from the processes of sculpture, collage and body art to turn this treasure into 3D looks, each with a very detailed character description. To him, his work is about giving unwanted rubbish a new lease of life before it hits the rubbish tip.
But rustic papier mache, arts and crafts creations these are not. In fact, Lyle's pieces are so intricate, so well-constructed that at a first glance, you hardly recognise that they're made from trash at all. The pieces undoubtedly comment on our contemporary throwaway culture (his recycling-obsessed mother instilled an eco-ethos in him from an early age) but Lyle says his main goal is to prompt people to consider their definition of beauty, and rethink where they look for it.
It's this, as well as his distinct aesthetic, that has seen Lyle commissioned for projects by the likes of Jeremy Scott and Viktor and Rolf, who coincidentally wrote the foreword to his new book. Out next month, Lyle XOX Head of Design deconstructs the inspiration and processes behind his greatest portraits. Ahead of it hitting shelves, i-D caught up with the mixed media make-up artist to find out what it is that fuels his creativity.
Where did your mixed-media portraits begin?
The first five looks were a result of an initiative at work [Lyle was a trainer for MAC for 16 years]. The "5 Day Challenge" was designed to get the artists to do make-up looks on themselves that challenged their creativity and I took part too. The response was so positive that I then extended it to the "10 Day Challenge" then 20 days and I realised that every time I created a look, I had this euphoric feeling. I wanted to create these images all the time and pour all of my focus into it. The looks became more and more elaborate, and celebrities and industry professionals who I've long admired began following and commenting, so Lyle XOX [Lyle's make-up artist persona] became a full time focus and now is my career.
What was the first look you created?
It was a very basic drag look wearing a turban and a deconstructed suit jacket. I shot it in my shower. Although it was a drag look, I don't consider what I do now as drag. I have incredible amount of love and respect for those who do drag, I just feel that it isn't a title that best describes what I do and who I am as an artist.
Why is using recycled materials important?
I grew up with a mother who was (and still is) the queen of recycling. She always created an environment that embraced reusing and repurposing cast-away materials and leftover 'garbage'. I remember watching my mum make a peacock out of pastel coloured styrofoam egg cartons and thinking to myself at that very young age, "Wow, my mum is like a magician!" My current work stems from those childhood days of turning garbage into art.
What is the key message behind your approach?
It is about creating honest portraits that embody a surreal world that defies boundaries and labels. I take literal garbage and items that have been deemed worthless and give them a new life. I love that message of transformation, and how it can be applied on so many levels. I want people to pause and be mindful of where beauty can be found and take note of the jewels that lie within the mundane pieces of everyday life.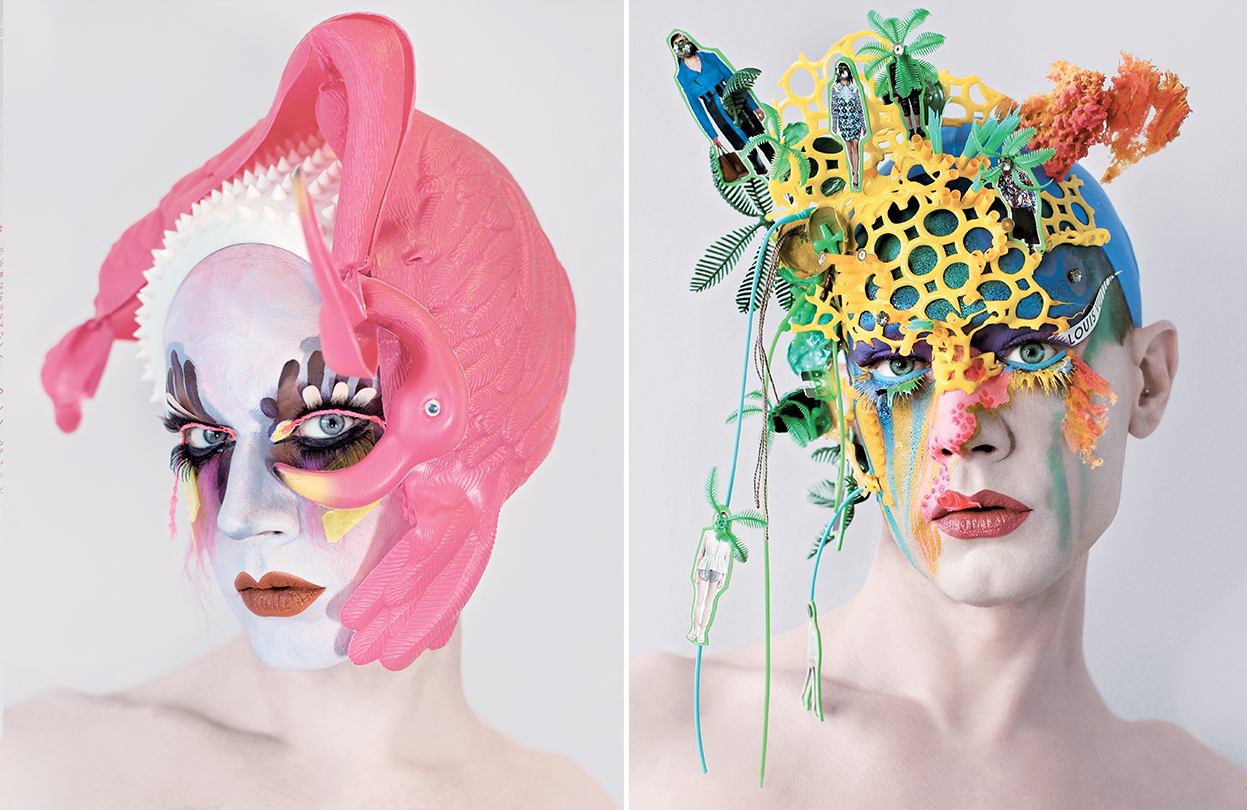 Where do you find your 'rubbish'?
The pieces come from all over. Friends and family clean out their junk drawers and closets for me. I find pieces out on walks throughout the city and on my travels. People from all over the world now send boxes of garbage to support my work. It's the power of connection through social media. I love that my work creates this relationship with people and allows them to be part of the art.
How long does it take to create each one?
It's hard to quantify the time. Almost every day I am in the studio making pieces, never knowing how each item will be used, but just trusting the creative impulse. I spend up to four hours doing make-up and assembling the pieces together. I never know what the final look is going to be, but just instinctively know when it's complete. I love taking the time on each piece because it really is soooo much fun going blindly into the creative process and appreciating the whole journey.
How do you construct each look?
The actual facial adornments are attached with surgical grade glue but the construction of the pieces varies depending on the actual materials that I'm working with. One time I wanted to take vintage record sleeves and incorporate the history of the music into the piece without being obvious or blatant. So I took the record sleeves and soaked them in water for a week and then put them into a blender with some paint and created this kind of 'musical mush'. I like the idea of having these secrets within the work that add another layer of dialogue to the piece.
Do you dismantle, and thus lose, each artwork after shooting?
Some of the looks are removable, and other components need to be deconstructed as they are washed off my face. I take a lot of care in the removal process to preserve as much of the art as possible. I want to have a gallery show where all of the items are sculptural pieces of art that compliment the photography aspect of the exhibition. A curator once told me a while ago that it is vital to keep as much of every piece as possible and so I have taken those words to heart.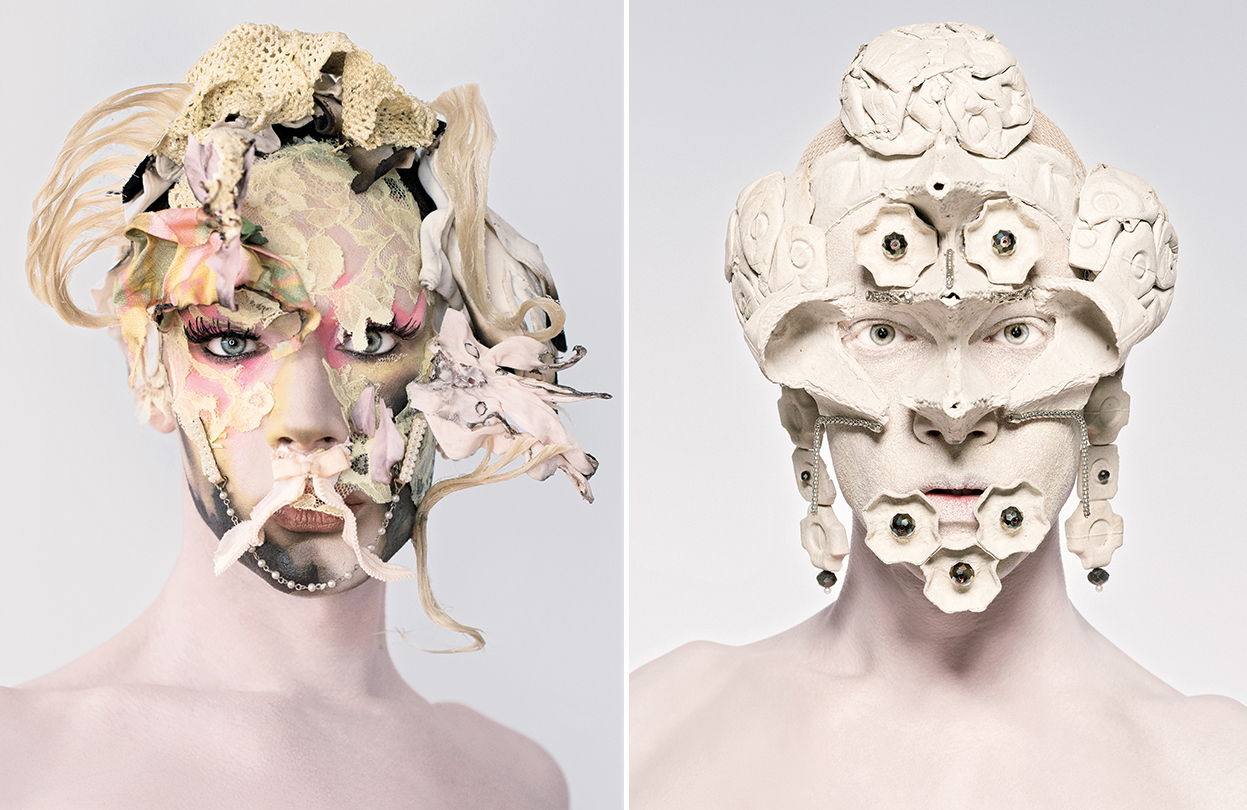 How do you keep yourself inspired?
Inspiration is constant. Sometimes I wake up at night and have to write notes on my phone to remind myself in the morning about a particular shape or colour palette or concept. It's hard to shut if off.
What beauty products do you swear by?
I can't live without MAC Studio Fix Fluid and transparent finishing powder. No look is ever created without them. I also can't work without a purple glue stick to block out my eyebrows.
What does the word beauty mean to you?
It is the essence of what makes something attractive. Attraction, so often, can't be qualified, it just is. It is the same with beauty. Regardless of flaws, blemishes and irregularities, the attraction is still present and will connect to an individual in a way that relates specifically to them. I have always loved this Alexander Mcqueen quote: "Like most artists, I find beauty in the grotesque". Beauty is just a label and we all get to decide where it gets attached. Beauty can be found in the most unlikely places, you just have to be open to seeing it.
Lyle XOX Head of Design is published by Rizzoli and is available for sale on 5 March.
This article originally appeared on i-D UK.