Image courtesy of Hunky Dory
this magazine explores a new generation's nostalgic yearnings for all-things 70s
From Leigh Bowery's love of trashy disco to David Bowie's best looks, the re-emergence of Fiorucci and ABBA to a celebration of modern men with retro mustaches, 20-year-old Maisey Brown's 'Hunky Dory' casts a millennial eye over the 70s.
Image courtesy of Hunky Dory
After graduating from UCA's BA Fashion Journalism course, 20-year-old Maisey Brown has wasted no time kickstarting her career. This June sees the launch of her debut magazine, Hunky Dory. The biannual publication references the name of David Bowie's 1971 album, and its debut issue explores her love of the 70s. A lifelong fan of the decade — she was wearing flares at the age of seven, while avidly reading teen mags such as Bliss and Mizz — Brown has filled Hunky Dory with interviews with major 70s fashion and pop culture icons, features about Bowie, Top of the Pops, Leigh Bowery, Fiorucci and ABBA. It also features new creative talents to look out for, fashion spreads, garish graphics, and illustrations galore.
Here, Maisey talks to i-D about our generation's obsession with the past and what we can learn from it.
So, what is Hunky Dory magazine all about and who is it aimed at?
It's where the past and the present collide. It explores and celebrates a new generation's nostalgic yearnings through a contemporary lens. It's aimed at young women who revel in retro, appreciate the present, and look forward to the future. The 70s Issue focuses on fashion and culture from this golden era of style, which continues to evolve and excite today. It pays homage to radical forms of pop culture that became available to women in the 60s and 70s. From the look of Jackie to the content of Nova, Hunky Dory envisions the spirit of these magazines.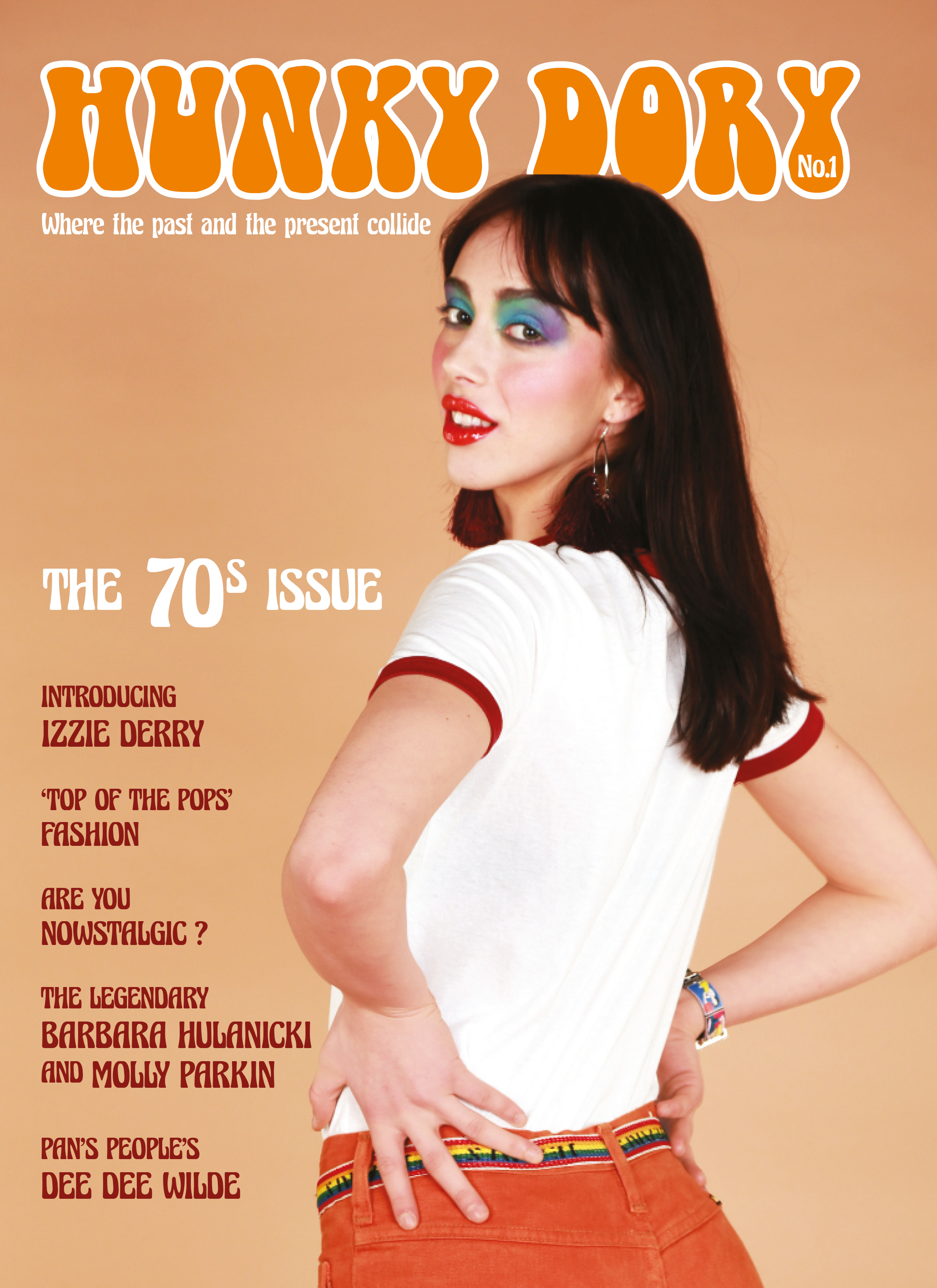 Can you give i-D a run through of what's in the debut issue?
There are interviews with the creator of Biba, Barbara Hulanicki, the former Fashion Editor of Nova, and painter Molly Parkin, as well as Pan's People [all-female dance troupe] dancer Dee Dee Wilde. It also includes the artist and author, Sue Tilley, who recalls her friend Leigh Bowery's love of trashy 70s disco. We take a look at Fiorucci and how the brand's revival is appealing to nostalgia-obsessed millennials. It also explores today's magazine editors — like Luke Day from GQ and Ben Cobb from Another Man — who are rocking 70s-esque facial hair. The shoots include the original 70s brand Swedish Hasbeens and there's a Top of the Pops-type count down of modern brands nailing the nowstalgia trends.
I'm guessing you're a big David Bowie fan...
In 1971, when David Bowie released his album Hunky Dory, it reflected the turmoil of the decade and it's not only my favorite album of his but I think it's an album that really resonates with today. The magazine's name is both an homage to Bowie but it's also a reflection of the idea of a peachy keen life where everything is hunky dory. It's not just his music in the 70s but also Bowie's fashion evolution that appeals. The debut issue includes a 'Best of Bowie' illustrated feature which is a run down of his looks that defined the decade — from his gender-bending folk styling seen during his Hunky Dory period, to his explosion of color as his subsequent alter ego Ziggy Stardust.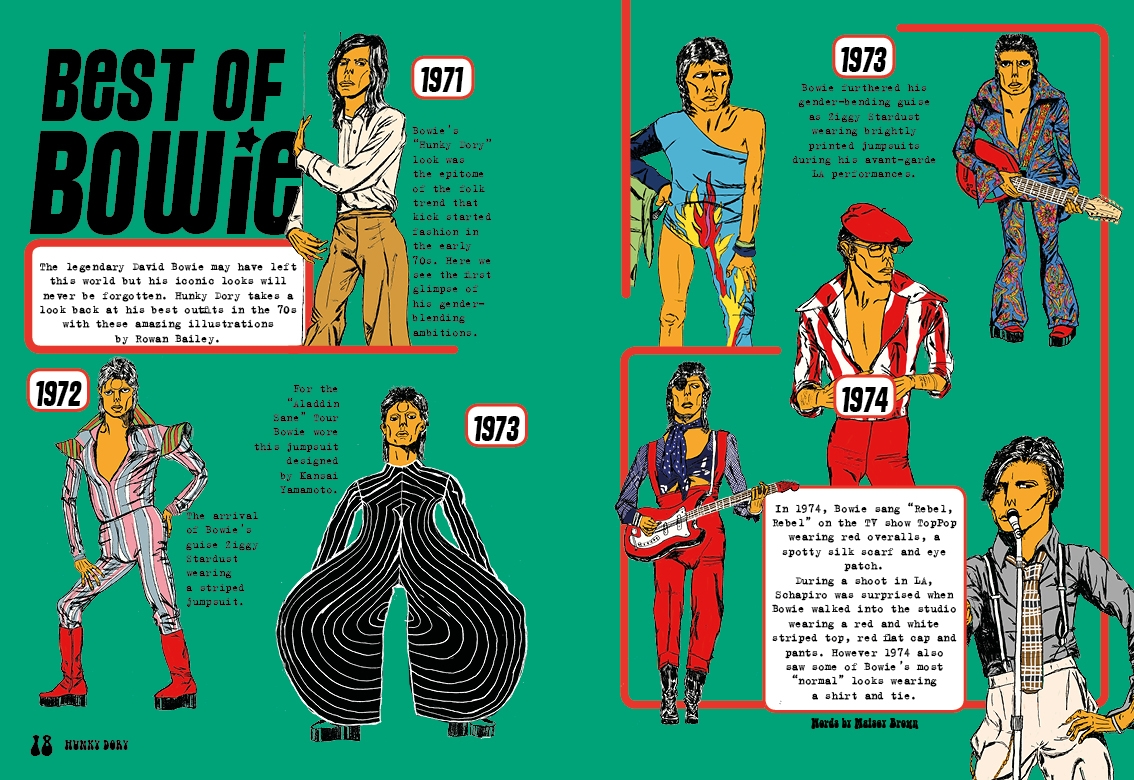 In which ways would you compare 2018 to the 70s?
There are obvious socio-political comparisons. The 70s also saw sweeping change from the Women's Liberation Movement and the arrival of second-wave feminism — we're now in our fifth wave and still fighting. David Bowie's androgyny, that allowed people to escape and feel that it's ok to be who they are, influences so many artists now. Today, LGBTQ+ artists are still manipulated in the mainstream media, but creatives and influencers who are able to use their social platforms can create communities and post their political views and opinions, which mirrors independent artists of the 70s such as Patti Smith.
Was it difficult to persuade those 70s fashion legends to be interviewed for Hunky Dory? Interviewing them was the easiest and one of the best parts about creating Hunky Dory 's debut. Many of my interviewees were over the moon to reminisce and converse about a part of their lives that for some were the highlight of their careers. It was incredible speaking to Barbara Hulanicki about the arrival of Biba and her opinion of the high street now, as well as talking to Molly Parkin about her career as a fashion editor and her paintings. Both huge pinch-me moments for a young journalist, that I will always remember.
Many aspects of the 70s were quite grim in the UK, don't you prefer the 21st century?!
In a decade full of doubt and disaster they were able to power through with music and fashion and despite it being pretty grim it brought such change and controversy that kickstarted so many important things that today we are still fighting for. Within fashion and music the 70s is a decade that people reference so vigorously and I am naturally drawn to musicians, designers, and artists who are inspired by this era in their work. It's great now as you can bring forward the best bits of the 70s into the 21st century. I think it's an amazing decade that deserves a platform to celebrate it.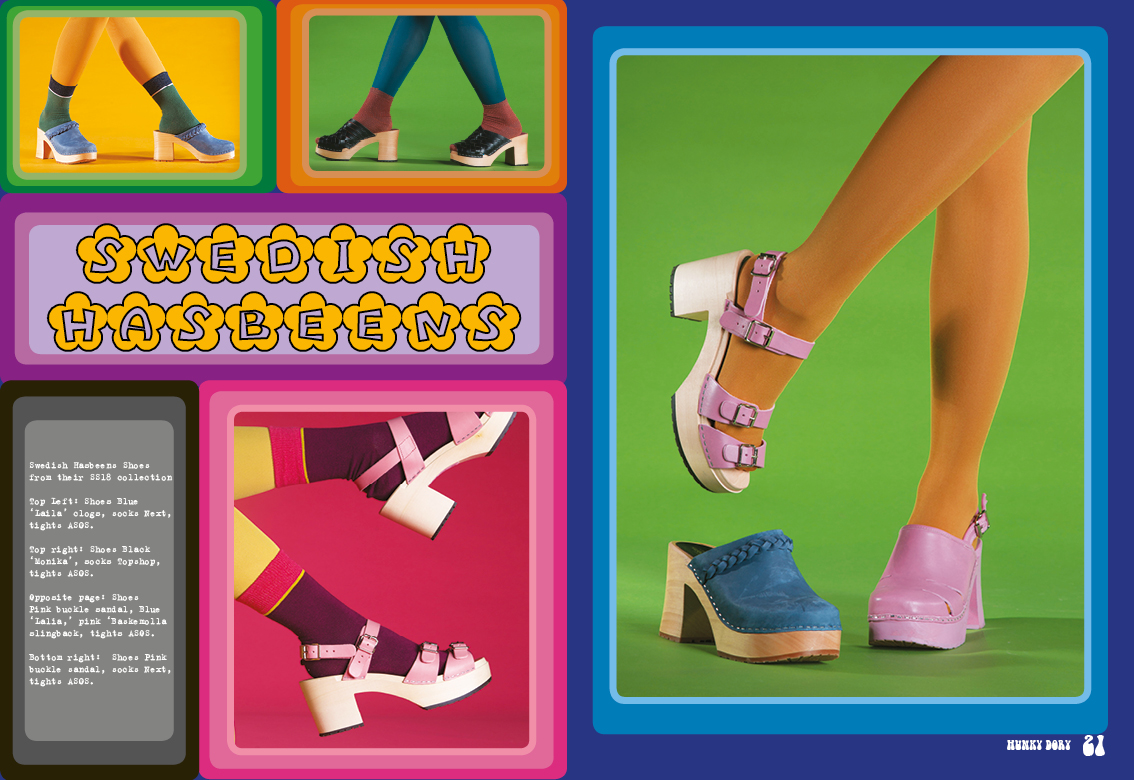 How much of the magazine's content did you create yourself?
Everything from interviews, styling, photography, writing, and layout design was all me, but I had an amazing team of contributors. My friend Rowan Bailey, who studies illustration at Brighton, created the amazing Bowie catwalk looks and wallpaper illustrations. The first issue also includes written contributions by Whitney Harrison, Emily Downing-Smith, Natalie Blain, and Jamie Windust.
I hear you are also involved in a zine called Snatch? Tell us about that.
SNATCH zine was created with my friends. It's a feminist zine that has three sections: creatives, attitude, and rags, and it's for those who choose to be outcast from the mainstream. We had the first issue printed but we are now carrying it on online, collaborating with and commissioning diverse creatives to showcase their work as well as writing our own pieces. We're looking to kickstart the second issue and want to work with new and interesting people.
Why did you want Hunky Dory to be print-based? After all, people keep insisting that 'print is dead.'
I don't think print's dead, and much like other traditional forms of popular culture, like vinyl and tapes, it will always come back. Everyone now is a collector, that's why Hunky Dory suits being a printed publication, as my readers still long for something real and authentic. That said, I do believe it's essential to have an online platform today. Hunky Dory has a website and Instagram, where I post updates, previews, and any news a Hunky Dory reader would be interested in.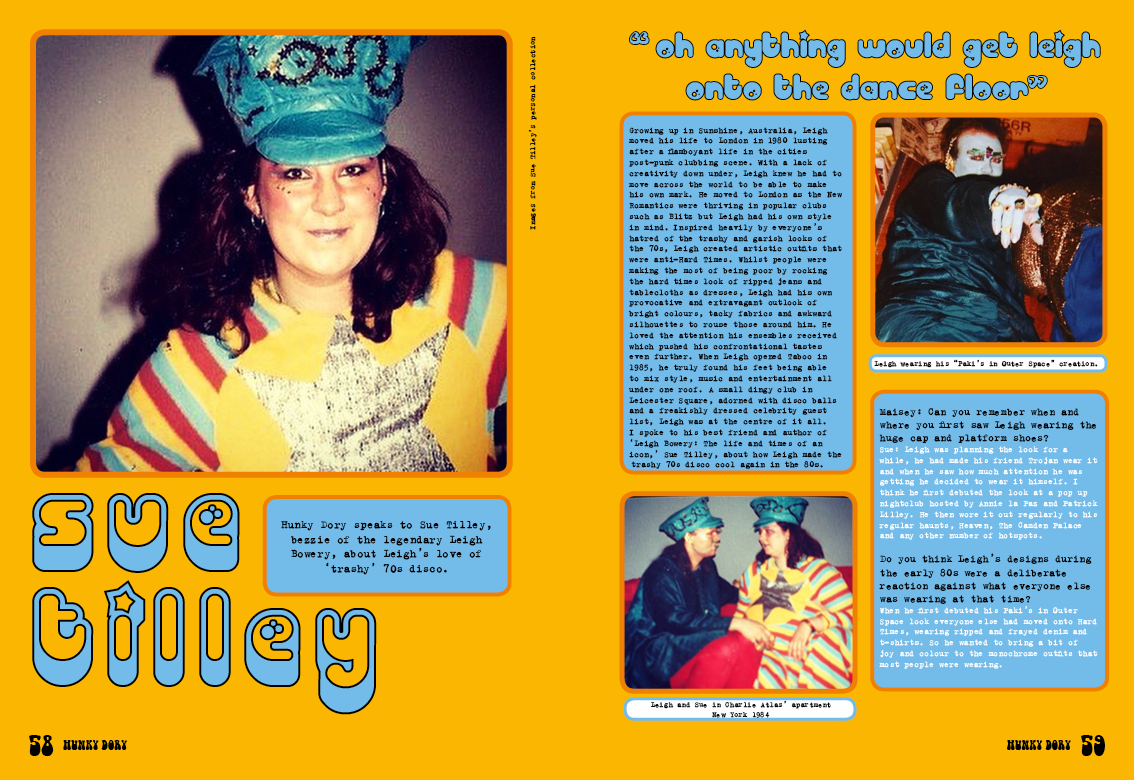 This article originally appeared on i-D UK.