Photography by Ellen Virgona
amyl and the sniffers make head-spinning australian punk
Thoroughly fearless on-stage and irresistibly funny off, the blistering energy of Amyl and the Sniffers frontwoman Amy Taylor is opening doors for the punk outfit around the world.
Photography by Ellen Virgona
The first part, "Amyl", comes from her name, Amy Louise, explains the frontwoman of evocatively-christened Melbourne punk band Amyl and the Sniffers. It made sense for the three boys on the instruments — Bryce Wilson on drums, Dec Martens on guitar, and Gus Romer on bass — to be "the Sniffers", given their occasional indulgence in a little Amyl Nitrate.
Around this time two years ago the band, then housemates, wrote-recorded-and-released their first EP Giddy Up in a tidy 12 hours. A keen fanbase quickly snowballed off the back of their high voltage live performances, and soon enough US independent favourite Burger Records had gotten in touch, sharing the group's tighter second EP, Big Attraction, on cassette. Then came a pressing of both EPs on one big vinyl, courtesy of London's Rough Trade Records, landing the young Australian punks in the Top 40 of the UK Vinyl Charts — a clear affirmation their brilliant live energy translates on tape.
We call Amy the day before the band's set to fly to Europe for their debut string of UK shows. There's a US tour to follow, supporting King Gizzard and the Lizard Wizard, who've recently signed Amy and the boys to their Flightless Records label (the same label through which Amyl and co. will release a debut LP later in the year). In conversation Amy is high spirited and quick to laugh, talking tours, teen years and the beauty of Miss Piggy.
You're from Mullumbimby, near Byron Bay in northern New South Wales. What's it like there?
It's pretty nice growing up in Mullum. It's a small town, it's kinda hippy and kinda full of dropkicks as well — I mean that in the nicest way [laughs]. It's close to the beach, so I always went to the beach twice a day.
What else did you do as a teenager?
I don't know, I loved heaps of different shit! There was this thing in Byron called BBHC, which were hardcore shows, and I was pretty into them because there wasn't anything else you could do under 18. Everything was either a pub or going surfing, and I couldn't surf, so I went to BBHC. I also worked a lot — I worked at the IGA four days a week in High School. I was pretty social, I wasn't a loser, but I don't think I was cool either. Pretty daggy. I remember I went through a tie-day phase, because living in Mullum I thought, "I must be a hippy."
Where are your parents from?
My parents grew up around the Penrith area in Sydney. They met at the Panthers Leagues club. One day my Dad decided he'd move up the coast to Lennox Head, and he asked my mum if she wanted to come — she was like, "yeah, alright." Dad's a crane driver, he's been doing that for most of his life so he's pretty good at it. Mum works at the post office, but she studies Psychology — she's really smart, my mum. Dad used to play footy and they both love AC/DC, they love Fleetwood Mac. One of the only shows I've ever been nervous for was the first time my parents came and watched, but they loved it! 'Cause they're just bogans who moved to the country. It was pretty cute, they were like, "Yeah, that's my daughter!" They buy the shirts too.
I know you were born in 1996, but I don't know when. What's your star sign?
I'm a Capricorn — like Dolly Parton.
The queen. Can you tell me about some of your other heroes?
I love Chopper Reid. I mean, I think he's a bad person but he's very entertaining. I can get off on that. I love anyone who's unapologetically themselves — like Miss Piggy. You know, she's just unashamedly Miss Piggy. I know she's a muppet, but I think she's pretty special! [Laughs] For a very little pig she's made a lot of difference in the world. Who else do I love… Oh, of course I love Bon Scott, and Yolandi and Ninja — I think they're classic. But I try not to take too much influence from any particular person. I love everyone I just mentioned, but it's important to keep a clear head, so I still feel like me.
How are you about the US tour coming up? For a lot of musicians, getting to LA is seen as a sort of benchmark — but you're Aussie punks, so I suppose it's a bit different for you. What are you really excited to see?
I think a lot of us are looking forward to Texas. I think it's gonna be awesome there. I could be wrong, I'm not so worldly at this stage in my life [laughs]. I'm pretty small town, so it's gonna be heaps of learning and finding what I love while I'm over there.
Well you've already cracked Vinyl Top 40 Charts in the UK — that's a good start to world domination.
That's fucking wild, isn't it.
But you have a star quality, watching from the outside. So the success makes sense.
Thank you. I feel very lucky. It does feel natural, these things that are happening, but at the same time I'm like, "Who the fuck, what the hell?"
On stage, and in these photos Ellen has taken, you really come across as so confident. Have you always been that way?
Yes and no. I've always been pretty confident in myself, and I've always loved connecting with people. Being on stage feels like home, I don't really care what people think, you know? But at the same time, I've always been pretty nervous in front of the camera. That's something I'm learning. It's like anything though, you figure it out — when I first started at the IGA I didn't know how the checkouts worked, and by the end of it I did [laughs]. And I think I've never let fear stop me from trying anything, I'll do it just to prove a point.
How's the album sounding? Any new themes?
We've been recording over the last couple of months with the Gizzard boys — Joey Walker has been producing and recording, he's a total gun. I think I'm really proud of it. Before we were just beer drinkin', and now we've crafted our sound a bit more, we've all grown as musicians. I think there's a bit of keys on a couple songs, if you're lucky. The Gizzard boys have been keeping eyes on us 'cause they're professional and smart, and we're kinda babies in a way — I'm very professional and I'm very business minded, but I'm still learning.
What do you to relax?
I'm terrible at relaxing! I love being busy and I love doing business. That's kind of relaxing in its own way for me. Even cleaning the house is therapeutic, for me. I love water, so showers and baths and swimming and drinking — they're all good things.
Finally, what's on your dream rider?
Oh! It depends on how many gigs I had coming up. So, if I had a million gigs I'd ask for mad tea and coffee. I think free tea and coffee is the sweetest thing in the world. What else… I'm pretty easily pleased. Maybe a face mask so I could just fuckin' chill. There's always a bottle of champagne on there, I love champagne. But anything that's free I get ecstatic over [laughs].
Amyl and The Sniffers are touring right now, you can find the dates here.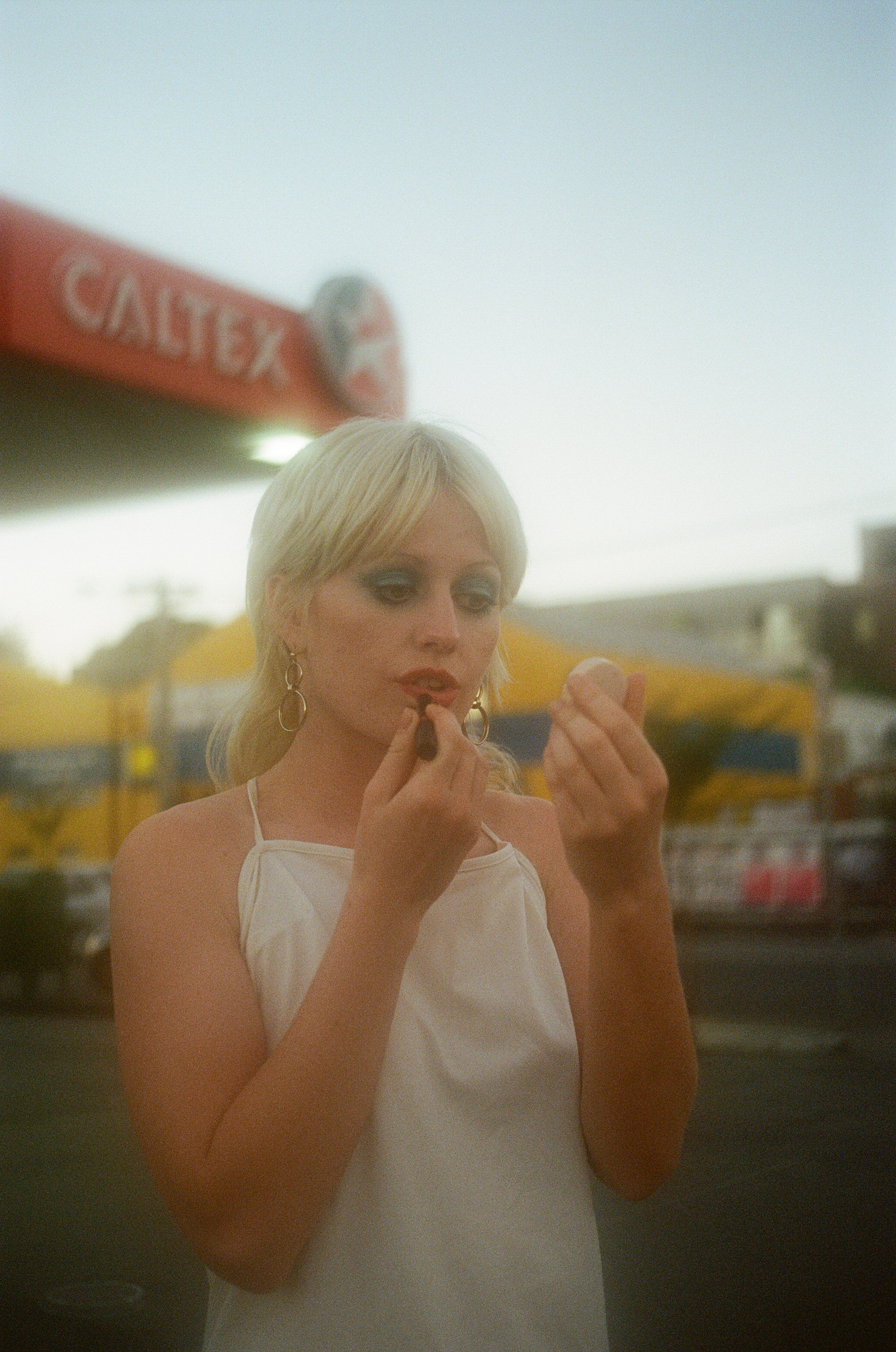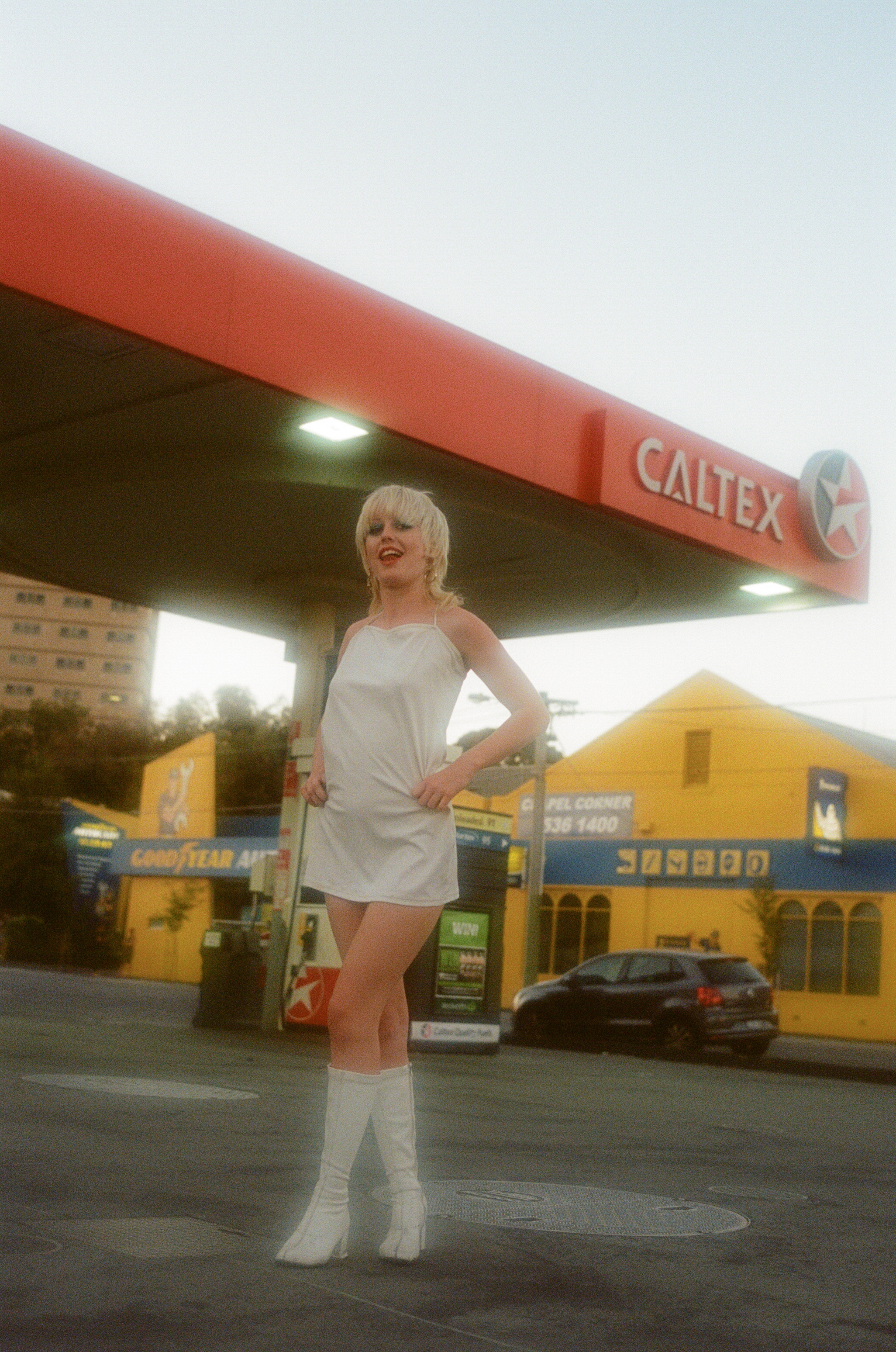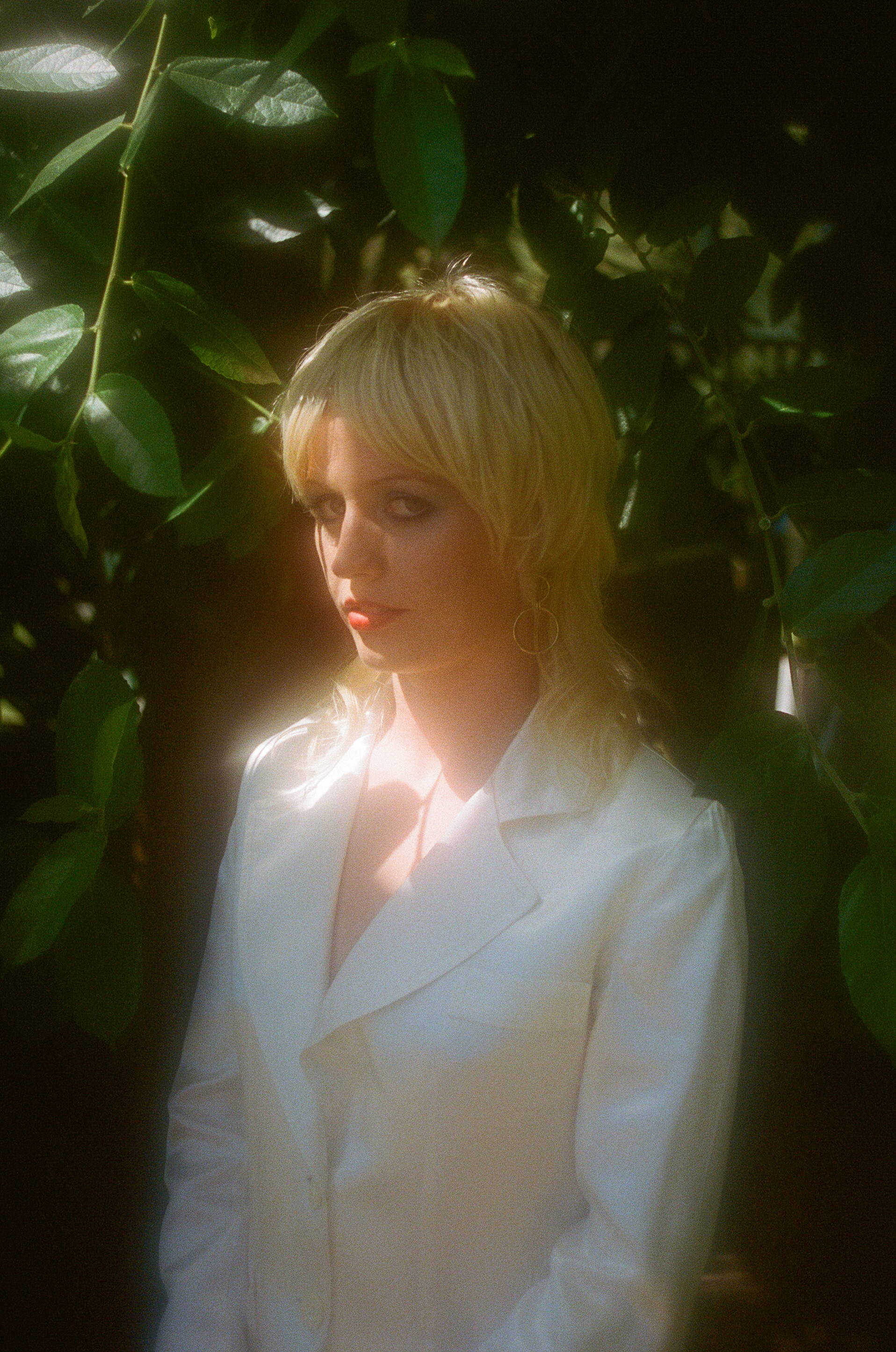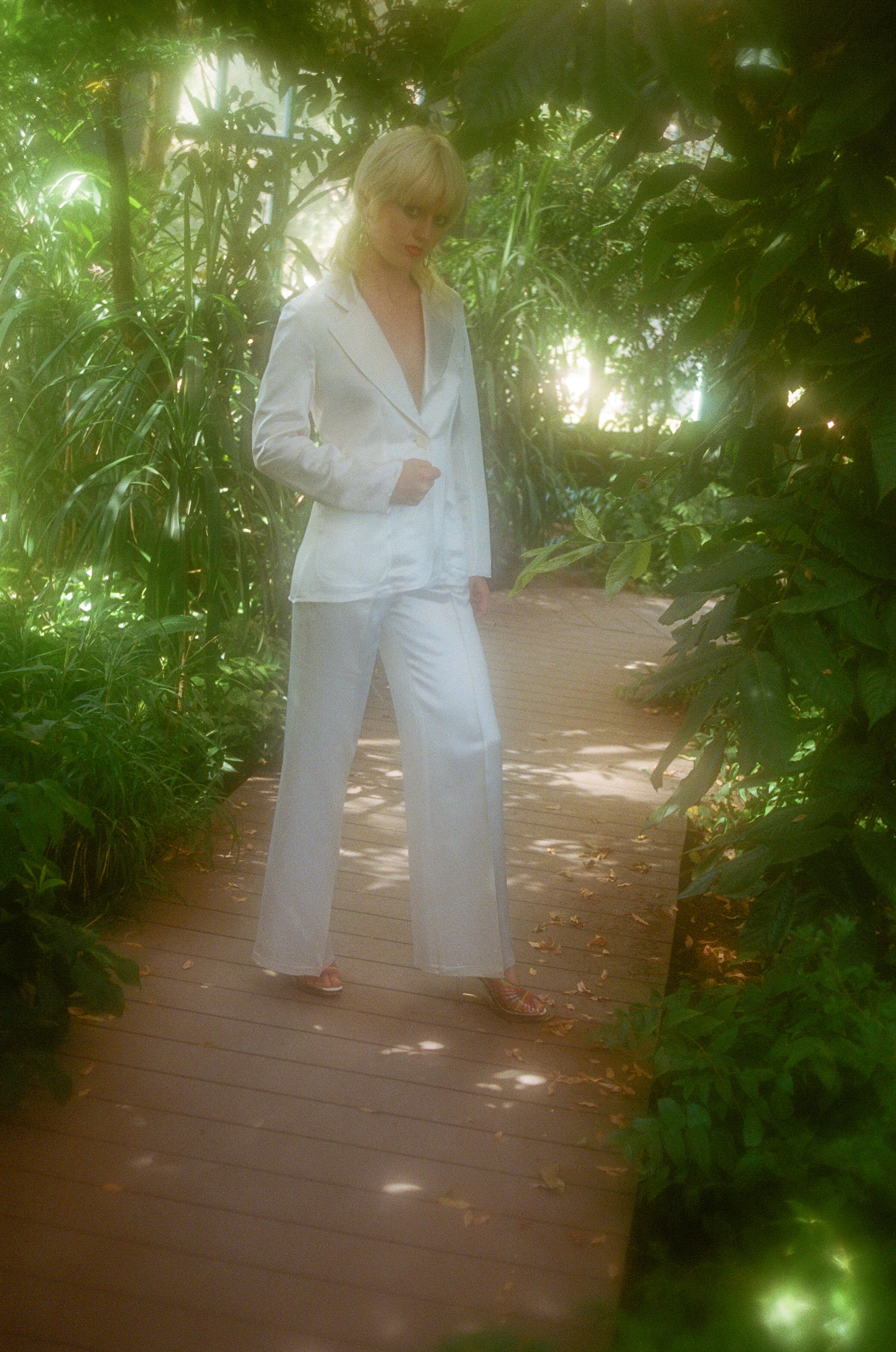 Credits
---
Photographer and stylist Ellen Virgona