Photography Mitchell Sams

givenchy couture explored the relationship between designer and muse
With all eyes on the maker of Meghan Markle's wedding dress, Clare Waight Keller​ celebrated Hubert de Givenchy​ and his muse, Audrey Hepburn.
Photography Mitchell Sams

Givenchy staged its couture show yesterday evening in the pleached garden of the Archives Nationales, home to France's national records and historical documents. It was a fitting choice as Clare Waight Keller delved into the house's own archives for her second couture show, which was a tribute to its founder, Hubert de Givenchy, who died in March earlier this year.
Clare is the only designer to haven taken the reins of the LVMH-owned house to have actually met the eponymous couturier. She has followed in the footsteps of Riccardo Tisci and before that, John Galliano, Alexander McQueen and Julien MacDonald. Apart from the fact that they're all men, none of those designers seemed interested in the founder, and neither of them ever attempted to grapple with the oeuvre of Givenchy himself, who was known for his fuss-free clothes and elegant separates.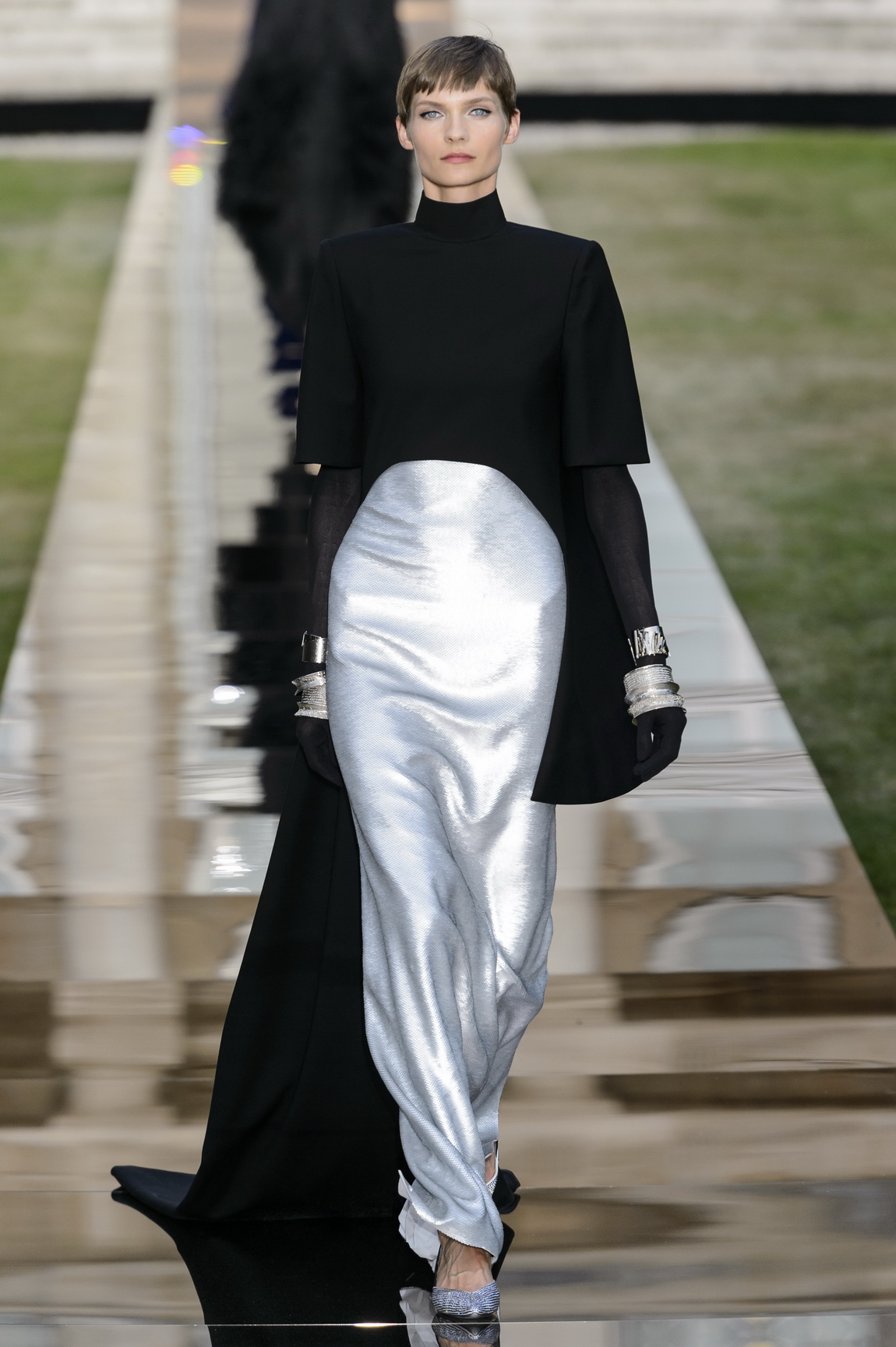 Thank heavens, then, that Waight Keller did -- as it marked a growing confidence for the designer. "Having met him and spoken to him and the fact that he passed three months ago felt very present in my mind," she said backstage. "His legacy was something that really needed to be celebrated. Everyone knows about what he did for Audrey, but not the rest of what he did."
Ah, Audrey! It's no secret that for Hepburn, Givenchy was not just a couturier; he was a career-changing creator of personality. And for Givenchy, Hepburn was way more than a muse; they became lifelong friends, so close that Givenchy was a mediator of Hepburn's will and a pallbearer at her funeral. Around the world, Givenchy became known as the man who turned a doe-eyed post-war girl into the epitome of Euro elegance -- embodied by the campy roles in films such as Breakfast at Tiffany's, Sabrina and How to Steal a Million.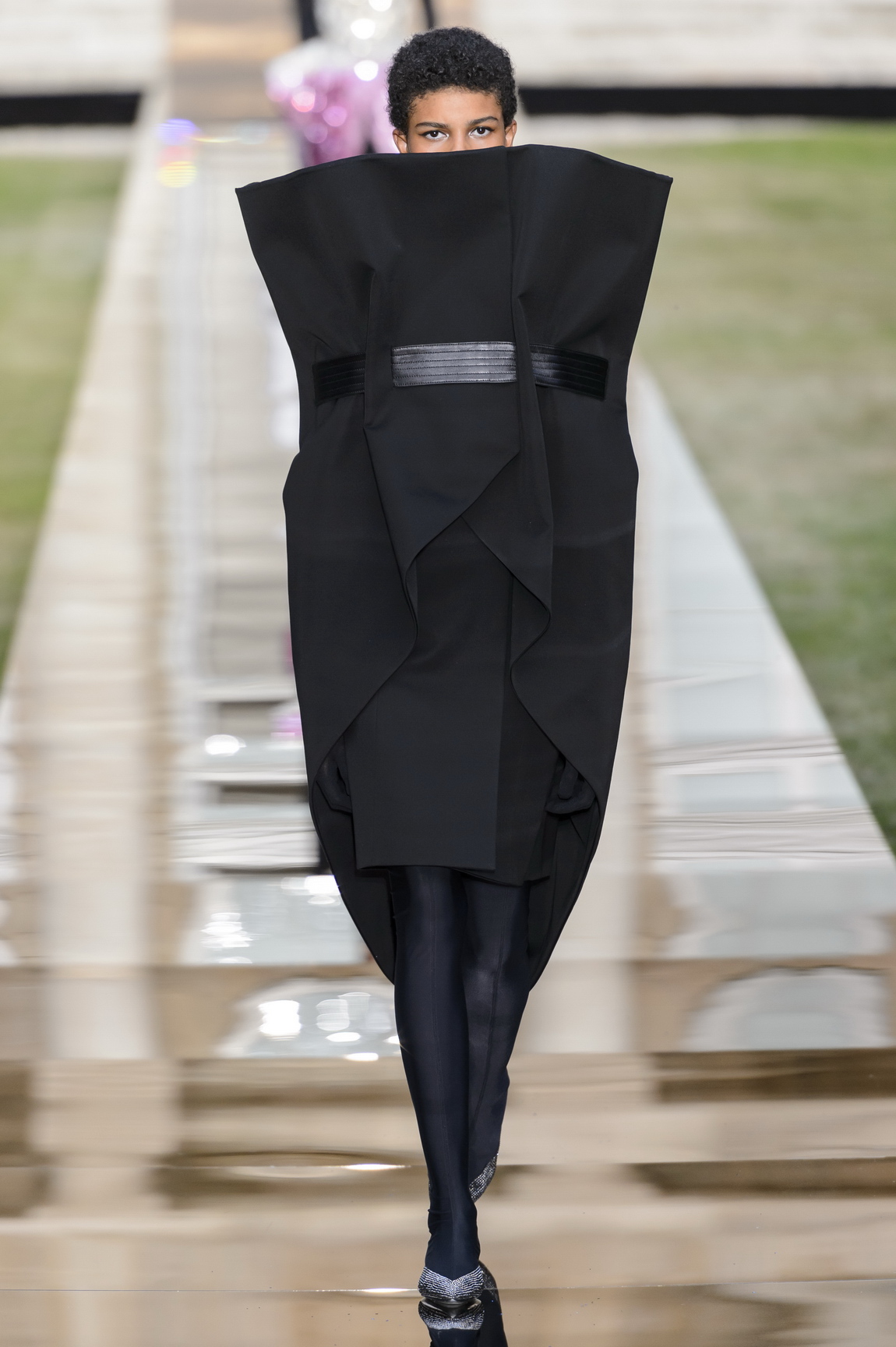 And yet for all this time, Hepburn has been the elephant in the Louis XIV salon at Givenchy; an intimidating pommel horse that they'd rather not address, largely because it's such an overwrought reference in both fashion and fancy-dress. Waight Keller brought her back, even setting the show to her rendition of Moon River.
But it wasn't all about Audrey. The designer was exploring the pillars of Givenchy's work, riffing on sweeping envelope capes, peekaboo cut-outs, razor-sharp architectural lines and asymmetrically draped flou dresses. She said she went about reinterpreting pieces from Givenchy's archive, considering how to bring pieces into the 21st century.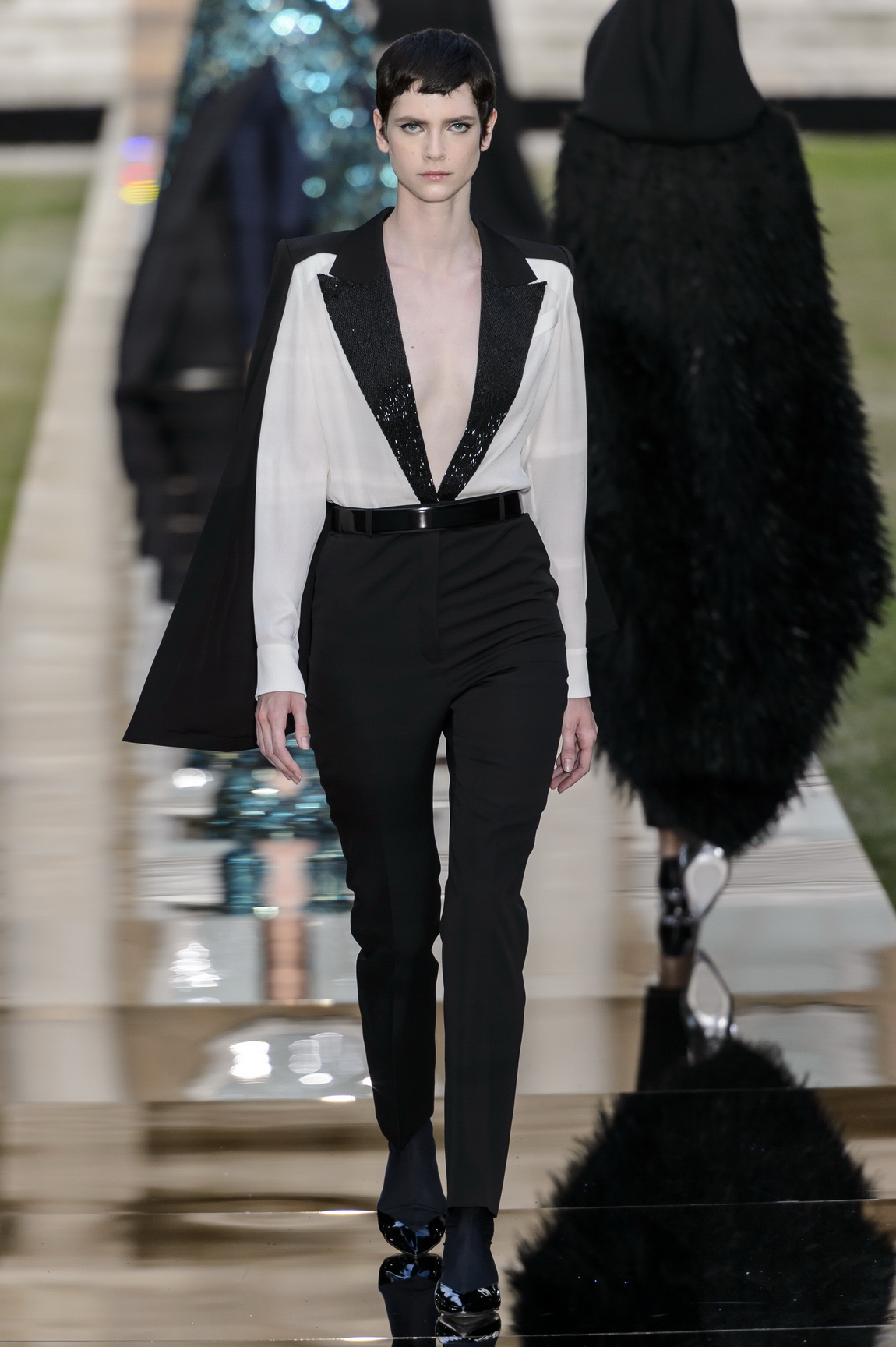 So how do you make clothes that still look so modern, more modern? The answer came from the fabrics, which hit refresh on the stiffer and more traditional materials of yesteryear. Here were cushiony French velvets, starbursts of pastel feathers lined with paneled leather, hammered-metal breastplates and a crispness cutting through it all. In many ways, it had both minimalism and opulence, epitomised by the sharp men's overcoats with coruscating embellishment. "It's difficult to get that clean architectural line," Waight Keller explained. "The hardest thing is purity."
Most people in attendance caught the slight whiff of the 80s. To be specific, it was the Parisian classicism of the 40s and 50s, as seen through the synthy lens of the 80s -- think Catherine Deneuve and David Bowie in the 1983 film The Hunger, which coincidentally inspired Waight Keller's autumn/winter 18 ready-to-wear. Perpendicular shoulders, razor-sharp slits and neat origami folds reiterated the reference.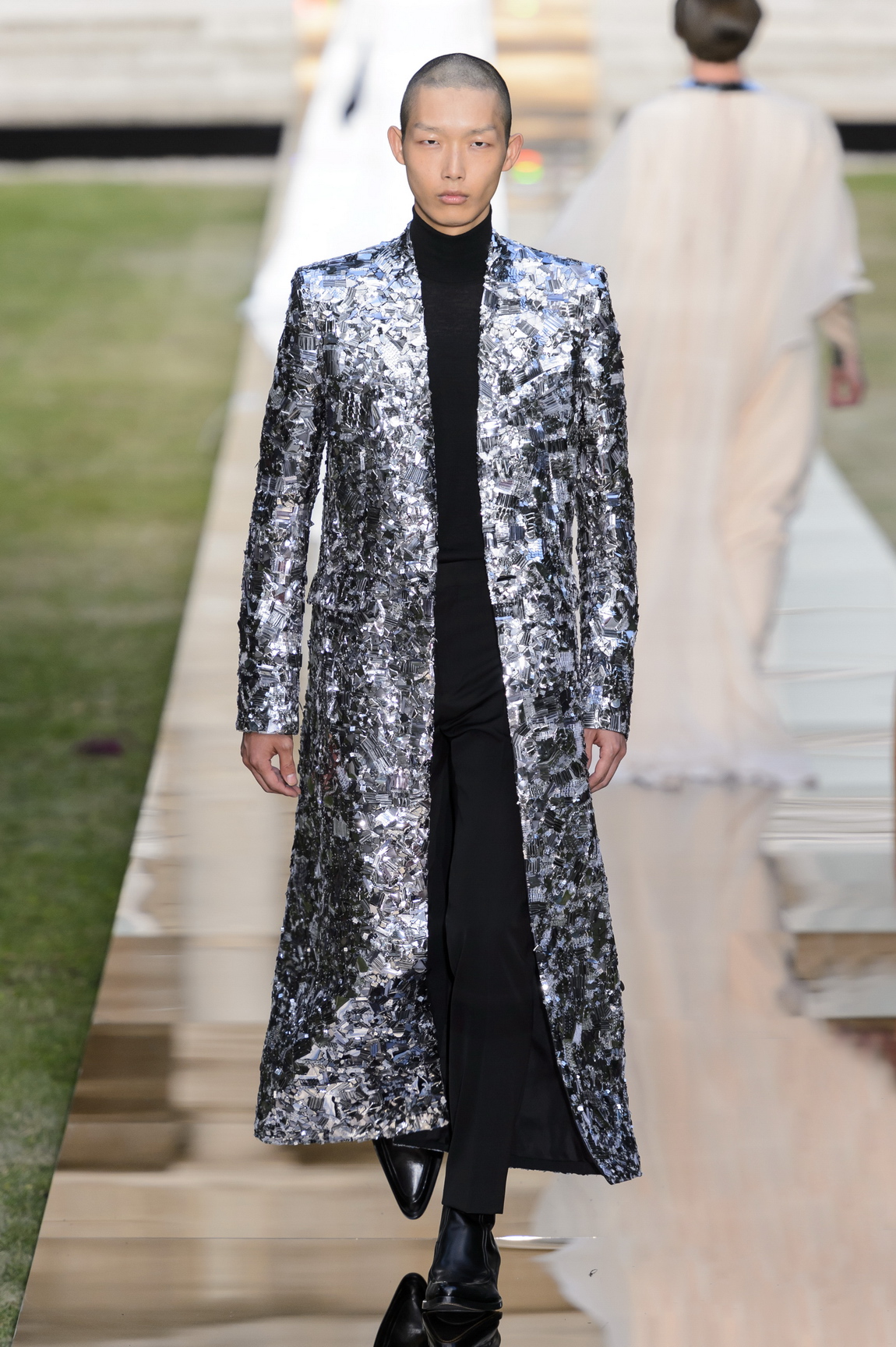 It also goes without saying that Waight Keller has become one of the most talked-about designers since surprising the world with that six-seam wedding dress she designed for Meghan Markle. All eyes are on her now, and there was bound to be a torrent of brides-to-be eager to emulate the actress-turned-duchess. She offered them a tasselled white chiffon gown with a cocoon hood. The real star of the show, though, was a stark contrast: a black velvet Scottish Widow gown with a back borrowed from that iconic opening scene of Breakfast at Tiffany's that closed the show. It was a pertinent reminder of just who the eternal muse of Givenchy is -- and, of course, it's Hepburn, and always will be.

This article originally appeared on i-D UK.
Tagged: