jeremy scott took us to the circus for moschino's resort show in la
Strongmen, showgirls, and stronger women.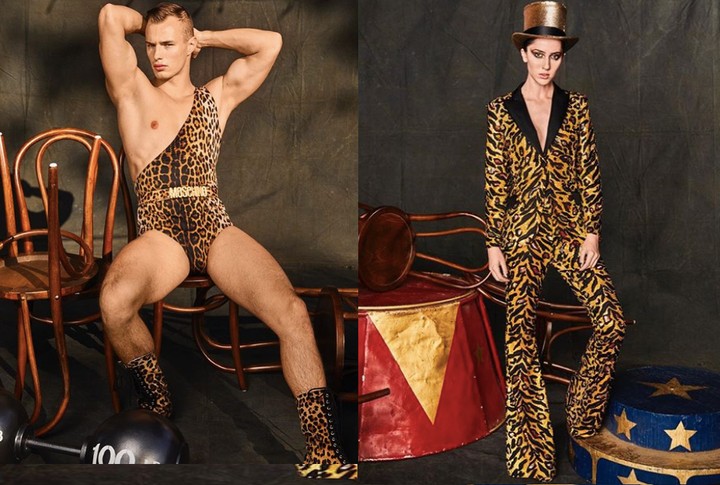 Image courtesy of Moschino.
As you pull into the winding entry way of the Los Angeles Equestrian Center, the eerily familiar drone of circus organs starts to trickle in. The tip of the primary-color clad tent and Ferris wheel appears and before you know it, a full plush tiger is dancing around you and a man on stilts in full beetlejuice suit hands out cotton candy. Moschino Resort: Welcome to Jeremy Scott's fabulous freak show!

Last Friday's Moschino Women's Resort and Mens SS18 fashion show was a clever homage to the whimsical spectacle that is the circus. Walking into the tent, many stiletto heels sank into the hay covered ground as celebrities like Gwen Stefani, Kris Jenner, Justine Skye, Billy Idol, and Emma Roberts filed in to find their seats in the multi-colored encampment.
After the plate spinning and juggling introduction, lights dimmed and a single spotlight flickered on. The ringleader of the Italian fashion house, Jeremy Scott, dressed in a top hat and tracksuit adorned with golden rope lapels and skeleton design, stepped out to welcome the crowd, "Ladies and gentlemen, boys and girls — let the show begin!"
And what a show it was. Much of Scott's design philosophy includes a mixing of high luxury with low art and this collection was no different. The juxtaposition of huge clown glasses and suspenders with boudoir gowns that moved elegantly through the maze of fashion-carnies, further solidified him as a seminal designer of our decade. Highlights included a chic bedazzled leopard print dress (trust us, it was chic in its simplicity), a harlequin leather jacket, and a bodysuit surrounded by a flurry of realistic white doves.
Moschino has always been equal parts elegant and mischievous, the casting for this show reflected that same formula. Alessandra Ambrosio came stomping out in a black suit and top hat, complete with bunny ears coming out of the pockets — just magic. Charlotte Free, Soo Joo, and Duckie Thot all followed in delightful color blocked dresses, chiffons, thigh high sequin boots and of course, big clown bows. The finale saw the iconic Violet Chachki do some aerial acrobatics. Fashion is lucky to have a glorious showman like Jeremy Scott at the top of his game.
Tagged: