f*ck trump lipstick is raising money for migrant families
Coming in a fabulous shade of "We Care."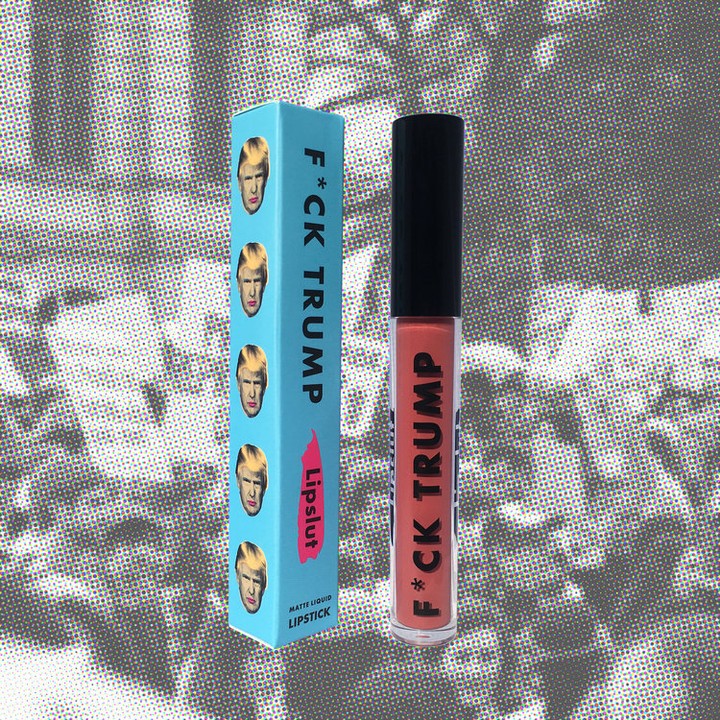 During these trying and dispiriting times, it can be hard to figure out how you can help disenfranchised communities in concrete, tangible ways. The emerging cosmetics brand Lipslut might be fashion's ACLU. The cosmetics brand has released a new lipstick with the satisfyingly vulgar name F*uck Trump, 100% of earnings going towards helping reunite migrant families separated at the border. Yes, you read that right: 100% of earnings.
The F*ck Trump lipstick is a perfectly fashionable, on-trend way to support human rights. The matte lipstick comes in a nude, millennial pink shade and features Andy Warhol-esque packaging with a very grumpy, lipstick-wearing Donald Trump.
Lipslut has made supporting equality and justice a tenet of its ethos. The cruelty-free, vegan brand is also raising money for anti-sexual assault organizations with its matte liquid lipstick F*ck Hollywood. This one is more fiery, coming in a very bold red.
"We want Lipslut to be a movement that you are genuinely proud to stand behind," the brand writes in its statement. "With your help, we believe Lipslut will become a household name for progressives and conservatives alike, albeit for different reasons. From there, we'll use our platform to shake things up for the better."
You can purchase your very own F*ck Trump lipstick here.