Photography: Mitchel Sams
the nocturnal sadism of daniel w. fletcher, spring/summer 2019
The stereotypical city boy just got a sensual, risqué new wardrobe.
Photography: Mitchel Sams
Make no mistake, Daniel w. Fletcher's Saturday morning calltime for his spring/summer 2019 show wasn't a coincidence. Bleary-eyed, we watched a warm orange light -- like daybreak -- spill across a runway lined with broadsheet newspaper pages, as the trance sounds of Delirium's classic Silence remixed by Tiësto throbbed through the speakers.
Clocked out, ties loosened, top button undone. The Daniel w. Fletcher character for spring/summer 2018? A businessman bound to the office, who's just left work and headed straight to the club. He won't be home 'til morning.
Nightclub culture is hardly uncharted territory for menswear designers, but Fletcher's unorthodox, loose take on it spends less time dwelling on the idea of it being a place of self-expression, and more on the concept of release from the monotony of working life. For his latest collection -- one Fletcher describes as being about "the possibility of a new hope in a time of struggle and restraint" -- the traditional tropes of menswear tailoring were spun on their head: repurposed; feminised; almost fetishised, too.

Hair slicked with sweat and skin dewy, Fletcher's spring/summer 2019 boys look like they'd stepped out of a Friday night rave at dawn and straight on to the BFC Showspace runway, still wearing yesterday's work clothes. A contrast stitch camel suit complete with slouched dress trousers had the lining exposed on purpose. Wide collar military jackets seemed to take inspiration from a banker marching past you on his way to work, but, in Fletcher's hands, felt like they had been plucked from the coat pile at an industrial rave. The same could be said for his leather popper-buttoned take on a peacoat, complete with exaggerated cuffs and rope-bound motifs.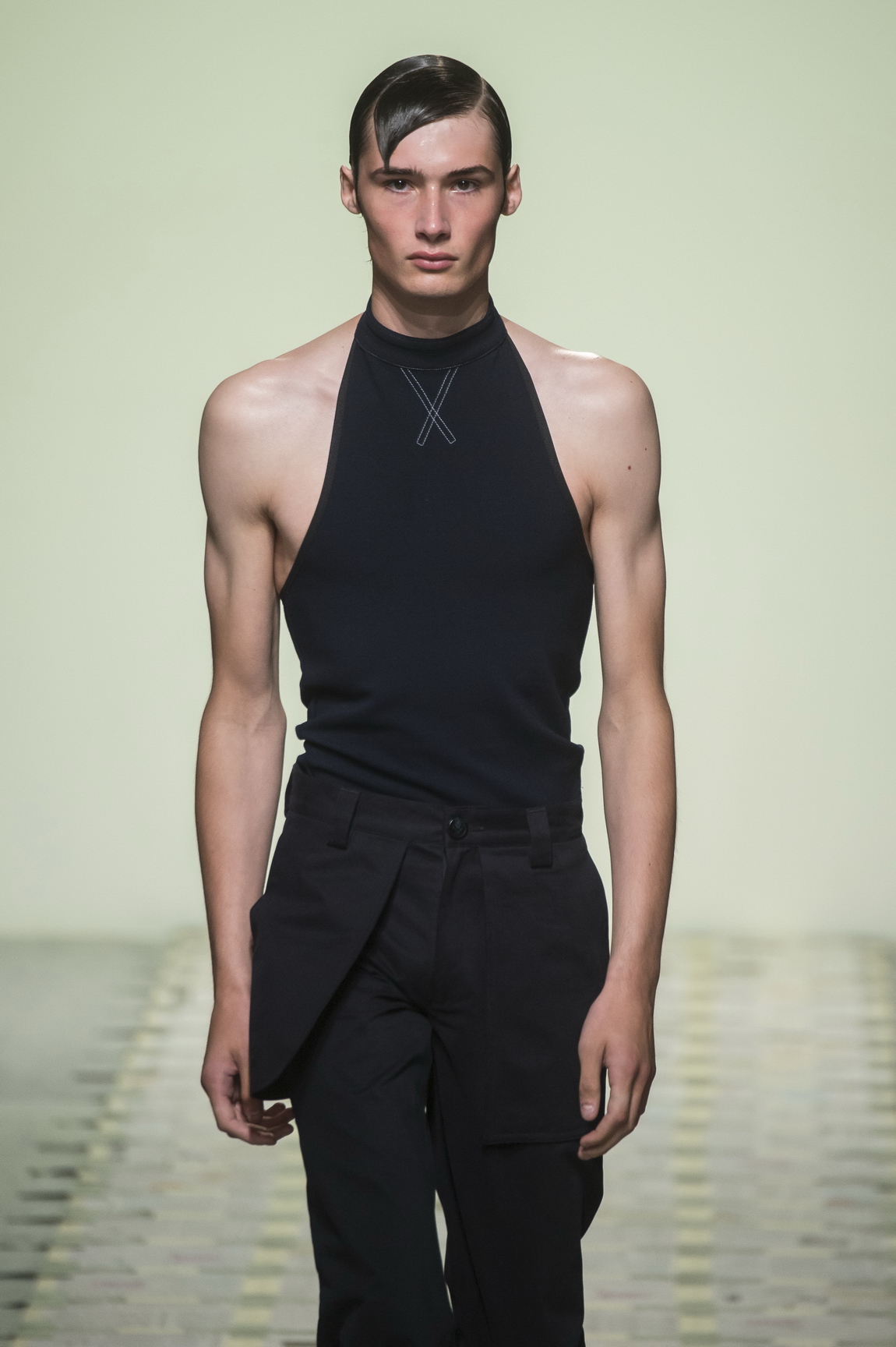 Car coats with matching dress trousers were layered over exposed jersey vests, with a BDSM-esque strap across the stomach. There was a slight hint of modern matador to Ben Schofield's styling in places, too. The final look, a navy suit with an undone bowtie collar stitched into the shirt itself, was hidden beneath a rope-bound vest; costume-like and semi-sadistic.
The designer's penchant for activism -- most famously seen in his anti-Brexit spring/summer 2017 collection -- is something that's shaped his work and the ways he's presented it in the past. On first inspection, you might think that political furore has been sidelined in favour of something delicate: silk shirts, tailoring twisted to resemble corsets and underwear, split seam dress trousers exposing bare, boyish ankles.
But Fletcher's affinity with using clothing to create statements remains. A collaboration with artist Caitlin Keogh led to a line-up of printed, pastel-coloured scarves and shirts emblazoned with feminist imagery, like the busts of female greek statues harnessed by chains and ropes. It's a commentary on the ingrained misogyny that breeds at the heart of the finance industry, Daniel claims, and its subtle, alluring execution steers clear of slogan-led slacktivism. Completing each look, the Fletcher boys wore Louboutins too: built-up-soled boots and Oxford shoes that toed the line between business wear and rave-ready Buffalo-esque styles; hardy, yet elegant.
Perhaps that's a good way to look at Daniel w. Fletcher's spring/summer 2019 collection as a whole: clothes for the modern, well-dressed man who's learned to reject the oppressiveness of routine, grasping on to ecstasy and escape wherever he can find it.