Photography: Mitchell Sams
erdem honoured historic, binary-blurring queer pioneers
Victorian Britain's Fanny and Stella became fashion's Dara and Hunter as Erdem Moralioglu celebrated the power of dress in self-expression and self-identity.
|
18 September 2018, 10:28am
Photography: Mitchell Sams
Inside The National Portrait Gallery Erdem Moralioglu presented his own portrait of two very specific women, Fanny and Stella. Who, in 1870, in conservative Victorian Britain, were arrested leaving the Strand Theatre in London and charged with "the abominable crime of buggery". Fanny and Stella were in fact Frederik Park and Ernest Boulton. As their all-slaying female selves they were wildly popular nightlife celebrities, but this was a time when the freedom of self-expression was continually cracked down upon. Fanny and Stella fought for freedoms that many of the community still fight for today.
Erdem's detail-focussed, all-absorbing world often looks to historical references for inspiration -- from the real aristocratic family of autumn/winter 18 to the imagined royalty of Harlem jazz clubs of spring/summer 18 -- but none of these characters have been as powerful as those explored here. Although they were acquitted in less than an hour in court, the case exposed failings in the criminal justice system as the pair were subjected to humiliation and homophobia. As i-D watched Erdem's show from the gallery's Civil War room, it was impossible not to see Fanny and Stella as fighting on the frontline for a brave new world. They were released and continued to live as women. Did the jury understand that curbing self-expression was a far greater crime? Fanny and Stella have since been honoured as heroines of queer London.
Although their story is infamous, how much do you know about Fanny and Stella? After a chance blue plaque viewing, Erdem acts as our guide through their smoke-filled clubs and introduces us to their diverse crowd of men and women, who at the time explored the power of dressing up, its ability to free us beyond the prescribed boundaries of the binary. Although the fashion might look different now, and our clubs play different music, these attitudes are timeless.

"For spring /summer 19, Erdem has studied this cabal of Victorian characters and transported them from the music halls and theatres to London's legendary club scene of the early 90s," the call-to-arms show notes explored. "The underground experimentation and celebration of counterculture feels familiar. The venues are darker and the music is louder but the daring of dressing to become what you are remains unchanged. The energy of personal and collective liberation is palpable."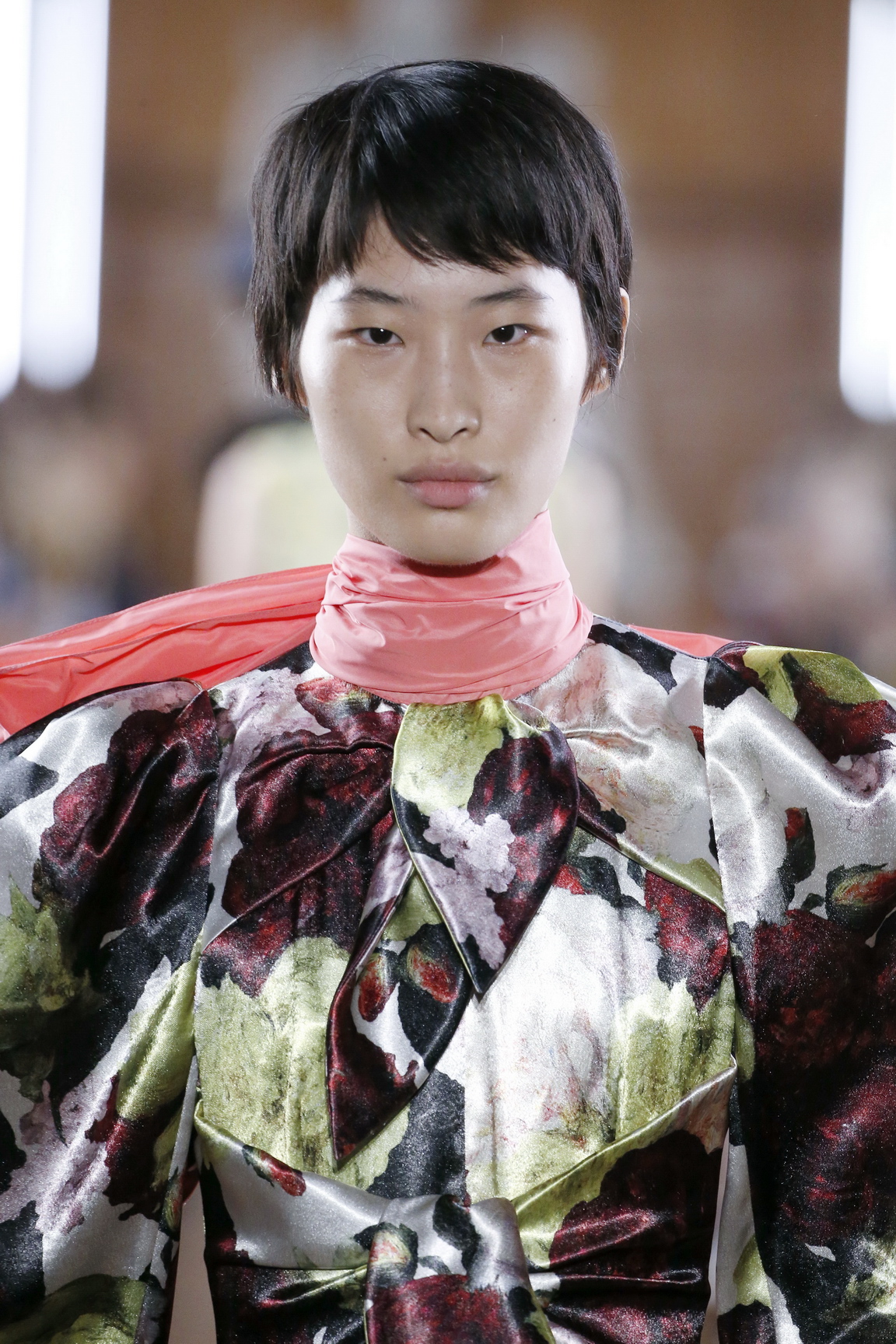 Alongside the drama of the collection -- from tulle dresses with flounces, puffed sleeves, beaded capes and voile dresses to sharp-suited houndstooth tailoring and Noel Stewart-designed veiled boaters -- the energy and personal collective liberation was reflected in the cast too. Transgender models Dara and Hunter Schafer both took amazing turns on Erdem's catwalks, and both are changing the fashion world from the inside out and inspiring the LGBT community to follow. They led the charge but they were joined by a diverse army of revellers that further questioned any remaining bastions of a binary world. As Erdem's seductive old-school glamour combined with the gender politics of then and now, we were reminded to fight for our freedoms. Whether in repressed Victorian Britain or hedonistic 90s dancefloors, dressing up or down to explore one's individual identity has always been a bold act of self-expression. "Fashions change, attitudes come and go, but the courage of dressing to become what you are remains something powerful and primal."