john galliano's latest margiela masterpieces reaffirm his fashion genius
Is there anyone better working today?
Is there a designer alive right now more talented than John Galliano? I highly doubt it. In the pantheon of fashion's myths and legends, Galliano is a god among us mere mortals. He's the Madonna of seasonal metamorphosis; the Dickens of sartorial storytelling; the Da Vinci of technical construction. In fact, if you can count the number of fashion moments from the past three decades on one hand, chances are that at least four of your fingers will be Galliano shows.
In 1995, Galliano became the first English couturier since Charles Frederick Worth -- arguably the craft's forefather -- when he joined the house of Givenchy, and subsequently Christian Dior, where he remained for 13 years. It marked a new era of fashion; of theatrical presentations and colorful themes that took in a blend of high and low. He shook up the ancien régime of couture's discreet post-war culture, giving big ideas even bigger budgets.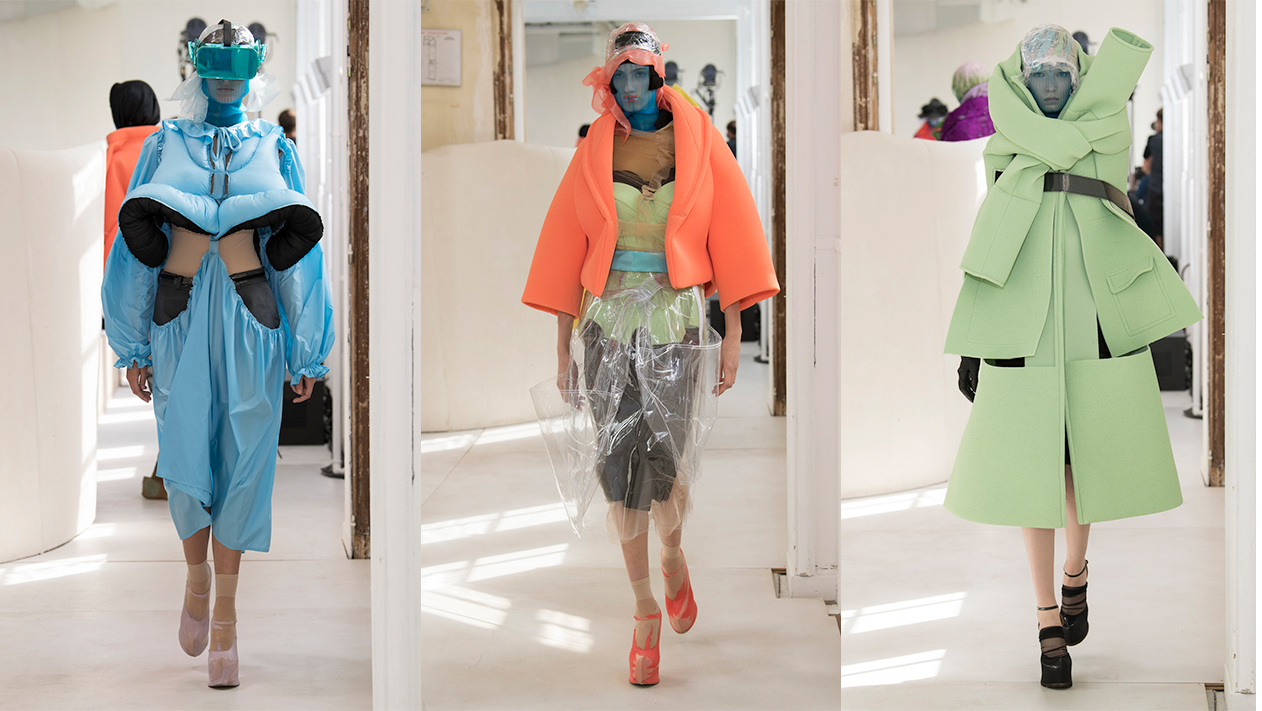 With his arch romanticism and inherent pleasure in subverting it with wit and sexuality, Galliano elevated his pet historicism far beyond the realm of period costume, seamlessly combining the world of rarefied skill and tradition with a knowing wink to contemporary culture. It was haute couture for Generation MTV. Back then, his couture shows became spectacular cinematic productions. Just scroll through Instagram and you'll likely come across countless homages to his greatest moments from that era, from both a generation that was there the first time round and one that missed it entirely. Ditto for the demand on eBay for old Galliano classics, Dior saddle bags, and ragga bikinis.
But that was then. Today, Galliano has left behind the Brobdingnagian sets and profligate mistresses that were so emblematic of fashion's gilded age. At Maison Margiela, he's making clothes that speak to our current lives.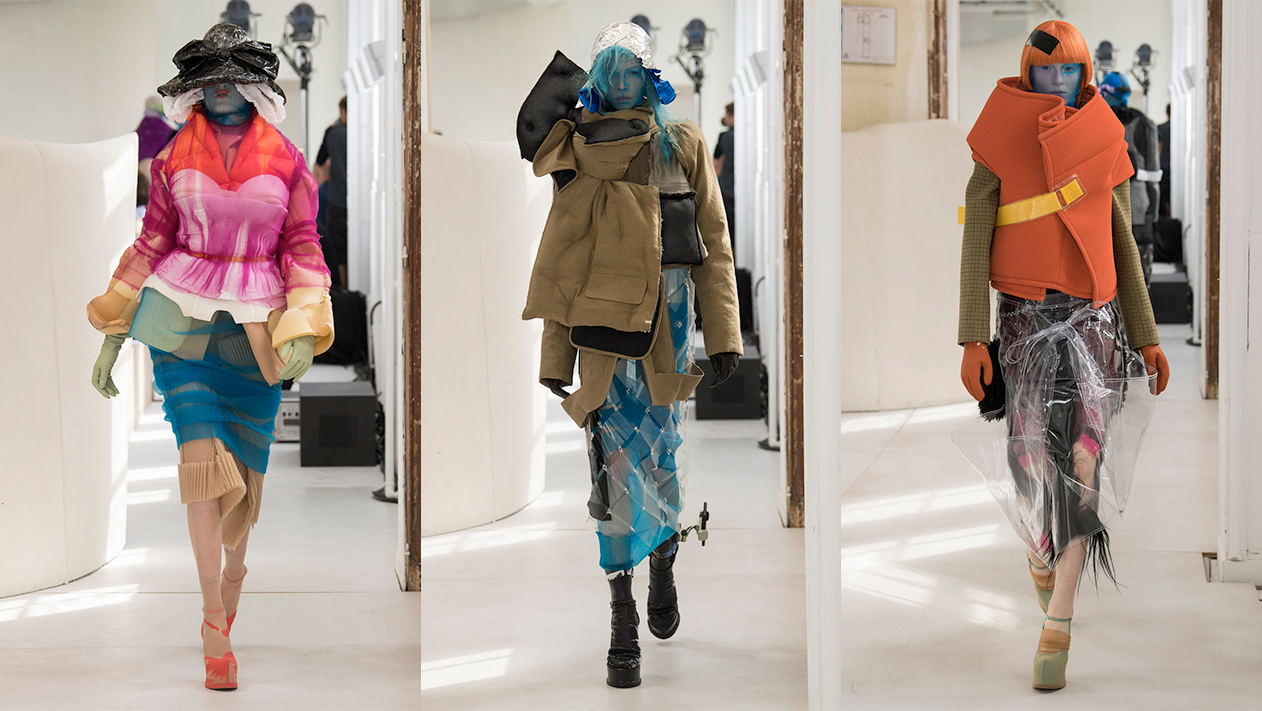 That's probably because at Margiela, Galliano is surrounded by a young generation of fashion students and junior designers that he gazes at through objective wonder. Whereas before, he riffed on fantasy and fairytales, he's now looking at something grounded IRL. A generation of grammin', tweetin', sextin' millennials. You can rely on him to put a romantic spin on it all, looking at it as both voyeur and translator. "We are attached to our iPhones and iPads -- we are nomads," he purrs on the Margiela podcast in a voice that can only be described as part Kenneth Williams drawl, part Lily Savage rasp. "[This is a] further investigation [into] neo-digital natives," he says. Hence, at the Margiela Artisanal show, we got ankle-strapped iPhones and screens embedded into layered-tulle silhouettes playing videos of "curated glamour" -- a comment on the online versus the real.
Central to Galliano-era Margiela is décortiqué, the dissection and deconstruction of something to its core, which nods to Martin Margiela's love of upcycling and deconstruction. This season, Galliano wanted to evoke the memory of garments without the garments actually being there.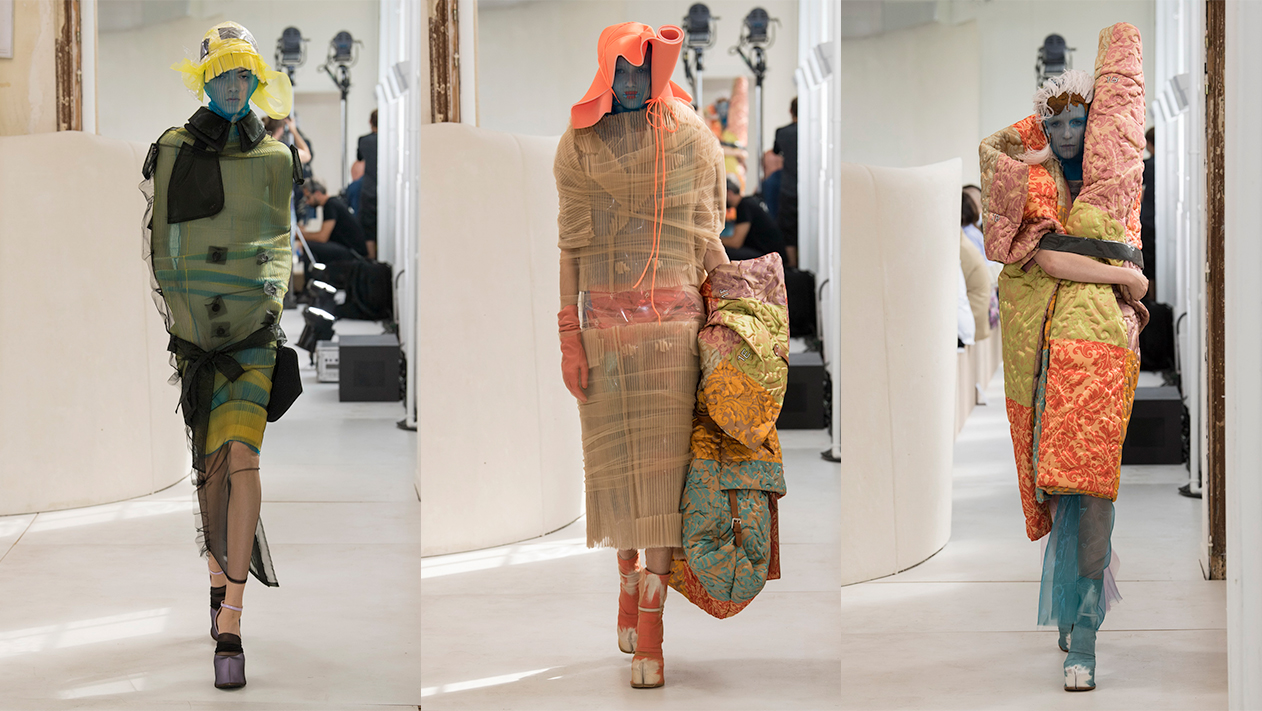 Everything was velcroed together with scratch closures. Not an ornate couture button in sight. New silhouettes were constituted by clothes that were displaced along the body, excessively layered to create striking shapes and in some cases with a sheer chiffon stocking layered over the top as a sartorial riposte to digital filters. Ghosts of trench coats and slip dresses lingered around other garments, like an overcoat with the exoskeletons of lingerie bonded onto the surface using Ge Ba, an ancient Chinese recycling technique that bonds discarded pieces of fabric together with rice glue. Seams, too, were largely forgone -- a masterful skill -- echoing the house's emphasis anonymity.
The show was a nuanced meditation on the dialogue between the physical and the digital. We often carry our lives on a single device — photos, address books, music collections, recordings, notes, maps — but how often do we carry our most beloved items on our backs? Domestic insulation wadding, techno-sorbet spongey foam, bin-liners, upholstery furnishings reiterated the codes of the house, while celebrating a kitchen sink approach. It was elevated, of course: embossed damask quilts, faux monkey hair, and ostrich plumes trapped between neon layers of chiffon, corrugated tulle with the crispness of cardboard and reversed sportswear were given the Galliano treatments. It was him pointing out that at the hands of couture craftsman, absolutely anything is possible and even the most mundane materials can become extraordinarily elegant.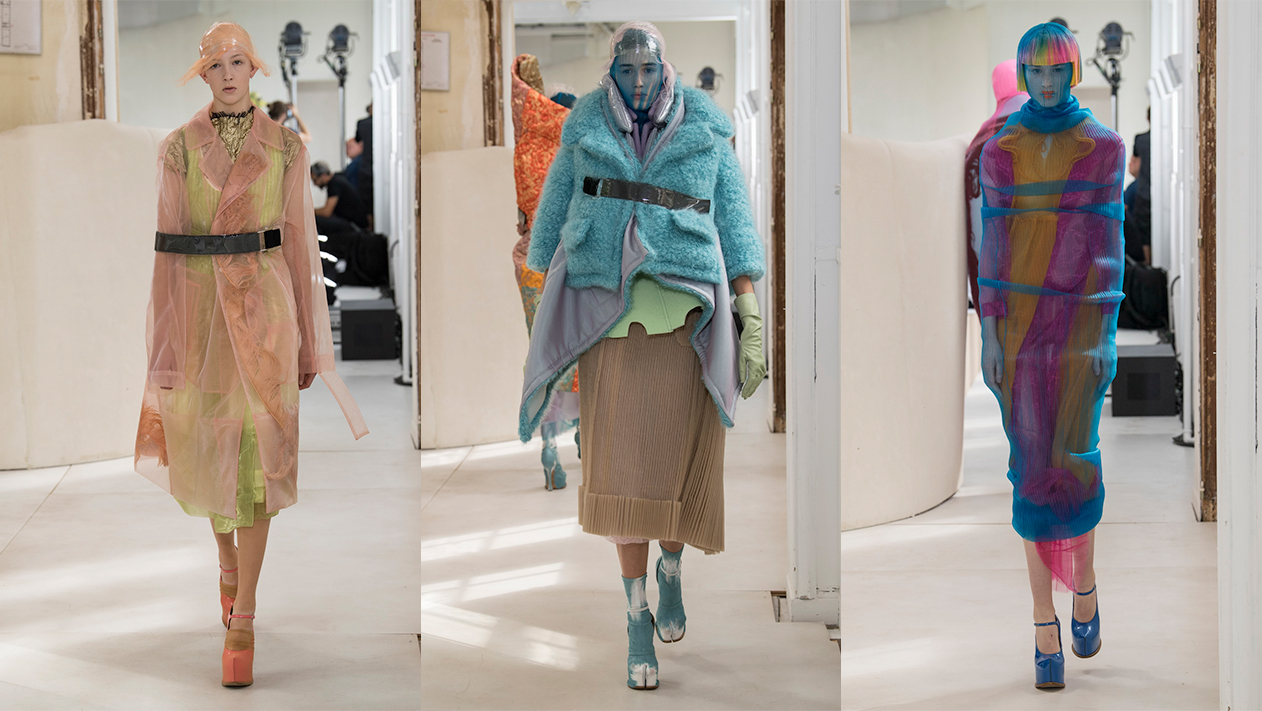 In a decidedly two-dimensional age where surface impressions become our inescapable reality, those extreme silhouettes were also conscious repudiations of the ideal body, in which all lumps and bumps will be smoothened out and all apertures closed. Seen through digital filters and torrents of images of "curated glamour," in Galliano's own words, our bodies often become sites of contestation, if not outright battle. This was a collection that not only explored the way we see our unfiltered selves, questioning what compels and repels us, but also articulated a generation's bittersweet relationship with technology through the lens — or filter? — of breathtaking technique.
Of course, haute couture is called "Artisanal" chez Margiela. John himself calls it the parfum of a fashion house; the "raw, raw undiluted essence" that pyramidically informs the ready-to-wear and accessories; the eau de toilette to you and me. It's an old-world way of thinking and one that is a refreshing riposte to the prevalent whack-a-logo-on-it mentality. Essentially, Galliano's ingredients are different today, but his recipe is the same as ever. The digitally-obsessed children of today have never needed it more.