Photography Brian Hamelman
george clanton is the next cult electronic artist from the internet
As he shares the title track from his upcoming album 'Slide,' the underground hero talks freeing vaporwave from ironic affectation.
Photography Brian Hamelman
Like many millennials, George Clanton owes much of his musical knowledge to the internet, and the uncanny ways it forces you to try something new. For him, it was accidentally downloading a misnamed Brian Jonestown Massacre MP3 on the file-sharing site LimeWire. This led him down an internet rabbit hole where he discovered a whole new world of music that inspired him to start creating his own, first as Mirror Kisses, then as ESPRIT 空想, and now under his own name.
George has been deemed one of the leading lights of vaporwave, the 80s-inspired electronic music subgenre, and despite never being entirely comfortable with this label, he's embraced it as a tool for promoting his music online. "If I use the tag 'vaporwave' then I have an automatic audience, and a certain number of people will be like, 'This is kind of like vaporwave, but it's even better,'" he explains on the phone from a hotel in Miami, where he's on vacation with his girlfriend Lindsey French, the electronic artist known as Negative Gemini. "That happens all the time, so I keep doing it."
He likens his tactic to the way Chicago rapper Soulja Boy deliberately misnamed and uploaded his songs to trick people into downloading them. But with its lush, spacey synths, and trippy euphoric vibes, George's music does sit pretty comfortably in the vaporwave sound, so it seems to be more a case of an artist feeling uneasy with the weight of genre.
Still, it's a fun analogy, and not the only creative way George utilizes the internet for dispersing his music. He performs live-streamed concerts on popular platforms like Twitch and YouTube to tens of thousands of fans, creates goofy Tim and Eric-style promotional videos, and releases music on 100% Electronica, the label he runs with Lindsey. It's poetic that George has gone from being the online discoverer to the one being discovered, but his success isn't just on the internet.
Go to any of his live shows and you'll witness first-hand the devotion between George and his audience. At a show in Brooklyn late last year — the room filled with coconut-scented vapor from a smoke machine, surround sound speakers, and a huge LED light backdrop playing warped smiley faces — George mirrored his audience's frenetic energy. Having grown up going to punk shows in a college town in Virginia, he says the punk approach of connecting with his audience is crucial to his music. "It's like the only time that I'm fully happy," he says, half-jokingly. "Not to say that I'm a sad person, but I just live for that moment."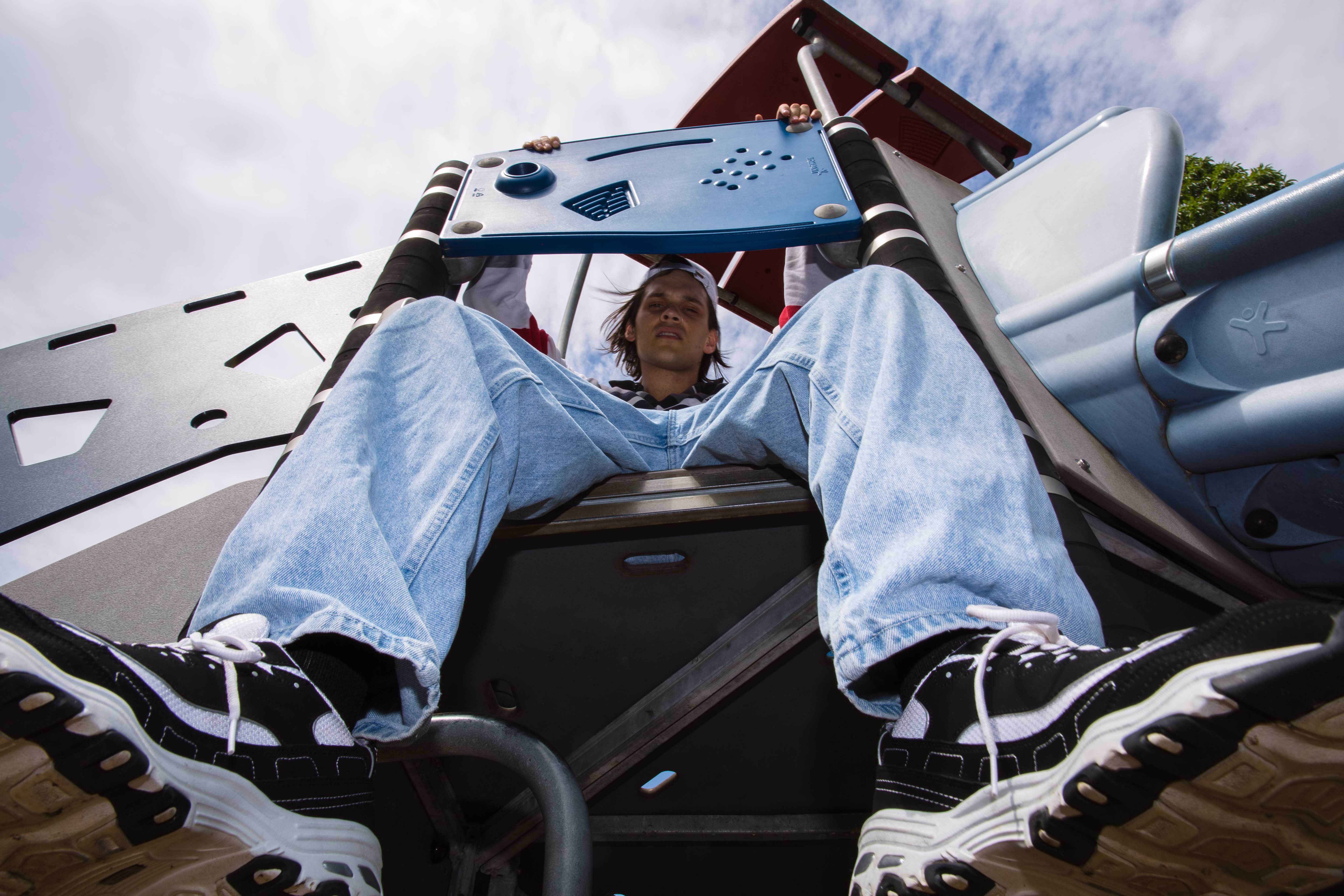 In recent years George has been grappling with who he is and who he feels people want him to be. Last year's 200% Electronica was released under both his own name and ESPRIT 空想. And while his previous album 100% Electronica was technically the first George Clanton record, he explains it was written as a Mirror Kisses album. "I decided right before I was going to release it that I was going to change my name, because I didn't want to release one more album as Mirror Kisses. So Slide is the first album that I've written from the jump as myself," he explains.
"I tried to make a sequel to 100% Electronica for three years and I failed. I wasn't finding the sound that I wanted, and I basically hit rock-bottom. I was like, 'Fuck this, I can't make music anymore. I've lost it.' And when I gave up and I just started screwing around for fun, all the songs just wrote themselves, like instantly."
Listening to Slide, which comes out this Friday, it's evident that any identity crisis George might have been having is well and truly over. By releasing Slide under his own name, he's freeing himself from his alter egos. Perhaps it's a reflection of how we view projects versus people: the former are typically more constrained by their style, whereas we tend to accept that people change.
The title track, which premieres today on i-D, takes listeners on a journey from whispery chillwave to downtempo R&B and then revs up into a breakbeat-fuelled rave. It's hedonistic and complex, the sound of an artist embracing everything he enjoys without a hint of irony – something that runs rampant in the vaporwave community.
Sincerity is Slide's defining characteristic. Even though George admits he's self-deprecating outside of his music, he says, "I'm not trying to be ironic or silly with my lyrics. I'm trying to write great pop songs that are representative of an emotion that I actually feel when I'm singing them."
He wears his heart on his sleeve, whether it's on the blatantly romantic first single "Make It Forever," or in his unwavering embrace of inspirations like Seal and 311, to the chagrin of some people in the electronic music community. "People ask me all the time, 'Do you really like Seal? Like 'Kiss From A Rose'? Are you serious?' Or they say, 'I think it's so funny that you make fun of 311!' And I'm like, 'I'm not making fun of 311!' I love this stuff. Maybe I represent it a little bit harder because I like to get a rise out of people by wearing these shirts and being like, 'This is what I'm about, what do you think about it?' And they're like 'I don't know, you're trying to be weird!' or something."
Music policing and ironic affectation is a cop-out; a side-effect of toxic masculinity and its infiltration of music subcultures. That's why George has become somewhat of an underground hero – he maintains a fun-filled approach to music-making and performance while remaining devoted to his art.
By incorporating electric guitar and acoustic drums as well as his usual stack of samplers and synths, Slide marks a stylistic turning point for George, and he's nervous — but excited — about how it will be received. "I think a lot of people who listen to my music are really anti-rock, it's like 'All synthesizers or nothing at all!' So I've been talking a lot about it, like, 'Don't expect another 100% Electronica, because it's not really like that.'"
Instead, Slide progresses like its name suggests, with recurring melodies tying the songs together. A synth line from the opening track "Livin' Loose" resurfaces in another form in "Encore," and the shouty refrain in "Make It Forever" reverberates in the epic "You Lost Me There." George describes the album as "a vaporwave opera." It's another result of him letting go of expectations — this time that each song should be completely distinct and sound totally different from the other.
"If I find a sound that I really like, I want to use it as often as it makes sense — it's almost a waste to use it once and then forget about it, especially if it helps you make the album cohesive. And I think it makes it more iconic."
Slide is out this Friday, August 17.