this modeling agency is for body positive models, by body positive models
Democratizing the industry one selfie at a time.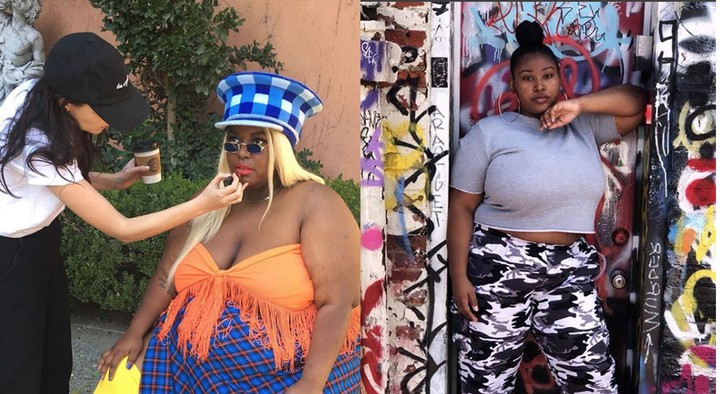 Image via Instagram
Body positive Instagram babe La'Shaunae has set up a platform for plus-size models to help them break into the fashion industry. Creating the Instagram page @inclusmodels "exclusively for unsigned models who don't start at 5'8" and don't end at a size 18", La'Shaunae pays attention to those people whose beauty differs from those traditionally desired by brands, because they are considered too short, too wide or too different.
La'Shaunae is a star in her own right. The 22-year-old lives in Charleston, South Carolina with her mum and sister, where she plots fashion-world domination. Go on her own Instagram and scroll through reams of super-cute outfits: Dior monogram bags paired with white dad trainers, a pair of yellow over-the-knee boots with a vinyl navy mac, mustard slingback sandals with a matching Clueless style mini-kilt. Different from the majority of Instagram It Girls or those who walk down catwalks, she is showing us that big is beautiful-- one fierce, fun selfie at a time. Trolls that try to pull her down are dispatched with powerful and unapologetic messages: "Call me unhealthy a million times if that's what makes you feel cute. I can be upset… but I quickly wake up again and remember I'm 1000000% that bitch. Yeah I'm bigger than a lot and yes I'm not 'polished' or easily breathtaking, but I'm sickening and my friends and supporters believe so too."
It was these trolls that first brought La'Shaunae to popular attention. Getting hold of one of her selfies in a Thrasher T-shirt, anonymous virtual bullies attempted to make her a meme. But when a number of people, including the model Reece King, rushed to her defense and celebrated her "poppin skin, cute hair clips, lit hair, sharp eyebrows, bomb eyeshadow, and cute outfits', all the hate ultimately only aided La'Shaunae in her quest to spread plus-size representation.
La'Shaunae, what makes you want to be a model?
I've been trying almost four years to get scouted by my favorite agencies and have been rejected by over 100 agencies so far. But I find myself re-applying almost every week just because I feel like they're genuinely missing out. I was picked on at school and I hated everything about myself. But when I graduated I found so many cool people online who have amazing styles and wear whatever they want and gradually that became me: someone who wears what I wanted regardless of who is staring in disgust. I refuse to ever believe it if someone says there isn't anything special about me because there is. I want to prove to teen girls dealing with what I did in school, or anyone, that modeling and high-end fashion shouldn't stop at a certain size.
Why is it important to shift the meaning of beauty in 2018?
Because representation matters so fucking much. I get so many messages everyday from people in high school who are similar to me: short, wide, dark, with scars. They tell me they felt ugly because all they see in magazines are tall, thin, light girls with Eurocentric features. That is, until they saw me and now they feel beautiful too. So many people have this idea that you have to look a certain way to be lovable or dateable. They comment on my posts things like: "this is gross change yourself if you ever expect to be signed by an actual modeling agency or for anyone to ever date you". But I want other girls and guys to see that beauty doesn't stop at the "curve models" that are all over Instagram. You don't have to change yourself to be beautiful. A reason why that new Netflix show Insatiable has to fucking GO.
Why did you set up @inclusmodels?
I want to see models like me on the cover of magazines and I want to see famous designers finally making bigger clothes and casting us for their shoots and runways.
Why do you tag modeling agencies in the posts?
Because I want these models (including myself) to be signed and I know a lot of them were scared to submit to agencies because of me talking about all the times I've been rejected. I created this platform to be a safe space for plus size girls and boys to be included and validated for their drive to model, that is why I named it Inclus.
Do you know if any of the models on your page have been signed?
Not yet but I have major hope. I've been asking for their digitals for when I post, so their chances are greater, which makes me stand out from any other page that may be similar because they only post regular modeling photos of unsigned models and not models in their natural states.
I wanna know more about you. Describe yourself as a child.
I was a tomboy. I loved playing outside and wherever I went, my Bratz dolls went with me in my Bratz travel case. I have always looked up to the fat black women I would see on TV. Mo'Nique, and in my teenage years, Gabourey Sidibe. There is something so special about fat black women being unapologetic and bold.
How do you deal with online hate?
I block anyone who doesn't have an icon photo and no followers if I notice them following me. I would love to have a social media manager to go through my following and do it for me. Block anyone who seems suspicious because most of the time when it comes to picking out people being shady or bullies, your intuition is right.
Describe your perfect night in?
Oversized T-shirt, alone, ordering overpriced food on Ubereats whenever I have that extra money. I also have a Nintendo Gamecube which I play Mario Kart on. Or I binge watch That '70s Show, Queer Eye, The X Files and RuPaul's Drag Race.

---
This article originally appeared on i-D UK.