Judy Chicago in "The Dinner Party" China Painting Studio, 1975. Courtesy of Through the Flower Archive.
judy chicago, our most important feminist artist, is finally getting a seat at the table
"Talk about taking a long time," she says.
Judy Chicago in "The Dinner Party" China Painting Studio, 1975. Courtesy of Through the Flower Archive.
In 1960, the artist Judy Chicago was an undergraduate student at the University of California. She remembers visiting the campus library one day and being shocked when she found its section on "Gender."
"There were books only on women, as if women are the only ones with a gender," she tells me over the phone from her home in New Mexico.
"It was an absence of thinking at that time and absence is always something that has interested me — the absence of information on women's history and absence of inquiry of masculinity."
On October 20, Chicago opens a show at the Brooklyn Museum called "Roots of The Dinner Party: History in the Making," which explores the process behind her most widely recognized artwork, The Dinner Party, a large triangular table with place settings for 39 remarkable women in history. Created between 1974 and 1979, with the help of 400 artists, the installation is one of the most iconic pieces in feminist art history to date.
Now, it seems as though Chicago is having a comeback. She has a solo show at the National Museum of Women in the Arts until January 5, and is displaying a series of drawings and paintings at Jessica Silverman Gallery in San Francisco until October 28.
It signifies an important moment in Chicago's career — the mainstream art world has finally begun to recognize her work.
"Talk about taking a long time," says the fiery, red-haired artist. "40 years after making The Dinner Party, this Brooklyn Museum show is the first exhibition looking at my creative process."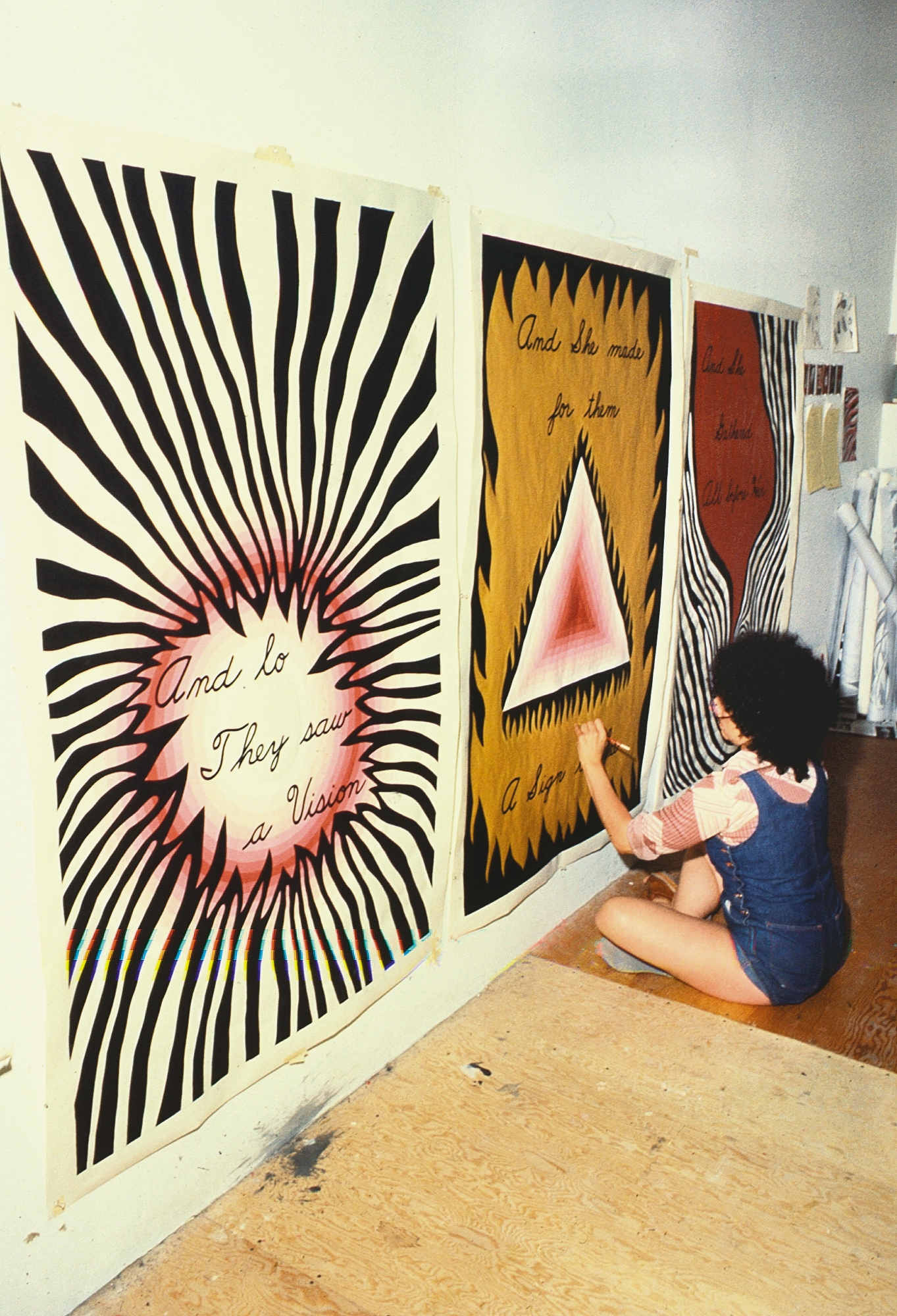 Chicago is a researcher. She digs deep into her subjects for her pieces and then chooses which materials and processes she will use, from needlework to sprayed acrylic paint and ceramics. Then she embarks on what she calls a "path of discovery."
"In terms of this interest in my wider career and practice, I'm hoping the Brooklyn Museum show will help people understand my practice as an artist," she says.
The exhibition features ephemera, notebooks, drawings and photos alongside the landmark piece, which has been in the museum's permanent collection since 2007.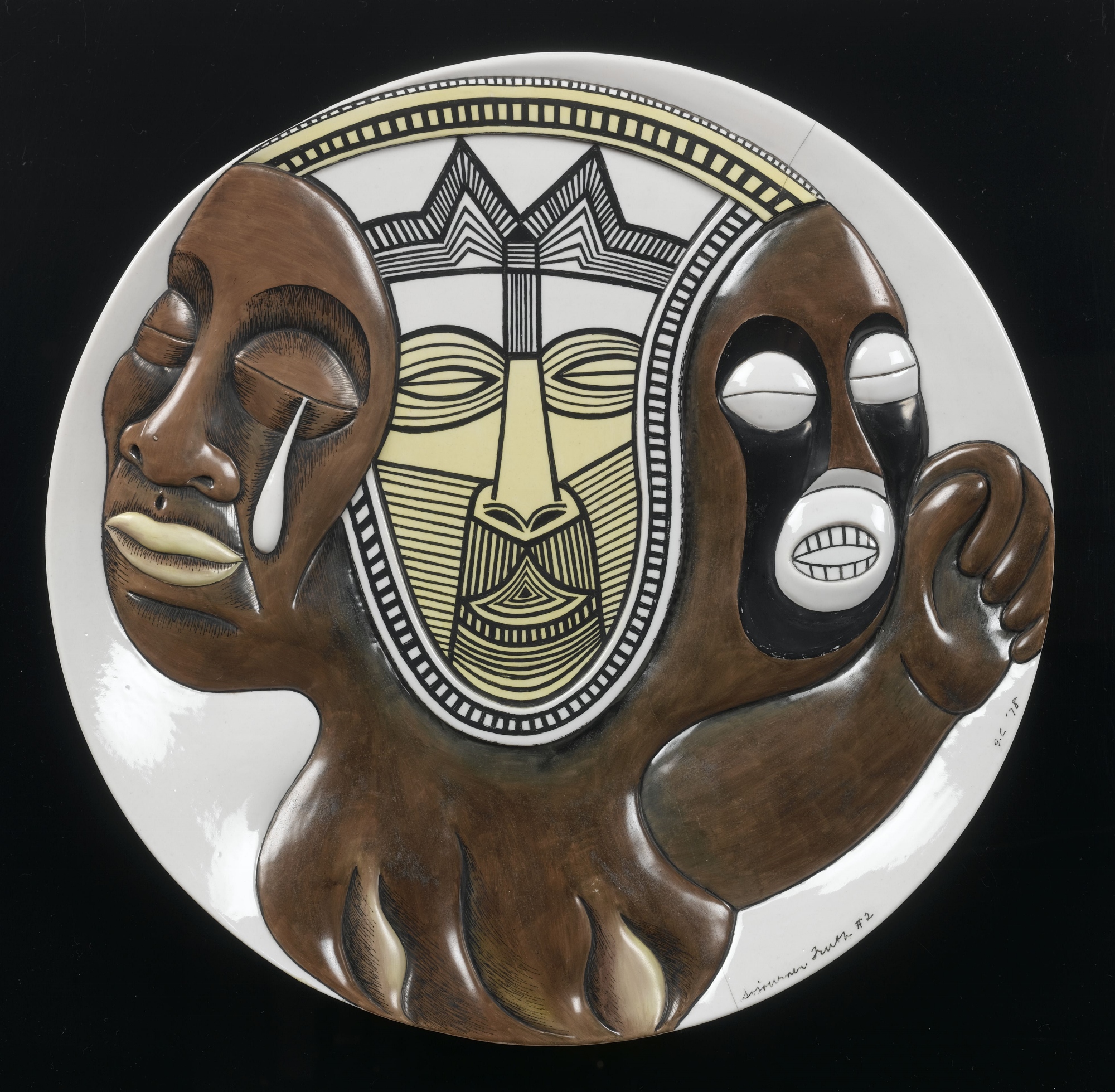 At the Brooklyn Museum gift shop, Chicago will be sell a new series of products: golden "Goddess Soap" bars in the shape of a full-figured woman's body, a scarf of her famed 1973 painting Through the Flower, and replicas of selected plates from The Dinner Party (including the plates devoted to Queen Elizabeth I, the Greek philosopher Hypatia, and the poet Hildegard von Bingen.)
The artwork's banquet table honors the achievements of 39 women in total. There are three wings: the first is devoted to women from prehistory to Classical Rome, the second recognizes women from the dawn of Christianity to the Reformation, and the third features women from the American Revolution to the Women's Revolution.
Each woman has an embroidered table runner, customized goblet, and plate decorated with a vulva. There are table settings for feminist poet Emily Dickinson and English women's right activist Mary Woolstonecraft. There are settings for 14th-century author Christine de Pizan, Brigid of Kildare (a Celtic saint who founded an art school in Ireland in the 4th century), and Susan B. Anthony.
Chicago felt there was a need for women to know their predecessors and their contributions to history. "That's why some young women artists reiterate some of the themes that have already been very well explored by previous generations," she says. "I don't actually think women's history should be confined to women's studies, it should be part of the mainstream of history and art history and culture."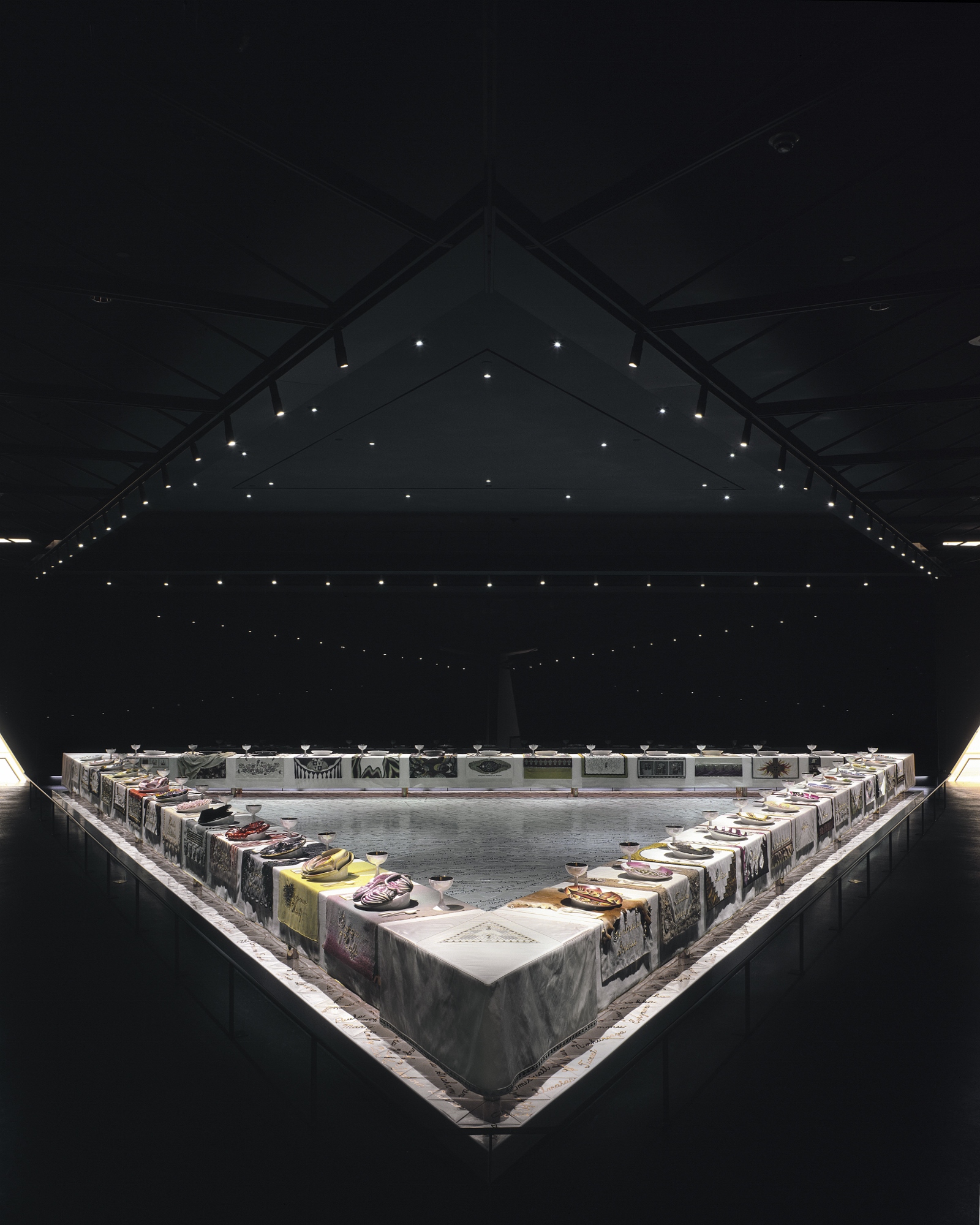 When The Dinner Party made its debut at the San Francisco Museum of Modern Art in 1979, it was controversial and ground-breaking. At the time, the Los Angeles art scene was dominated by men and Chicago says she was the only visible, female artist. Despite lines that snaked around the block, not everyone welcomed the piece.
Throughout the 80s and 90s, The Dinner Party was referred to as "vaginas on plates," a phrase originated by then The New York Times chief art critic Hilton Kramer. He wrote that the artwork was "fixated on the external genital organs of the female body" and reiterated its theme "with an insistence and vulgarity more appropriate… to an advertising campaign than to a work of art."
Are there vaginas on the plates of the 39 table settings for the most iconic, revolutionary, and heroic women of western civilization? Yes. But the piece is so much more — it became a lesson and a rallying cry forbidding the erasure of women's achievements from the history books.
For years, Chicago was known only for her most famous work, so much so that it overshadowed other aspects of her career. "That's begun to change," she says. "It's funny how it turned around because people are now starting to explore different periods of my work."
Making the piece was a lengthy process. Chicago worked with a core team of roughly 20 people including ceramic artists, needle-workers, painters, carpenters, and office managers. And a total of 400 people (some paid, some volunteers) worked on the six-year project.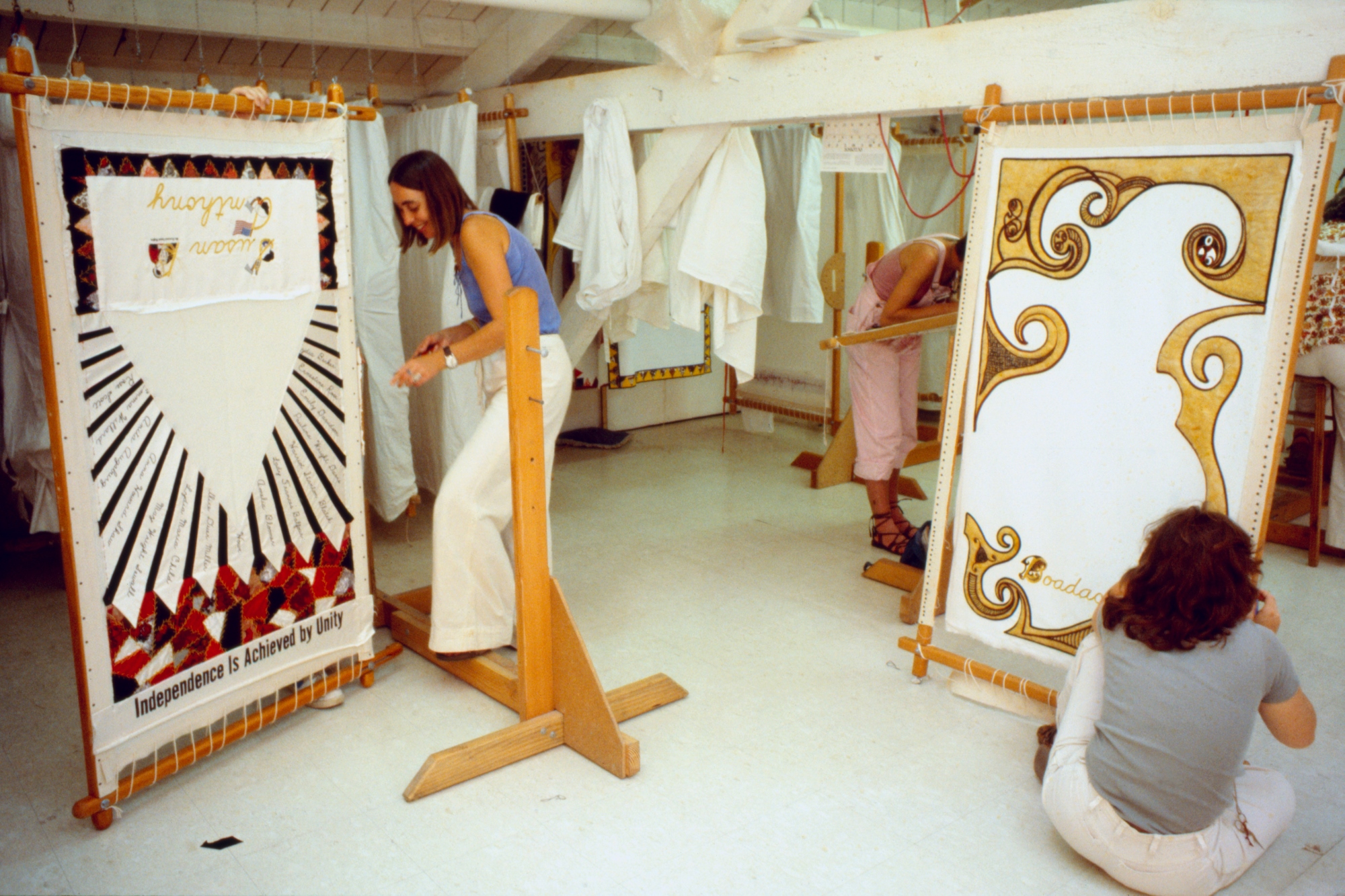 Chicago's former Santa Monica studio was bustling with new contributors every week. "It was thrilling," she remembers. "Everybody came to work because they felt passionate about trying to convey the unknown history of women in western civilization."
Chicago and her team were working 17-hour days and built a community which bonded over the project. "There was this sense of camaraderie and shared vision," she says. " The Dinner Party addresses the hunger among women to know our history; it's something I always wanted to do."
Among the contributors were Susan Chaires, a lawyer from Washington who worked on the project for two months doing needlework, Laura Elkins, a student from Kansas City who did research for nine months, and Diane Gelon, the administrator and tour organizer for the piece, who Chicago remains in touch with today.
There are still bonds between some of the group's core members and many of them are flying in for the opening at the Brooklyn Museum. "They've had very stellar careers and they're still connected and bonded," says Chicago.
Many of the workers did needlework, which is a slow, labor-intensive process. But eavesdropping on the needlework team was fun, says Chicago. "You should have heard the conversations. They talked about the women they were doing needlework on as if they were alive — 'Sappho was really giving me a hard time today,' or 'Queen Elizabeth! I just can't get the text right on Queen Elizabeth!'"
"It was great," says Chicago.
The Dinner Party brought together a joyful community of women during its creation, a process that is honored in the new Brooklyn Museum show. In 1978, Chicago remembers, she celebrated her 39th birthday with a large party in her studio. Her mother, a retired medical secretary, was in attendance.
"At the birthday party, there was a big circle and everyone went around and introduced themselves, as we always did at the studio gatherings," the artist explains. "And my mother stood up, swept her arm around the whole room, and said 'I am the creator of the creator of all of this.'"
"I just about died!" Chicago laughs.
"At the time, I was mortified. Now I think about it with great fondness."
"Roots of The Dinner Party : History in the Making" is on show at the Brooklyn Museum through March 4, 2018.