how punk rock lgbt television was redefined by a bunch of club kids and their friends
TV legends Randy Barbato and Fenton Bailey, the makers of RuPaul's Drag Race have been making niche "unscripted storytelling" TV shows since the 80s, from underground movies about club kids to docs about finding love in Iraq.
|
16 November 2017, 11:01am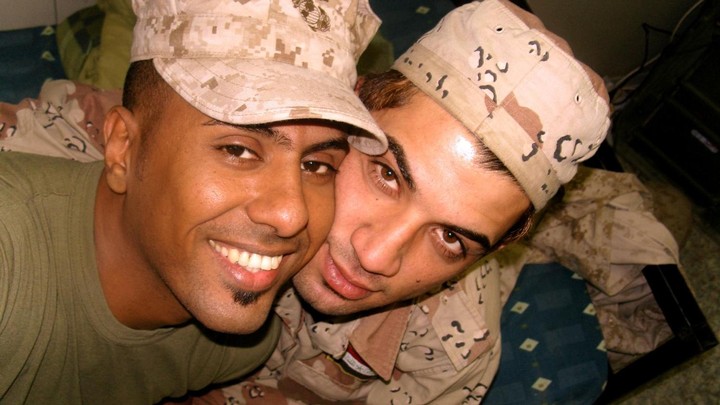 Not everything production company World of Wonder have created has had LGBT content, but it's fair to say they've been a driving factor in the leaps and bounds we've made in terms of on-screen representation. In 2009, they started making RuPaul's Drag Race, the hit show that propels small-time drag queens into the celebrity stratosphere. In 2011, they made the documentary film and ensuing TV show Becoming Chaz, which followed Cher's son, Chaz Bono, through transition. And the same year, there was the documentary The Strange History of Don't Ask Don't Tell, which looked at the bill that prevented LGBT people from being out in the US military.
But then there's everything else they've produced, the camp, the trash, the downright curious. The controversial underground movie Party Monster, and TV specials on Gay Republicans, The History of Masturbation and The Joys of Cleavage. There was a series that followed Pamela Anderson around her daily life and another where Perez Hilton dished out gossip. They even did a TV movie where Rebecca Loos (remember her?) explored the secret life of Hollywood power lesbians.
If all of this sounds niche, that's because it's meant to be. "There's this blockbuster culture now, it used to be just in the movie industry but it's taken over the entire industry," says Randy Barbato, one half of World of Wonder. "When you think about television and streaming there is this pressure to have those big, culture-defining hits like Handmaid's Tale or Game of Thrones that can make or break a network. Some of the things we might want to make aren't ever going to be a blockbuster hit, but we still think there's a valuable and sizeable audience for it. People are smart and curious and they're interested in the same things we are."
Fenton, Randy's partner in World of Wonder, agrees: "I think we're drawn to those people in the public eye who are maybe what we'd call 'overexposed but under-revealed'," he explains, giving the example of their documentary Monica in Black and White, which aired in 2002 and gave a platform for the scandalised White House intern to tell things her way. "People thought they knew Monica Lewinsky," he says proudly, "but when we made the film about her people saw a completely different side."
World of Wonder started when Randy and Fenton met at NYU film school in the 1980s, but was founded officially 1991. Their early inspiration came from public access television (known in America as "PBS" for Public Broadcasting Service), community-produced content shows on speciality cable channels. "It was YouTube before YouTube," Randy laughs. I ask for examples.
"I think people are surprised at how well it's done. It touched a nerve and people respond to it but I think not everybody thought that it would."
"Mrs. Mouth was like a mouth puppet on a hand but silly but brilliant" – maybe you had to be there, says Fenton – "Robin Byrd was a classic", Randy continues, "She used to interview different strippers and she had a song called Bang My Box that everybody would perform at the end of her show. Or John Wallowitch, a cocktail lounge piano player who would sit on TV and take requests."
One of World of Wonder's first big breaks was taking the best of New York's public access shows and packaging them into a "best of" show called Manhattan Cable, which aired on Channel 4 in the UK in the early 90s. "People in Britain had never seen anything like it before in their lives," says Fenton, who is English himself (Randy is from New Jersey). "That was really the beginning of World of Wonder. We were inspired by those punk, do-it-yourself shows, made on a shoestring, but so different. People have always complained that TV is always the same but here was something the likes of which we'd never seen before, creative, shocking, outside of the box."
After finding success with Manhattan Cable in the UK, World of Wonder did a brilliant BBC special giving video cameras to ten people living in Los Angeles after the LA Riots and asking them to make video diaries about their lives for a year, which were then edited together. Their early US hits included Million Dollar Listing, about real estate agents selling plush properties and another called Showbiz Mom & Dads, about parents trying to get their kids into show business. Both were for Bravo. Just don't call them reality TV. "We prefer 'unscripted storytelling'", says Fenton. "We always like to think of them as obs docs -- observational documentaries," Randy adds.
Today, RuPaul's Drag Race is probably World of Wonder's most famous title on air, but their relationship with RuPaul goes way back to the 80s. Many of the people Randy and Fenton asked to host Manhattan Cable were people they knew from gay bars and cabaret clubs on the Lower East Side at the time. Along with the fashion designer John Bartlett, stylist Victoria Bartlett and club kid Michael Alig, RuPaul was included. "We lived around the block from the Pyramid club", remembers Randy. "It was a scene that was exploding with artists, creatives, drag queens. Whenever we needed to do something we would just call our friends." Were they grateful of the work, I ask? "No, I think they were very patient of us!" exclaims Fenton.
Despite the success of The RuPaul Show, a talk show that Randy and Fenton sold to VH1 in 1996, Drag Race took a while to get off the ground. "It did take us a long time to sell the show," concedes Fenton now. "I think people are surprised at how well it's done. It touched a nerve and people respond to it but I think not everybody thought that it would." The producers themselves maintain they are not unsurprised about its success, however: "We always thought, back from when we used to go to the Pyramid club almost every day, that what we saw there was like mainstream entertainment, and that their artform deserved to be recognised on a larger platform," says Randy.
"Drag queens are like the marines of the LGBT community. They have been marginalised for so long, so for people to not only appreciate their artistry but connect with their humanity is a great thing for the world in general."
With 40,000 guests showing up to RuPaul's Drag Con in LA this year, and more to the New York and Europe events, many would argue drag might be having its most mainstream moment ever, thanks to the show. Randy and Fenton argue that it's still subversive, however, still an outsider medium. "Drag queens are like the marines of the LGBT community," Randy says. "They have been marginalised for so long, so for people to not only appreciate their artistry but connect with their humanity is a great thing for the world in general."
While they're reluctant to dish any dirt about the biggest diva on set – "It's not that kind of set! It's a love fest!" says Randy, Fenton also refuses to reveal the name of any queens they wish had done better. "From the moment of going on the show it's an opportunity, a launch pad," he says, annoyingly diplomatic. "All the contestants have gone on and had vibrant careers around the world. It's not like all competition shows, I think everybody is a winner."
Last week, World of Wonder launched WoW Presents Plus, a digital subscription streaming service. It will feature original shows from Drag Race stars like Valentina, Bob the Drag Queen and Detox. Part of the idea, they explain, is to free up what they can commission without having to worry about external funding. "Often, the most innovative things are the things with the least precedence. People like to know that there's something like it that worked before," says Fenton, of the difficulty getting outside collaborators on board with their projects.
So, what can we expect from the channel beyond Drag Race spin offs? "Out of Iraq is a great example," says Randy. "There's this great filmmaker called Eva Orner who started working on that project, she had run out of funding and had this compelling footage [of the true love story between an Iraqi soldier and Iraqi translator during the war in 2004]. We came in and were like 'Oh my god, we'll turn it into a film!' So we brought on Chris McKim who is someone who works at WoW and used to show run Drag Race. We independently financed it and licensed it to Logo TV. It won an Emmy actually. Now we're developing a scripted version of that, working with Abdi Nazemian."
Randy and Fenton seem bent on staying loyal to their punk and LGBT roots, which is reassuring in our current climate. Fenton believes that, ironically, President Trump, for all his anti-LGBT rhetoric and policies, has created a demand for outsider narratives and minority voices. "It's a repressive regime but people are waking up to that and it's inspiring."
As for him and Randy, they say they're no longer shocked by anything: "People get themselves into a state about what should and shouldn't be on TV and who should and should be allowed to watch it," laments Fenton. Instead, they say they subscribe to something RuPaul always says: "Everything I learnt, I learnt from television." Whether it's useful or not is another story.
To sign up for WOW Presents Plus, visit wow-presents.com