ezra miller proves he would be perfect face of a men's fenty beauty line
Strengthening the case for one.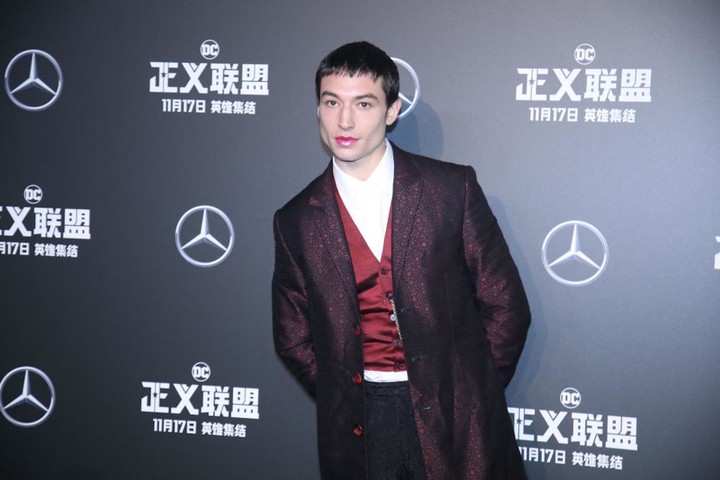 Image VCG/VCG via Getty Images
Gender fluidity in the makeup industry is becoming the new norm. L'Oréal and CoverGirl hired their first-ever male beauty ambassadors in the past two years, Milk Makeup released a foundation stick specifically marketed as "blurring" gender lines, and Tom Ford has a male beauty line. Ezra Miller became the latest celebrity to illustrate that everyone can look good in makeup this weekend, when he rocked glittery magenta lip gloss from Rihanna's Fenty Beauty on the red carpet.
The Justice League star served serious slayage. "This is Fenty, Fenty Beauty," Ezra exclaimed during an interview, pointing at his luminous lips to ensure the world took notice. Since starring in the coming-of-age film The Perks of Being a Wallflower, Ezra has ignored Hollywood conventions and been committed to being his most authentic self. In 2012, he starred in a cover shoot wearing a variety of genderfluid looks that included cherry-red lipstick, an evening gown, and a high-waisted skirt.
"When I identified as queer, even though I said that most of my partners had been women, [it was] immediately: gay actor," he told i-D in 2015. "When I identify as queer, it simply means that I don't wish to conform to the binary system when it comes to who and how we love. I'm glad to have identified as queer, first of all because it's true, and because I think ultimately, when we are creating the identity that we present to the world, if it can be close to the identity we actually maintain in our personal lives, [it] will probably end up being more comfortable and sustainable."
Ezra's fierce look comes at just the right time. Fans have been begging Fenty Beauty to release a men's line. The company has tantalizingly teased plans for one, too. "Never say never," the brand posted after a fan tweeted about her dad wanting Fenty Beauty products for himself. Fenty retweeted the clip of Ezra, captioned "Tell 'em Ezra!"
If that men's line ever materializes, it's obvious who the campaign star should be.