this new book examines new york's early-aughts music scene
"Meet Me in the Bathroom" is an oral history of the last true rock'n'roll music scene – New York 2001-2010.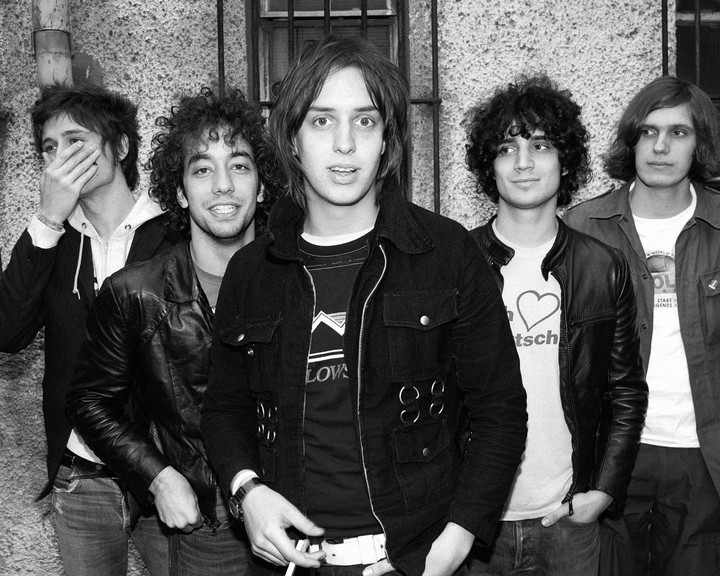 This article was originally published by i-D UK.
"New York was fucking horrible and I thought that was the most exciting thing in the world," says James Murphy in Meet Me in the Bathroom. He is of course LCD Soundsystem's formidable frontman, but in Lizzy Goodman's oral history detailing the "Rebirth and Rock and Roll in New York City 2001-2011" he is also one of the many colorful tour guides breathlessly recounting how the sound of Manhattan went mainstream at the start of the new millennium. The city was shitty and gritty, post-grunge, pre-Myspace. You could still smoke in clubs, people had sex on dance floors, DJs were mining nostalgia for inspiration because rap-rock ruled, and nothing new was cool. Everyone was drunk or high or both, and wore really, really tight pants. Partying was the social glue that stuck this formative scene together.
The Strokes, Yeah Yeah Yeahs, Interpol, the Rapture, TV on the Radio, The Killers, and Kings of Leon ("the Strokes of the South") were the wave of artists that stampeded out of that gnarly, restless, urban backdrop and exported the Lower East Side's swagger to the world. All were in some way hotwired to the city, ideologically, if not geographically. What they had in common beyond musical taste and great tunes, says Goodman, "is a sense of how to live, of how it should feel to be alive and in New York City at that era of your life, when you're in your early twenties. There needed to be a soundtrack of rebellion, sexuality, danger, mischief, playfulness. It wasn't there, and so they had to make it."
Goodman's book details the rise of this rebellion via a dizzyingly large cast of characters and major players, including Julian Casablancas, Jack White, Interpol's Paul Banks, and Karen O. And as you might expect from its title (lifted from a Stokes song), says Goodman, "debauchery is as central to this story as loud guitars." The tidbits are revelatory and gloriously gossipy, often jostling next to each other in disagreement. "The goal of the book was not that it be true, but that it feel true," says Goodman. And so within Meet Me in the Bathroom's 621 pages, you'll find varying accounts of Albert Hammond Jr.'s struggle with heroin, Casablancas's with his ego, and why their band, The Strokes, never really met expectations after the 2001 debut album that started it all, Is This It ("They have an underground sensibility," says journalist Jenny Eliscu… "It's just like, they can't resist sabotaging themselves somehow.")
New York wasn't just the Strokes's garage-rockin' stomping ground, though. The book also joins the dots between how electroclash gave the illusion of big industry bucks to be made, when antifolk bumbled in with fancy dress costumes, the clubs that were railing against the city's ridiculous no-dancing laws and the importance of house music skewering rock music. DFA Records, which was set up by Murphy and Brit expat Tim Goldsworthy, plays a central part in the latter story and a great deal of Meet Me in the Bathroom is dedicated to their bromance — how they allowed each other to reinvent themselves, broker the city's dance-punk merger, and why they eventually went their separate ways.
The Strokes, Yeah Yeah Yeahs, Interpol, the Rapture, and The Killers were the wave of artists that stampeded out of that gnarly, restless, urban backdrop and exported the Lower East Side's swagger to the world.
But more pertinent than all this news fodder, perhaps, is the sense that this was a very unusual moment in time, one that Goodman says "will never be repeated in the same way." New York bands were caught in the tardis between the shock of 9/11 — many if not most of the musicians in the book watched it happen — and the threat to the music industry's jurassic infrastructure posed by file sharing, a period when the Iraq war began and George Bush was re-elected President. Musicians wanted to seize the moment in the face of fear and disenchantment — "the era is about gleefulness and joy, and darkness is a backdrop, like mischief as an antidote to existential sorrow," says Goodman — but there was also a blissful unawareness that came with it.
"We got a couple more borrowed years of freedom as a result of [9/11]," she continue. She was a familiar face during the period and worked in a restaurant with Strokes guitarist Nick Valensi before becoming a Spin music writer. "The iceberg had hit the proverbial Titanic and it was slowly sinking but nobody knew. Meanwhile record sales were bigger than they'd ever been and bands were still being flown around on private jets. I think that adds a sense of poignancy retrospectively that we didn't have at the time because you didn't know yet how this was gonna play out."
That sense of detachment is also part of the reason why the book's original working title was The Last Real Rock Stars — or, as Goodman says, "the last real rock stars so far. The good fortune of the obscurity that all these artists had on their side, was on its way out," she says. "I have this image a lot of 2000, which is when Napster hit, and yet I picture all these bands going about their business with no sense of urgency about finding their voice or figuring out how to become themselves. That's what it feels like, when I look back: all these artists blissfully finding themselves in an era that was already dead.
Musicians and music scenes today don't always have that same blinkered luxury: while the Strokes and co.'s hype was accelerated by the British press and fed back to the States, now the buzz thrives and dies even more rapidly on the world's social media stage. You imagine if some of these band's bad boy antics had made it onto Instagram, the era's hedonism may have hit a wall a lot sooner. "You needed this sense of recklessness, a creative recklessness," says Goodman. "The drugs and the booze, especially for the first few years, were, as they can be for any scene, a tool to set off an energy that was very needed. [But] it does concern me that nobody can fuck quietly in the dark any more. That's important. The exposure is so high, so fast now, that it, at the very least, seems potentially dangerous for the process of making art."
Musicians and music scenes today don't always have that same blinkered luxury: while the Strokes and co.'s hype was accelerated by the British press and fed back to the States, now the buzz thrives and dies even more rapidly on the world's social media stage.
No doubt the book has a "by us, for us" feel about it but for those who sucked up New York's allure from elsewhere, or for those that simply don't remember it at the time. Meet Me in the Bathroom fills in the blanks and illuminates the grey areas. The energy of the time is palpable and though many of the stories are bittersweet in their fallouts and downfalls, it makes me want to rip up my tights and start a band, a label, or club night. It's an era that deserved its own Please Kill Me, the definitive account of 70s punk on which Meet Me in the Bathroom is based. But the difference is, over and above nostalgia, the bands it created remain. "If no one takes the torch, you keep carrying it," says Goodman. "It's evidence of the predominance of this era, culturally, that LCD can tour right now and be on fire."
That predominance is a reason why, says Goodman, even if you don't know who the Yeah Yeah Yeahs are, or never fancied The Strokes, the era resonates beyond its immediate fanbase. 2001-2011 was an important moment for the ways it has "woven into everything that's happened in American identity, culturally, since then." Essentially these bands — especially the Brooklyn ones borne of the iPod generation that swiftly followed the Strokes riff-raff, like Vampire Weekend and Dirty Projectors, and who are also covered in the book — kickstarted the notion of 'the hipster' (and, by extension, the idea that you are cool by definition of what you don't like instead of what you like, because the internet has leveled the playing field of taste and discovery and given everyone access to everything). "If you've been to a restaurant in a foreign city where you have artisanal pickles and there's MGMT on the playlist and the waiters are wearing skinny jeans, that's all related to Karen and James and TV on the Radio and the invention of Brooklyn," says Goodman. "It means you've been a part of this cultural moment, whether you know it or not."
Goodman doesn't rule out the potential for a scene like this to happen again and — crucially — go global. After all, while "the notion of how a scene gets built has been fundamentally altered by internet culture", Goodman doesn't "believe that the core fundamental things that draw us to musicians, the qualities that make a rock star — a sense of charisma, anger, arrogance, insecurity, of being born with something to say — aren't going anywhere." But if there's one thing she wants readers who weren't there to take away from the book, it's that "being in real life with other people is what allowed all this to happen. These people worked in cafes together and hung out at each other's houses after work, and had interactions on a daily basis with other human beings that organically led to the making of art." The magic of the Meet Me in the Bathroom era is evident from the stories of party-hopping and ecstasy dropping: "there's no substitute for being bored together."
Meet Me in the Bathroom: Rebirth and Rock and Roll in New York City 2001-2011 is out now
Credits
---
Text Kate Hutchinson
Image via Wikipedia