the sci-fi film 'how to talk to girls at parties' looks freakishly good
Starring Elle Fanning and Nicole Kidman, the Neil Gaiman adaptation features a romance just as twisted as 'The End of the F***ing World'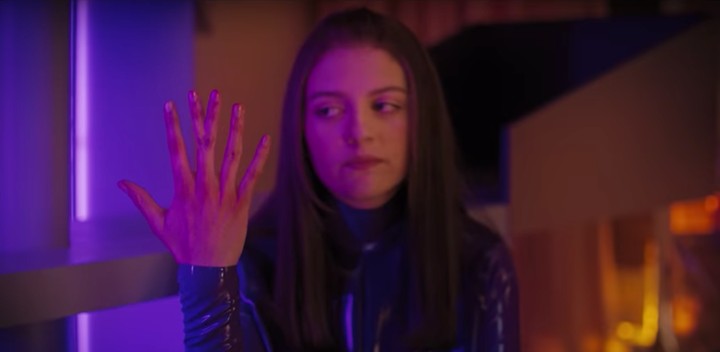 Screenshot via YouTube
A24, the studio behind gems like Moonlight and Lady Bird, is releasing a slew of coming of age films this year. There's Eighth Grade, Lean on Pete, and now, How to Talk to Girls At Parties. The sci-fi-meets-romance-meets-80s-teen-comedy film was adapted from Neil Gaiman's popular 2006 short story. The high-charged adventure takes place in 1977 London and stars Elle Fanning as Zan, an over-sheltered alien who falls for a human boy at a house party. Zan quickly becomes enraptured with the life-loving punk scene our human protagonist Enn is part of and runs away with him. What follows is an racocous love story featuring aliens with eleven fingers, head-to-toe spandex, and Nicole Kidman rocking a grey mullet.
We've been waiting for How to Talk to Girls At Parties for a while now. Directed by John Cameron Mitchell ( Hedwig and the Angry Inch), filming began all the way back in 2015. Judging from the trailer, it looks like the film was well worth the wait. There's scenes of partying, mosh pitting, and some weird alien dancing that gives us Eyes Wide Shut vibes. "We may have cocked this planet up royally, but at least we're alive," Zen roars out at the end. "We like to eat, we like to dance, we like to fall in love. And we try to fix what our parents screwed up." Rock on.
This is not the first time Elle Fanning and Nicole Kidman have worked together. The two tarred in Sofia Coppola's haunting drama The Beguiled last year. While English actor Alex Sharp, who plays Enn, is most famous for starring in the Broadway production of The Curious Incident of the Dog in the Night-Time.
How to Talk to Girls At Parties premieres in the US May 18. Check out the full trailer below: