keeping up with kirby jenner: kendall's long lost twin brother
The instafamous influencer takes us behind-the-scenes of his very real, totally not fabricated life and 'gram. It's ikonic!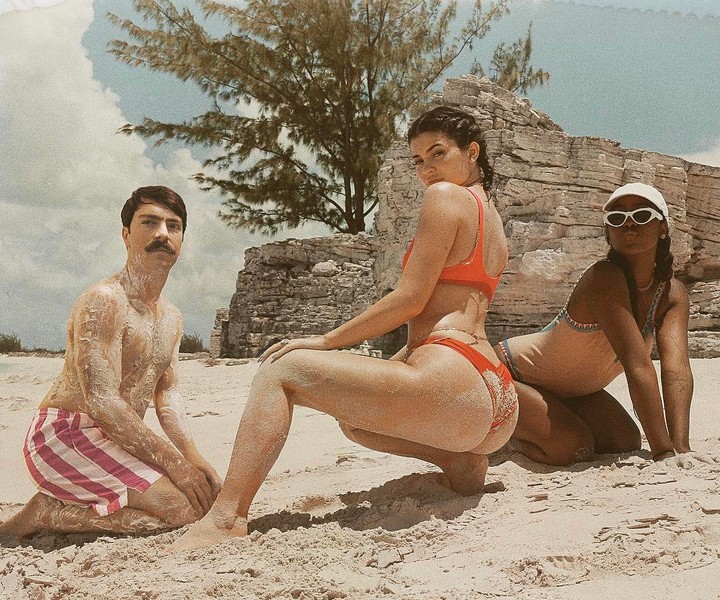 Image via Instagram
This article was originally published by i-D UK.
Our weekly column profiles the profiles you weren't lolz enough to come up with, as they pick their top five posts and share with us some of their Insta know-how.
There's Kim, Kourtney and Khloe; there's Kylie and there's Kendall. There's Kris out front pitching billion dollar beauty deals on their behalf, telling them all -- but mainly Kim -- that they're doing amazing, sweetie. But, but, did you know there is one more? No, not Rob. Another one, Kendall's long lost twin, the forgotten sibling who nan always forgets to set a place for at Christmas dinner.
Meet Kirby Jenner. Kirby is the very real, totally not fabricated or Photoshopped fraternal twin of Kendall Jenner. He's also "an amateur model, a belly flop champion and a sandwich enthusiast." You may be unfamiliar with Kirby, thanks to Kendall always pulling the classic sibling move of pretending he doesn't exist and rudely cropping him out of all her photos. Not that Kirby takes it personally, modest millennial that he is: "I get edited out of a lot of her pics because she's a more famous model and I'm usually sneezing or blinking or accidentally asleep or covered in pasta sauce, but I'm just happy to be a part of her career."
It's a very humble, somewhat martyrish move on Kirby's part, whose Instagram tells a very different story. Kirby has been with Kendall through it all -- the good times, and the bad. There he is, mooning off the side of the Bieb's boat. Hitting up Coachella with the whole #squad in his Y-fronts. Performing a rousing karaoke set of Sum 41 bangers in the background of Kendall's dog selfie. A true hero of our times.
Kendall may have been the highest paid model of 2017, and Kylie's cosmetic company is apparently on track to be worth $1 billion USD by 2022, but Kirby is no stranger to hard work. Outside of his day job as an instafamous influencer, he explains, "I'm currently technically unemployed but used to work at all kinds of places. I worked at Costco as a greeter for a day but was asked to leave cause I kept shaking everyone's hand as they came into the store. Idk, I thought that's what a greeter does but I guess I was wrong?? I don't know the rules."

Dreams for the future? "To try/finish every type of sandwich that's ever existed, but I keep inventing sandwiches so it might take me a while," he says. "Kinda overwhelming tbh." Indeed, but if anyone can pull off this task, it is the forgotten member of the Kardashian krew, who no doubt has Martha Stew on speed dial and a colour coded truffle selection in his walk-in fridge. We pulled him away from refining his latest masterpiece -- pastrami on gluten-free sourdough garnished with pickled ginger and dehydrated kale -- to handpick his favourite #twinning moments. Welcome to Keeping Up with Kirby, huns.
1. Steve Jobs at the Beach
This might be one of my favourite pics 'cause I got to pick all these dope clothes we're wearing. In the biz we call it "styling" or "clothesing". I went with the theme "Steve Jobs at the Beach", which was inspired by a dream I had of going to the beach with Steve Jobs. The dream ended in a brutal shark attack but luckily this shoot didn't, lol. I have a lot of weird but super fun dreams that I end up using in real life or letting friends use for stuff. I let Donatella Versace use my "Puffy Bats" dream (the dream was just a bunch of obese bats flying around wearing puffy snow jackets) for the theme to her 2017 Milan Fashion Week runway show. Kanye's No More Parties in LA was inspired by what I thought was a dream but ended up being just a SUPER loud karaoke sesh Kanye and Mel Gibson were having downstairs in the kitchen while I was trying to go to sleep one night. TBH I didn't mind it AT ALL at first... but woke up to Mel trying to prank me by putting my hand in a bowl of warm water. Not chill. I wrote down my feelings, put it in Kanye's cubby the next morning and the next thing I know my letter turned into sick rhymes on his new album. I'm not mad tho cause it's fun to be included in things!
2. The Met Gala
I have a lot of mixed feelings about this photo. I both love it and hate it, lol. I love it 'cause I got to dress up in my oldest, fanciest clothes and carry a sword. Which is always super fun. And according to one of the caterers I broke the record for "most pigs in blankets ever eaten at an event she's worked at." She claims I ate 40 but I think I actually ate 44 but whatever I still broke the friggin' record so idc. I hate this photo 'cause it reminds me of getting escorted out by security for poking Jennifer Lawrence with my sword. What the security dudes didn't realise is J-Law and I prank each other all the time. It's an ongoing thing. She honestly didn't even care and there was barely any blood. She's tough af. She fought in the freakin' Hunger Games like four times and is super strong. Whatever, we're still friends. She texted me about it after and we got ramen the next day.
3. Sleep
I like this photo a lot cause it's super pretty. I kinda wish I wasn't asleep in every single take but it's fine. They did a few takes where they tried taping my eyes open but it looked a lot weirder. Ended up going all natural with my eyes instead. Left 'em closed. I think it's pretty artful tbh. And my boots look sick.
4. A Horse Called Greg
This one's prob my fave pic cause I got to work with a real horse. It was a lifelong dream of mine to work with a horse. His name was Greg, he was super sweet and I even got to teach him a bunch of tricks even though his owner asked me not to. I taught him how to stand up super straight, say "cheese" before taking a photo (something I do before every photo), and how to eat out of my hand. He ate a lot! He ate a carrot, butter, sugar cubes, hay, and a AAA battery... which I apparently wasn't supposed to feed him haha whoops. He's fine. He lives in Santa Clarita.
5. Kanye's Play
Kanye wrote this pretty crazy play called Kanye's Play about a dream he once had so we decided to put it on for the whole squad in the backyard. It was super long (nine acts) but super beautiful. The best way to describe it is it's just like The Nutcracker if The Nutcracker took place at a Golden Corral. It was freakin' nuts. I accidentally fell off the stage like three minutes into the show, but my role wasn't that important so I just chilled on the ground until the curtain closed. It was a pleasure to be involved and I owe Kanye a lot. Thanks K!