vetements just dropped their zodiac tees
May the stars align for your bank account, so you can get on this.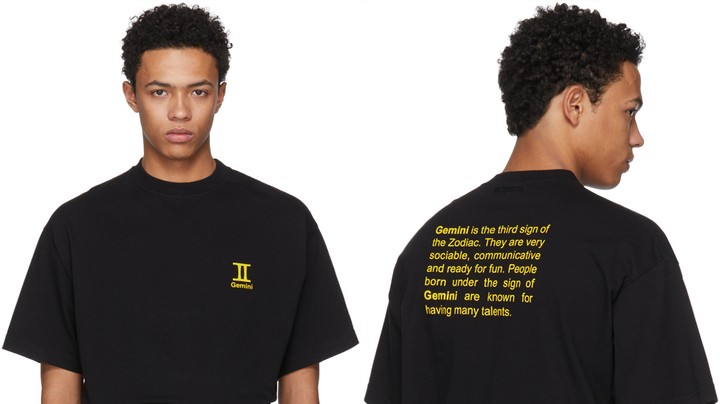 Image via SSENSE
Vetements are the connoisseurs of cool. Their ability to hack our minds and give us what we didn't know we desperately needed, is unparalleled. They sell out dry cleaning installations, they nailed tourist chic, they turned international freight into a major trend. And with their latest drop, they've honed in on our predilection to scour Susan Miller's horoscopes on the first of every month for clues that we're probably going to conquer the world soon. Or at the very least, remind ourselves that we do actually have some redeemable qualities.
On the back of December's collection of zodiac tees for women, the brand have now released a line of men's T-shirts emblazoned with the complete range of star signs and their associated qualities. Leo? You're "strong, fierce, bold and courageous." Scorpio? "Passionate and assertive." Gemini? You're cursed soz hun.
While the T-shirts are specified as menswear, at this stage in the fashion climate, menswear and womenswear are practically interchangeable. Same can't be said for star signs I'm afraid. Unless you're one of the lucky few who sit on the cusp -- in which case just choose which one says better things about you.