watch hari nef as the object of a nun's affection in a new web series
The model and activist charms the habit off a lesbian novice in six-part web series Let Me Die a Nun.
|
05 September 2017, 9:20am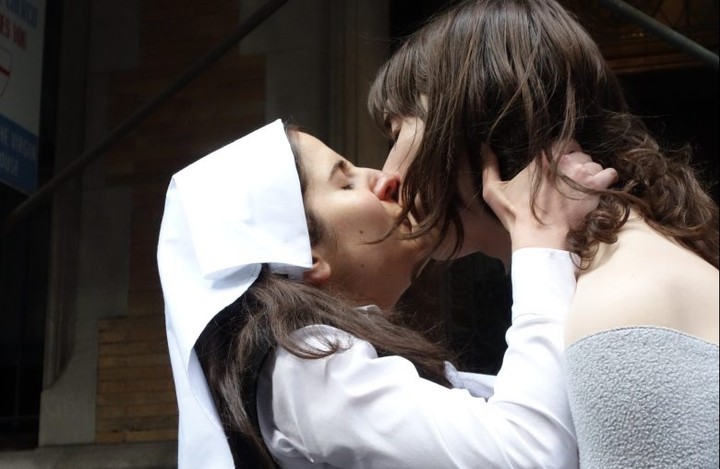 Between Gucci campaigns, TED talks and her role in Transparent, Hari Nef has made us go all heart emoji eyes for her.
But in her latest acting gig, Hari adds a lesbian nun to the obsessives list. In the offbeat, comic web series Let Me Die a Nun, Hari plays Katherine, an LGBT worker who turns the head and habit of a young novice named Ursula, after they meet at a Catholic Church / LGBT soup kitchen.
Let Me Die a Nun might sound like a particularly Sapphic take on Sister Act 2, but filmmaker Sarah Salovaara was inspired to make the six-part short series by 70s nunsploitation cinema, in which -- you guessed it -- women were portrayed as sex crazed, lusty lunatics just gagging to disrobe. This was cinema made by men, for male audiences, ripe for a reimagining.
"Let Me Die a Nun is a dialogue with sexist tropes popularised in these films," says the 27-year-old writer and director, "wherein women are driven insane by the lack of a male love interest, devolve into sexual hysteria and, nine times out of ten, attempt to seduce the nearest priest."
The series neatly swerves the problems of the genre by making its lead a lesbian, played with straight faced brio by Ana Fabrega, also a rising star in US programming. And Sarah came to the idea from a personal place. "This one in particular is very personal," she says, "I was raised in a religious family -- going to church every Sunday -- and was in the process of coming out while writing it."
Let Me Die a Nun, by introducing a third wheel to proceedings -- a nerdy Jewish guy who is obsessed with Ursula -- also takes a potshot at 80s rom com gender tropes. In the show, it's the guy going la la over a lesbian who's in love with another person, who's the real illogical.
To further complicate matters of the heart (and the farce), Hari's character Katherine isn't 100% available to Ursula, even if she were to ditch her habit. She's not single but acts a little like she is.
"Hari's performance deals with the different characters we try on in romantically charged exchanges," says Sarah. "Even if you're not 100% interested in someone, it's tempting to play into the dynamic simply because most (if not all of us) love a little added excitement where we can get it."
And for Hari Nef fans Let Me Die a Nun is another way to indulge our obsession.
Stream the rest of the series here.