'keeping up with the kardashians' turns ten; we celebrate the family's great hits
A decade of Kardashian-Jenners.
|
04 September 2017, 7:52am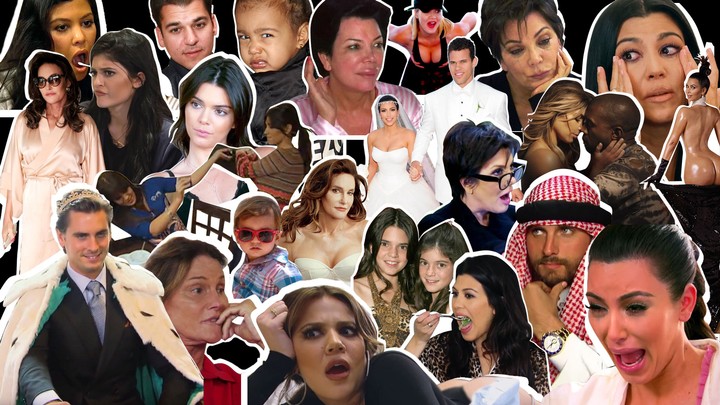 October marks a decade since the premiere of Keeping Up With the Kardashians: a date nobody is going to let us forget. The other day, the Kardashian-Jenner clan appeared on the cover of The Hollywood Reporter, and charted the course that took them from Kim Kardashian West's 2007 sex tape to becoming a multi-billion dollar brand-slash-cultural phenomenon.
"There are moments when it's hard to leave something in because it's vulnerable and it exposes us to a deeper level of emotion, and sometimes that's hard to share," Kris Jenner confesses. "It always occurs to me maybe this should be left out. Maybe this is too much. Every time I catch myself and I say no, this is what everyone who's watched since day one deserves to see for one reason or another. We signed up for this."
"This" of course, is a loaded word. Over the last decade, the Kardashian-Jenners morphed from aspiring celebrities to queens of their own empire — with Kim having come the furthest after a short-lived career spent cleaning out celebrity closets. Using Kim's sex-tape as the foundation on which their celebrity dynasty was to be built, the family's self-appointed momager Kris used the Paris Hilton model (One Night in Paris is, after all, a cultural mainstay) — and lest we forget, it was initially Brody Jenner who provided to be the gatekeeper to the clan with his stint on The Hills.
The last decade has proven to be one of ups and downs for the stars of what would become the longest-running reality TV show, from humble beginnings as Lindsay Lohan's stylist (Kim), to shopkeepers (Kim, Khloe, and Kourtney) to being included on Time's list of Most Influential People of 2015 (Kim again), and yanking Sharon Osborne's chain (Kylie and Kendall this time). Here we celebrate a few of the family's greatest hits.
When Kim (kind of) jumped on the feminist bandwagon
Last summer, Kim Kardashian penned and posted an essay explaining how feminist she was not. "For me, feminist is someone who advocates for the civil and social rights and liberties of all people, regardless of their gender; anyone who believes that women should have the same choices and opportunities as men when it comes to education and employment, their bodies and their lifestyles," she wrote. "Of course I want those things! I'm all about empowering and lifting women."
She then went on to explain that she's averse to labels, and that "at the end of the day, no one should feel pressured to be labeled as anything just because they believe in certain things and support certain values or ideals."
Which, like, fair. But at the same time, Kim still used her essay to push her own feminist agenda (see: the importance of equality, of making one's own income, of fighting for women's rights), which, combined with her use of selfies-as-liberation, sent the message that either Kardashian-West didn't understand what feminism is, or that she knew that not committing to the label would earn her earn even more attention.
Either way, it earned her a shit ton. She basically broke the internet again: for days following, countless pieces went up about whether or not she was a feminist or whether feminists could/should rally around her (at one point, even Annie Lennox and Piers Morgan debated her).
Which is indicative not just of our own desperation to align popular figures with particular social and political leanings, but also of Kim's understanding of how the cultural cycle works. Had she declared herself a feminist, she would've arguably received a slew of praise before something else took priority. But by not — despite subscribing to feminist ideals — she racked up even more publicity.
Kendall's ascent through the modeling world
Fans of the show are well aware that Kendall has wanted to model since she was 14, so her rise through the modeling ranks has been as documented as it's been contested. In 2015, it was revealed that Kendall was allegedly bullied by veteran models, while in a 2014 interview, she claimed her name had been a professional hurdle. (Janice Dickinson has even said that while Jenner is "lovely," she's no supermodel.)
However, that same year, Kendall was announced as the new face of Estée Lauder, and was encouraged to break the story on her social media accounts — which ended up garnering more than a million likes. Wherein lies KJ's supermodel origin story: by 2015, Kendall had landed the most popular Instagram post ever, proving her commercial viability could bring young, impressionable fans over to the world of high fashion.
Let's face it, Kendall's never acted out, never stood up, never rebelled. This makes her shapeable — a blank canvas designers can position accordingly while banking that her existing social media following will be influenced accordingly. But here's the downside: while Kendall's connection to social media has helped elevate her enough to justify landing major campaigns, only a few short years into her career, her unwillingness to embrace an actual personality has led her down the road to grossly misinformed decision-making. #TBT to her Pepsi campaign that co-opted the Black Lives Matter movement, and failed to even comment publicly on the backlash. Ultimately, there's such a thing as too blank a slate.
Parlaying branding into a lifestyle
In 2014, Kim Kardashian sang the praises of "waist training" at the hands of the #controversial Hourglass Angel Waist Trainer, making the ad just a part of Kim's eventual $53 million earnings for that single year. The thing is, over the last decade, the Kardashian-Jenner approach to lifestyle earning you some coin is no joke: the sisters have fronted for detox tea, the Manuka Doctor skincare treatment, blood facials, and tequila, with all products being unequivocally basic and boring, but also very reflective of their lifestyles.
Over the last few years we've watched as Kim, Khloe, Kourtney, and Kylie cultivated a very specific body type (tiny waist, large bust and butt), which inspired their followers to do the same. In fact, you could also argue that they ushered in an era of an entirely new "acceptable" female shape, a feat in itself — especially since they're absolutely appropriating the figures of black women. But what's also worth mentioning is that even their appropriation relies on specific tools and lifestyle choices they expect their followers to buy into: a waist trainer, detox tea, fitness gear. The family has created a billion-dollar business stacked on their repurposed and appropriated norms, which might just seem coincidental (or just good business) had they not been repeatedly called out on appropriating and profiting off of everything from black beauty standards to black creativity for nearly the entire duration of their TV show.
Which is this something actress Amandla Stenberg called out on an Instagram photo of Kylie in cornrows in 2016: "When you appropriate black feature and culture but fail to use your position of power to help black Americans by directing attention towards your wigs instead of police brutality or racism."
And that feeds into the idea that the Kardashians and Jenners know exactly how they're being perceived, but have chosen to ignore important criticisms to continue making money. After all, as recent as this June, Kylie and Kendall both opted to release a line of "ironic" T-shirts featuring the faces of late hip-hop artists, while that same month Khloe's Good American denim line was accused of ripping off the designs of Destiney Bleu. And while it might seem like a stretch to assume that fronting tequila is on the same level as cultural appropriation, it's important to remember how in-control of their empire the Kardashians and Jenners are. At one point, thanks to their growing influence, the sisters' lifestyle choices likely evolved into sponsorship opportunities. But then they flipped the switch, opting to advertise products that are "on-brand."
Kim sips tea on KUWTK. The family wore Pablo merch during Kanye's tour and product launch. They made the Lumee case mainstream. Meaning that everything they've come to front for, they stand for, too.
They crossed from the trash celeb sphere to define pop culture
The work the Kardashian-Jenners put into elevating themselves shouldn't be a mystery — their work ethic is in a league of its own, and evidenced by their branded content, book deals, and make-up lines. You can also follow it to the letter through the main characters in Kim Kardashian Hollywood — the app that went on to make more than $100m in the months after its release. Here, the avatars begin by working as sales assistants in Kardashian boutiques before evolving into the most powerful and famous people in the world.
Which you learn is fucking hard! Characters in Kim spend countless hours and dollars attending events, shopping for events, and trading up in every possible capacity (from furniture to boyfriends), while playing nice for the media and aligning themselves with powerful public figures like Anna Wintour. Not engaging in "the game" costs public sympathy, adulation, influence, money, and divorce, while spending extra for Balmain tie-ins ensure industry clout and relevance (despite how much harder you'll have to work to earn the money back).
Because the IRL Kardashian-Jenners took almost a decade to fully trade up — to move from nightclubs to award show red carpets to the Met Gala — their "trade-up" has seemed slow. It hasn't seemed like the result of flash-in-the-pan over-exposure, but the result of inching towards and locking down permanence. It looks the way they think we want our own lives to look (even though I would rather die than be in a nightclub for more than two or three minutes). They personify the American Dream. Which also changes our conversation. Where we tend to talk about reality stars with disdain, we've come to recognize reality television's First Family with reverence — we acknowledge their impact and their work ethic and how far they've come, because their evolution hasn't been sudden, and suggests we might be able to achieve the same.
So they can't be trash celebrities, because they are the ones most like the rest of us. And that's the greatest myth they've created yet.