you can now watch jay-z's brilliant 'friends' remake on youtube
For his "Moonlight" video, Jay-Z makes an important comment on representation in the entertainment industry and recreates Friends with an all-black cast.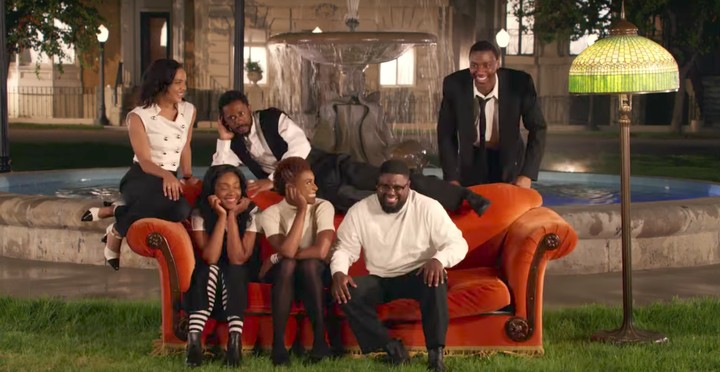 Screenshot via YouTube
This article was originally published by i-D UK.
A couple of days ago Jay-Z dropped the music video for his track "Moonlight" on Tidal, and the internet exploded in excitement at its premise — a Friends remake with a stellar all-black cast. Alas — we can't all afford to fork out on every streaming services on offer (sorry, Jay), but thankfully the video has just been released on YouTube for those of us not riding the Tidal wave.
It starts out as a astoundingly identical replica of the original sitcom, except with the all white cast swapped out for the following A+++ all-black roll call:
Insecure's Issa Rae in the role of Rachel
Comedian Lil Rel Howery as Joey
Actor and rapper Lakeith Stanfield playing Chandler
The Carmichael Show's Jerrod Carmichael taking the lead as Ross (and later, himself)
Hilarious star of the recent Girls Trip star Tiffany Haddish as the equally hilarious Phoebe
Actress and musician Tessa Thompson as Monica.
Even Jay-Z himself makes a cameo, as Monica's boyfriend Richard, on the phone (soz Bey)
Then it gets all very meta, with Ross aka Jerrod breaking out of character to ask the always hilarious Hannibal Buress how it is, who as always is very straight up: "Garbage." Fortunately, it's not — there's lols and Moonlight beating La La Land references, the actual fountain from Friends, and a whole lot more. But we don't want to spoil it all, because you'll want to watch it. Which you can do right here.