Netflix's new Korean horror The 8th Night will freak you out
Watch the trailer for this supernatural scary that's dropping very soon.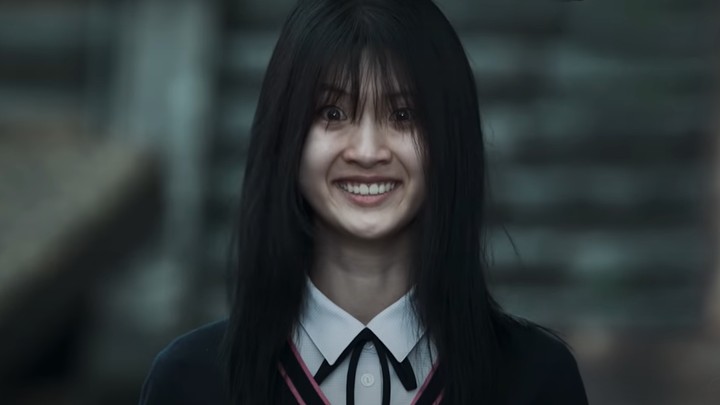 Image via Netflix
Summertime marks a new season of horror movies hitting our screens. Maybe you've ventured out to the theatre to see A Quiet Place: Part II, or are eagerly anticipating the arrival of Netflix's new, centuries-spanning movie series Fear Street? Well, prepare to add one more to your list, with the arrival of a supremely messed up South Korean horror movie hitting your Netflix account in July: The 8th Night.
Directed by first time filmmaker Kim Tae-Hyung, The 8th Night tells the story of two cursed entities that were locked up in caskets over 2000 years ago, each sharing the ability to wreak havoc amongst humankind. In the modern day, they both stir and set out to find seven unwilling victims to act as hosts in order to assume their most malevolent form. But there is one man, an exorcist armed with rosary beads and an axe, that can stop them in their tracks. He just has to find them first.
The trailer for the movie has just dropped and looks terrifying: like a mix of supernatural and body horror, with some possessed demon folks doing that weird glaring-eyes thing they always do. Catch us watching the first five minutes and then turning it off because we get too spooked.
The movie is the latest in a long-line of new horrors that are pushing back against the idea of the best ones being the American blockbusters we see in cinemas. Sure, Paranormal Activity freaked us all out, but there's a whole slew of international horrors distributed by Netflix that are worth watching too: the Spanish creeper Don't Listen, the German language The Strange House, and Norway's Cadaver are all available to stream now.
Korea has long been a home for good horror movies, though. Who could forget Bong Joon-Ho's terrifying monster movie The Host or the 2003 freak-out flick A Tale of Two Sisters? You have time to get up to speed with some of the classics before The 8th Night lands in your Netflix watchlist on 2 July. Watch the trailer below!

Follow i-D on Instagram and TikTok for more on horror movies.