Gigi Hadid: "I'm made to feel too white to stand up for my Arab heritage"
The supermodel opens up to i-D about pregnancy, raising baby Khai and what it's like to bridge two cultures.
Gigi Hadid's story originally appeared in i-D's The New Worldwi-De Issue, no. 363, Summer 2021. Order your copy here.
When an NYC number pops up on my phone, I answered thinking it might be one of this magazine's editors. Instead, it was Gigi Hadid. "Shall we do this now?" That's the kind of girl Gigi is. Sure, she's one of the most famous women in the world, but she's as sweet as her beloved buttercream cakes, and far less artificial. She speaks her mind and is as curious and ambitious as any other 26-year-old. Last September, the supermodel became a supermom to baby Khai, her daughter with Zayn Malik. We spoke just weeks after the world was gripped by Meghan and Harry's interview with Oprah, in which they discuss the challenges of bringing a mixed-race baby into the world. So, naturally it was on our minds – as were Gigi's kitchen drawers of coloured pasta. Here's what happened next…
We did an interview with you last year when you were on your first i-D cover, and I feel like you've had such a big year since then…
I'm pretty sure I was pregnant when I shot the last cover. I knew and that's why my mom came with me to fashion month — to help me with morning sickness and doing the shows. That cover shoot was the last thing before I went home.
What was it like finding out you're pregnant while the world was imploding?
Super strange. It obviously felt weird during fashion month when I secretly felt so sick at work but you can't take a sick day during fashion week! I just had to pretend it wasn't happening. Or, you know, we had a birthday party and someone would offer me a drink, and I'm like, 'Oh, I'm not drinking this month' or whatever. And as everyone started to get tipsy, I would sneak out.
Probably best in hindsight! Your job is based on being seen in the public sphere and travelling so much. How has it changed your day-to-day, that double whammy of lockdown and becoming a mother?
There's a bittersweetness because I know that obviously Covid has been such a tragedy for so many people and families, and lives, and jobs. But there was a silver lining in the timing, in that I got to experience pregnancy and giving birth and being with my baby, and it was a reset that I would have had to make for myself, regardless. It really gave me time to experience motherhood the way I wanted to, which was without a baby nurse and without a nanny for as long as I could before I went back to work.
Right now, everyone is adapting and people are changing up their set-ups for good. Does that apply to supermodels?
It made me think about what I want going forward, which everyone has had to do with their career and their life. Having had all my dreams come true in fashion, and saying: 'Now what?' I don't need another cover or campaign. I would rather leave that to a new face, someone for whom it would really change their life or career at this point. Where can I make way for that next generation and focus my energy and time on something else? Something that is obviously still in this world but is fulfilling for me creatively, and different.
I know that during lockdown you were experimenting a lot with photography. What other avenues are you looking at, as the next step?
I love the creative part and anything that's behind the scenes is really fun for me. I'm working on design ideas in terms of my own brand and I'm narrowing that down to a niche that I think would be cool to bring into the world with my name attached to it. It must be liberating working on something for yourself. I'm thinking about the environment that I want to put myself in. Now that I'm a mom, I love the idea of going to the same office or studio or whatever that is multiple days a week, with the same crew, the same people, maybe a little playroom that I can make for Khai at work. Having something that's more settled than being in a different country on a different set and with a different photographer every day.
Something I'm curious about is how you're approaching parenthood. So much of it is instinctive, but I find with raising a mixed-race child, lots of it is actively thinking about how to address that.
We think about it and talk about it a lot as partners and it's something that's really important to us, but it's also something that we first experienced ourselves. Because both of our parents are their own heritage. We are that first generation of those mixed races, and then that comes with that first generational experience of being like, 'Oh damn, I'm the bridge!'. That's not something that my parents experienced or that they can really help me through. It's something I've always thought about my whole life.
In certain situations, I feel – or I'm made to feel – that I'm too white to stand up for part of my Arab heritage. You go through life trying to figure out where you fit in racially. Is what I am, or what I have, enough to do what I feel is right? But then, also, is that taking advantage of the privilege of having the whiteness within me, right? Am I allowed to speak for this side of me, or is that speaking on something that I don't experience enough to know? Do you know what I'm saying?
Yes!
I think that Khai will grow up feeling out the way that she can or wants to be a bridge for her different ethnicities. But I think that it will be nice to be able to have those conversations, and see where she comes from [with] it, without us putting that onto her. What comes from her is what I'm most excited about, and being able to add to that or answer her questions, you know?
Gigi, it's your birthday tomorrow, what's the plan?
OK, well first of all, I'm obsessed with Cake Boss. I've been watching him since I was ten, and he made my birthday cake for me last year, and I cried. Like, I actually started to cry. This year, in the theme of my giant bagel cake from last year, he's making a giant wedge of cheese, but it's a cake.
Speaking of food, I know that you're a fan of pasta, and I was looking at your apartment, which you designed last year. Can you please explain it to me — what's the deal with the blue pasta?
My pasta that's in the pasta drawers (that are for show) are actually made with a glue type thing that keeps them preserved. The girl that I collaborated with to make these, her Instagram is @saltyseattle. She actually makes kits that you can buy and make your own pasta, and she colours all the pasta naturally. So, I think the blue is spirulina. Each colour is made with a natural colouring – like, the red is beet, the yellow is turmeric. And she has a book where she teaches you how to make each colour. I've followed her for years and it was always a dream to have some of her work preserved. I look at them every day and I love them. They spark joy.
And that's the most important thing. This is the year of sparking joy. Definitely.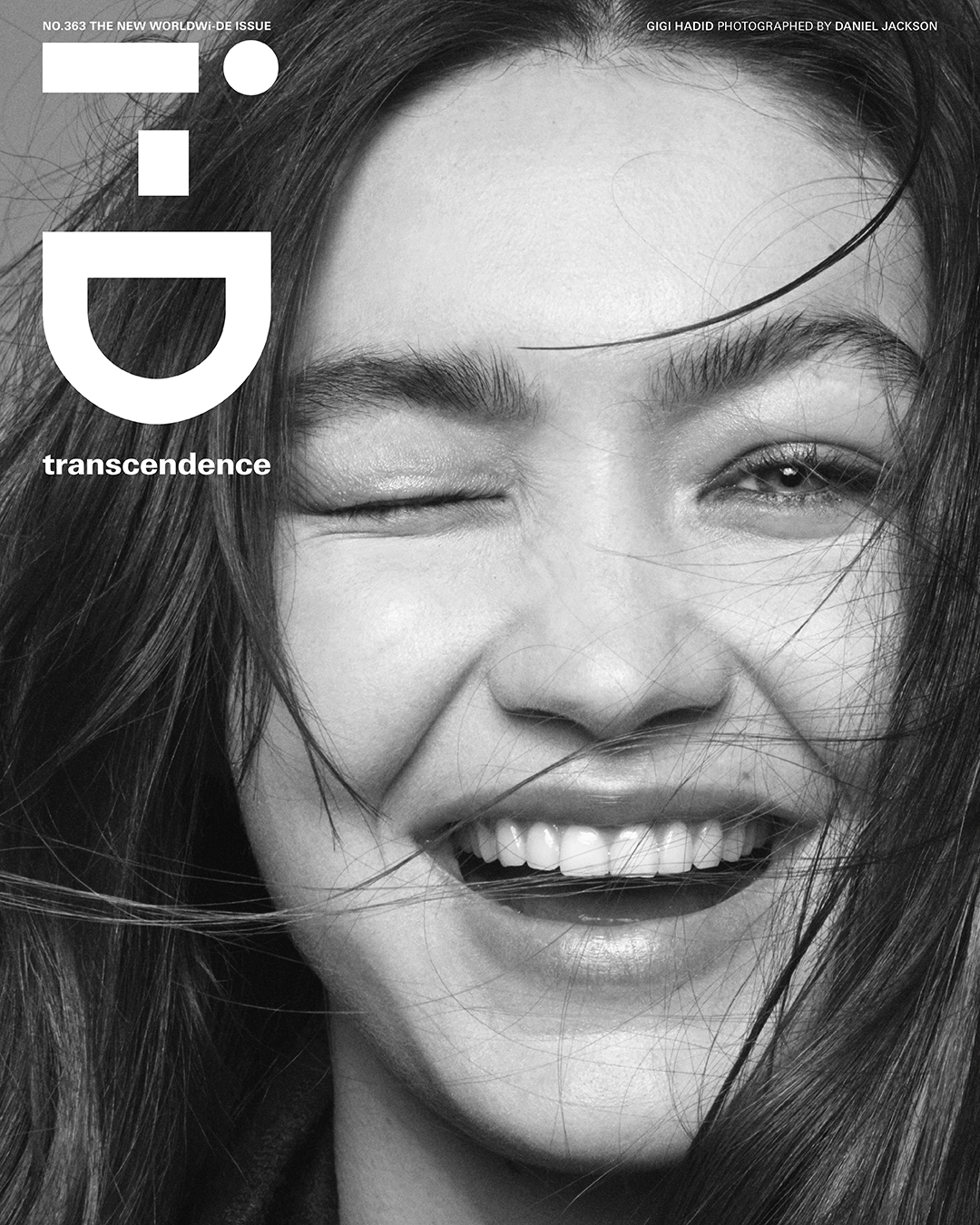 Credits
---
Photography Daniel Jackson
Styling Alastair McKimm
Hair Bob Recine.
Make-up Diane Kendal at Julian Watson Agency for Zara Beauty.
Nail technician Honey at Exposure NY using Londontown Lakur in "Crowning Crumpet".
Photography assistance Jeffrey Pearson.
Digital technician Karen Goss.
Styling assistance Madison Matusich and Milton Dixon III.
Hair assistance Kabuto at The Wall Group.
Make-up assistance Jamal Scott.
Producer Rebekah Mikale.
Casting director Samuel Ellis Scheinman for DMCASTING.
Model Gigi Hadid at IMG.