Everything we know about Kanye West's DONDA
A year after it was set to drop, Yeezy's 10th record is finally coming. From release date to confirmed features, here's everything we know about it.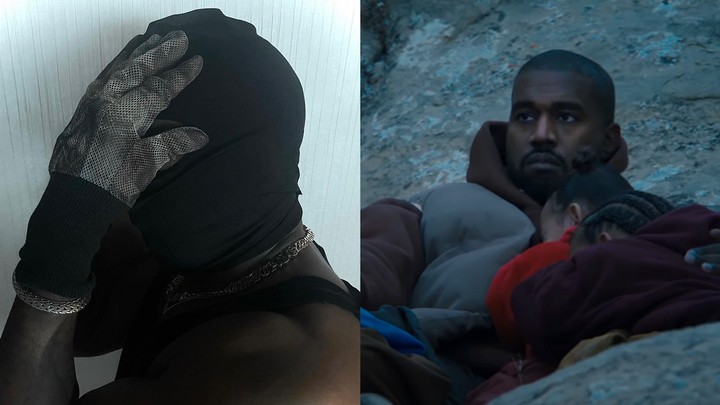 Def Jam Records/YouTube
Kanye West is rap's most unreliable figure when it comes to release dates, but he always delivers when the time comes. Fans are now gearing up to hear his 10th studio record, DONDA, supposedly dropping on 6 August, over a year after he said it would originally drop. Named after his late mother, it's bound to be one of the most talked-about records of 2021.
So what do we know about it? When's the official release date, and is it even official? Will we be able to hear teasers beforehand? And what collaborators are set to appear on the tracklist? All this and more below!

Update me on these live DONDA playbacks, please?
Okay, so Kanye originally announced that he'd host a playback of DONDA at Mercedes-Benz Stadium in Atlanta on 22 July, the day prior to the album's original release date. This went ahead with a packed-out crowd, but after previewing new music (including a collaboration with Jay-Z, teasing a return to their Watch the Throne era), the album failed to materialise the following day.
So, after spending time hunkered down in the stadium, another happened on 5 August. An event creative directed by Balenciaga's Demna Gvasalia, it gave us previews of new album cuts before it was set to drop today. It's currently past the half-past midnight drop time that Kanye promise — so maybe it won't arrive today after all. What is known is that the show itself was a wild spectacle, culminating in several dancers and singer surrounding him in the stadium's centre, before he was lifted into the sky like that Spongebob meme. A true sight to behold.
Yeezy used his platform philanthropically, though, offering doses of the Pfizer vaccine to anyone in attendance. The only thing more desirable than new Kanye music right now is a strong dose of partial immunity to Coronavirus.
What is DONDA's release date?
According to Kanye and his label, 23 July was supposed to be the day that DONDA dropped, but it's since been rescheduled to 6 August, following another fan listening event.
It's been a long path to this moment. Last summer, DONDA was originally meant to drop on 23 July under the title God's Country before being changed to its new title DONDA, but clearly something has switched up in the year that's passed. It's not yet known how much the record has changed in that time, or if any of the original tracks have made the cut. Yeezy has a habit of making last minute changes — but maybe the record will drop today? We simply cannot guess at this stage.

Who features on DONDA?
No Kanye album is complete without a shopping list of A-list collaborators, and it seems like DONDA is no different: Pusha T, G.O.O.D. Music's president, is a given; apparently their shared track is a head-to-head rap battle. Lil Baby has also made the cut.
A Las Vegas listening party in July also gave us a preview of i-D cover star Baby Keem's feature on the record too. Other names attached but unconfirmed include Post Malone, Tyler, the Creator and Travis Scott.
More recently, following all of the DONDA playbacks in Atlanta, this list appeared online too. These are all unconfirmed, but pretty likely, considering the album has had two spins at the Mercedes Benz Stadium already.
Kanye tends to have a strong hold on production, but French artist Gesaffelstein has revealed he's worked on the project -- namely the new track "No Child Left Behind", which premiered last night as part of a Beats by Dre advert during the 2021 NBA finals starring track and field sprinter Sha'Carri Richardson.

What's the DONDA tracklist look like?
Eagle-eyed fans have noticed that a Yeezy-adjacent tracklist popped up on Tyler, the Creator's IG story recently. Is it legit? We don't know yet. Although it does feature the aforementioned "No Child Left Behind" , it didn't include Dr Dre collaboration "Glory", a teaser for which arrived in a Beats by Dre advert last night (5 August). There are so many swirling, unconfirmed tracklist at the moment that no single one is actually reliable, so check back here when we get on from the source.
Who created the DONDA artwork?
Louise Bourgeois is the artist behind Kanye's rumoured DONDA artwork. The legendary French-American artist is known best for her large-scale sculptures, particularly her spider pieces, which usually stretch across whole spaces in her gallery exhibitions. Bourgeois died in 2010, but her work was often a metaphor for motherhood, which may explain why Kanye could have chosen her as the artist to visually represent an album dedicated to his late mother.

Will there be a DONDA tour?
No live dates have been announced for Kanye's 10th album, but don't be surprised if that changes. He hasn't toured Europe since 2012 for Watch the Throne, nor has he played to live crowds in the US since The Life of Pablo in 2016. Long story short: a stadium tour is way overdue.
Tagged: