L: image courtesy of Miu Miu; R: image courtesy of Gucci
Why is fashion so obsessed with rich people hobbies right now?
A harmless bit of Courchevel cosplay? An act of reclamation? Or a brazen celebration of social privilege? We investigate AW21's most curious trend.
L: image courtesy of Miu Miu; R: image courtesy of Gucci
Whether they dealt in luxury trunks, haute ski-wear or polo gear, there's no shortage of luxury houses that started out by catering to the leisurely lifestyles of Europe's gentry. And, to be honest, even if they don't shout about it, many of them still do. It's not a strange coincidence, for example, that you'll find a greater concentration of certain labels' boutiques in the Alps than you will on the entire African continent. Indeed, fashion's close ties to posh hobbies are not by any means secret. In today's cultural climate, though, where virtues of global appeal and universal access are trumpeted, they're hardly the chicest things to shout about. Or they weren't, at least, until this season.
Rather than keep their bougie credentials on the DL, houses from Chanel to Fendi, Gucci to Miu Miu flooded their runways with overt nods to activities it takes a pretty penny to partake in — furs, riding boots and salopettes galore. You could argue that it's just a frank gesture on their part — a simple matter of knowing what your customer wants and giving them just that. After all, no matter how democratic fashion's appeal may now be, the price points of these particular designers are hardly accessible for one and all. Still, in 2021, taking sports that are historically the preserve of a very wealthy — not to mention overwhelmingly white — social milieu and making them this season's hot look feels a little out of step with the times.
Obviously, though, there's more to it than first meets the eye — why else would we be here otherwise, duh! For one thing, the rehabilitation of an haut bourgeois look isn't that new. It's a trend that's been gathering pace since about SS20 (cc: this Prada show). What makes what we saw this season feel a little more on the nose, though, is the referential specificity — it's not just a matter of sumptuous chocolate suede coats that imply a certain level of wealth; these are clothes that let the world know exactly what you like to spend it on.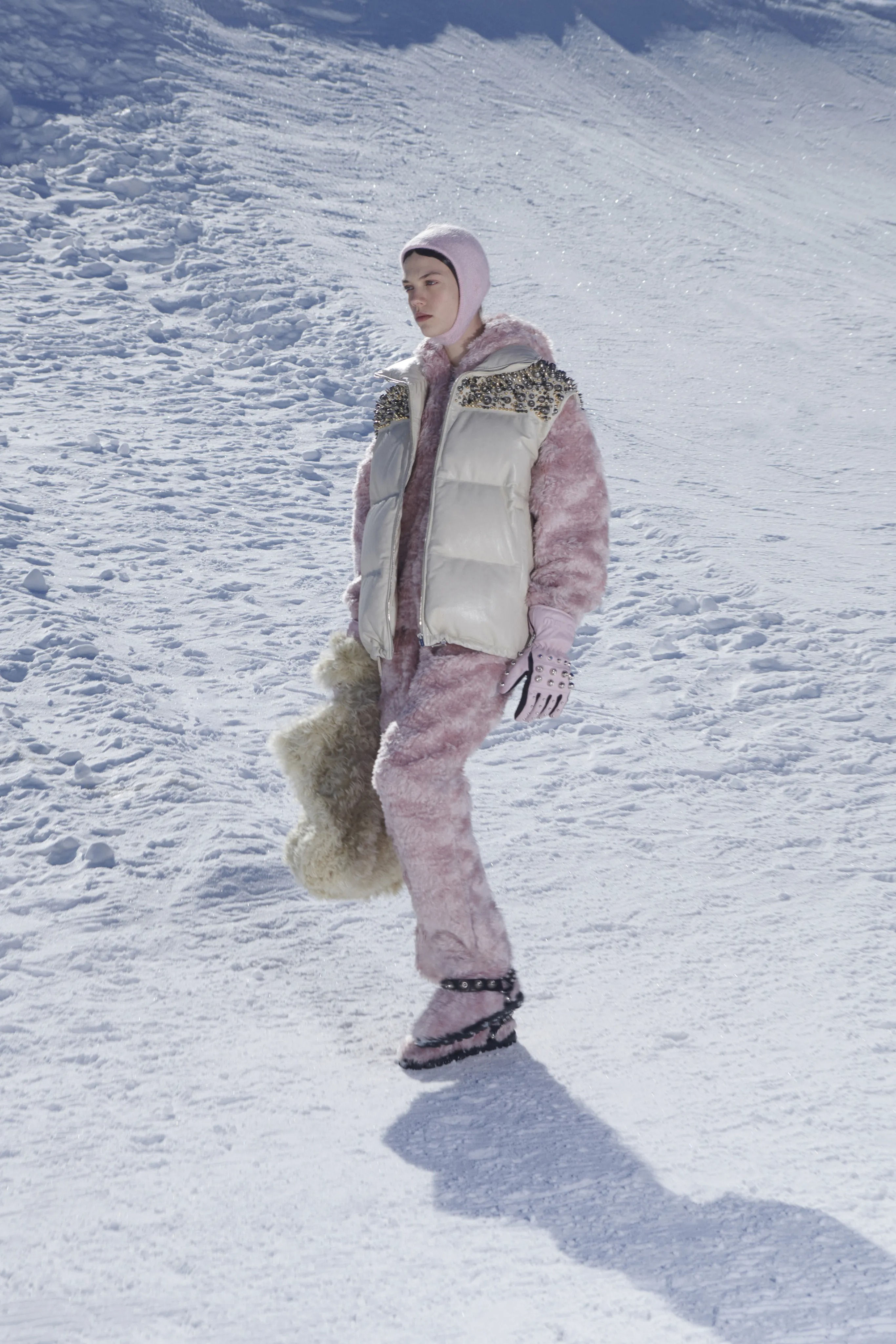 That's certainly the case with the avalanche (!) of skiing references we saw this season. At Chanel, there were faux fur snow boots, monogrammed beanies and hulking shearling jackets — clothes that felt more literal in their intentions than the tweed blanket coats and Fair Isle-inspired knits we saw at Karl Lagerfeld's posthumous AW19 finale, set amid snow-blanketed Alpine chalets erected in the Grand Palais. Meanwhile, Miu Miu had girls parade across a literal, actual mountainside in furry bodysuits, chunky knit balaclavas, and pastel down gilets, coats and culottes.
That's not, of course, to say that you should actually adopt a full Miu Miu look for your first post-Covid escape to the mountains. As Miuccia herself put it in a statement, these were "garments that could challenge perception and context… the pretence of practicality" — so please: don't head for the black run in look 18. Still, there's another point worth noting here with respect to context. While many looks may have drawn heavily on the aesthetic codes of skiwear — particularly in terms of their materiality — there was a measure of hyperbolic camp at play that makes the whole thing feel like a wry parody. Seeing models schlep across the wintry Dolomites in quilted leotards, elbow-length mittens and little else, it felt more like Mrs P. was gently ribbing a haughty fantasy of skiing, rather than fuelling it.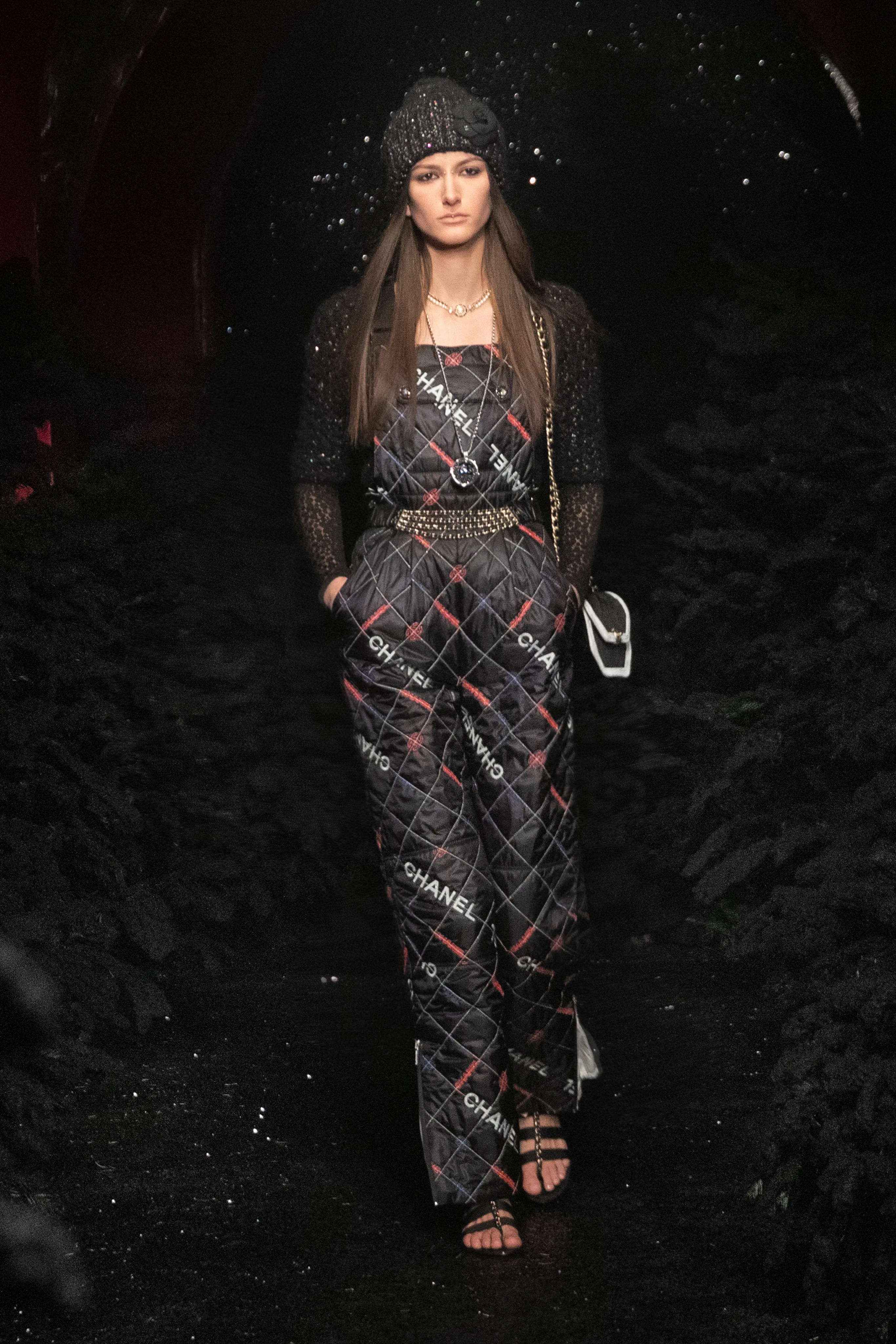 Similar could be said of Chanel, though the approach here is perhaps a little more earnest. Presented at legendary Parisian nightclub Castel, it felt like an attempt to take clothes that are typically only be worn in spaces of extreme social privilege and present them in a context that a wider audience can level with. You heard it here first: quilted Chanel salopettes aren't just for the slopes — they work just as well on your local dancefloor, too!
The examples above speak to a more general truth, though. Today's customer doesn't want to be talked down to, or told to aspire to a 'status' that they have no desire to chase in the first place. It has become increasingly important for fashion brands working today to actively demonstrate self-awareness — to check their privilege, if you like — and show that they know that nothing is too sacred, not even their own 'prestigious' codes.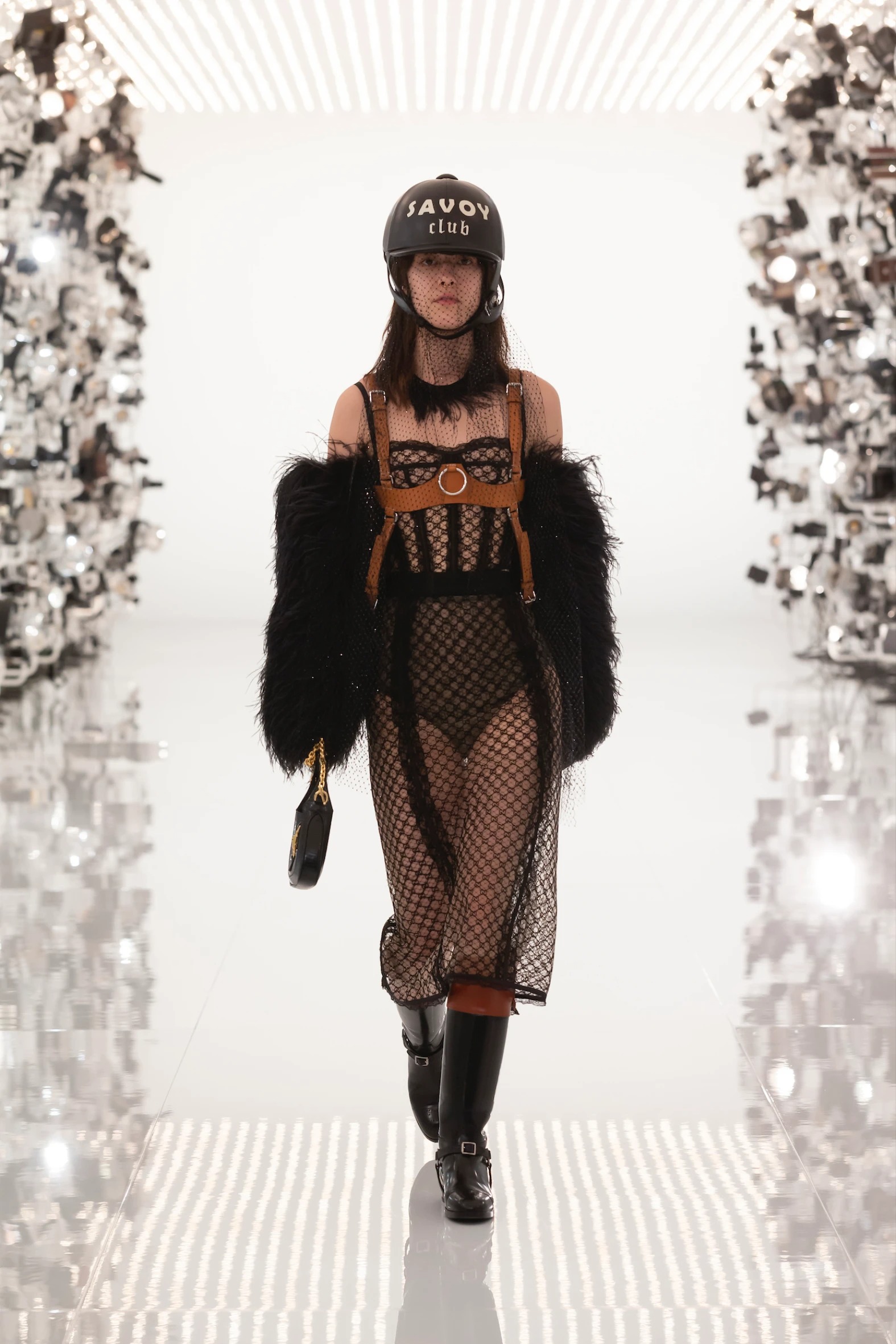 For a masterclass in what this looks like in practice, look no further than Aria, Alessandro Michele's centenary collection for Gucci. While his 'hacking' of Kering stablemate Balenciaga won the lion's share of the attention, one of the collection's most noteworthy throughlines was the designer's irreverent treatment of the house's horseriding heritage. Taking "the equestrian world of Gucci [and] transfiguring it into a fetish cosmogony", read the show notes, Alessandro accessorised his Gucci gang with harnesses, polished riding boots and velvet jockey caps. Their looks nodded to the house's origins as a saddlemaker for the Italian nobility, but as the models cracked whips as they walked, they took on a more subversive edge. Essentially, through simple gestures and effective styling, Gucci subtly prodded at the sacrosanct social codes of which it is a product.
Where they stopped short, though, was truly challenging them. Those that did do that were the independent labels that we hope to one day see rise to their ranks. In GmbH's AW21 collection, Welt am Draht, the Berlin-based brand plied us with the Blade Runner clubbiness you instinctively associate with their home city — think lurid green lycra tops and their trademark double-zip black vegan leather trousers. Where Benjamin Huseby and Serhat Işik made their most powerful argument, though, was in the more discrete pieces like monochrome knit pullovers with Islamic geometric tile patterns, swirl-zippered riding boots worn over jodhpurs and a suite of demi-couture outerwear looks — off-shoulder coats and jackets in heavy black wool and faux fur.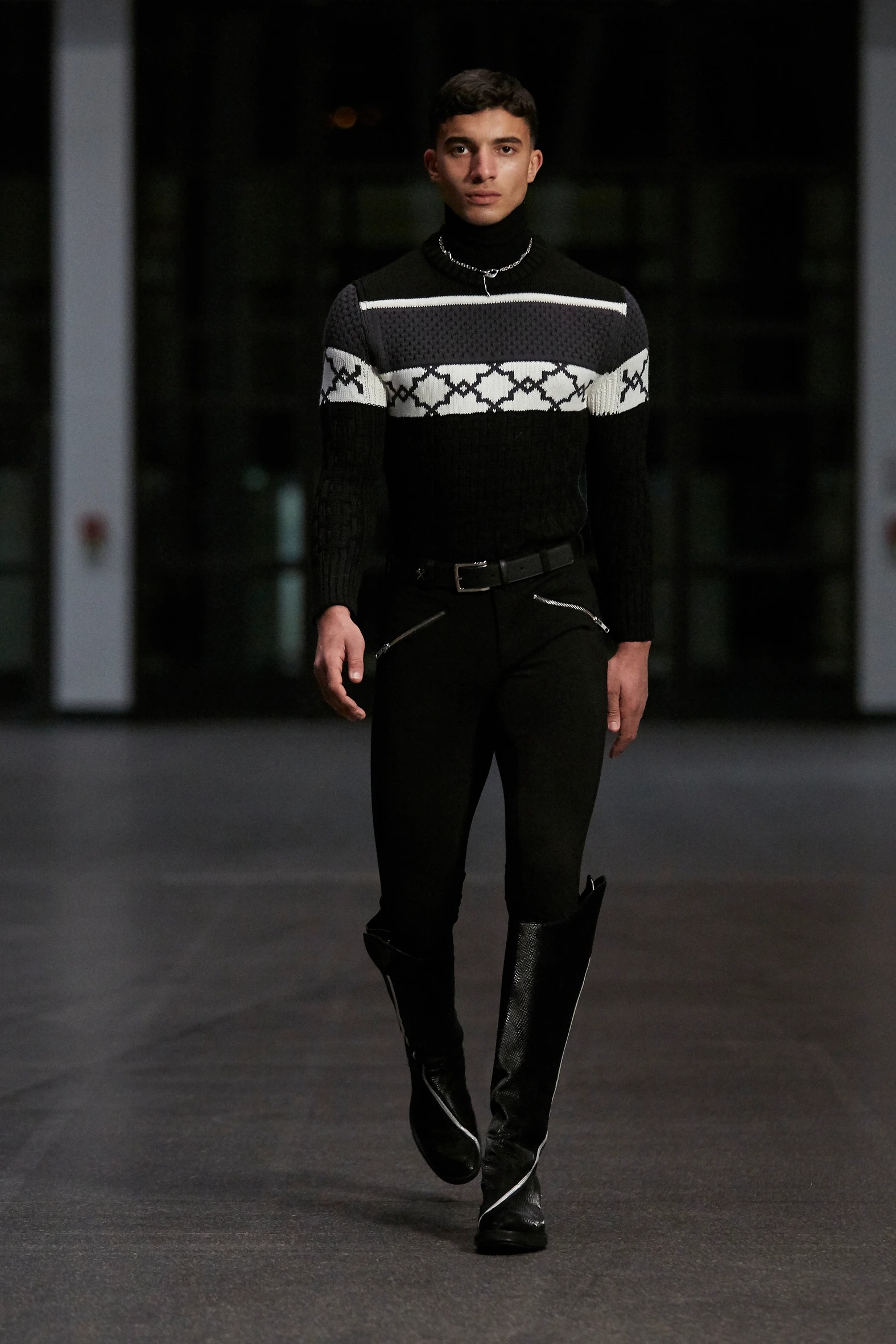 Returning to Miuccia's intention to create "garments that could challenge perception and context", what Benjamin and Serhat did here took that an important step further. Showing the collection exclusively on Brown and Black male bodies, they challenged the contexts — and the people — that we associate specific garments with. They confronted audiences with their implicit biases, asking why certain spaces and "activities like horse riding, hiking or skiing are normally seen as more for bougie, white, rich people," Serhat says, and why we then project those assumptions onto inanimate items of clothing, coding them as objects that only a certain type of person is allowed to wear. There are parallels to be drawn here with what we saw at Gucci — the idea of subjecting tropes of social privilege to a sort of fetishistic power play. In the case of GmbH, though, it feels like there's more at stake. It's about more than playing with codes for the sake of it, or to prove a point: "We wanted to reclaim those spaces, basically," Serhat says.
The easy conclusion to draw here is that the throughline of this trend, like so much fashion, is fantasy — that it reflects an appetite for a harmless bit of posho play-acting at a time when we couldn't be more eager for a sense of escape. On one level, that's probably true. On another, though, it's also worth pointing out that this trend reflects the spirit of its times. We won't pretend that the cost of pieces from any of the brands mentioned here is what you could call accessible, but fashion has evolved beyond the project of simply selling clothing; it's a cultural artefact and engine in its own right. As such, the Courchevel couture we saw on the AW21 runways isn't so much a result of houses simply catering to their since-day-one client bases; rather, it feels more like an attempt to take aesthetic codes that have long felt impossibly out of reach for so many, and make them feel a little closer to home.