7 of Kate Winslet's most iconic outfits
The Titanic actress wore 90s trends like no other.
Photo via Instagram and by Jim Smeal/Ron Galella Collection via Getty Images
The inimitable Kate Winslet has had a career unlike any other Hollywood actress. After becoming both a veritable acting star and an international cultural icon with her role in 90s-defining film Titanic, Kate shunned the Hollywood spotlight by taking on smaller roles in a string of low-key, indie flicks in her native England. Even decades later, the move paid off. Since her star-making turn in Titanic, Kate has gone on to star in many iconic, under-the-radar films including Gondry's Eternal Sunshine of the Spotless Mind, Finding Neverland, gay period drama Ammonite, and, as of recently, HBO miniseries Mare of Easttown. Amid the accolade-earning roles — past and present — the actress has become known for her fashion and memorable 90s style. Here, we celebrate the enigmatic actresses' incomparable career through a selection of some of her most iconic looks.
On a photoshoot, 1996
After playing in a string of television shows and made-for-TV-movies, Kate Winslet was selected as one of 175 hopefuls to star in Peter Jackson's 1994 teen killer biopic Heavenly Creatures. The role — once which Kate would later admit was educational but traumatic — was a career breakthrough for the English actress. As someone who made her debut in the 90s, Kate's style played to the trends of the times. Here, in one of her very first photo sessions, she wears a crop top and floral skater skirt topped with a very 90s leather jacket.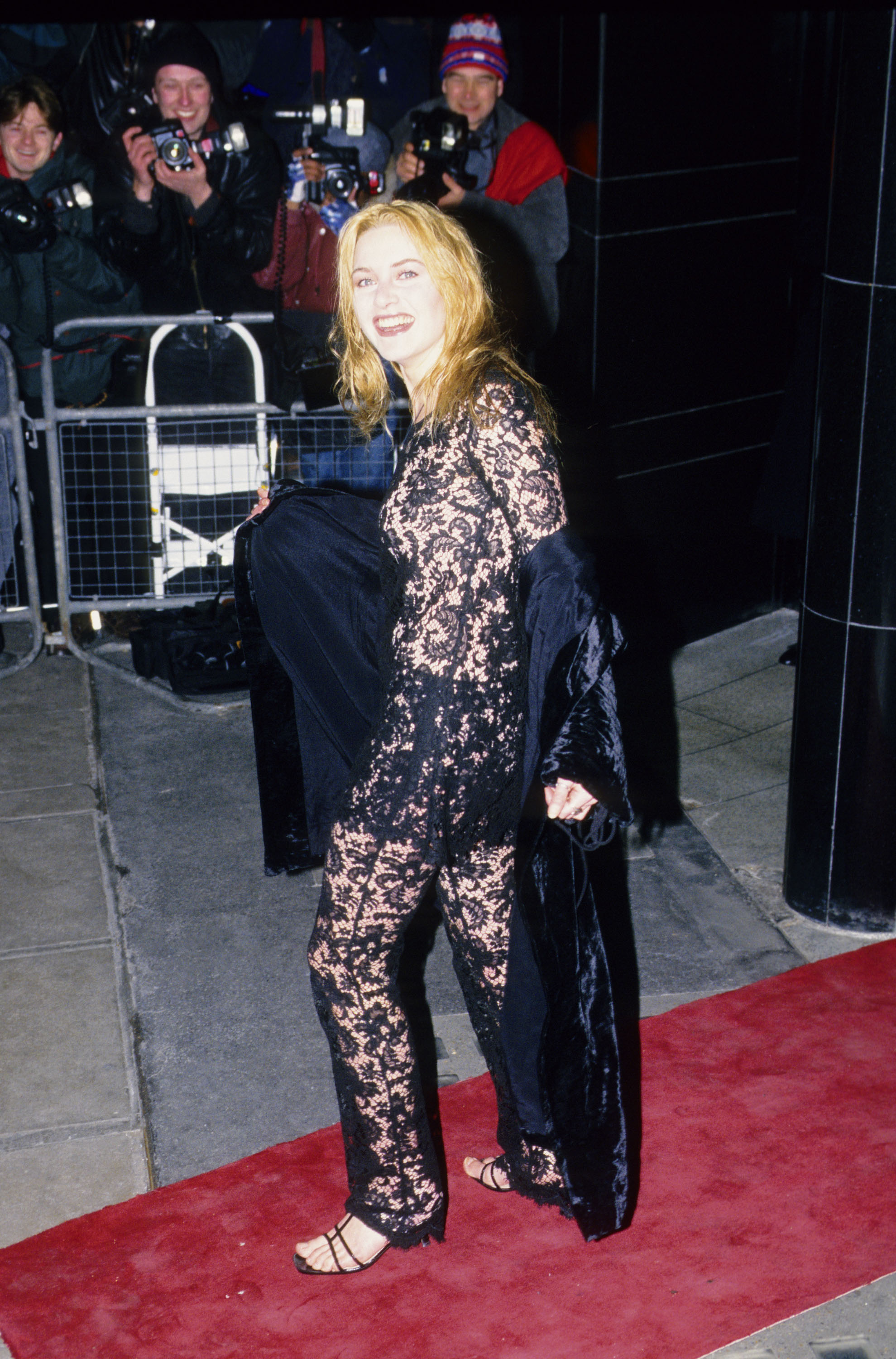 At the premiere of Sense & Sensibility, 1996
Shortly after her turn in Heavenly Creatures, Kate Winslet auditioned for — and won — a starring role in the Emma Thompson-written, Ang Lee-directed adaptation of Jane Austen's Sense & Sensibility. To prepare for the role of sensitive Marianne Dashwood, Kate took up tai chi, piano and reading gothic literature. The hobbies paid off: the following year, Kate received both SAG and BAFTA awards for her role. Here, she wears her own take on the eternal naked dress: a naked jumpsuit, crafted from lace and paired with a sumptuous velvet cloak and era-appropriate cage sandals.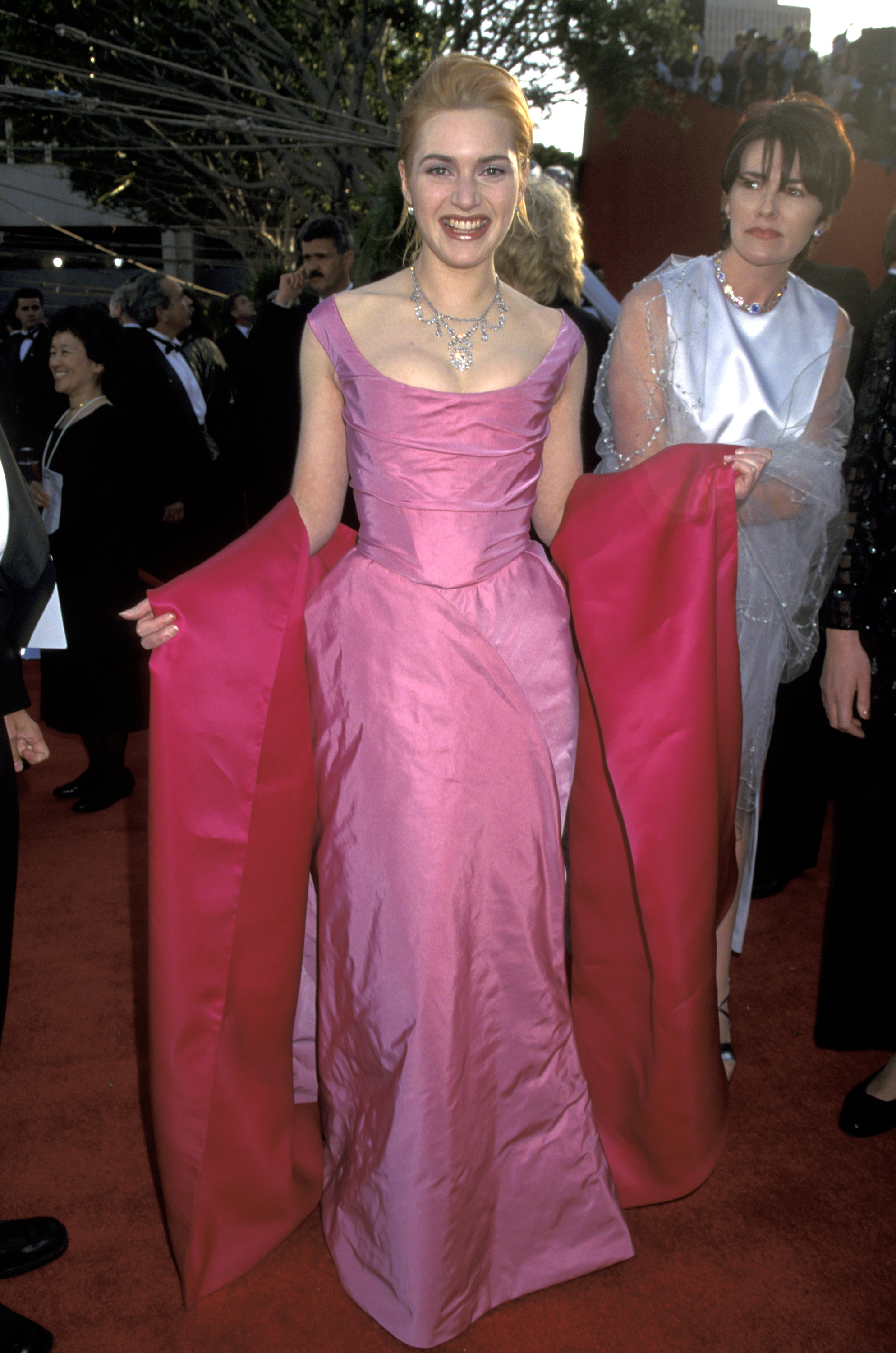 At the Academy Awards, 1996
After winning the Best Supporting Actress award at the BAFTAs for her role in Sense & Sensibility, Kate crossed the pond for an Academy Award nomination for the same role. The then 21-year-old actress walked the event's iconic red carpet wearing a super-sweet bubblegum pink taffeta gown with matching-but-not-matching fuchsia shawl. Kate might not have won that night's Oscar, but she definitely won our hearts with this look.
On a photo shoot, circa 1996
While Kate's red carpet style was ultra feminine in bustiered gowns, lace and pink hues, her off-duty style was much more androgynous. Off-screen, whether attending photo sessions or getting snapped by the paparazzi, Kate opted for shirting, classic T-shirts, bootcut trousers, Chelsea boots, and loads and loads of leather. In fact, the very 90s fabric became the actress' style calling card throughout the decade. Here, she's photographed wearing a sporty zip-up sweater beneath one of her many leather jackets.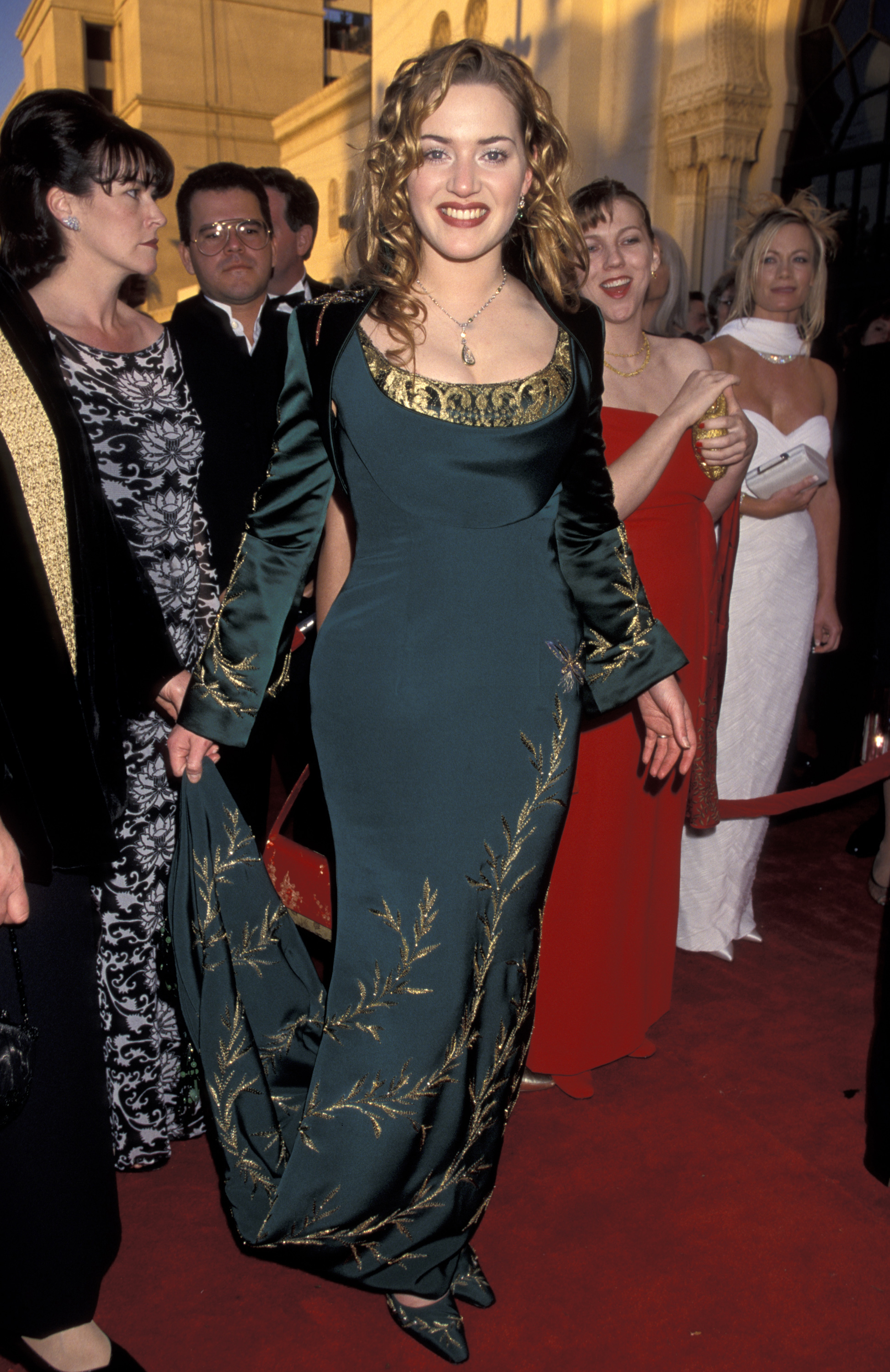 At the Academy Awards, 1998
In 1997, Kate was cast in her star-making — and most iconic — role, starring as Rose DeWitt Bukater in James Cameron's Titanic. During the filming of the romantic epic — alongside era heartthrob Leonardo DiCaprio — Kate almost drowned and suffered hypothermia in some of the film's extremely waterlogged scenes. The hardships, however, paid off. Titanic became not only the highest-grossing film at the time but, arguably, the most iconic film of the 90s. Kate was even nominated for Best Actress at the Oscars. Here, she attends the awards ceremony in a very Renaissance gown in deep green satin. The dress is similar in silhouette to the Edwardian garb Kate wore as Rose in Titanic, all square-necklined and empire-waisted.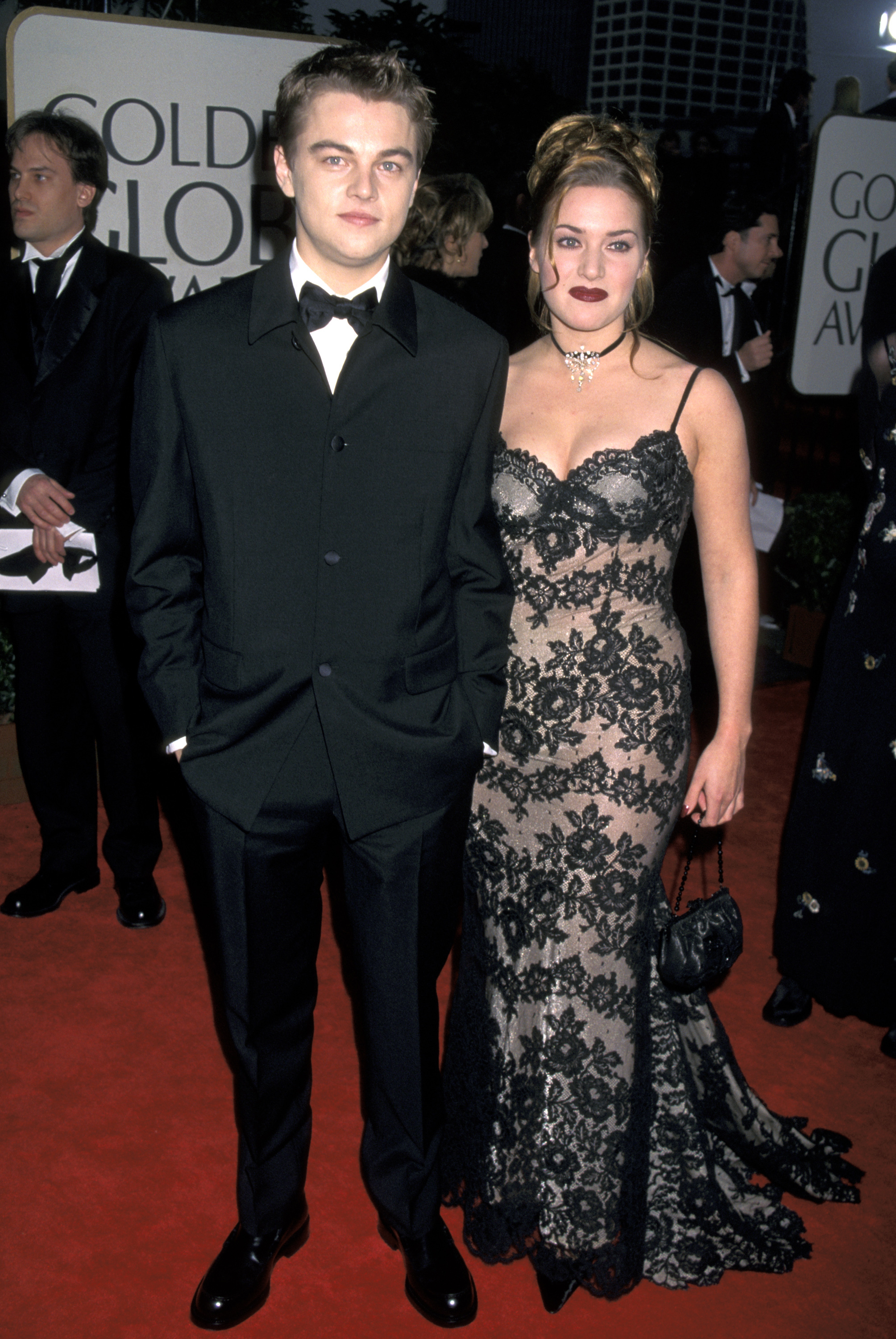 At the Golden Globes, 1998
Oh, Kate and Leo! The young Hollywood duo met on the set of Titanic where they starred as one of Hollywood's most iconic — and ill-fated — couples, Jack and Rose. Since starring together in the 1997 epic, the two went on to play opposite in 2008's Revolutionary Road, directed by Kate's then-husband Sam Mendes. The duo have maintained such a strong friendship over the years, that Kate asked Leo to walk her down the aisle during her wedding to Ned RocknRoll in 2012. Bringing it back to the Titanic era, here, the co-stars and friends take the 1998 Golden Globes red carpet together, Kate wearing a bustier-ed lace gown with a very 90s choker and burgundy lip.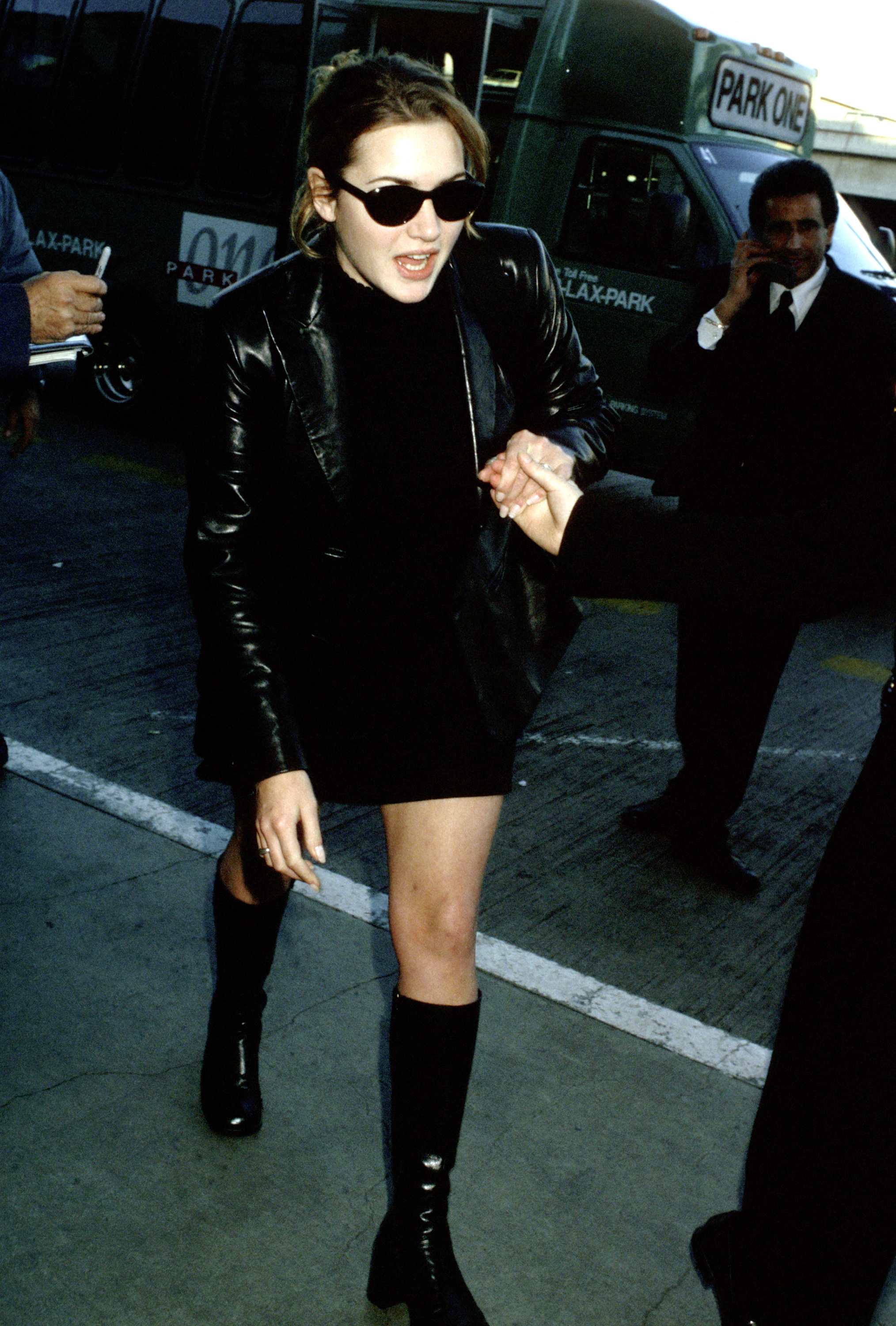 At LAX, 1998
Despite the Hollywood attention Kate garnered from her role in Titanic, Kate avoided taking parts in the era's blockbuster films. Instead, the English actress decided to hone her craft further, taking roles in indie flicks including Jane Campion's Holy Smoke! and low-budget flick Hideous Kinky in 1998. Kate's choosiness has served her well, however, garnering her utterly iconic roles like Clementine Kruczynski in 2004 Gondry-Kaufman indie Eternal Sunshine of the Spotless Mind. Here, Kate avoids the paparazzi at LAX, following her tabloid-making turn in Titanic, wearing knee-high boots and mini dress paired with her ever-present leather jacket. An extremely 90s fit, perfect for an actress whose star-making role defined the decade.
Tagged: