Phoebe Philo is coming back to fashion
After a three-year hiatus, fashion's most-adored cult designer is making a comeback with her own label. We unpack what the announcement means.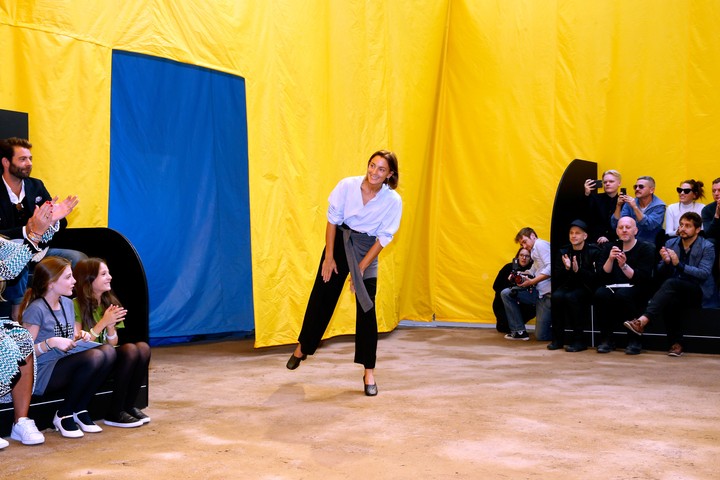 Photo by Bertrand Rindoff Petroff/Getty Images
The football may not have come home last night, but this morning fashion fans woke up to news that something even better is: Phoebe Philo. That's right, fashion's patron saint of understated, intellectual chic is returning after a three-year hiatus since leaving Celine, where she staged one of the most memorable house revivals in recent fashion history.
In that time, rumours have swirled non-stop around her return, tying her to head honcho positions at everywhere from Burberry to Alaïa to Chanel. After a ten-year stint at Celine, and her five-year run at the helm of Chloe, though, she'll be creating under her own name this time around, launching an eponymous label focussed on "clothing and accessories rooted in exceptional quality and design" out of London. "Being in my studio and making once again has been both exciting and incredibly fulfilling," said the British designer in a statement. "I am very much looking forward to being back in touch with my audience and people everywhere. To be independent, to govern and experiment on my own terms is hugely significant to me."
Though Phoebe will be in the driving seat, she will be supported by her old Celine bosses at LVMH, who will hold a minority stake in the label. Given the era-defining turnaround that she pulled off in her last job, it's hardly a surprise that they're keen to support her long-awaited comeback. Indeed, as Phoebe notes herself, she's enjoyed "a very constructive and creative working relationship" with fashion's largest conglomerate over the years, "so, it is a natural progression for us to reconnect on this new project."
The sentiment was echoed by Bernard Arnault, who dubbed Phoebe "one of the most talented designers of our time", before expressing his excitement at joining forces with Phoebe on her forthcoming "entrepreneurial venture".
Of course, while the announcement is in and of itself enough to get tongues across the industry wagging, it naturally invites speculation around what to expect from the return of one of the industry's most cultishly adored creatives. Though many Philophiles will be holding their breath for the maturity, poise and refined sensuality that defined her tenure at Celine, it bears noting that Phoebe is a designer who has demonstrated incredible versatility in her time. Her Chloe, for example, with its bandeau chiffon dresses and wedged heels, exhibited an extroverted, party-girl sexiness that often goes overlooked in current conversations around the designer, which often lean heavily on her more recent work. As Vanessa Friedman put it this morning in a piece for The New York Times, "it would be a mistake to assume that Ms. Philo's return to fashion will look anything like her past."
Also, for all the fond nostalgia for her most celebrated work, it's also worth contemplating the contemporary relevance of the look that Phoebe Philo pioneered at Celine. While she may have led the wave of intentionally discreet luxury that swept the industry in the wake of the 2008 recession, her comeback arrives at a time when a general obsession with aggressive branding -- and co-branding -- has never been quite as ubiquitous or complex in its nature (cf. Gucci, Balenciaga and even Hedi-era Celine).
That said, with what little we do know so far about the forthcoming label, there are clues to suggest that Phoebe Philo will define itself against the current zeitgeist, perhaps with a mind for shifting its course. For one thing, there's the venture's logo -- the designer's name spelled out in bold seriffed capital letters. Granted, obsessing over a logo's font may seem a little needless, but it's something worth acknowledging at a time when brands have fallen head over heels for the clinical, corporate cool of san-serif typefaces. It's a trend that was catalysed by Saint Laurent and Balenciaga's rebrands, with brands like Burberry, Berluti and The Kooples following suit soon after.
Of course, any thoughts around how this will translate to the work Phoebe will put out under her own name are little but conjecture -- and will remain so until January 2022, the date when further details are due to be revealed. One thing the announcement does address, though, is one of the most frequently asked questions since her exit from her Celine: who will cater to the hungry audience of Philophiles she left behind? Time and again, numerous answers have been provided, from labels headed up by her former disciples at the French house -- Peter Do, Rokh, and Daniel Lee's Bottega Veneta -- to other brands similarly committed to offering a discreet vision of luxury like Proenza Schouler and The Row. Today, though, we received the answer we've all long been waiting for -- that no one is better placed to fill the shoes that Phoebe Philo left behind than Phoebe Philo herself.
Tagged: