Take A Daytrip made a playlist that'll expand your musical horizons
The producer duo behind Lil Nas X's forthcoming album 'MONTERO' share the songs that made them see music in a whole new light.
|
06 September 2021, 10:07am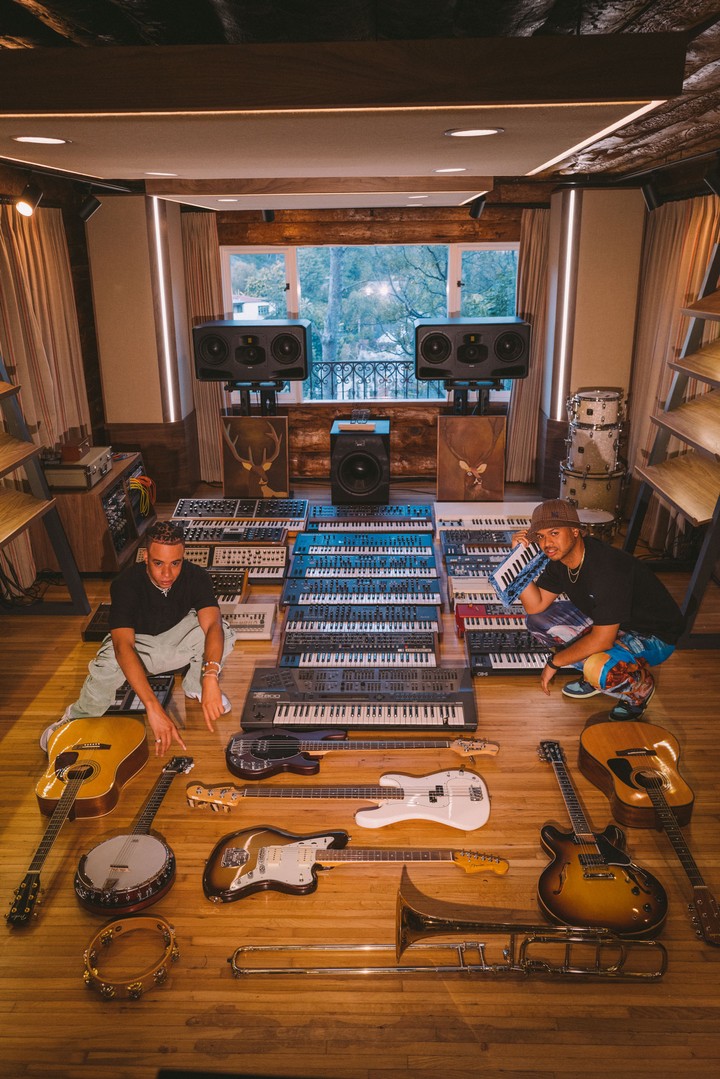 Photography David Dickenson
In 2021, it's near-impossible to work your way through an i-D playlist without coming across a track produced by Take A Daytrip. The young producer duo — friends David Biral and Denzel Baptiste — have so far worked with artists including Lil Nas X, James Blake, Dua Lipa, C. Tangana, AJ Tracey, Miley Cyrus, Serpentwithfeet, TNT Tez and Higher Brothers. Not to mention the fact that they were behind Nas X's smash hits "Panini", "Montero (Call Me By Your Name)" and "Industry Baby" -- co-produced with Kanye West. Naturally, Nas recruited them to exec produce the whole of his debut album (out 17 September). In fact, he just declared them "the dads" of his album baby during his headline-grabbing pregnancy shoot, before coming to the conclusion that they're probably more like uncles.

With a hell of a lot more exciting projects in the pipeline, we wanted an insight into Take A Daytrip's musical world. And so, we asked them to curate a playlist especially for i-D. "We made this playlist to represent one of our biggest goals: making the world feel smaller through music," they tell us. "It's a journey across borders and through time -- a playlist of things that excite us around the world. Regardless of genre, era or origin, these are songs that have helped us expand our musical horizons and made us look at our craft through different lenses."
Dive into the playlist below and read on as Take A Daytrip tell us all about their studio space, the movie score they're working on, and the goal that has remained a constant throughout their career.
Do you have a favourite track from your selection?
David: Probably "Waters of Nazareth" or "Devil In A New Dress" -- such foundational tracks for us from an energy and sound design perspective, and both have played such an important piece in our lives.
Is there anything on there that you think might surprise people?
Denzel: Maybe the Milton Nascimento record or the DJ Lycox's "Domingo Abençado". Both those just transport you to totally different head spaces. Both of those songs are incredible.
What's be the ultimate situation for people to listen to this playlist in
Denzel: On a long road trip across borders.
You say that one of your biggest goals is to make the world feel smaller through music… how so?
Denzel: Even before we met in college and started sharing music we loved with each other, we were always digging for music from different places outside our hometowns. Through the internet, through bands coming through where we lived and playing shows, we both realised that music and creativity could take us anywhere we wanted to go. As we got older, we started exploring different genres, meeting artists and producers who lived in different scenes and made different sounds. Every new person and new song showed us that so many people across the world are all aiming for the same things: trying to make people feel and trying to make memories for themselves.
David: We want to make the music that brings people together and shows kids across the world that creation and collaboration can take you anywhere you dream of.
Talk us through the general vibe of the Daytrip Cabin… what does it typically sound, smell and feel like in there?
David: We want the cabin to feel like a total escape from everything around it. The studio's not that far from the main bustle of the city, but when you're in the cabin you feel super secluded from it all. When people walk in, most of the time you just hear silence and the echo of your own footsteps off the wood. We keep candles lit, probably Diptyque. We've got beanbags, mad couches, rugs, just places to sit and be comfortable -- we could record an artist lying down and make it work. The whole goal is creating maximum comfort for every artist that passes through those doors, giving them the clarity they need to make whatever they want.
Did you ever, in your wildest dreams, expect to get a co-production credit with Kanye?
Denzel: We always hoped and dreamed for it, even though you never can predict what's gonna happen or how. There's nothing as surreal as sharing ideas with one of your idols, even in the moment as you're doing it. So we dreamed it and hoped it would happen like this on a record that turned so many heads.
What does the next few months look like for you guys? Presumably the stream of exciting projects isn't about to end any time soon?
David: Wrapping up the Nas X album has been a huge priority and we're always making new music with him, so that's a constant. We just produced a James Blake record, we have records coming from Kane Brown, some more Cudi stuff, and we're working on a soundtrack for a film we're super excited about.
Denzel: Working with this new artist Midwxst that we're super excited about (who's also on this playlist). We're also developing an artist in our NØ IDLE crew named Zae Lay Low. Whole lot of music coming from them and then some.
Finally, what do you now know about the music industry that you wish you had known when you were starting out?
David: To be honest nothing has surprised us because we found the importance of building a team right at the beginning. That's been the most important piece to our careers. It's prepared us to be able to handle everything that has come our way.