Rare Yayoi Kusama artworks are up for auction in New York
In May 2021, a number of the legendary Japanese artist's earliest unseen works will be available for sale at Bonhams auction house.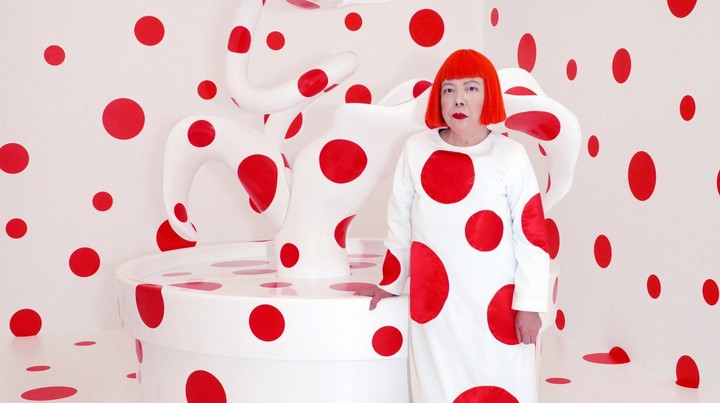 Yayoi Kusama, With All My Love for the Tulips, I Pray Forever, 2012.
Contemporary artheads, listen up! Bonhams auction house in New York has just announced the sale of a rare collection of paintings and drawings by Yayoi Kusama. The expressionist master, best known for her extremely Instagrammable "Infinity Room" installations and her famous affinity for polka dots, originally gifted the pieces to her longtime friend and doctor, the late Dr Teruo Hirose.

When Yayoi first came to New York -- in need of medical aid but in possession of little money -- she consulted Dr Hirose. In the 1960s, Dr Hirose was one of just two Japanese-speaking doctors in Manhattan; he had a positive reputation within the community as a skilled physician and surgeon, known to offer affordable or free medical care out of hours to Japanese patients. He was known to show particular generosity to struggling artists. In return for his kindness towards her, Yayoi gave the doctor a number of the works she had brought with her from Japan as a thank you.
A press statement from Bonhams confirms that the collection is "without doubt, the rarest group of Kusama works from the late 1950s and 1960 to ever come to auction." Consisting of three paintings and eight works on paper, the sale will include two of Kusama's River paintings (Mississippi River and Hudson River), which feature early examples of her famous "Infinity Net" motif, and are expected to fetch somewhere between $3 million and $5 million each. The rarity of these items stems from the artist's use of the colour red in them, as nearly all of Yayoi's other pieces from this period are painted in white.

Untitled, the final of the three paintings "is a very early example of Kusama combining vibrant colours and the scale of the work lends an immersive quality, something that foreshadows the artist's later work such as her Infinity Rooms." The eight paper works are said to "[lay] the aesthetic groundwork for her career to follow", teasing the prevalence of polka dots and flowers as central motifs of the artist's practice.

The works will be shown in New York from April 30 to May 12, exhibited in public for the first time ever. For a sneak peek at the previously unseen collection, you can view the online auction listing here.

Follow i-D on Instagram and TikTok for more art news.
Tagged: