Courtesy Comme des Garçons
Comme des Garçons SS21 took Minnie Mouse to hell
Presented in Comme's red-lit Tokyo headquarters, Rei Kawakubo brought "illogical combinations and juxtapositions" to timeless couture silhouettes.
Courtesy Comme des Garçons
Rei Kawakubo staged her Comme des Garçons SS21 show in Tokyo this week, remaining on her home turf along with the rest of the family. Staged in a room bathed in blood-red light at CdG HQ, there was something ominous about this season's show, something a bit hellish and dark. Yet the collection itself unexpectedly riffed on something altogether more twee… couture! Rei is probably the last fashion designer you'd expect to go down that route, but you can't say she doesn't keep us on our toes. This is a designer who prefers synthetics to silk, plastic to leather.
Couture is rooted in history and tradition, while Comme is always an exploration of the right here, right now. Rei explained in a statement that she wanted to disrupt the spirit of couture with "unexpected fabrics" and "illogical combinations and juxtapositions". There were 50s-style bodice ballgowns, albeit shrouded in plastic with giant jersey pockets, 'New Look'-style skirts taken to Kawukaboan extremes (ideal for social distancing), and even the occasional bow and clutched-at-the-chest opera coat.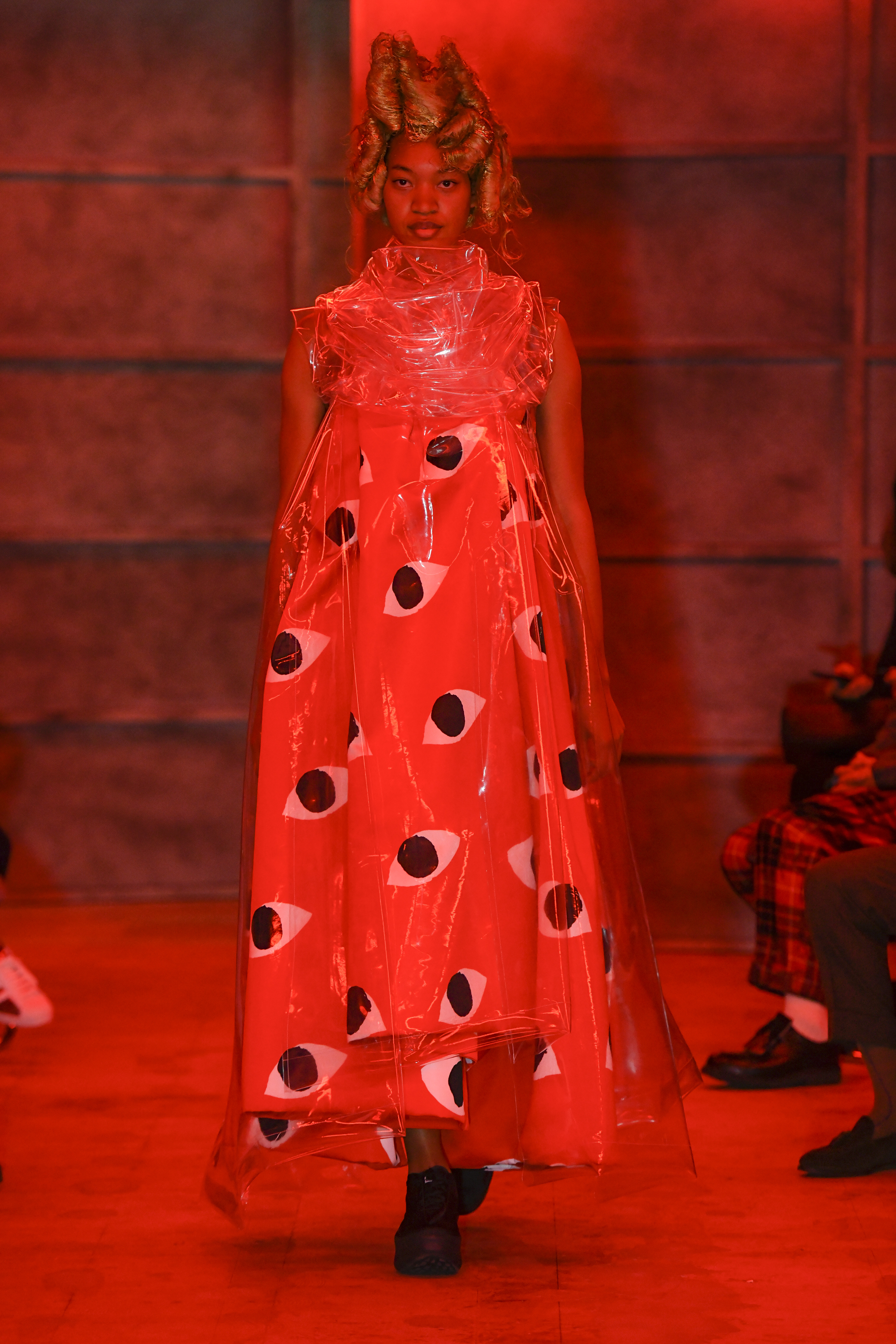 You can understand why she would want to tackle couture given that it is so ripe for disruption. It's arguably the height of froufrou femininity, often an outmoded fantasy of frothy dresses. So, Rei set out to subvert it, perhaps even satirise it — the Rococo wigs certainly helped. Minnie Mouse even made an appearance, her iconic polka dots blown up to extremes, and her face appearing on a series of graffiti-emblazoned Disney prints. Yes, really! Perhaps that's just Rei's sense of humour, a witty dig at the Disneyfication of fashion and its obsession with fairy-tale princesses and couture brides. These were clothes that would scare away crowds of kids at Disneyworld.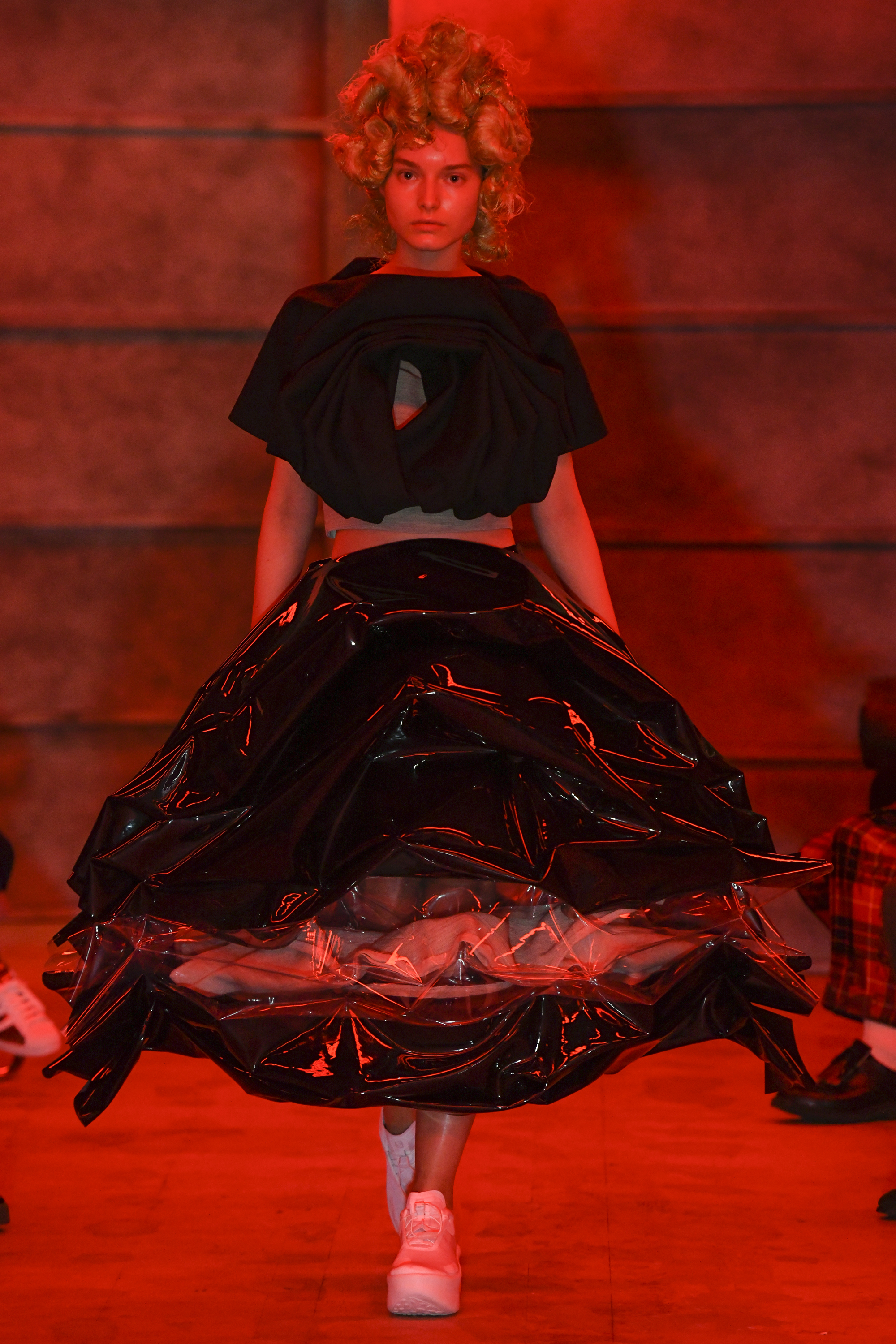 Then again, perhaps it's an ode to childlike innocence, a nod to the soothing comfort of nostalgia. Another print was a Bearbrick teddy bear — the ultimate symbol of childhood security in times of angst and anxiety. According to the notes, the show's official theme was 'dissonance'. In the words of the designer herself: "The human brain always looks for harmony and logic. When logic is denied, when there is dissonance, a powerful moment is created which leads you to feel an inner turmoil and tension that can lead to finding positive change and progress."
Even the most advanced fashion spectators could sit for hours attempting to decipher those words, pondering the meaning of any given Comme des Garçons show. Essentially, Rei wants you to embrace the crazy, chaotic moment we're living in and charge forward into the future. But a Comme des Garçons show is always dissonant, just as elusive and enigmatic as Rei herself. They leave you asking questions, teetering on the edge of neuroses. Were those plastic shrouds a reference to PPE? Were those eye motifs from the CdG Play logo a symbol of all-seeing wokeness? Was the red lighting a warning sign of danger? Who knows! Well, Rei does. But she's not going to tell us more, so we'll just have to speculate.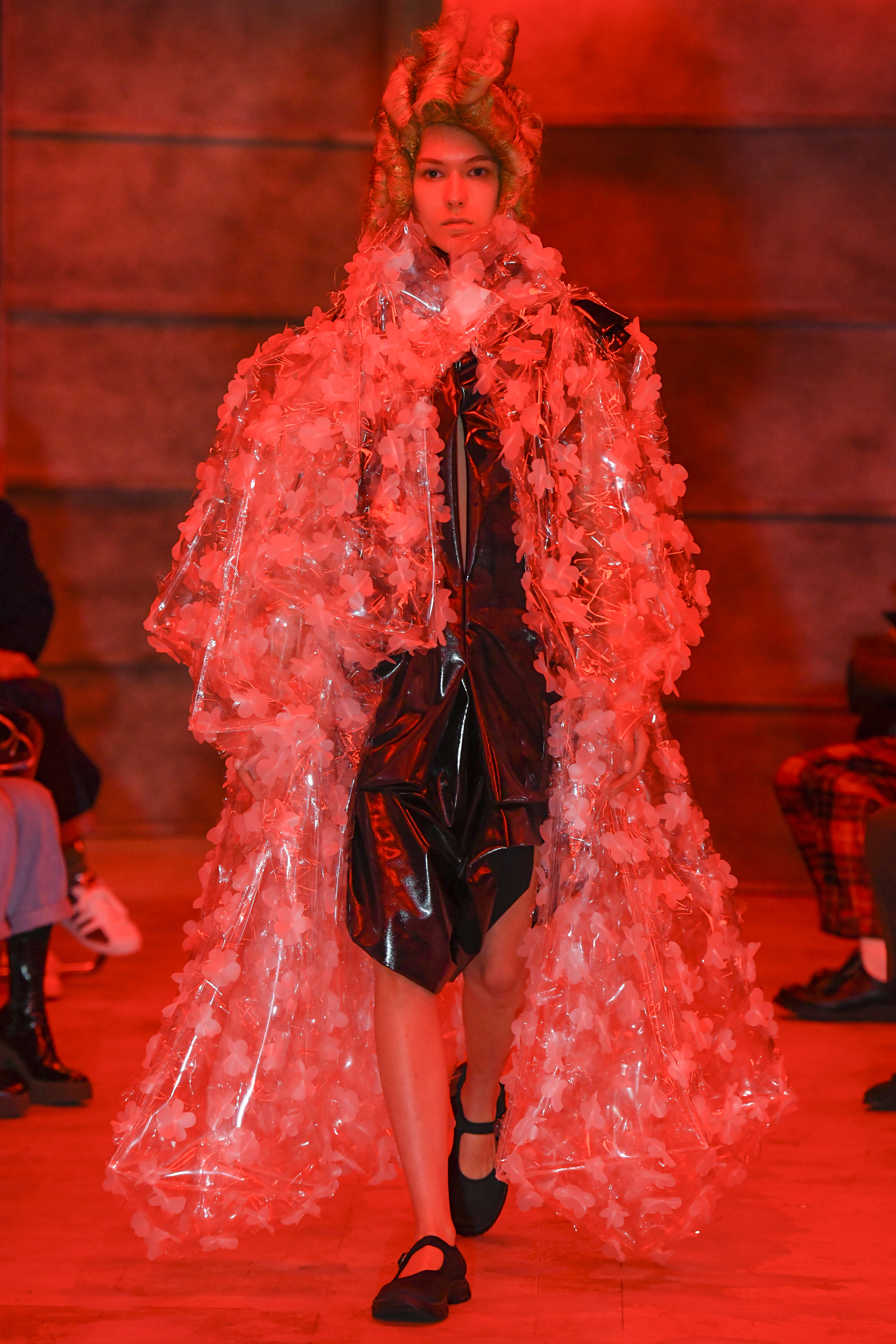 In an interview with Cathy Horyn for New York Magazine earlier this year, the iconic designer had strong words about the differences in the way that modern men and women dress. "[Men] try to express themselves through what they wear. They don't mind working extra hours to get money to buy the clothes they like," she said. "On the contrary, I am not so sure about women. I don't know whether they don't know what they want or they don't like to look strong. I feel frustrated with them. They think they can fight quietly? I want them to express themselves through what they wear and fight against this world." In armour-like clothes like these, dramatic and dark, chaotic and confusing — their strength is clear. Minnie Mouse has never looked more ready for battle.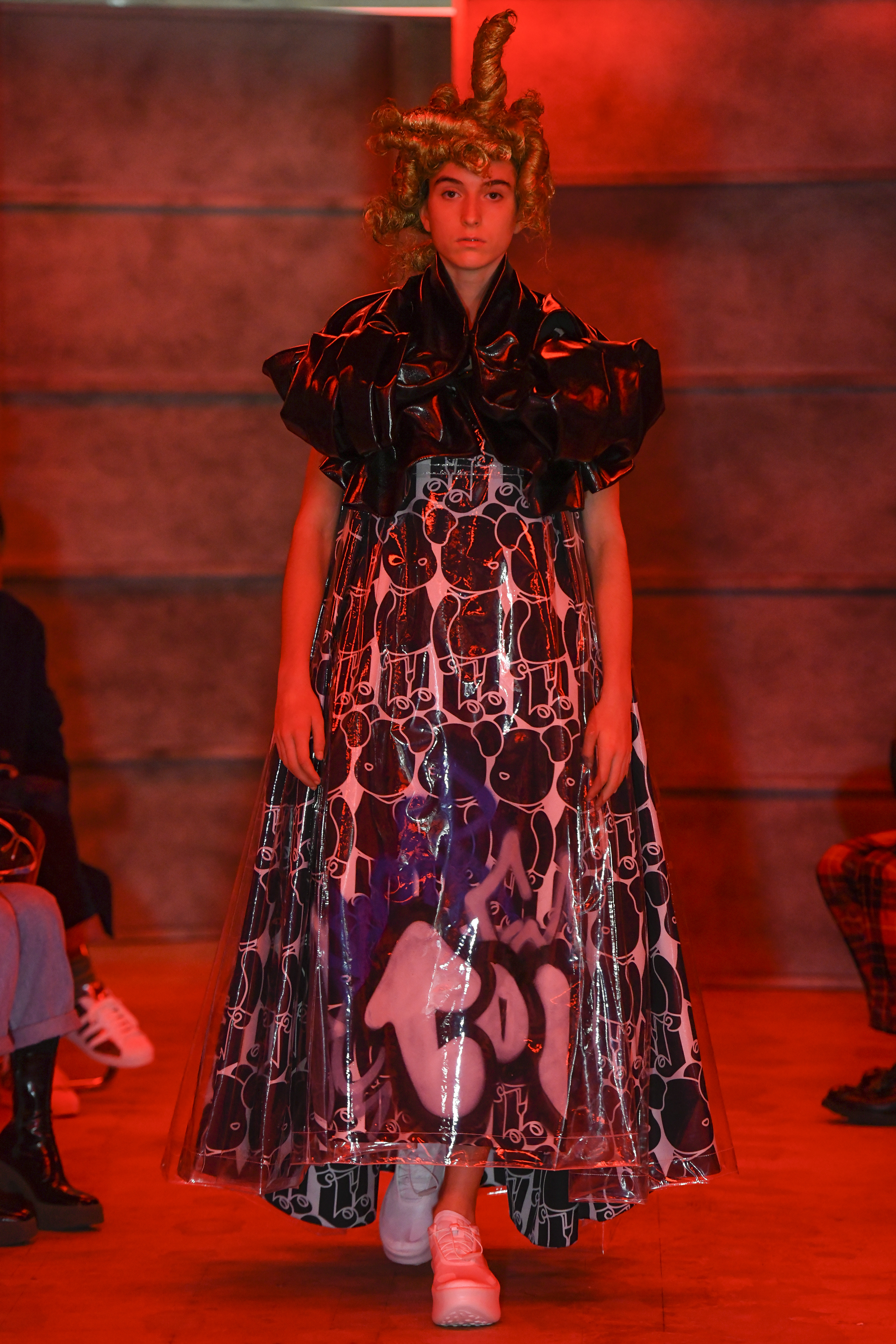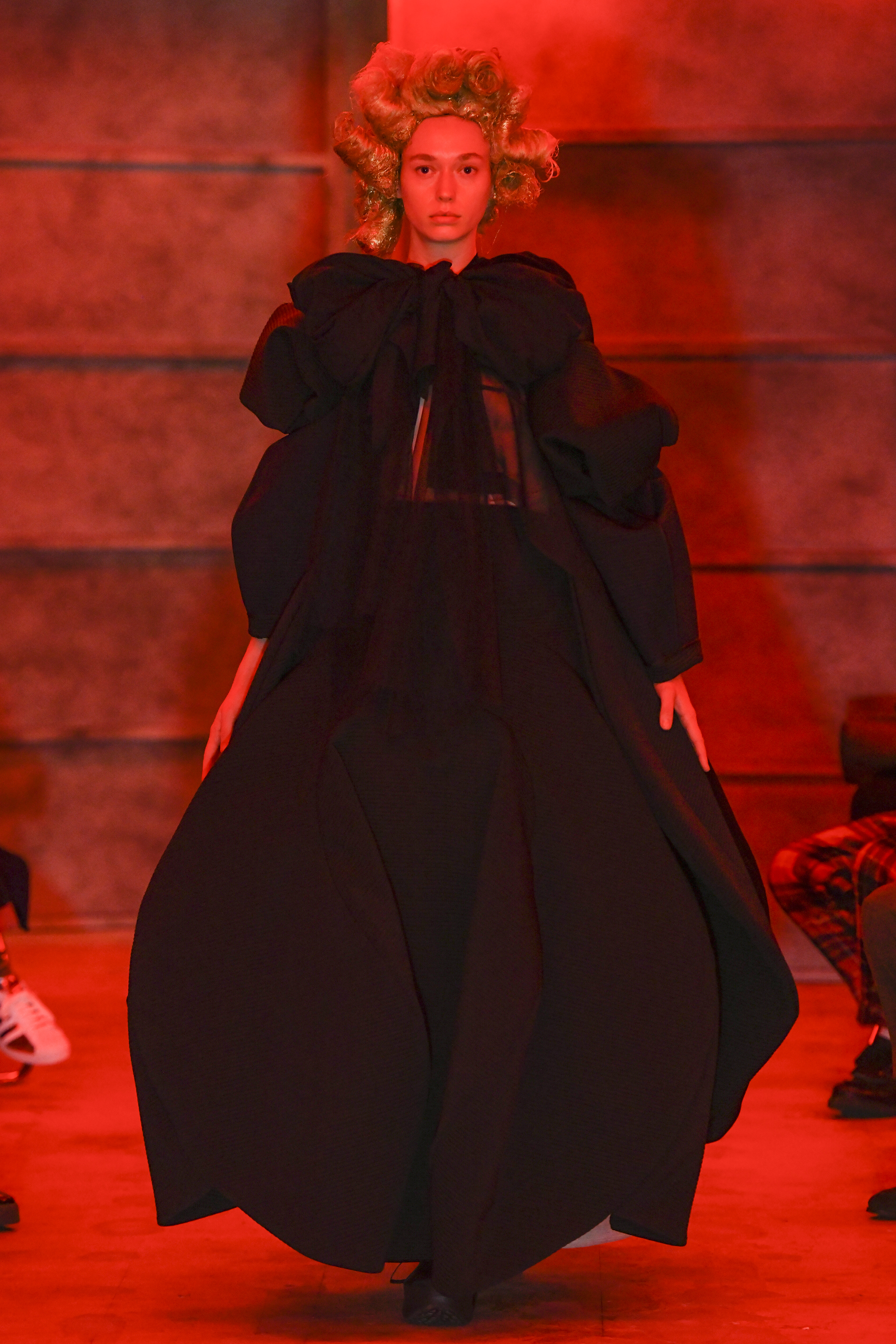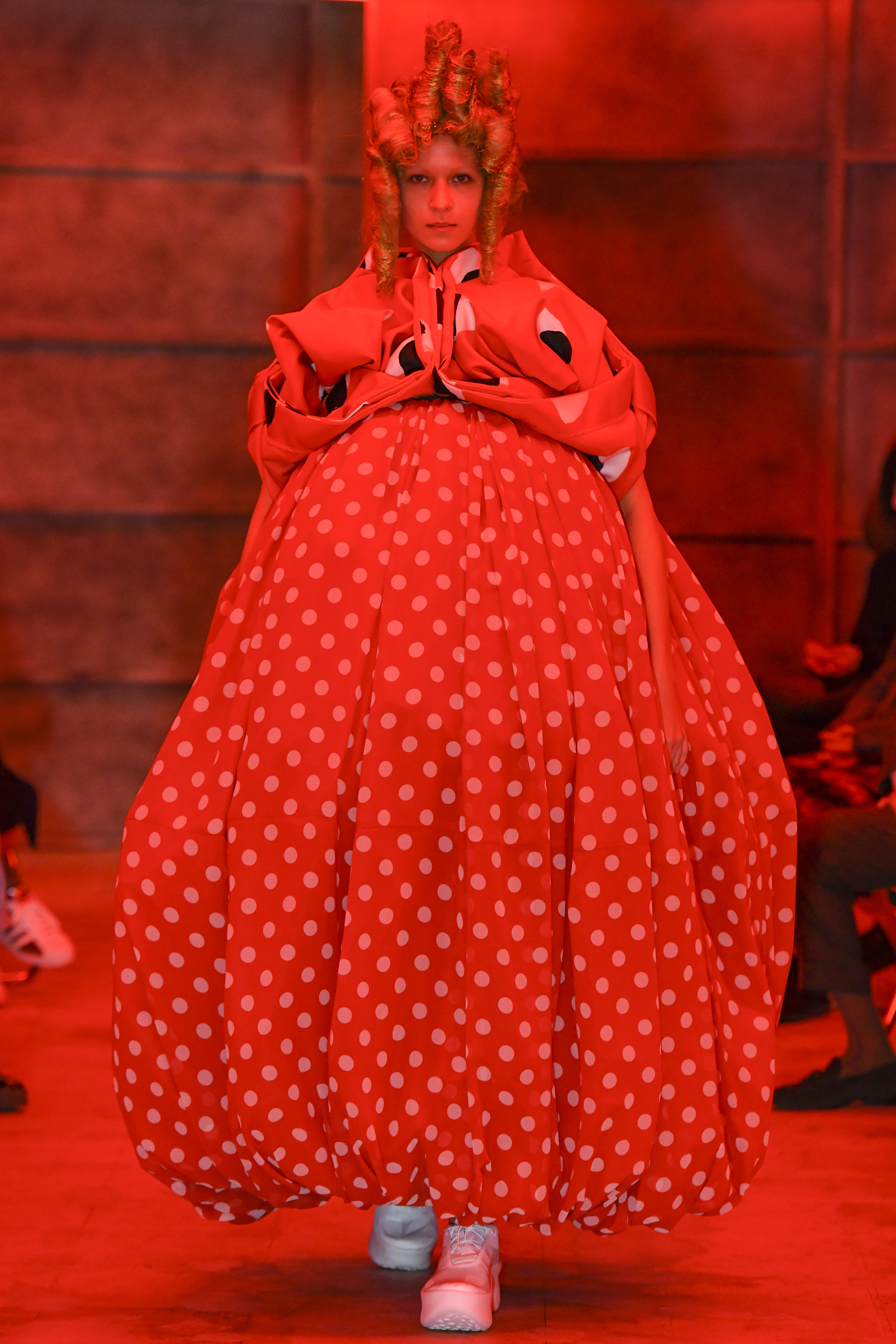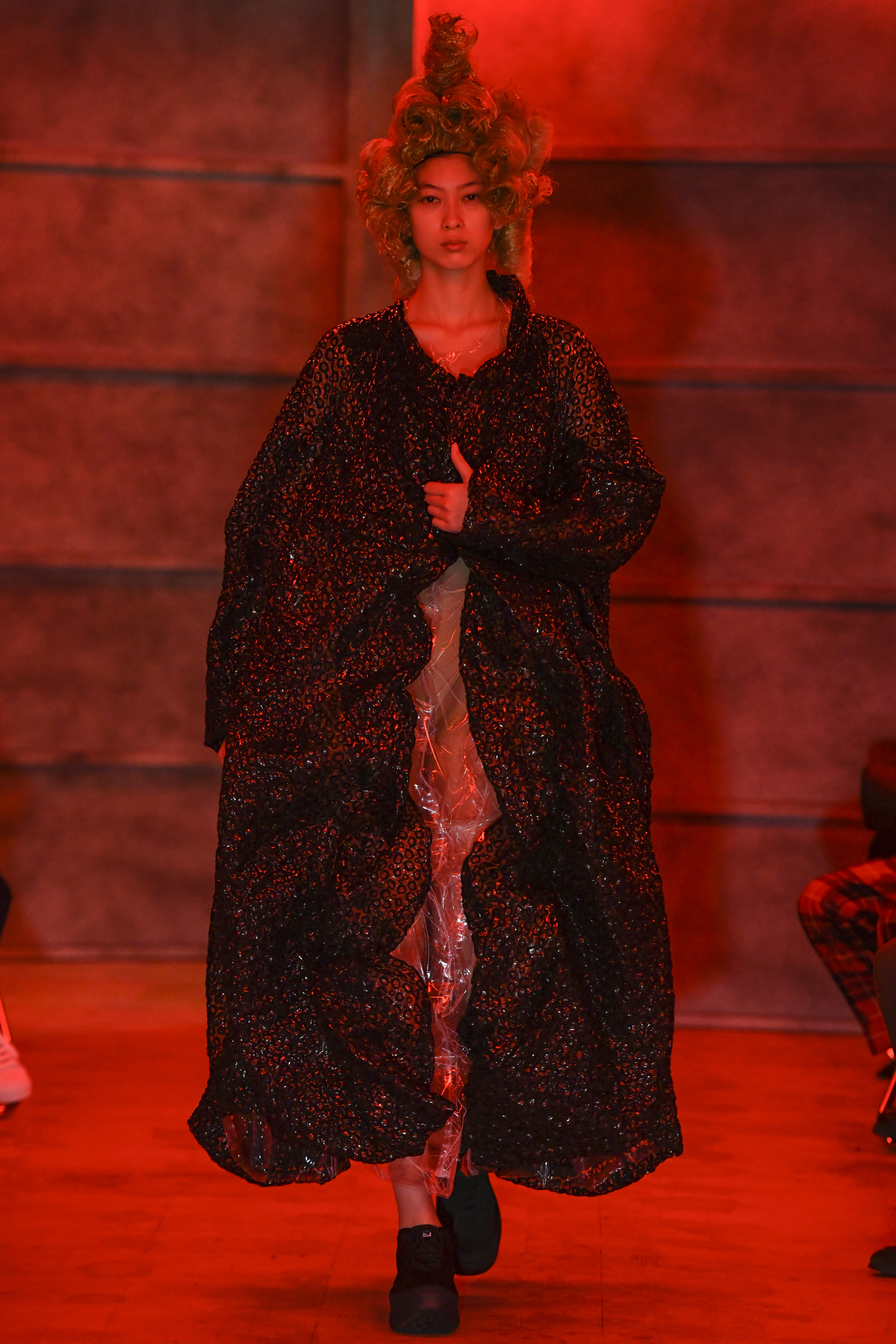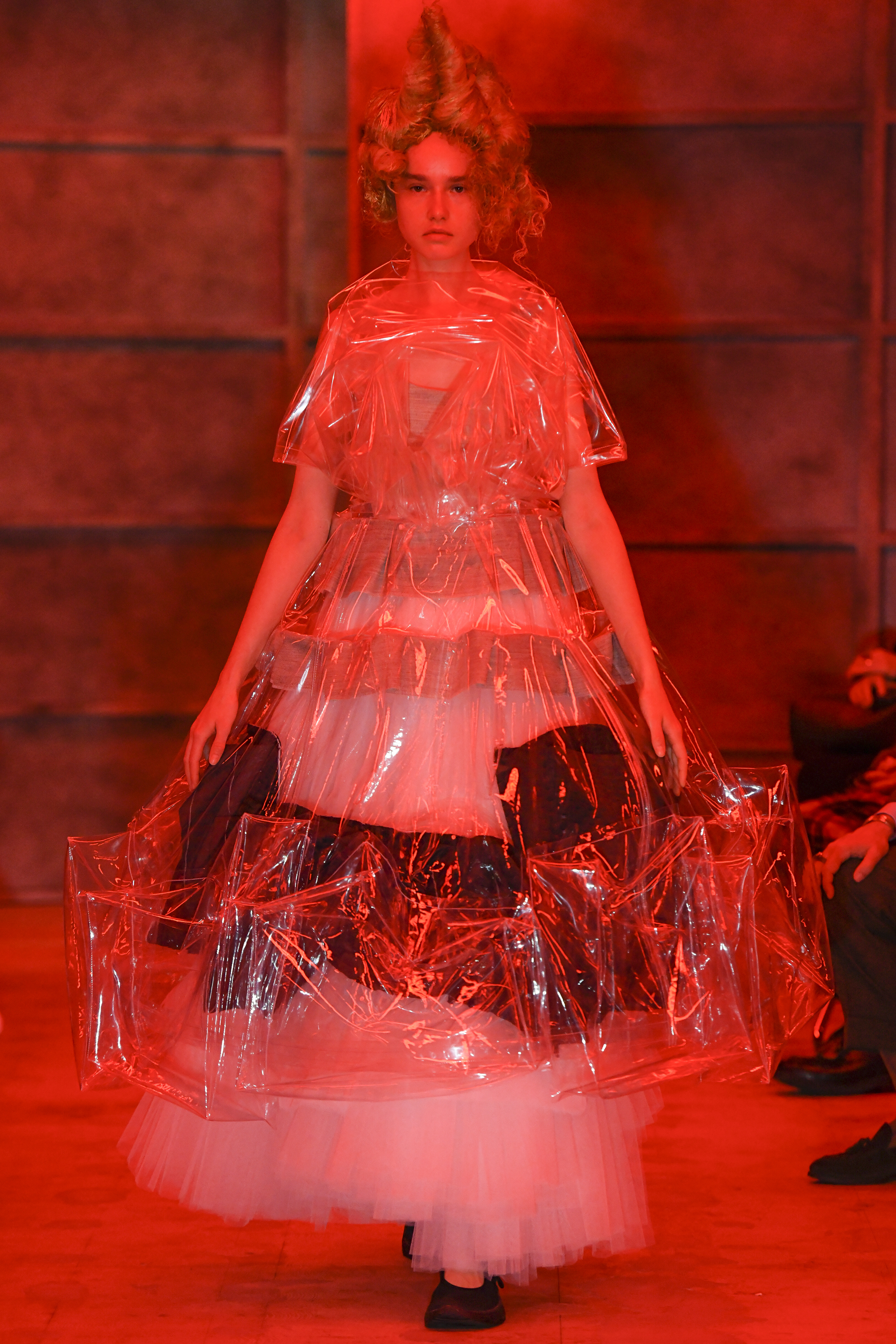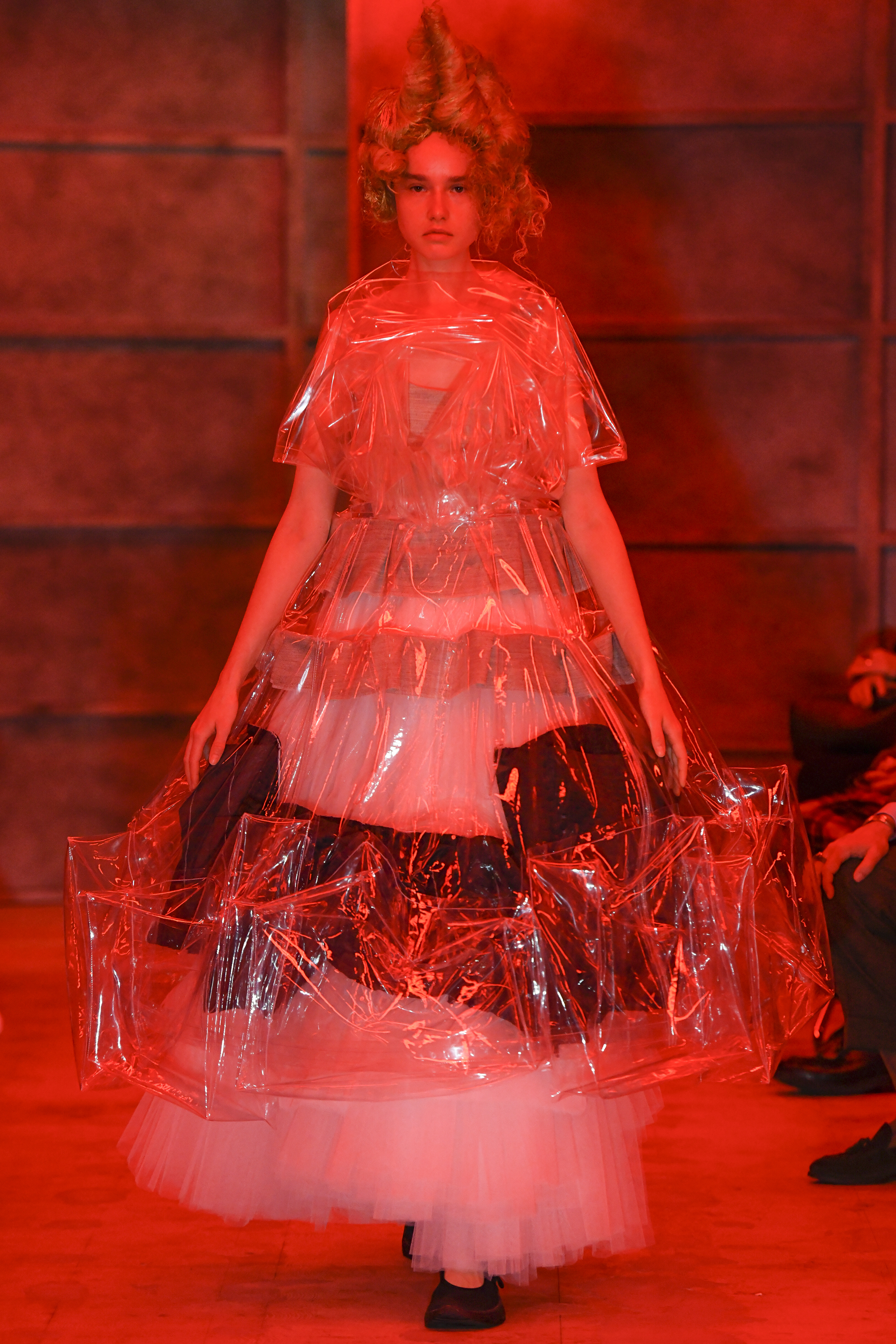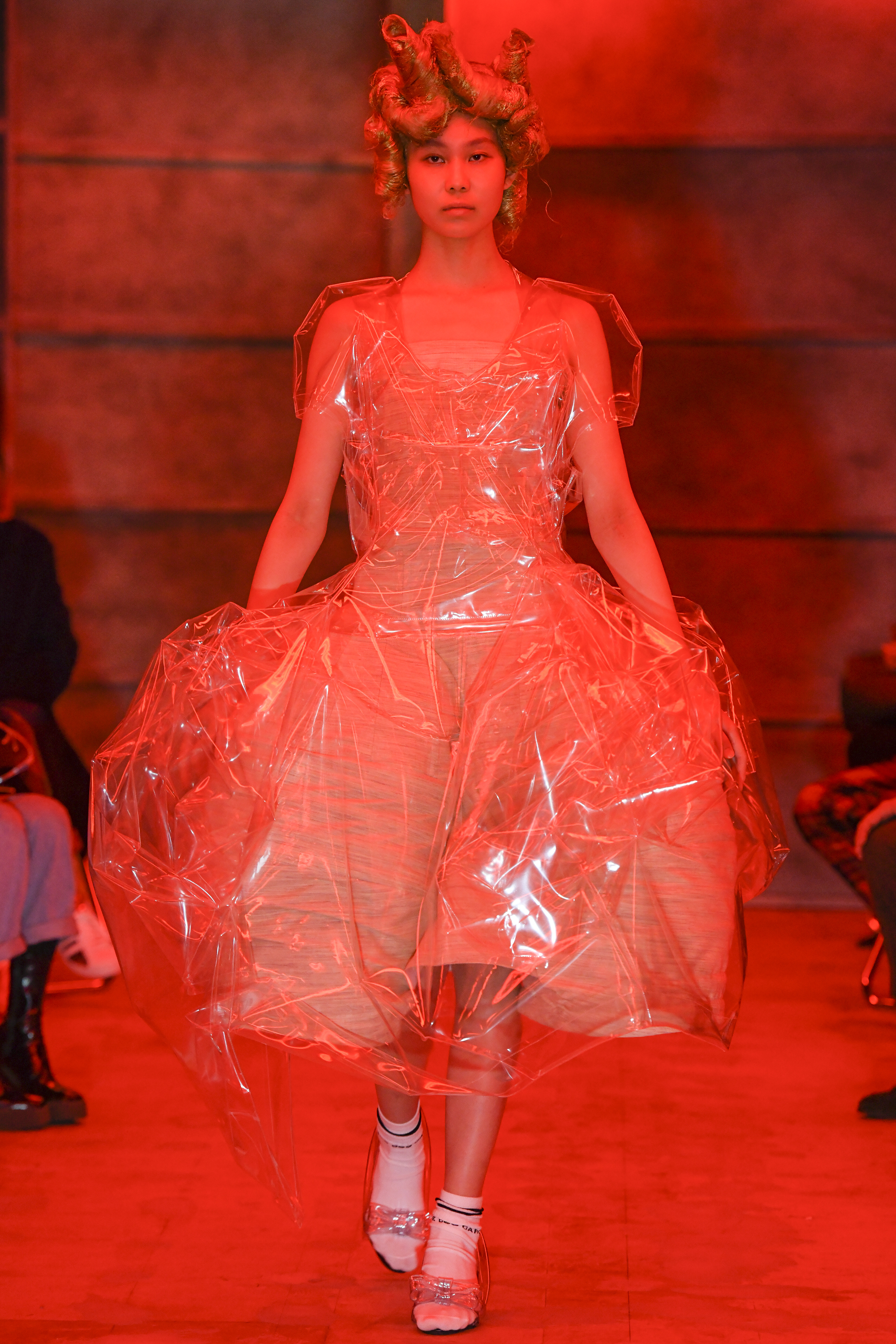 Tagged: