What's with fashion's obsession with boobs right now?
A call for bodily emancipation or an erotically charged transgression? We flesh out one of SS22's boldest trends.
Every few seasons, fashion seems to fixate on a particular thing. Whether it's a motif, an era, or a fabric, there's often a theme that recurs in so many collections that it feels inescapable. Think florals for spring, ski vibes for fall – very big for AW21 – or logomania for, well, anytime of the year. As the SS22 season of shows comes to a close, there's one obsession in particular that stands out: breasts. Knitted, gold-plated, inflatable, embroidered — if you can think of it, then the odds are that a brand out there has done it over the last couple of seasons. The real question, though, is why?
To begin unpacking this fleshy fixation, we first need to zoom out and adopt a bird's eye perspective on things. Somewhere in between the endless micro-trends generated (and decimated) by TikTok, there's a handful of perennial themes that exert a strong influence on what fashion looks like today. One of the most prominent that we've seen in recent seasons is — you guessed it — Y2K. The taste for baby tees, low-rise everything, wide-legged jeans, cargos, tiny shoulder bags and more has reached fever pitch this season. Look no further than Miu Miu's 00s, Britney-esque micro-skirts! Or literally anything by Blumarine! On top of the Y2K resurgence, there's also a collective desire for post-pandemic liberation in the air — an insatiable appetite for sexy, skin-baring, going out out clothes — which, coupled with Gen Z's keenness for body positivity and looser outlook on gender, has helped to create the perfect storm for designers to get closer to the body… literally.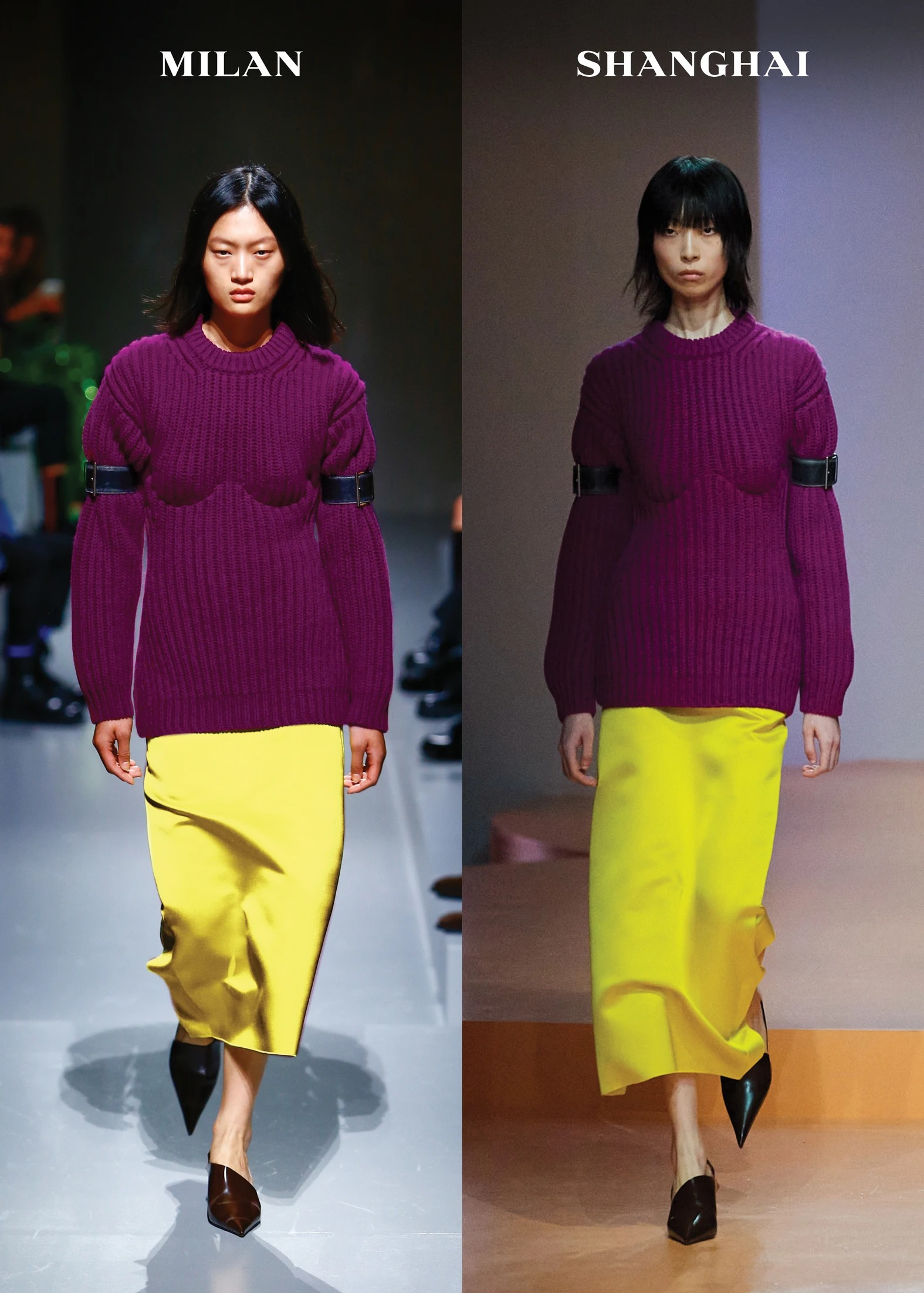 What is intriguing about this obsession with boobs, though, is the various ways in which we've seen it play out. While some designers have intentionally highlighted their wearer's bosom (see: this season's Prada underwire bra sweaters, Simone Rocha's open-flap see-through bras, or KNWLS' underbust corsets), others have taken a more figurative approach. Carly Mark at Puppets and Puppets printed an image of breasts on a ribbed knit top; Joseph Altuzarra closed his show with a cascading white gown worn beneath a top with crocheted breasts; and Pieter Mulier's debut at Alaïa included bodycon knit dresses with breast panels referencing the iconic Alaïa AW91 leopard catsuit Naomi once wore down the runway. Over at Schiaparelli, meanwhile, Daniel Roseberry showed denim and inflatable Gaultier-inspired cone bras, 3D flower breasts and a heavily ornamented sequin jacket with embellished breasts and golden nipples — one of them pierced with a barbell.
This fixation isn't exactly new, though. In fact, fashion's fascination with breasts has a pretty extensive historical track record. Cultural and fashion historian Laura McLaws Helms offers Claude Lalanne's breast plate cast from 60s supermodel Veruschka's bust for Yves Saint Laurent AW69, Oskar Gustin's sculpted metal bras for Ungaro between 1968 and 1979, Jacques Cassia's 1970s metal-breast-plated jersey gowns, Sonia Rykiel's playful work, and Vivienne Westwood and Malcolm McLaren's 1977 iconic Tits t-shirt for Seditionaries, as some notable examples.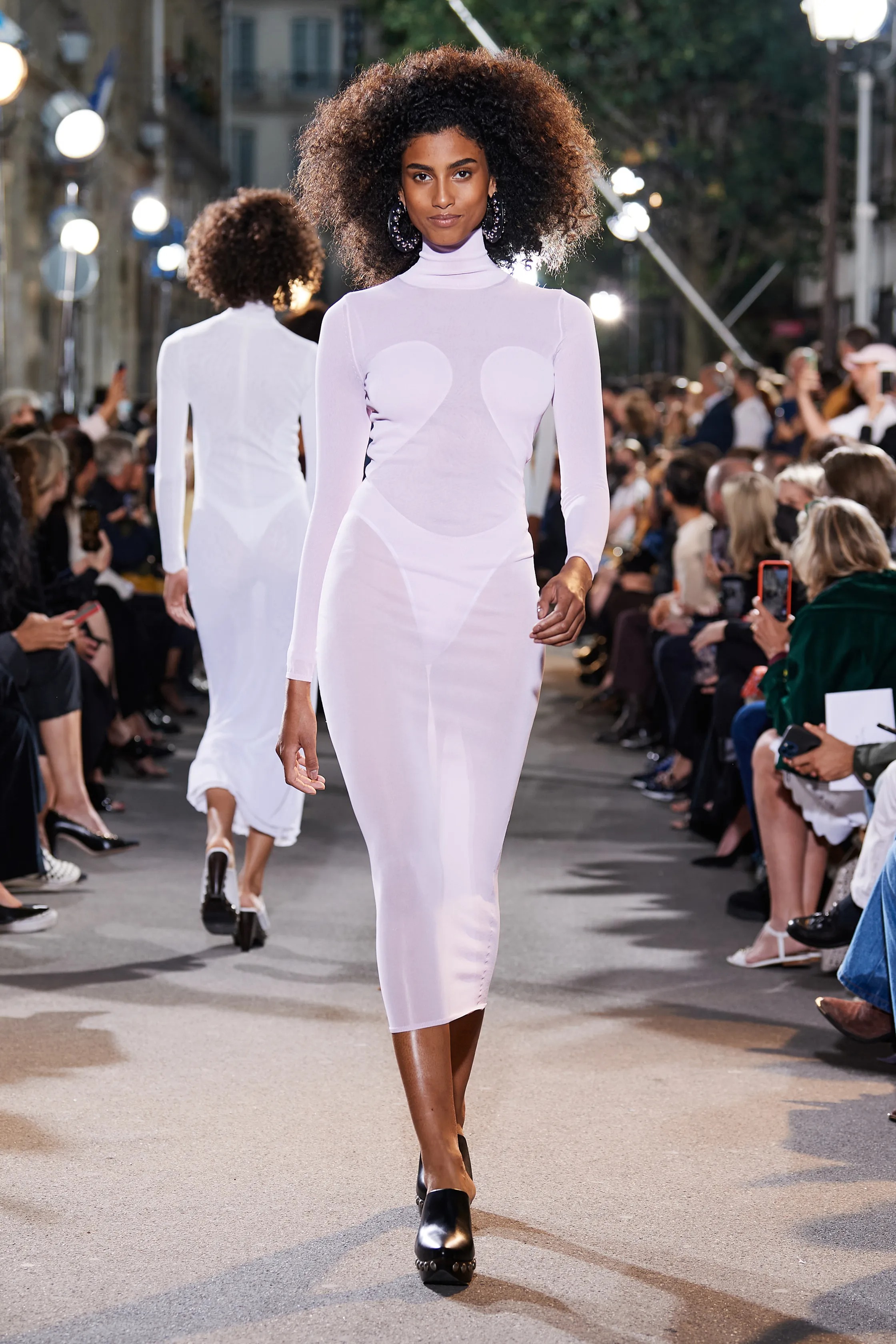 "I feel like the nucleus of this nod to breasts stems from a place of reference," says stylist and brand consultant Amanda Murray. "We are residing in a deeply referential age in fashion," she adds, noting that "each year it's heightened by this industry's increasing dependence on the archives for inspiration". In fact, Murray argues that the "trend" never really went away, citing SS17 as another big season for breasts, mentioning Anthony Vaccarello's debut for Saint Laurent and Phoebe Philo's Céline Yves Klein body print dresses and the heavily-referenced white dresses with a black spider-web crocheted bust.
Of course, in conversations around such anatomically referential design, questions that often come up are: Who's designing it? And how does that affect how we perceive the end result? Indeed, while there's a wide range of designers working with breast motifs today, a fact that might surprise people is that most of them are men. Looking back on past periods of "mammillary prominence" in fashion, Laura notes that something that stands out to her is "how male designers often highlighted breasts in a manner that brings to mind armour".
In fact, looking at the examples above, or at more recent iterations like Roseberry's Schiaparelli or Tom Ford's SS20 breastplates (also done repeatedly by Alexander McQueen for both his eponymous brand and Givenchy, Thierry Mugler, Issey Miyake for AW80 and AW06), a rather statuesque, armour-like visual narrative seems to dominate. By contrast, the approach by female designers, she argues, has been markedly different. Sonia Rykiel's playfulness and Vivienne Westwood's t-shirt signal the humour and subversion implicit in many women designers' explorations of the female form.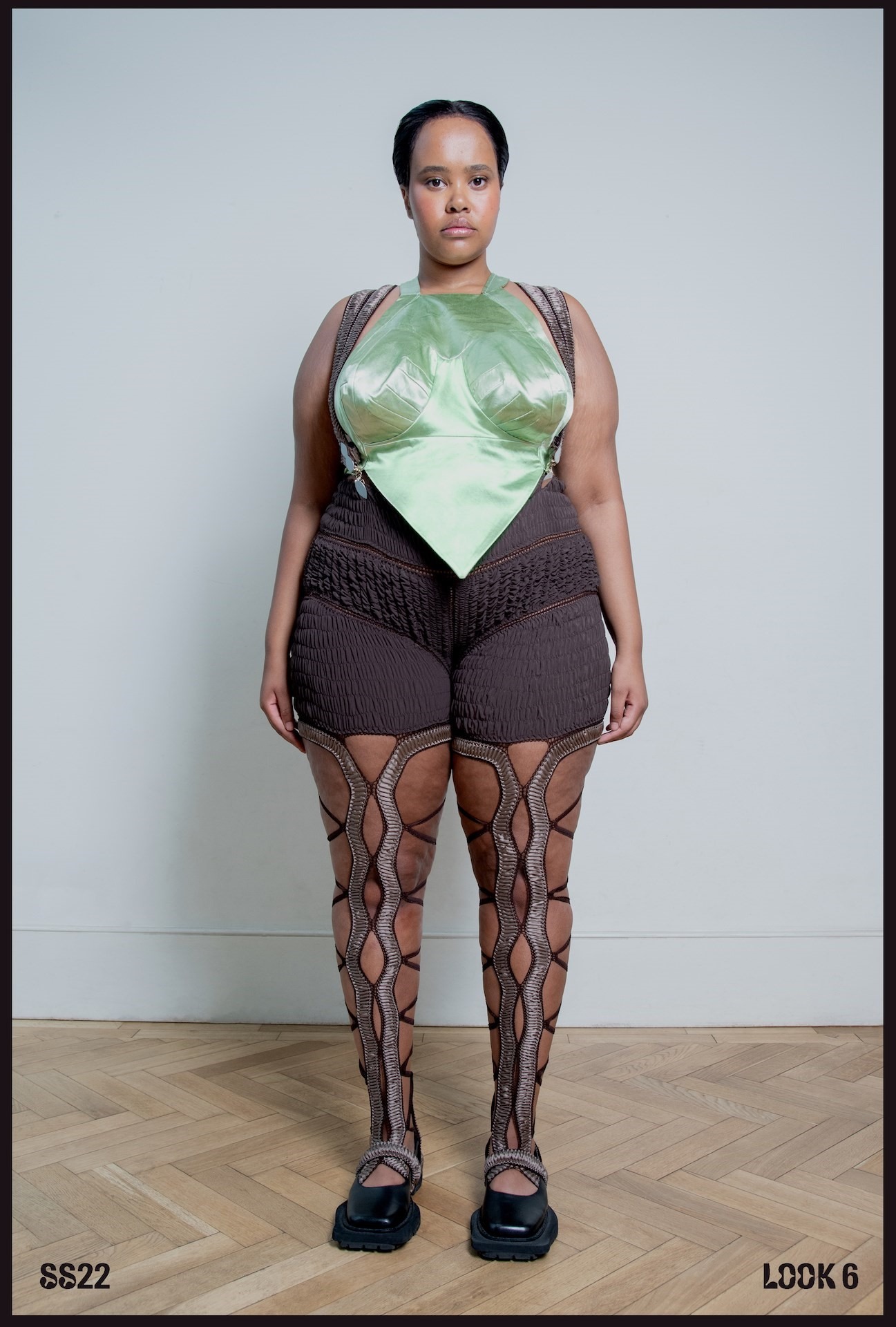 Amanda concurs, counterposing the "intricate yet subtle and soft, very nuanced" approach of contemporary women designs against the "very pronounced and punctuated" tack of their men counterparts. JW Anderson's SS20 outline-only bras come to mind, opposed to the subtlety of Stella McCartney's SS21 blush sweater vest with rib-knitted breasts, the delicate composition of Nensi Dojaka's intricate lingerie-like pieces; or the consideration and nuance implicit in the figure-accommodating work of Sinéad O'Dwyer, whose work draws on the lived experiences of her close friends and muses.
In a moment in fashion where gender binaries are in the process of being reexamined, however, Laura argues that "today there seems to be a less clear delineation between the male designers' desire to armour women and female designers' desire to humorously subvert cultural meanings of breasts". Misha Japanwala's cast breastplates arguably read closer to armature-like garments of Miyake or McQueen, while the humour and queer-inflected camp of Christopher John Rogers' SS21 graphic colour-blocked knitted breast motifs or Francesco Risso's Marni SS22 daisy bikini-top seem to have more in common with the playfulness of Rykiel.
Indeed, this ambiguity seems to speak to our evolved views on gender and the body — in many cases, these pieces effectively conjure up the idea of breasts, but they don't "require a certain — curvy female — body to wear them," Laura notes. "Instead of shaping the physical breasts of the wearer, here the breasts are almost completely created through outlines or molded appliquéd elements. The current fixation with breasts appears to have a lot to do with our shifting understanding of gender and the increasing comfort people have in playing with it."
That the prevalence of mammary motifs in fashion is tied to a sense of emancipation is self-evident, but is it necessarily a high-minded commentary on liberation from the constraints of the gender binary or prudish societal norms? For Amanda, they signify quite a literal sense of freedom. "The first thing women do when they get home is take off their bra. There is no better feeling than taking off a bra after eight hours," she says. Where some designers look at breasts from the standpoint of eroticism and sexual liberation, others see them from a place of comfort and freedom — some want to highlight them through suggestive bodycon, others want to gently cup them in soft, comfortable knits.
Visually striking a trend as it may be, the question that begs asking — as with anything we see on runways — is: is anyone actually buying it? Here, the answer is a resounding yes. "There is a customer; I am the customer," says Amanda, noting the common retail misconception that the more fashion-forward pieces don't sell. In her experience, they're always the first to go. "For some reason, buyers project their personal apprehension to the clients, in thinking these items don't sell. They do," she adds, noting that on a recent visit to the new Schiaparelli boutique at Bergdorf Goodman, most of their nipple motif pieces had already sold out. In fact, Roseberry recently told WWD that the golden-nipple jackets he introduced for Schiaparelli were produced with and without the nipples for stores, a choice from the sales team, but that "no one wants the one without the nipples".
It goes to prove that, ultimately, "the job of a designer is to tell us a story — a story of the present," Amanda says. But what exactly is that story? While highlighting breasts may still evoke humour, sexuality, subversion, and liberation, its prevalence in contemporary fashion would suggest that it isn't quite the revolutionary act it once was. That's no bad thing, though. The fact that the inclusion of chest motifs in clothing no longer shocks — and that we're seeing them approached from so many different perspectives— speaks measures of our evolved outlooks on gender, sexuality and the body. As customers and designers alike begin to embrace more liberated approaches to dressing, highlighting the bust isn't necessarily the transgressive, sexualised gesture that it was once perceived to be. Indeed, if the crux of much fashion today is liberation and freedom, then we should apply the same logic to the way we interpret it, too.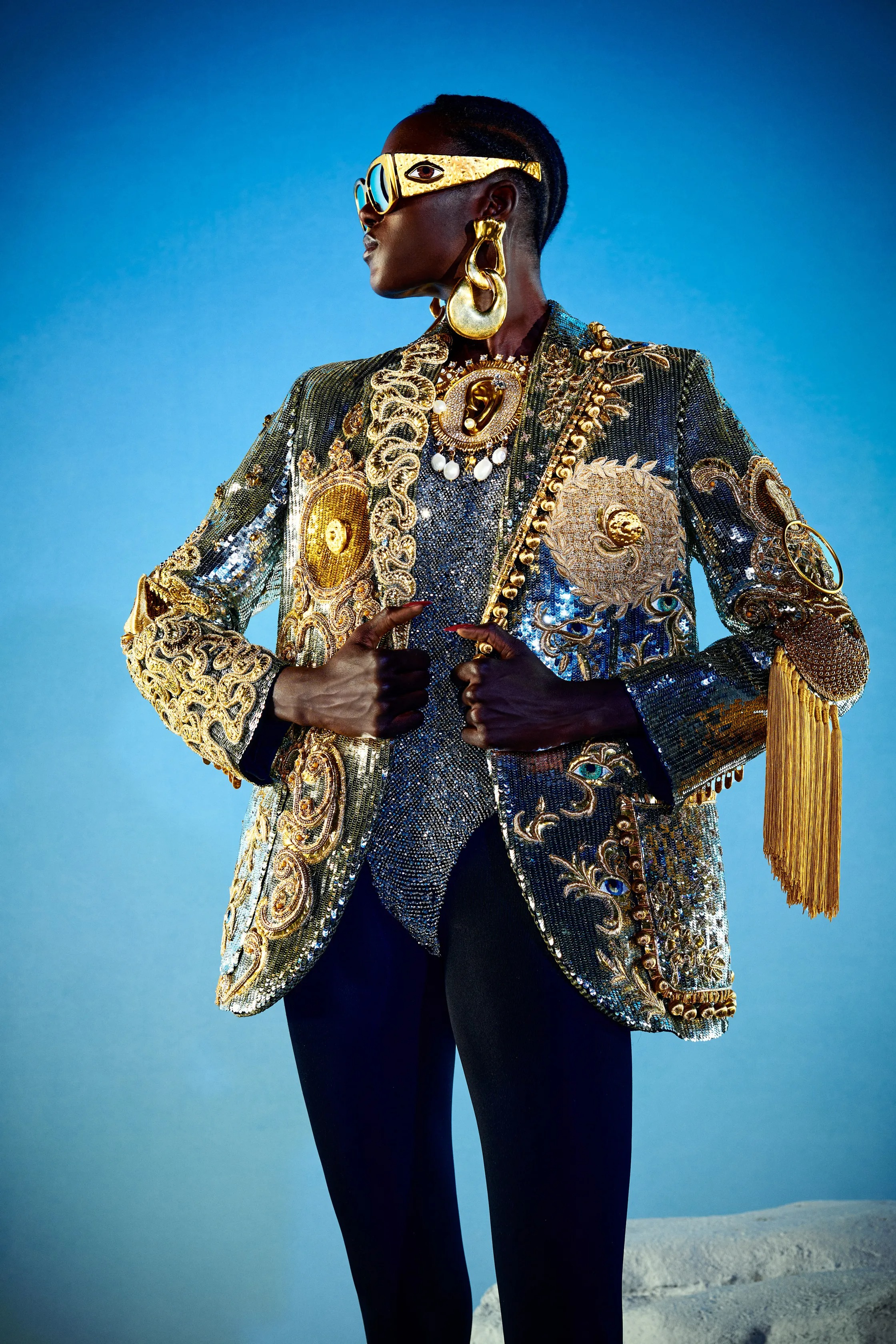 Tagged: