9 young Ukrainians on their current reality
This is what they feel, fear and hope for the future of their homeland. 
On 24 February, Russia invaded Ukraine. Since then, over 3 million people have fled the country, not knowing when – or if – they will be able to return to the homes and loved ones they left behind. "We are going through the worst ordeal in our history, in our lives," said Ukrainian president Volodymyr Zelenskyy in a recent speech. "We protect the most precious thing we have, we must hold on, we must fight, and we will win. I believe that." The precious thing in question is the country's independence, which was declared back in 1991, a few months before the collapse of the Soviet Union.
But Ukraine is a brave nation known for its resistance, solidarity and fearless youth. They fight for their freedom at all costs — even if that means stopping Russia's tanks with their bare hands in attempt to protect their country from invasion. "We shouldn't beg NATO to accept us, they should invite us instead," says 25-year-old artist Darina from Kharkiv. "Have you seen people as strong and brave as Ukrainians? I haven't."
We talked with nine young Ukrainian creatives – both those who have fled and have decided to stay in their homeland – about their personal experiences, and how everyone can help right now.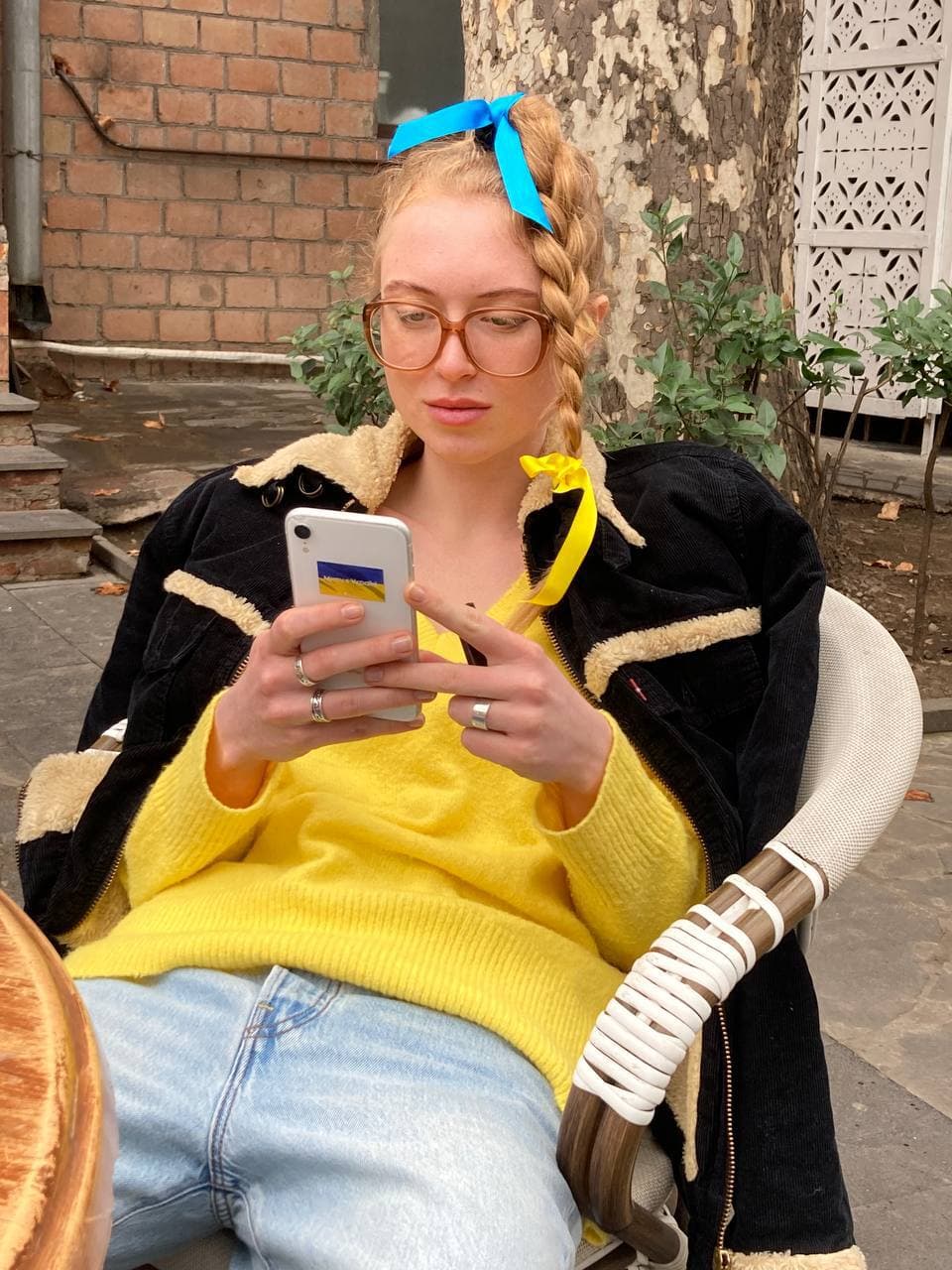 Rusya, 23, musician
What part of Ukraine are you from?
I was born in Odesa, but I live in Kyiv.
How did you flee the country? Could you tell us about the experience?
We faced real hell; like, thousands of people in panic. Luckily, we managed to get into a completely packed train to Lviv, and changed to another one to get to the nearest station close to the border of Poland. There were 1,800 people on the train, twice the allowed number. It took us 14 hours to cross the border, which drove everyone crazy — many people had nervous breakdowns. I managed to fall asleep despite everything, holding someone else's child in my arms, and woke up in Poland. The local residents took care of everything necessary: ​​food, medicine and accommodation. I cried because I couldn't believe that we were safe, that people could be so empathetic.

How can everyone help Ukraine right now?
We need to overthrow the government in Russia. The whole world is actively providing humanitarian assistance, for which we are really thankful. We need you! People that are tracking fakes are also highly appreciated, as there are so many violations and false information in social networks that should be removed.
What message do you have for the politicians out there?
I want everyone who is involved in the death, war and spread of disinformation to feel the pain of everyone who is suffering in Ukraine and around the world at the moment. Those who made it hell on earth will go to real hell.
Alex, 23, PR & photographer
What part of Ukraine are you from?
I'm from Kharkiv — the first capital of Ukraine and, until recently, a home to many students from all over the world.
Describe your day on 24 February? Where were you when Russia invaded Ukraine?
I woke up to the explosions outside, and my friend's call shortly after. I was terrified and unable to make deliberate decisions. Being in the apartment was not safe, as local authorities had warned of possible rocket attacks on civilian buildings. A day after the war began, I asked my father to take my sister and me from our basement in the city centre to a safer place – a country house 30km from Kharkiv. Some small towns nearby have been completely destroyed by airstrikes, so I'm not sure if my location is safe, but I no longer experience severe panic attacks compared to the first days thanks to conversations with a psychologist. I also try to listen to my favourite music and do my usual activities during the day despite everything going on around me.

What's your message to the world?
What is happening now in Ukraine is the genocide of our nation – a nation that was rapidly moving towards freedom and democracy. Out of jealousy and greed, invaders have decided to destroy us, fuelled by lies and cruelty, forgetting about what Ukraine is, who the Ukrainians are and what they are capable of. Thanks to the global gesture of indifference and faith, Ukraine receives the necessary strength for an obvious victory. Thanks to our bright souls, we will defeat evil and shine even more. And the perpetrators of evil will remain locked up and pay the cost for all the children and women they murdered in a country that would never give up its freedom.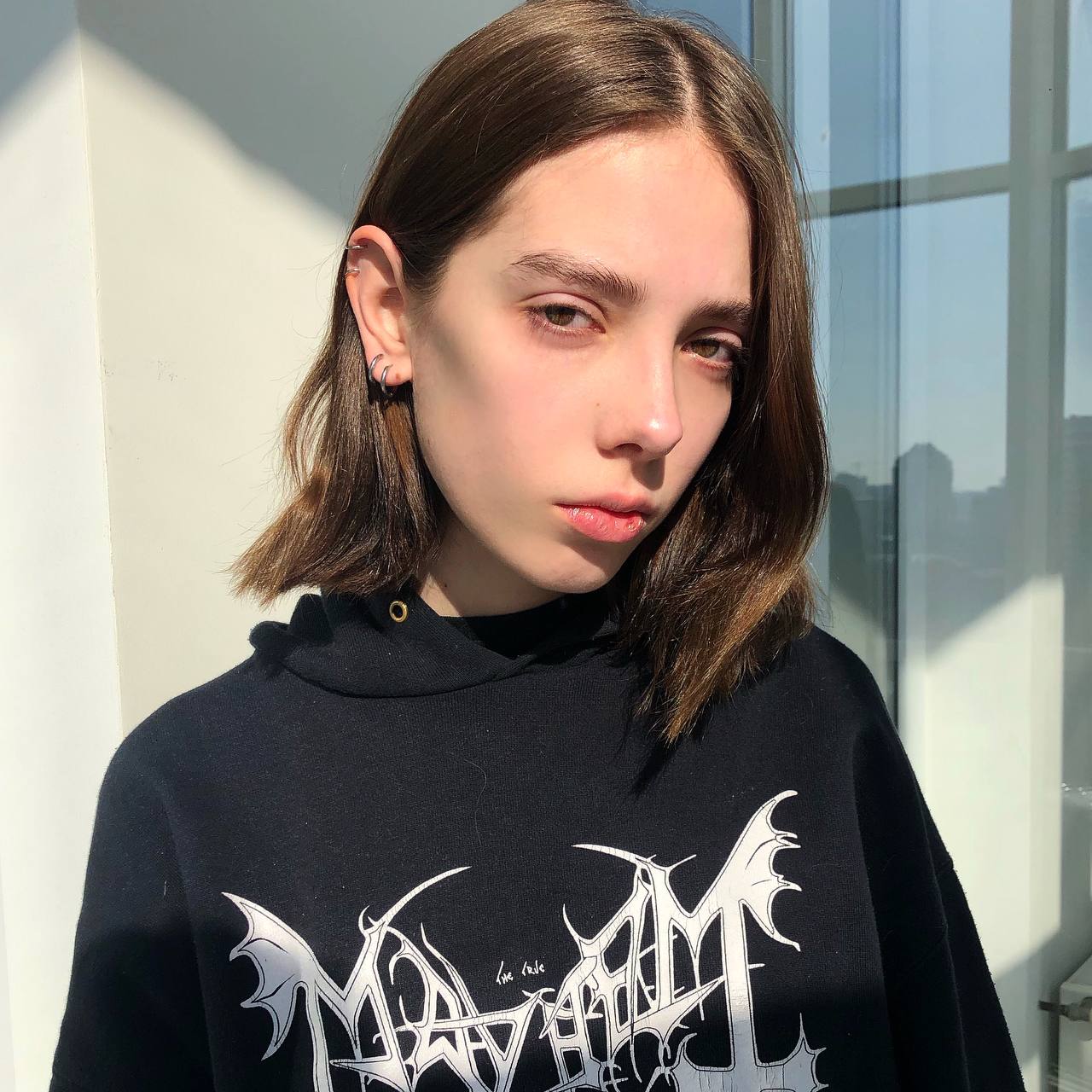 Anna, 21, model
What part of Ukraine are you from?
I'm from Odesa, a cool and atmospheric city on the coast of the Black Sea where I lived my best life. Right now, I am in Belgium with my friend, as we had to leave the country.

How would you describe your feelings right now?
Initially, I felt confused and helpless because I couldn't influence what was happening. After that, my feelings changed to guilt, as I am safe and my loved ones are still in the epicentre of the hostilities. But still, I do my best to help all those in need and actively broadcast useful and necessary information on my Instagram stories.
Your face is on the T-shirt of 032c's charity collaboration with Ukrainian designer Anton Belinskiy. How can the fashion industry help Ukraine right now?
I'm very pleased that I took part in this collaboration in a fight for freedom, as all profits go to charity. The fashion industry has the power to spread reliable information to its audience as much as possible. Thanks to this, people will learn the truth and hopefully begin to act.

What do you want people to know about Ukraine?
We do not want this war, we want to live in peace. But if we are attacked, we will defend ourselves to the very end. I want the world to know my country not only from the side of military operations, but also from the culture and freedom-loving Ukrainians who conquer all horizons of the world with their talent.
Darina, 25, make-up & performance artist
What part of Ukraine are you from?
I'm from Okhtyrka, the "oil capital of Ukraine", but I've been living in Kharkiv for the last seven years.

You decided to leave Kharkiv and ended up in one of the most dangerous cities, Okhtyrka. What is the situation there right now?
I had to leave for my hometown because my parents believed that Kharkiv would be one of the first cities to be consumed by heavy battle. No one knew what to expect, where to go or where to look for safety — people left the city in panic. We saw the Russian army with a huge amount of equipment moving towards our military unit, where the first terrible battle took place. We were even attacked by "vacuum bombs" that are banned by the Geneva Convention. They destroyed the entire infrastructure: oil depots, the city hall, and schools. People were left without electricity, water and heat. The first days were the worst, especially when the shell hit the kindergarten, which served as a refuge for children and the elderly. Okhtyrka now looks like a post-apocalyptic planet.

Where are you now? Are you safe?
On 5 March, we decided to not wait for the "green corridor" and managed to get out of Okhtyrka. Still, today, no one can be 100% sure that their current location is safe. Every day feels like Groundhog Day. Life has stopped for me and the world has stopped moving. My emotions change from fear to anger every minute. Because of the so-called "military operation", many families lost their homes, but the worst thing is to lose your loved ones. It's devastating to search for people you knew personally among the names of the dead.

How do you see the future of Ukraine?
It's hard to say, but what's happening in Ukraine has united us. In this difficult time, people forget about everything else and just get ready to fight. We have proven that our state should receive recognition and respect. We should not beg NATO to accept us, they should invite us instead. Have you seen people as strong and brave as Ukrainians? I haven't.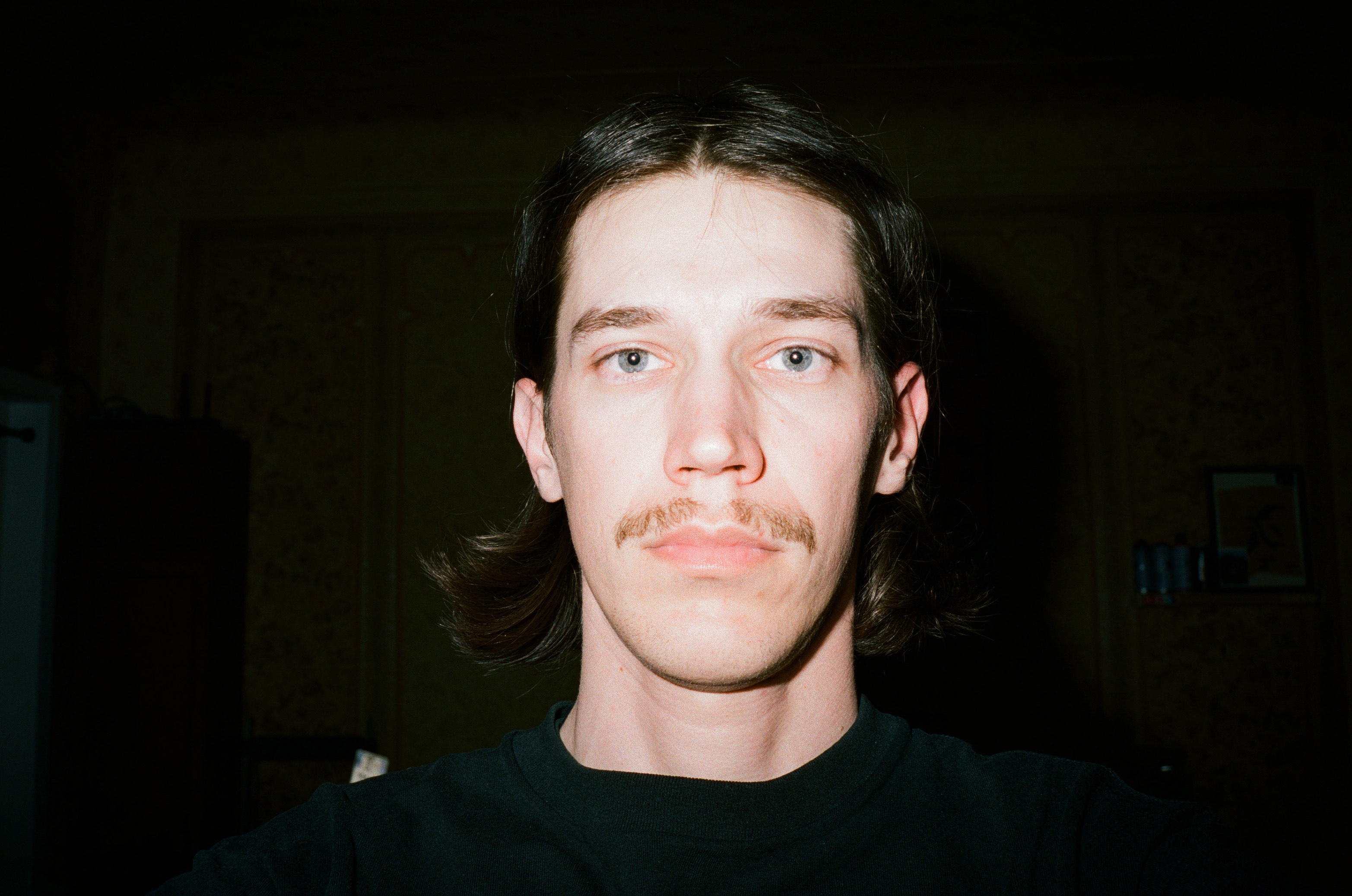 Lesha, 31, photographer
What part of Ukraine are you from?
I was born in a small village in the Luhansk region, but I live in Kyiv.
Describe your day on 24 February? Where were you when Russia invaded Ukraine?
I was at home with my wife Agata and woke up around 5:30am from explosions. I saw a message from my friend saying "You ok? Assume you'll be up soon, so I'll not call". That was the moment I realised it had begun: Russia had started a full-scale war. Agata didn't hear anything, so I let her sleep for another few hours and went to the kitchen. I saw people packing and getting in cars. Every time I saw some friends leaving, I was questioning my decision to stay. I think the main reason I did is that I already went through this in 2014, when I had to leave my home in Donetsk — I just couldn't leave my home again.
What does everyday life look like at the moment?
In the last few days, it's getting more difficult to keep track of time. I think it's because we don't have plans any more. Not for tomorrow, not for next week. We've tried to be as helpful as possible, volunteering in a kitchen for a few days to cook for defence forces, hospitals and others in need. We went to supermarkets and pharmacies to buy supplies for older people who are stuck in their homes and can't stand in a queue for three hours. We also connect people in need with other volunteers online, but sometimes we feel so mentally empty that we just want to lie down and wait until this ends. Today, we visited our friends who volunteer in other parts of the city, which is a precious feeling. We're in this together and we're doing our best. The truth is on our side.
What can people do to help Ukraine right now?
I think it's quite obvious, but I hope that people will keep going to the protests, keep donating, keep pushing their governments to act. I know for some people it may become a routine, but we're so close to victory and Ukraine deserves to be free and independent.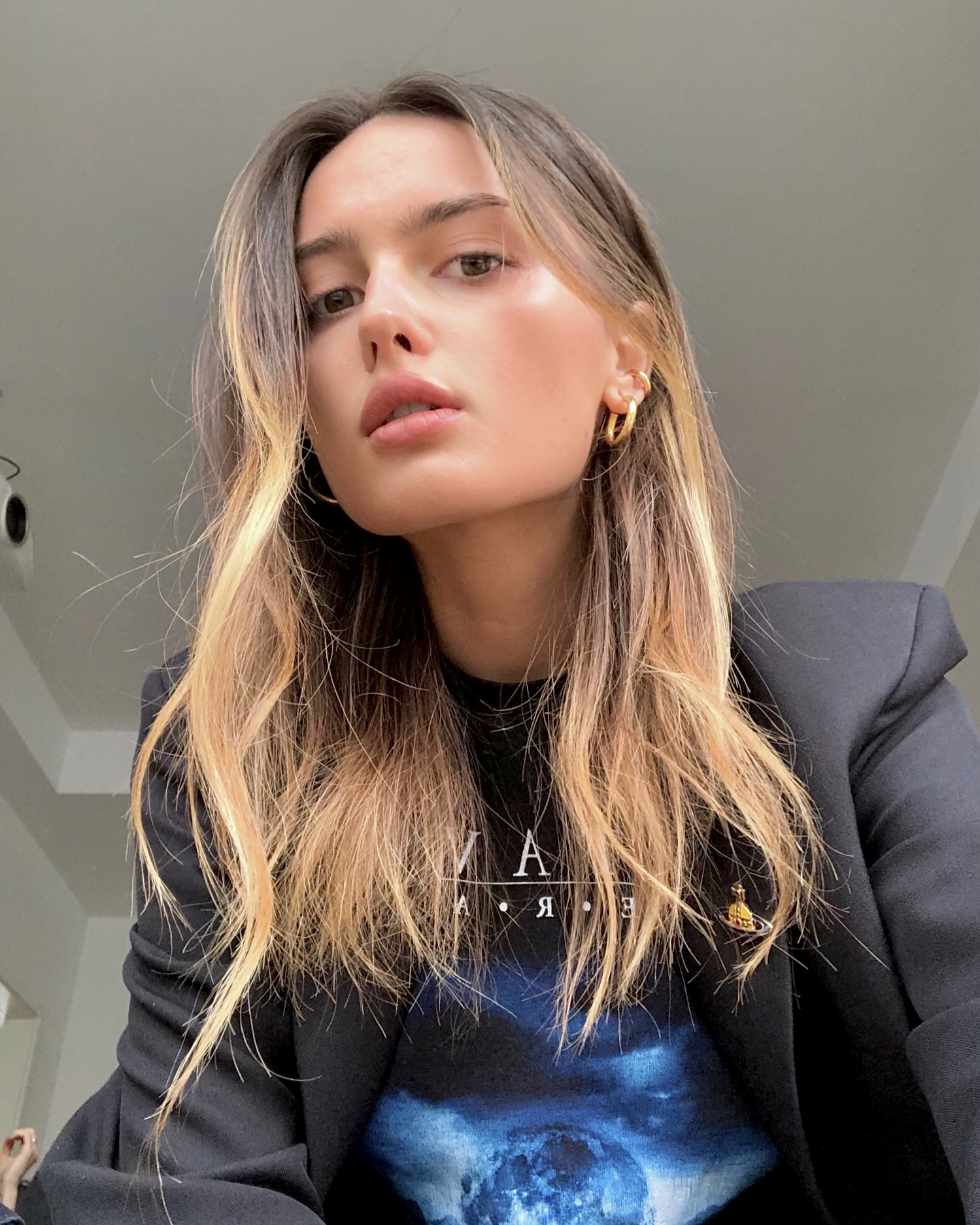 Rina, 24, interdisciplinary artist, graphic designer & DJ
What part of Ukraine are you from?
I'm born and raised in Kyiv.
You fled the country with your best friend. How was the situation at the train station?
On 25 February, we realised we had to escape and went to Lviv, which wasn't an easy task, as there were a lot of people at the train station panicking, trying to save themselves. Policemen were firing shots into the air to reduce the flow of people, so we had to take another train. The next day we spent about 10 hours at the station in Lviv trying to leave for Poland, but the trains were being cancelled one after another. It was a nightmare. People were cramped together and things got violent. When a woman next to us asked a man to stop pushing her, he took his suitcase and started hitting her on the head with it. I begged my friend to leave the train station because I was scared for my life. We had nothing left in us, so we just went to our friend's place, accompanied by the sound of sirens. We spent one more night in Lviv, then went to Chop, then Budapest, then Vienna, then finally Berlin. It took us six days to get here.
What emotions have you felt in the last two weeks?
I can't describe my emotions, but I can provide context. My country, my culture and my heritage are being violated. My family, my dear friends and fellow citizens are at risk of being murdered and many innocent lives have already been taken by the Russian government and invaders. Destinies are being tossed around in Putin's sick imperialistic games. I owe a lot of who I am today to Ukraine. Our people, who have fought against the regime, have been murdered and exiled from their homeland as criminals. Their pain lies at the root of Ukrainian literature, fine art and music. We are all acquainted with their struggles and know the price they paid for our freedom. And still, none of us ever thought we would have to face the same reality. No one deserves to leave or lose their home and be scared for their life, but we were born independent and no one will take that away from us. I'm obviously heartbroken, devastated and traumatised; but that doesn't portray the full extent of how I feel.
How can non-Ukrainians help right now?
Do your research. You can help by lifting some weight off of Ukrainian citizens' backs by taking initiative, verifying information, spreading awareness and providing them with helpful sources. Donate money to the Ukrainian army, organisations and individuals. Go to protests, volunteer and take some responsibility – because it was never ours in the first place. We're not only defending ourselves, we're defending basic human rights and common sense.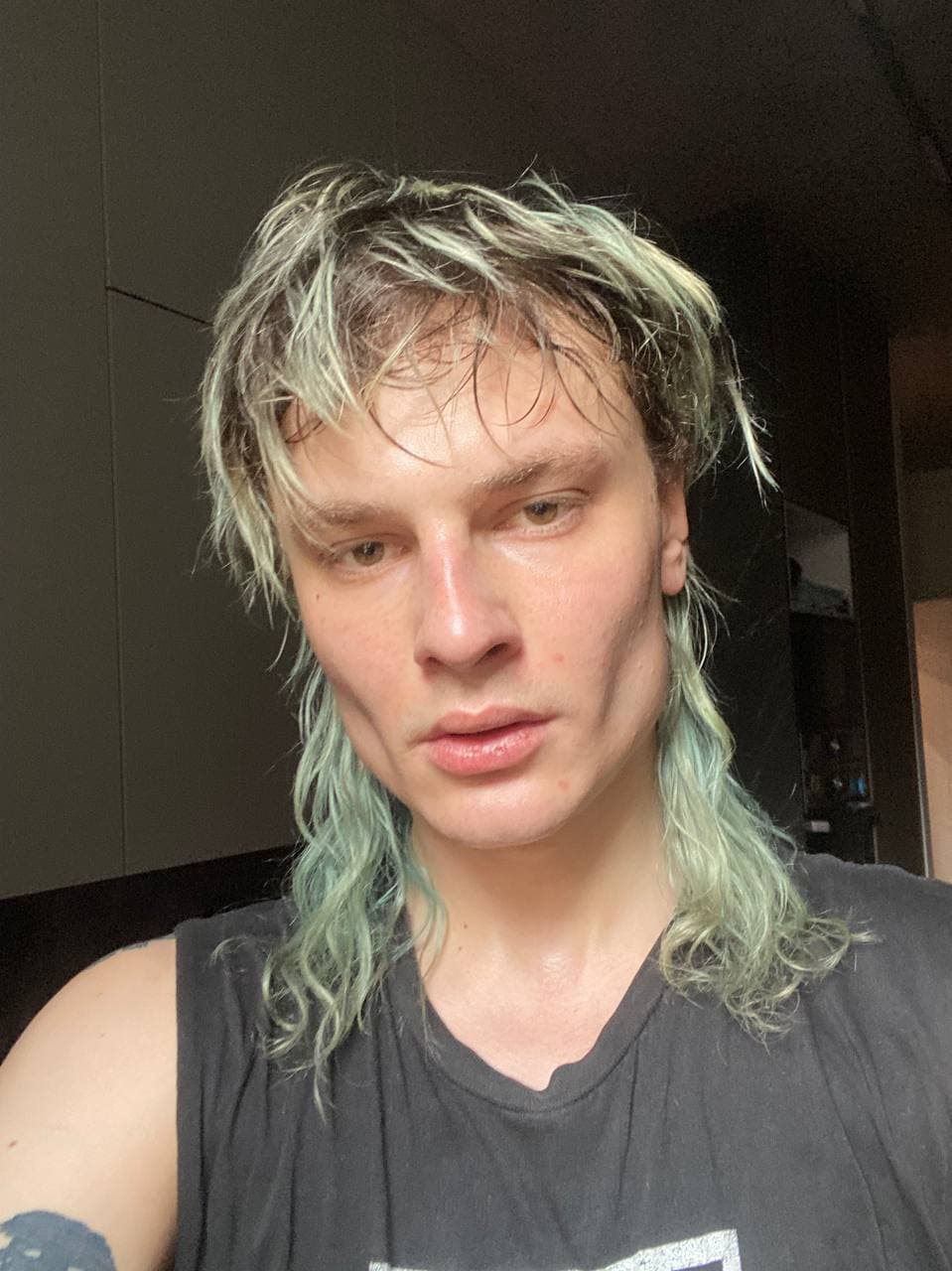 Little Vanya, 24, DJ & actor
What part of Ukraine are you from?
I was born in Boyarka and I live in Kyiv, but at the moment I'm in Lviv.
What emotions are you experiencing right now?
I have mixed feelings. It changes from shock and denial to anger and acceptance. But what is always with me is the hatred for Putin's Russia. I am most worried about my family in Boyarka, a city that borders Irpin, which is temporarily occupied territory. They own a small village shop, and my 14-year-old sister is behind the counter because our parents can't manage on their own. I often blame myself for not being with them, or at least not picking up my sister, but my father can't be swayed.

How are Ukrainians fighting fake news?
Ukrainians don't need to fight it when civilians are standing in front of tanks and not letting them proceed, even at the risk of their lives; when they drive past columns of Russian terrorists and throw Molotov cocktails at them from their car windows; or when they climb on passing armoured carriers with Ukrainian flags in the temporarily occupied territories. It's the whole world that should be fighting fake news instead.

What is your message to the world?
I wish for everyone to wake up to morning sex, not the sound of sirens.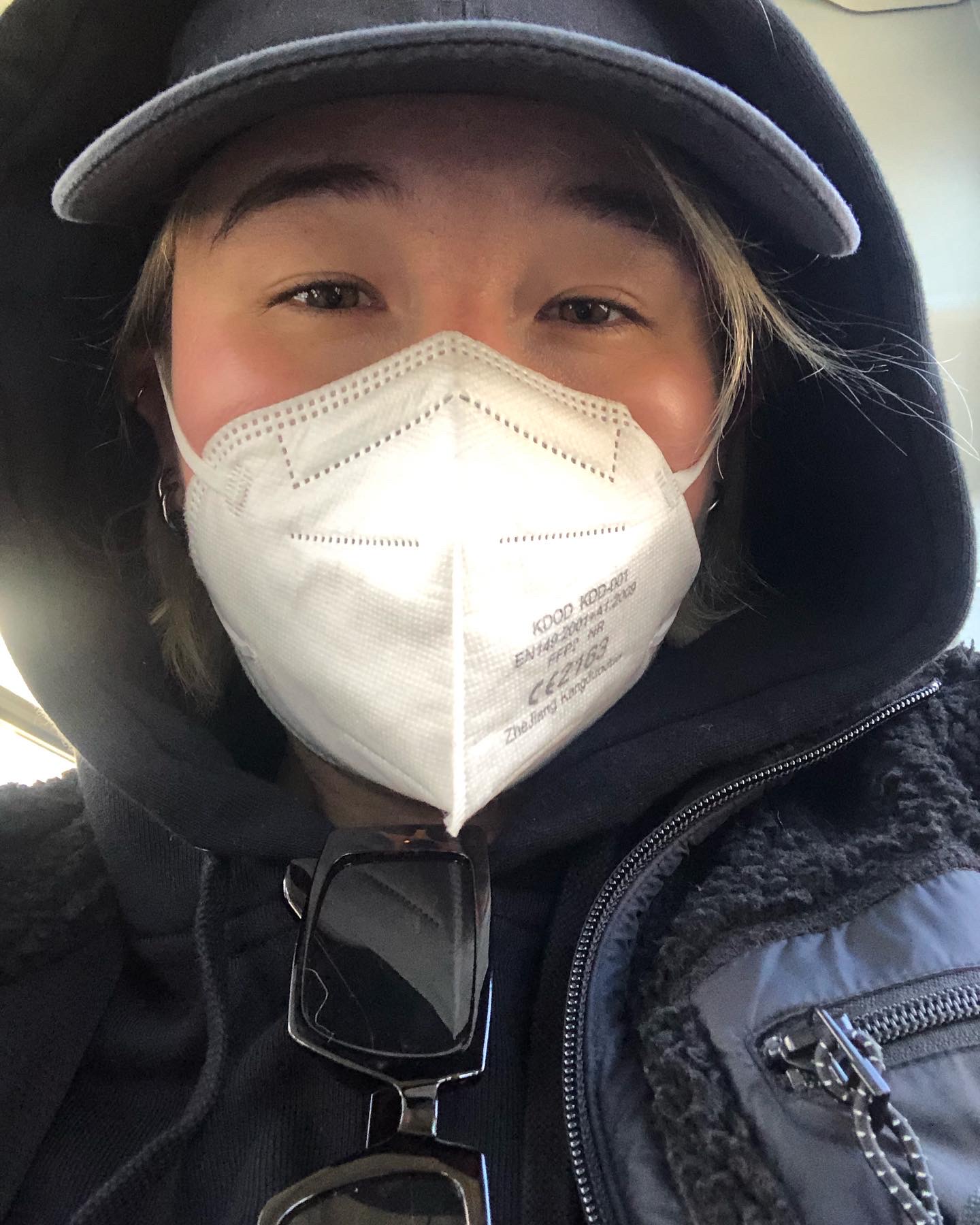 Maya, 28, music journalist
What part of Ukraine are you from?
I'm from Kyiv.
You're in Berlin now. What emotions have you felt over the last two weeks?
I've experienced the whole range of human emotion — from endless love to endless hate. During my 'escaping trip', I had a clear mind and confidence. I didn't cry and always tried to make the right decisions. But when I arrived in Berlin at the end of the week, I had such a deep emotional breakdown. I went to the Spree and saw tourists taking pictures on boats and realised the injustice of this world. Since then, I could not stop crying for several days. I wanted to go back to Kyiv because I thought that this 'normal' life won't fit me any more. A psychologist and friends helped me through it, and now, I'm OK. I'm helping others, which gives my life a sort of routine. I am ready to help other refugees go through these different psychological stages.
What are you fearing the most right now?
That I will never come back to Kyiv again, or that I will, but the city will be destroyed and I won't be able to visit my favourite places. That I will never meet my family.
How can we help Ukraine right now?
First, there's financial support. Try to support the Ukrainian army, which is now head-to-head with the Russian military machine. Try to support smaller NGOs and grassroots initiatives like Ukraine-Hilfe Berlin e.V., emergency relief for the LGBTQ+ community, EACH ONE TEACH ONE e.V. and the K-41 / ∄ Community Fund. It's very important for them to get help and money directly to avoid bureaucracy. Another way is through mental health support for the people who just arrived and for people who are really struggling. And last but not least: raise awareness. Don't stop talking about it. It's not a 'local conflict', it's not a Cold War. The whole world is on the verge of a world war that will end tragically for everyone. This is not the time to celebrate, this is a huge tragedy for all of humanity.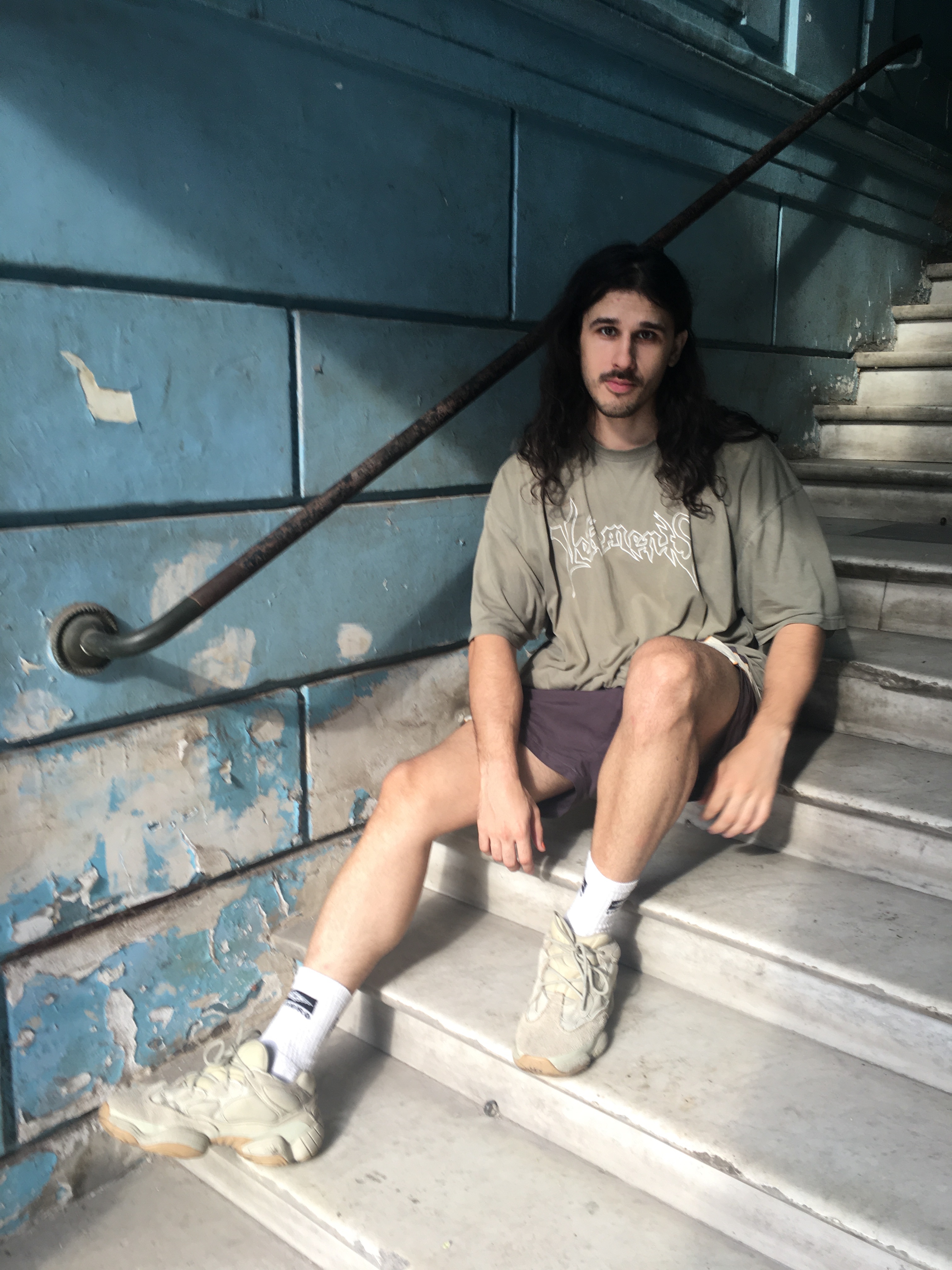 Stanislav, 30, multidisciplinary artist & designer
What part of Ukraine are you from?
I'm from Odesa.
Describe your day on 24 February. Where were you when Russia invaded Ukraine?
I woke up to the explosions and a friend called and said: "Wake up! The war has begun." It was the longest three days in my life — I couldn't sleep or understand what was going to happen or when it would end. But I haven't lost faith in victory. I see how my country lives and breathes. How everyone goes through different stages of existence at the same time. How all Ukrainians have become one and turned into something majestic and unique, albeit through terrible pain and suffering.

Where are you now? Are you safe?
I am still in Ukraine. Compared to what we've seen in Mariupol and other cities besieged by the Russian occupiers, I am safe. There are very long civil defence sirens, Putin is bombing all cities and regions of Ukraine. Whether a bomb will fall on you or not is like a lottery.

What is your goal for the upcoming weeks and months?
My goal is to survive, to save my loved ones, to carry Ukrainian culture through this hell. My goal is to win and revive everything destroyed by the war.

What is your message to the world?
Do not repeat the mistakes of the past. Putin is committing genocide, thousands of people are dying from blockages, explosions, hunger and thirst. Russia will not stop at Ukraine. Putin will go even further. Right now, Ukraine is defending all of Europe and the very idea of ​​humanism. Only with the help of the whole world will we be able to defeat this evil.
---
Credits
All images courtesy of interviewees
Tagged: